Forget the jarred sauces – this Easy Homemade Marinara Sauce tastes like it has been simmering for hours and couldn't be easier to make.
Remember those lovely Parmesan Crusted Grilled Cheese Sticks I spotlighted for two of my favorite gals' Bloggy Birthdays.  Well, I played with a marinara sauce recipe from AllRecipes and, I have to say, IMO, this is the PERFECT Easy Homemade Marinara Sauce to go with.
Don't get me wrong, if you have a fave tried and true jarred sauce, by all means, feel free to use that with those toasty cheese sticks.  However, if you want to whip up a sauce that is ready in about 30 minutes and has that long simmered flavor, then I have you covered.  Plus – it's perfect for your favorite pasta dishes which is never a bad thing, right?
This is the easiest ever sauce to make after a long day at the 9to9 – a few ingredients, a bit of cathartic chopping, a quick saute followed by a sprinkle of freshness from herbs simmered for about 30 minutes and *voila* a deliciously easy homemade marinara sauce.  You will find yourself making this sauce often and you can always tweak it to your tastes – if you like to add some Italian seasoning in lieu of fresh oregano and basil, by all means do so.  A bit of flat leaf parsley however is a must for that fresh flavor.
So, when your mother in law asks you what jarred version you used for your pasta sauce, just smile sweetly and say, "Oh no – it's this really easy homemade marinara sauce that I whipped up from scratch." and then bask in the culinary waves of adoration.  It will be our little secret!
On to the recipe:
Gather your ingredients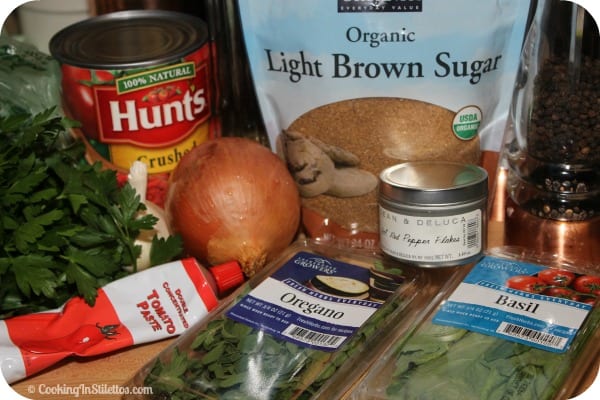 Browning the tomato paste for a moment before adding the tomatoes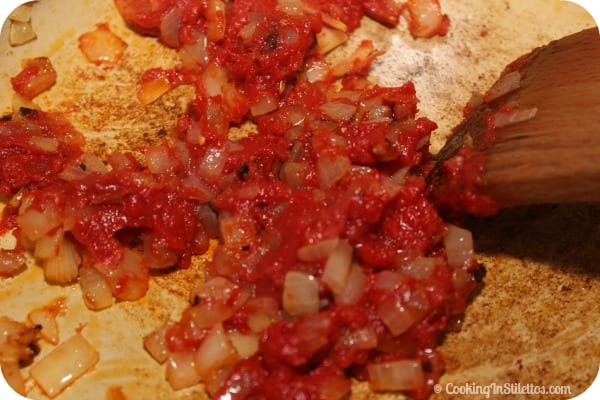 The secret ingredient – a touch of brown sugar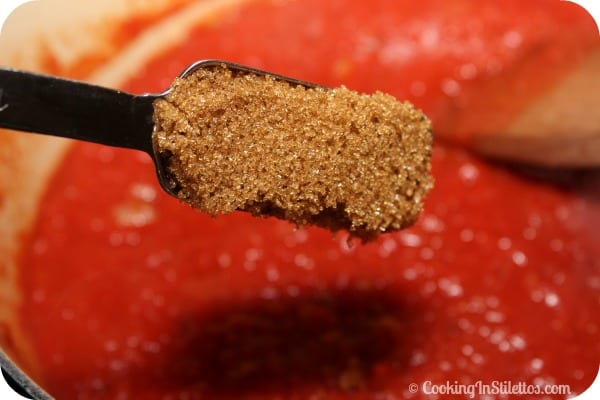 Adding the fresh herbs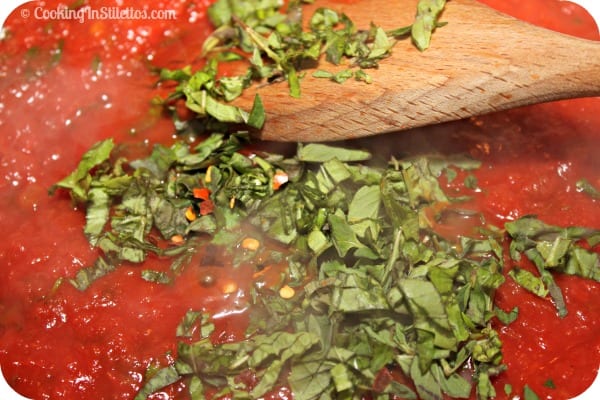 This Easy Homemade Marinara Sauce tastes like you simmered it for hours!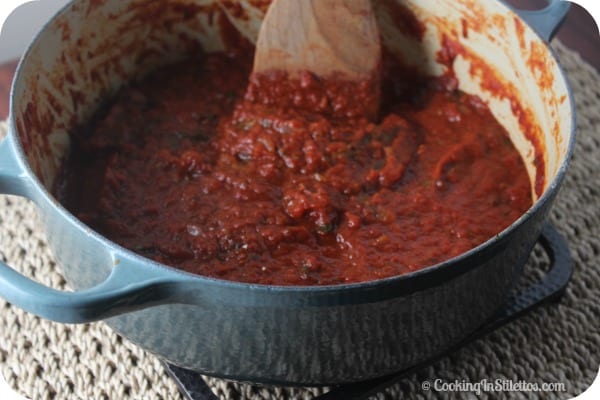 Adapted from AllRecipes
Yields 6
Easy Homemade Marinara Sauce
This Easy Homemade Marinara Sauce tastes like you simmered it for hours but reality, it came together in under 40 minutes. Just a few ingredients and you will have a well flavored sauce that will have you leaving the jarred version behind - promise!
5 minPrep Time
30 minCook Time
35 minTotal Time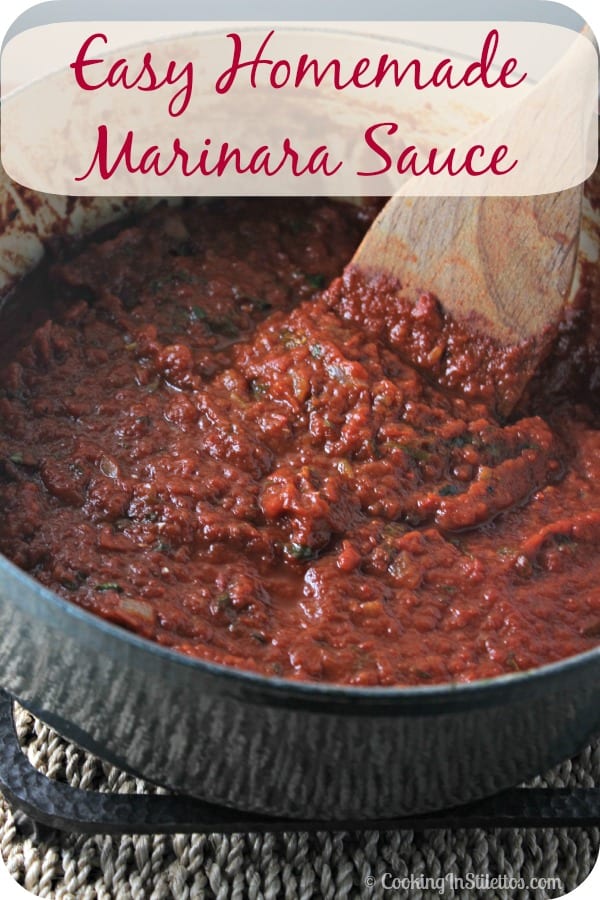 Ingredients
2 tablespoons of olive oil
1 small onion, finely diced
2 cloves of garlic, minced
6 ounces of tomato paste (or 3- 4 ounces of double strength tomato paste)
1 28-ounce can of crushed tomatoes
1 tablespoon of light brown sugar
2 tablespoons of fresh parsley, minced
1 tablespoon of fresh oregano, minced
1 tablespoon of fresh basil, minced
1 teaspoon of kosher salt
1/2 teaspoon of freshly ground black pepper
1/8 - 1/4 teaspoon of red pepper flakes
Instructions
In a heavy bottom saucepan, warm the olive oil over medium heat.
Add the diced onions to the pan and saute until translucent - about 5 minutes or so.
Add the minced garlic and cook for another minute.
Add the tomato paste and stir until the bright red turns a tad darker and takes on a brick colored hue.
Pour in the crushed tomatoes and stir.
Add the brown sugar and stir, making sure the sugar dissolves.
Sprinkle in the parsley, oregano, basil and then follow with the salt, pepper and red pepper flakes, mixing well.
Bring everything up to a low simmer and let simmer on the stove for about 30 minutes or so, stirring occasionally.
Enjoy!
7.8.1.2
260
https://cookinginstilettos.com/easy-homemade-marinara-sauce/