It's Fall Premiere season folks – last night was a doozy but tonight's premieres have had me impatiently waiting since May.  It's no secret that NCIS is one of my absolute favorite shows.   I have loved the show since its first season – the writing is excellent, the cast is hilarious and who doesn't love seeing Gibbs smack McGee or Dinozzo upside the head when they deserve it.  Added bonus on Tuesdays – NCIS: Los Angeles with Chris O'Donnell, LL Cool J and Linda Hunt aka Hetty – what wasn't to love.
Well – this season, they did a switcharoo. While Tuesdays used to have NCIS and NCIS: LA back to back, now they have a new member of the franchise NCIS: New Orleans in the LA slot and NCIS: LA has been moved to Mondays.  Last season, NCIS had a two part tie-in episode based in New Orleans and just from those episodes alone, you knew that the new series was going to be GOOD! Now – I have a disclaimer – there's another reason I know I'm going to adore this show – because two blasts from my childhood past are taking a seat at the NCIS: NOLA table – Rob Kerkovitch – who is playing forensic genius Sebastian Lund and Paige Turco – who is playing Scott Bakula's ex wife, Linda Pride, who was on the NCIS tie-in episodes as well.
Rob is a talented actor and I know that when you tune in, you'll notice that he looks a bit familiar – whether it's from commercials (like this fave) or various tv shows, Rob's been on the acting scene for a while.   When I heard Rob was cast – I was thrilled for him as I knew he'd be joining a top notch production.  Rob's mom, Moe, is a brilliant chef and has been one of my culinary and fashion inspirations since I can remember as she's one of my mother's dearest friends.   Moe's Bailey's Irish Cream Puffs made such an impression when I was a child – I still remember Rob and I sneaking them at a party and not realizing how boozy they really were.
In a weird 6 degrees of separation – Paige was not only friendly with my mom and Robert's mom when I was younger  (she's also from Western Mass), but Paige was on a show years ago with Lucas Black – American Gothic.  In NCIS: New Orleans – Lucas is the wise crackin' Agent LaSalle.   NCIS: New Orleans has a stellar cast – the writing, imo, of the NCIS franchises are fantastic  and I heard that some of the cast from NCIS will be making an appearance on various episodes. Plus – it's set in one of the best foodie cities  – New Orleans – so you know it won't disappoint.
To celebrate tonight's premiere, I will be whipping up a New Orleans' staple – Slow Cooker Red Beans and Rice.  I was inspired by Claire Robinson's recipe for Slow Cooker Red Beans and Rice and decided to play a bit.  I had some Turkey Andouille sausage and a new find, Kentucky Bourbon sausage, in the fridge so I decided to channel my inner executive chef and add both to the mix.  I don't think anyone would argue with that, right?  For my creole seasoning, I used my favorite Tony Chachere's Creole Seasoning that SL recommended to me years ago and I always keep stocked in my pantry.  If you want to make it a bit spicy – add a bit more seasoning.  You could even throw in a bay leaf or two – this recipe is totally customizable to your tastes.
Now – I have to admit – there are days when I forget to soak the beans the night before. I used a quick soak method from The Kitchn which turned out brilliantly for me.  Essentially, you rinse the beans well, bring them to a hard boil, remove from the heat and let soak for an hour or so. Then – they are ready to be tumbled into the slow cooker. I used my fave 4 qt. slow cooker for this and while it was packed to the brim, the Red Beans and Rice turned out perfectly! The recipe couldn't be simpler – it's a bit of a dump and stir, set and forget type thing and, at the end of the day, you come home to a delicious smelling home and all you need to cook is some perfectly cooked rice (which I did on the stovetop and didn't burn thanks to this method – also from The Kitchn) and dinner is served.
This recipe makes enough for a crowd so grab a bowl, your fave cocktail, tune into CBS tonight and check out NCIS: New Orleans. I promise that you won't be disappointed!  Laissez les bons temps rouler!
On to the recipe:
Gather your ingredients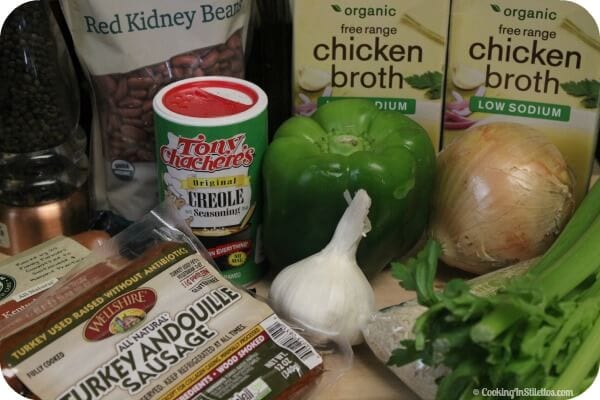 Since I didn't do the overnight soak, let's do that quick boil method for the beans.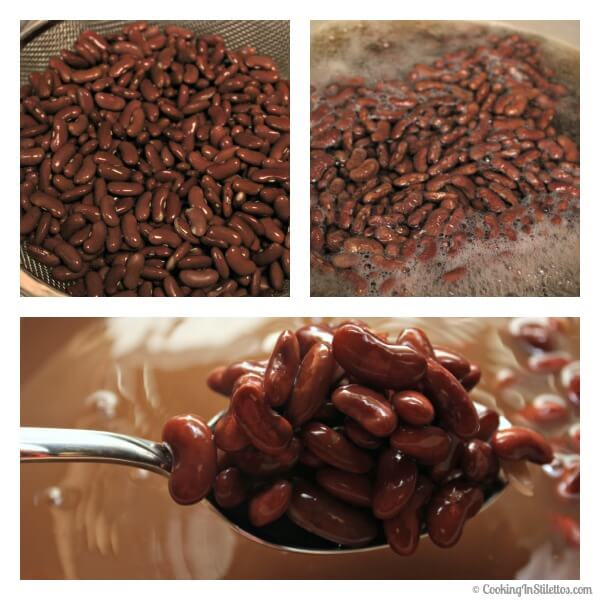 Everyone in the pool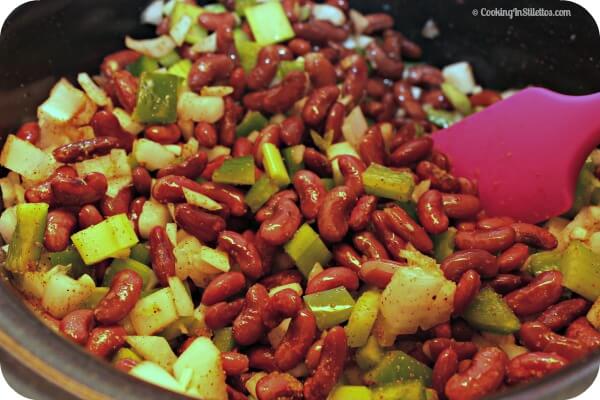 Now – look at that deliciousness.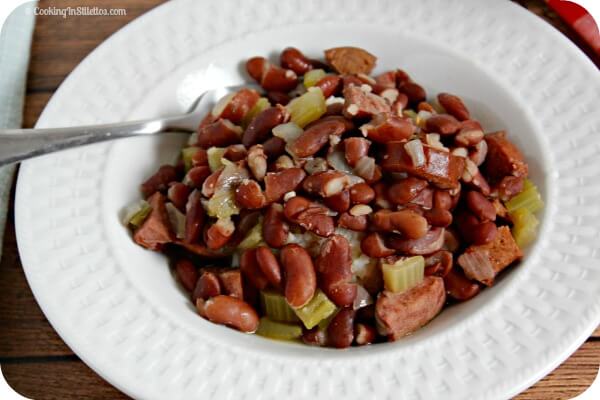 Grab a fork and turn on the TV – NCIS: New Orleans is about to start!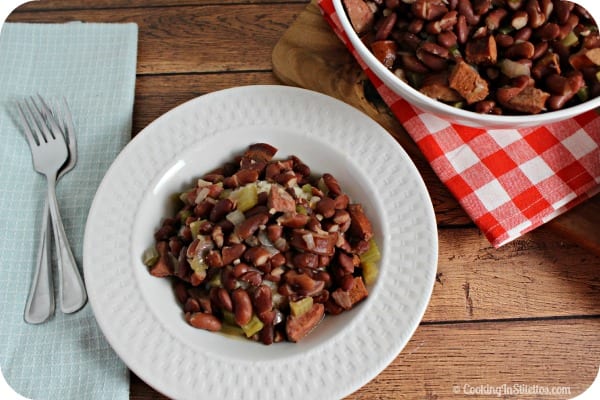 Aly M. Cleary
Yields 8
Slow Cooker Red Beans and Rice
This Slow Cooker Red Beans and Rice couldn't be easier to make. A few ingredients, a quick stir and set it and forget it. Dinner is served!
15 minPrep Time
6 hrCook Time
6 hr, 15 Total Time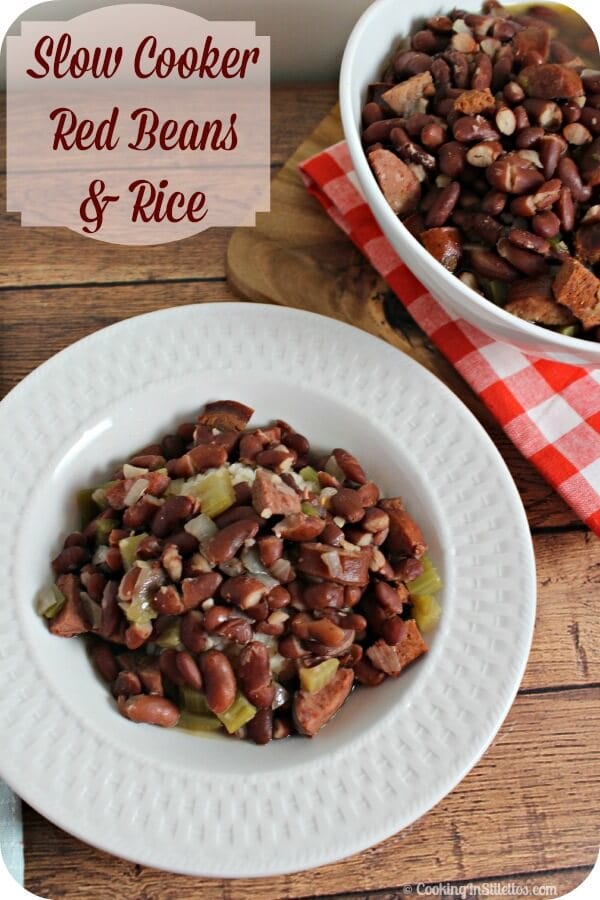 Ingredients
1 pound of dried red kidney beans, soaked overnight (or via the Quick Cook method)
1 package of turkey andouille sausage (about 4 links or so), diced
2 links of Kentucky Bourbon Flavored Sausage (optional)
1 green bell pepper, diced
1 large onion, diced
3 celery stalks, diced
3 cloves of garlic, minced
2 tablespoons of creole seasoning
6 cups of low sodium chicken stock
Hot cooked white rice for serving
Instructions
In a 4 qt slow cooker, add the soaked beans, diced sausage, bell pepper, onion, celery and creole seasoning. Stir to combine.
Pour in the low sodium chicken stock, stir again and set the slow cooker to "High" for 6 hours or so.
Ladle over some hot rice and enjoy!
Notes
Inspired by Claire Robinson's recipe.
7.8.1.2
214
https://cookinginstilettos.com/slow-cooker-red-beans-and-rice/