I customized my coffee using Folgers Flavors, as part of a sponsored post for Socialstars #remixyourcoffee. My opinions, as always, are my own.
I'm all about options – there are days I feel like stilettos and then, as the day wears on, I'm switching out to flats or booties.  When it comes to my coffee, there are times when I'm craving a hazelnut latte or some french vanilla and, when I get to work, I find the standard breakfast blend or dark roast but for flavor options, I was out of luck.  Not fun.
A new discovery crossed my path the other day – Folgers Flavors.  They are tiny little bottles of deliciousness that take everyday coffee from ordinary to extraordinary.  In Vanilla, Caramel, Hazelnut and Mocha, Folgers has a flavor to for every craving and are the perfect way to remix your coffee.  Look at these lovelies!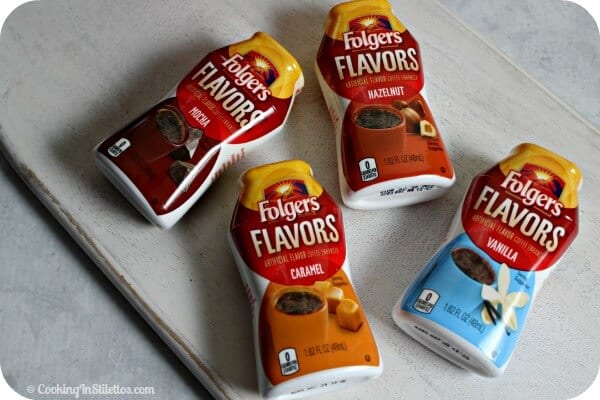 These Folgers Flavor are so tiny that it fits perfectly in one my smaller bags so I can have flavored coffee any time.  Of course you know I had the hazelnut at the ready.  It only takes a little squirt to impart a whole lot of flavor.  Add a little, add a lot – it's all up to you.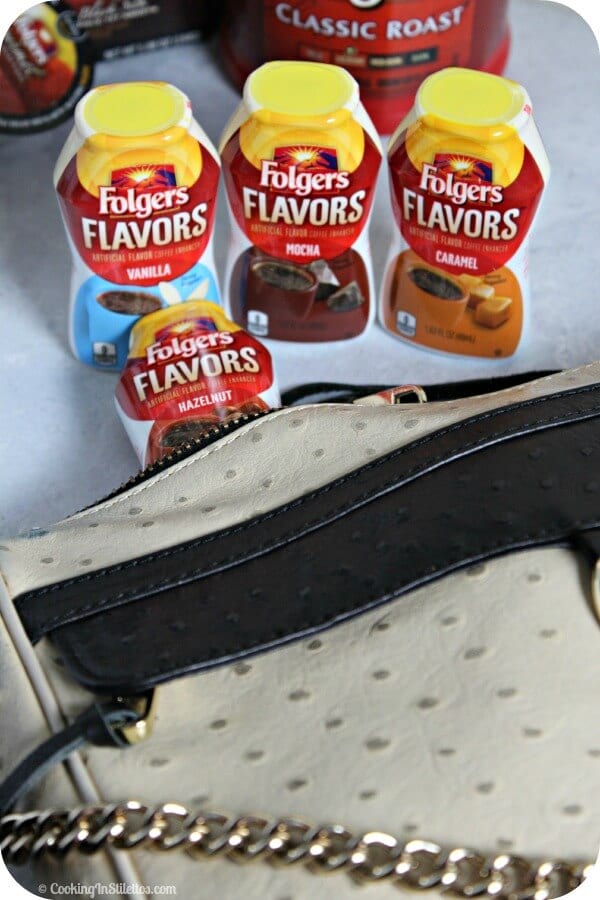 When I was thinking about the perfect treat to pair with my customized coffee, I thought of Moe's Praline Muffins. She sent them to me some time ago and they were sweet – but not too sweet – with a bit of a crunch and this flavor that was deep and delicious. I wanted something that was like a mini muffin – a sweet bite of nutty deliciousness – and these Praline Muffins fit the bill.  I found a recipe to play with on Food.com and got my stilettos in the kitchen, customized coffee in hand.
They couldn't be easier to make – the key is to use a mini muffin tin and spray the heck out of it with nonstick spray. The sugar and the pecans are going to caramelize and if you want them to pop out with no issues – then this is the way to do it.  They are the perfect bite and, paired with any of the Folgers Flavors, they are the perfect way to enjoy a much needed coffee break!
On to the recipe:
Gather your ingredients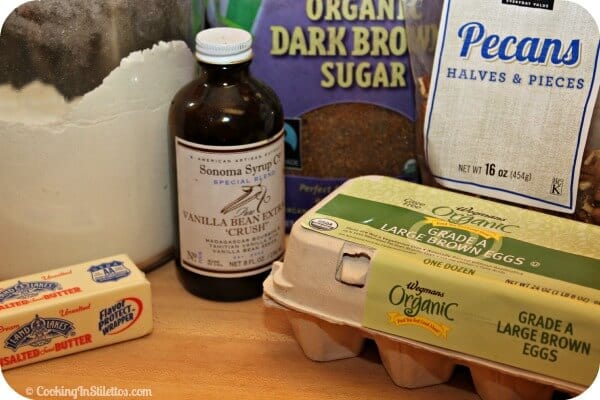 Look at all of the pecans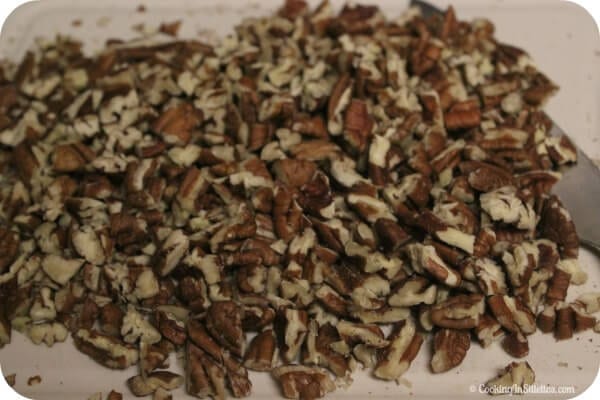 Time to merge the wet and dry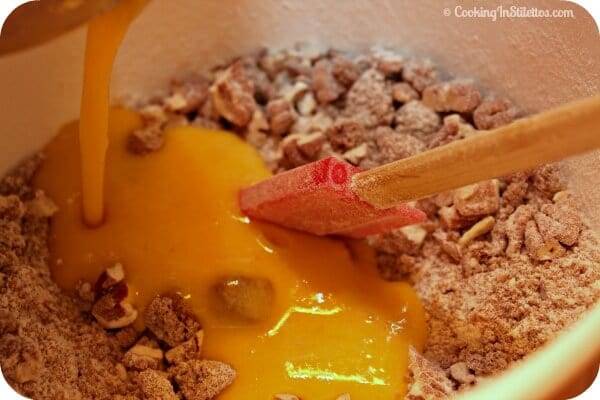 Ready to bake – nothing is sticking to this baking pan!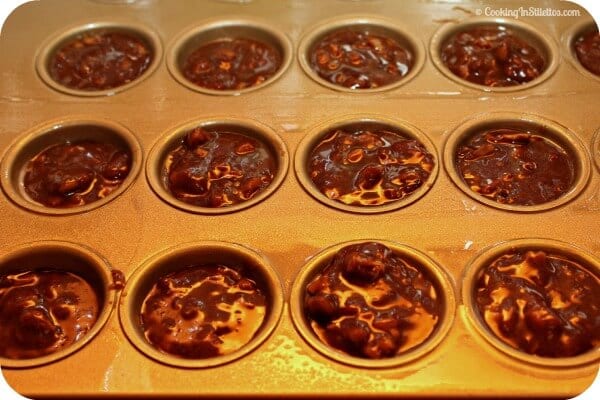 Let cool for a bit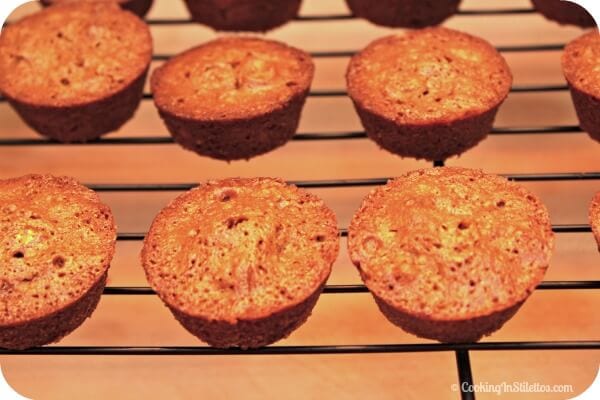 Try to have just one – I dare you
Yields 14-16
Praline Muffins
I wanted something that was like a mini muffin – a sweet bite of nutty deliciousness – and these Praline Muffins fit the bill.
10 minPrep Time
20 minCook Time
30 minTotal Time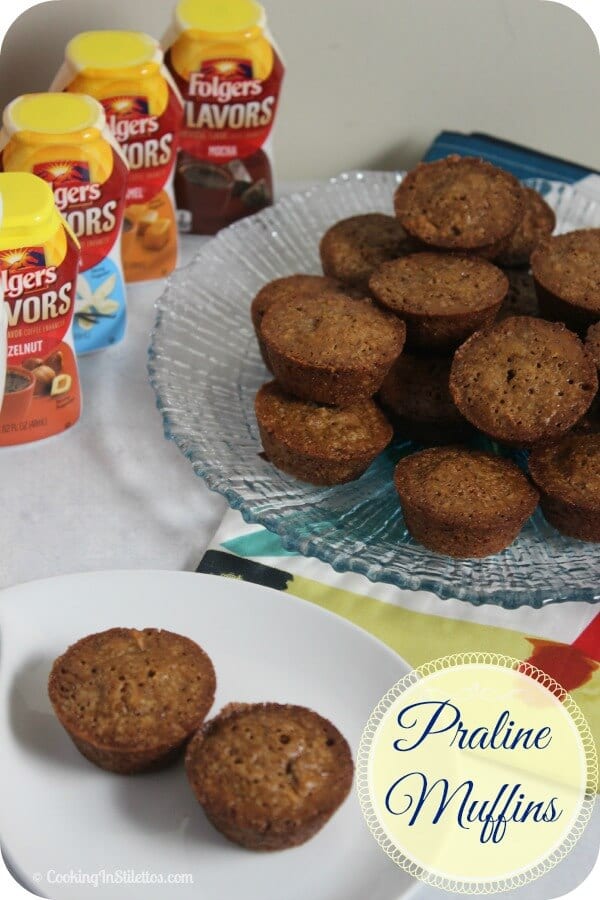 Ingredients
1 1/2 cups of pecans, chopped
1 1/3 cups of dark brown sugar
3/4 cup of all purpose flour, plus 2 tablespoons
1/2 cup of unsalted butter, melted
3 large eggs
1/2 teaspoon of kosher salt
1 teaspoon of vanilla extract
Non-stick baking spray
Instructions
Preheat the oven to 350 degrees F.
Liberally spray a mini-muffin tin with non-stick baking spray. Set aside.
In a large bowl, toss the pecans with 2 tablespoons of all purpose flour.
To the pecans, add the dark brown sugar and the remaining flour and mix thoroughly.
In a small bowl, whisk together the cooled unsalted butter, eggs, salt and vanilla extract.
Mix the pecan sugar mixture with the wet ingredients until everything is thoroughly combined.
Let the mixture chill in the refrigerator for 10 minutes or so.
When the oven is preheated and the mixture is slightly chilled, fill each muffin tin about 3/4 of the way full.
Bake for about 20 - 22 minutes or so. Remove from the oven and let set for 5 minutes in the tins.
Remove from the tins and cool thoroughly.
Enjoy with a mug of your favorite coffee!
Notes
Recipe adapted from Food.com
7.8.1.2
213
https://cookinginstilettos.com/praline-muffins/