I can't let you go into the weekend without sharing a little something and this Spiked Mexican Chocolate Mousse is going to be one of your faves.  I adapted a chocolate mousse recipe of Ingrid Hoffmann's that I adore and it was perfection!   It really is so simple to prepare – you just have to have some willpower and be prepared to share.  It is rich so less can be more.  Now that I think about it – I probably should have topped it with a bit of cinnamon & tequila whipped cream – perhaps next time.
On to the recipe:
Gather the ingredients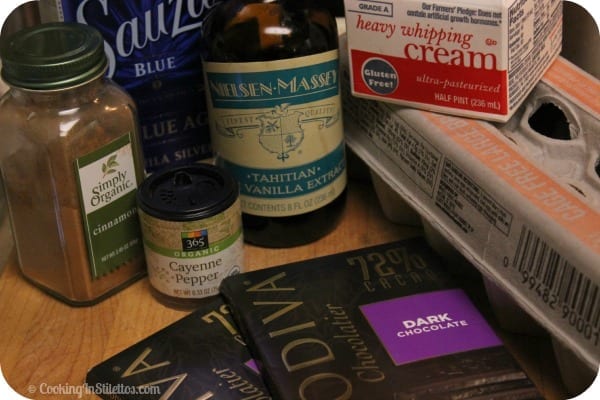 Add the spices to the chocolate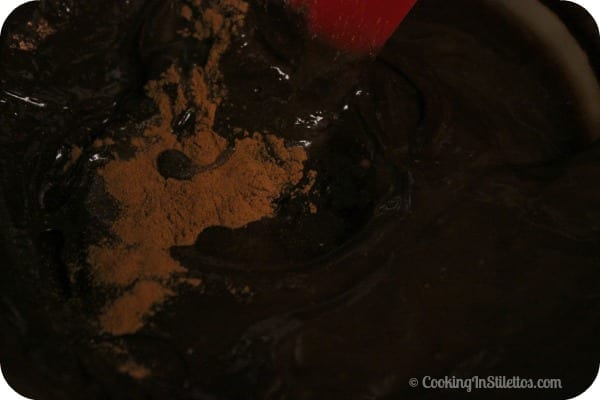 Make sure the chocolate is cool enough so you don't have scrambled yolks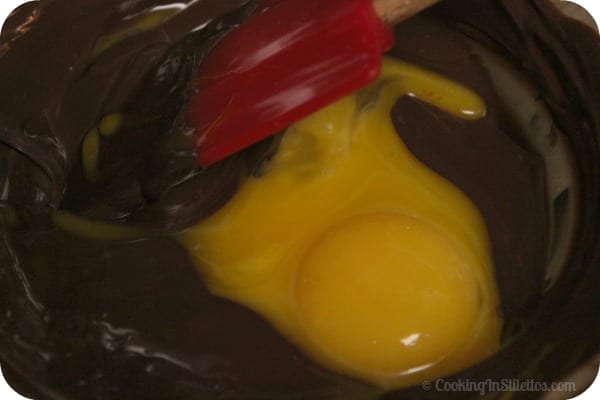 Time to add the fluffy egg whites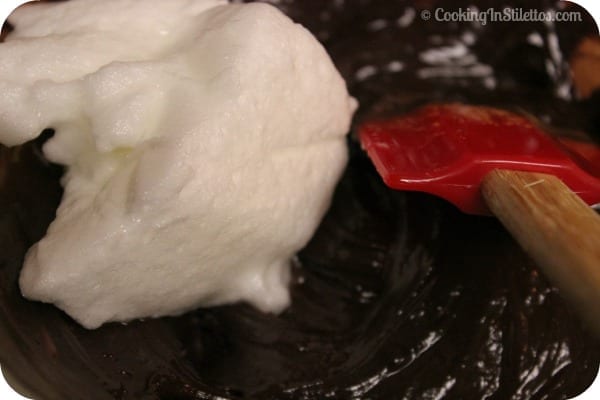 The beginnings of a light as air chocolate mousse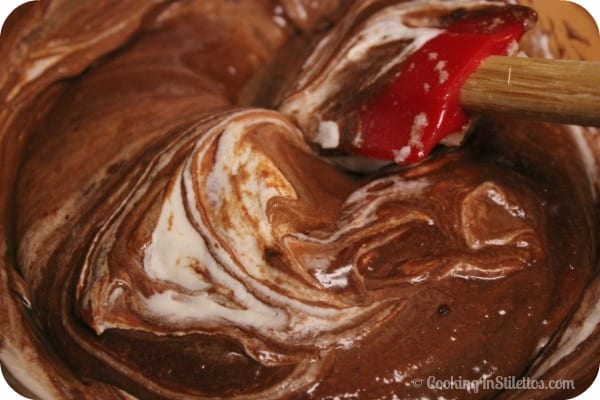 Now – how is this sinful?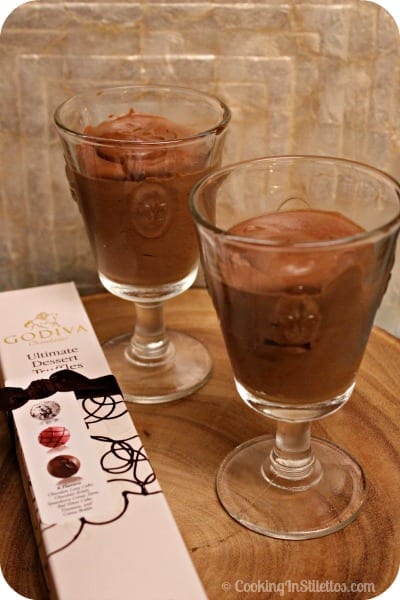 Ingrid Hoffmann
Yields 4
Girl's Flight Night With @GodivaChoc and Spiked Mexican Chocolate Mousse #TruffleTakeOff
This light as air chocolate mousse has a bit of a kick with some heat and a dash of tequila. This Spike Mexican Chocolate Mousse will have your guests begging for more!
30 minPrep Time
1 hrCook Time
1 hr, 30 Total Time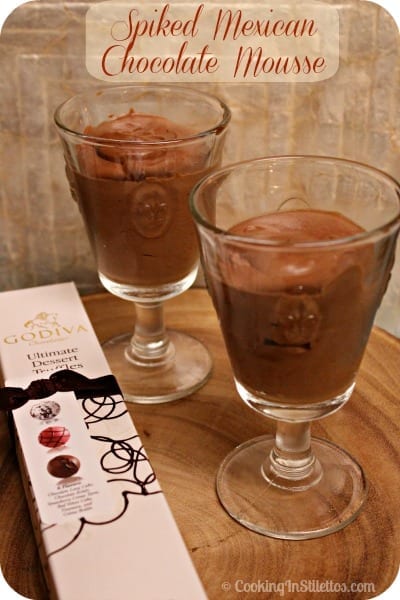 Ingredients
6 ounces dark chocolate, chopped
3 large egg whites, at room temperature
1 cup heavy cream, cold
2 large egg yolks
1 ounce tequila
1/2 teaspoon of cinnamon
1/8 teaspoon of cayenne pepper (or a bit less if you want less spice)
1 teaspoon of vanilla
1 bar chocolate (for garnish)
Instructions
Place the chopped dark chocolate in a large bowl and place in the microwave. On high, microwave for a minute, stir the chocolate again and then microwave for another 15 seconds, stir again and everything should melt perfectly. Let cool for a minute.
In clean bowl of an electric mixer, beat the egg whites at high speed until it holds medium peaks. Set aside.
In another clean bowl, beat the heavy cream with an electric mixer on high until that too is at medium peaks.
Time to turn back to the chocolate – mix in the yolks and the tequila and then add the cinnamon, cayenne pepper and vanilla. Stir and make sure everything is incorporated.
Fold in 1/3 of the egg whites first to lighten the chocolate mixture.
Follow that with the remaining egg whites and fold everything gently so as not to lose the air.
Finally, gently fold in the whipped cream until everything is light and fluffy. Do not over mix – you will lose the air.
To serve, spoon the mousse into glasses. Shave some dark chocolate over the top of the mousse using a vegetable peeler.
Chill for at least an hour or up to a day ahead (and resist the urge to sneak a couple bites!).
Enjoy!
Notes
[RAW EGG WARNING] – take caution because of the raw eggs in this. Obviously, consuming raw and lightly-cooked eggs puts one at the slight risk of Salmonella or other food-borne illness. To reduce this risk, it's recommended that you use only very fresh, properly-refrigerated with intact shells. If something is off – go with your instinct and don't serve.
7.8.1.2
311
https://cookinginstilettos.com/spiked-mexican-chocolate-mousse/