This is a sponsored post. My opinions are my own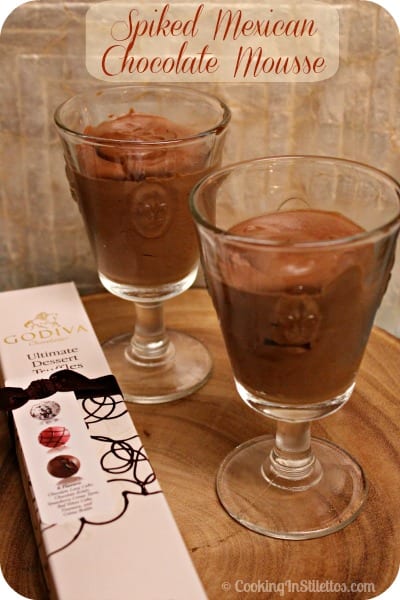 For a fabulous soiree, there are some musts – great friends, amazing cocktails and, if it's a Girl's Night – chocolate!  I was thrilled to have an opportunity to host a Girl's Flight Night with Godiva and see how my gals loved Godiva's latest Ultimate Dessert Truffle Flights.
Obviously, with Godiva at the helm, you knew that chocolate was going to be the theme of the soiree so I decided to create a menu to highlight the flavors that are featured in the Ultimate Dessert Truffle Flight.
Here was the menu: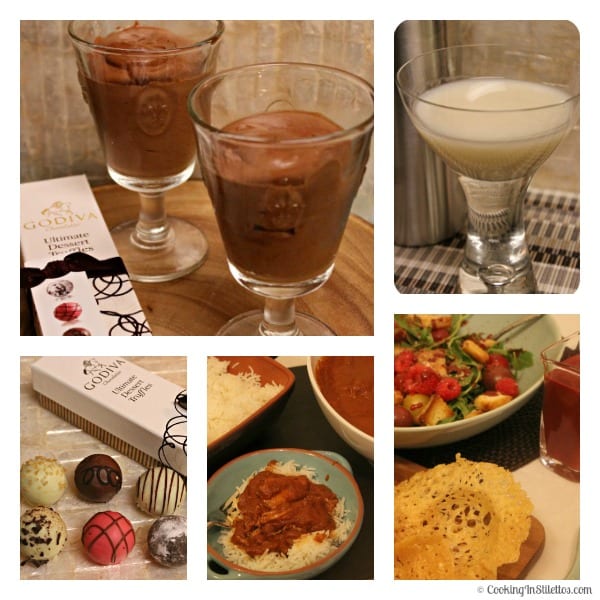 We kicked off the evening with a signature cocktail.  So, to spotlight the Creme Brulee Truffle, I paired that with a luscious Creamy Hazelnut Martini.
We followed that with the Strawberry Creme Truffle and a Arugula Salad served in Parmesan Frico cups with fresh raspberries, sourdough croutons and finished with a Chocolate Raspberry Vinaigrette.
Obviously, another truffle break was needed and what's better than Red Velvet Cake, right?
The main entree was a deep rich Slow Cooker Chicken Mole so I paired that with the Chocolate Lava Truffle.  Chocolate in the mole – chocolate in the truffle.  Perfection!
Dessert was one of my favorites – a Spiked Mexican Chocolate Mousse full of sass and spice.  What better to pair that with than the Chocolate Eclair Truffle. – full of flavors of rich chocolate and creme – lovely.
Finally – to end the night – some coffee, chit chat and, of course, my personal favorite – the Tiramisu Truffle – the perfect pick me up.
The evening was a rousing success and the gals enjoyed not only the fabulous truffles that Godiva provided but I also made some Chocolate Balsamic Vinegar for them to take home.  After all – chocolate makes everything better, right?
However, I can't let you go into the weekend without sharing a little something and this Spiked Mexican Chocolate Mousse is going to be one of your faves.  I adapted a chocolate mousse recipe of Ingrid Hoffmann's that I adore and it was perfection!   It really is so simple to prepare – you just have to have some willpower and be prepared to share.  It is rich so less can be more.  Now that I think about it – I probably should have topped it with a bit of cinnamon & tequila whipped cream – perhaps next time.
 On to the recipe:
Gather the ingredients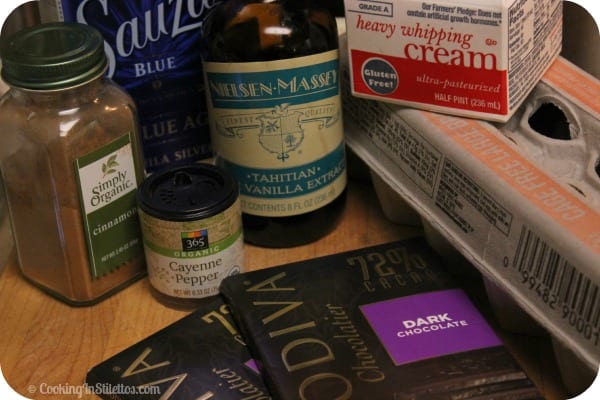 Add the spices to the chocolate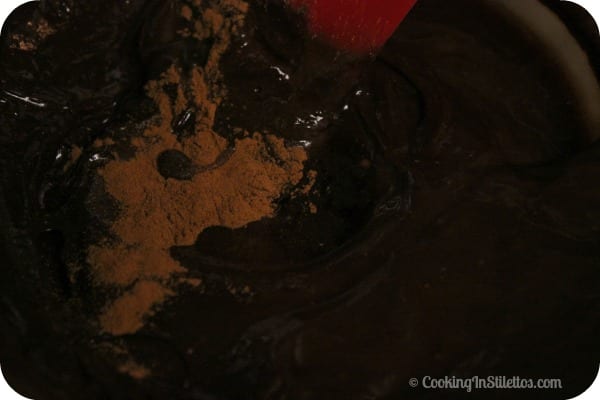 Make sure the chocolate is cool enough so you don't have scrambled yolks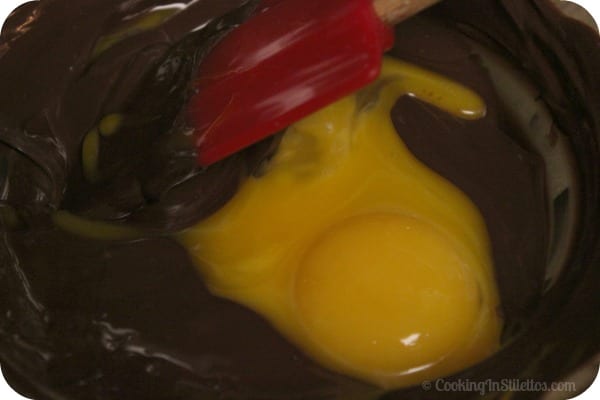 Time to add the fluffy egg whites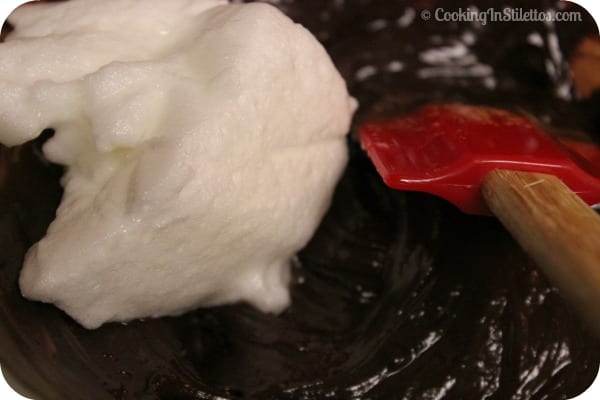 The beginnings of a light as air chocolate mousse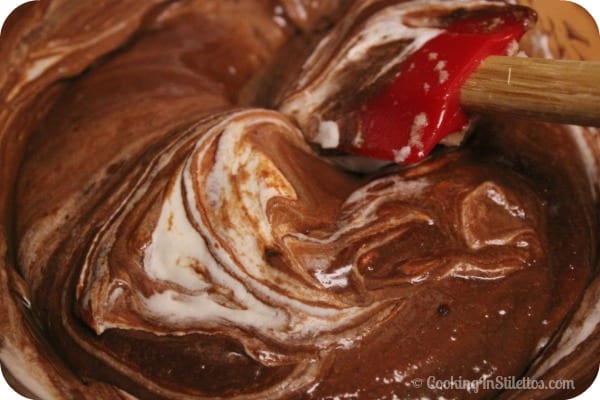 Now – how is this sinful?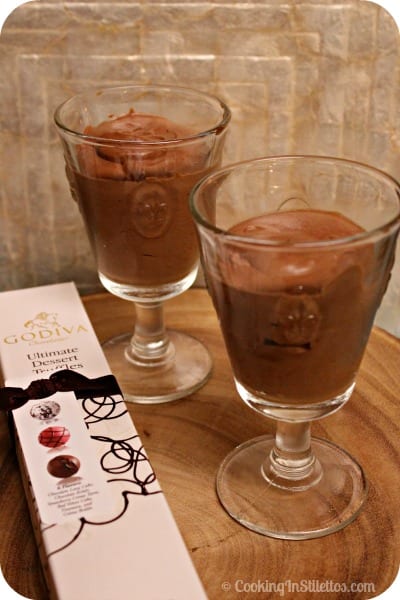 Spiked Mexican Chocolate Mousse
---
Recipe Adapted from Ingrid Hoffmann
Yields 4
This light as air chocolate mousse has a bit of a kick with some heat and a dash of tequila. This Spike Mexican Chocolate Mousse will have your guests begging for more!
30 minPrep Time
60 minCook Time
1 hr, 30 Total Time
Ingredients
6 ounces dark chocolate, chopped
3 large egg whites, at room temperature
1 cup heavy cream, cold
2 large egg yolks
1 ounce tequila
1/2 teaspoon of cinnamon
1/8 teaspoon of cayenne pepper (or a bit less if you want less spice)
1 teaspoon of vanilla
1 bar chocolate (for garnish)
Directions
Place the chopped dark chocolate in a large bowl and place in the microwave. On high, microwave for a minute, stir the chocolate again and then microwave for another 15 seconds, stir again and everything should melt perfectly. Let cool for a minute.
In clean bowl of an electric mixer, beat the egg whites at high speed until it holds medium peaks. Set aside.
In another clean bowl, beat the heavy cream with an electric mixer on high until that too is at medium peaks.
Time to turn back to the chocolate – mix in the yolks and the tequila and then add the cinnamon, cayenne pepper and vanilla. Stir and make sure everything is incorporated.
Fold in 1/3 of the egg whites first to lighten the chocolate mixture.
Follow that with the remaining egg whites and fold everything gently so as not to lose the air.
Finally, gently fold in the whipped cream until everything is light and fluffy. Do not over mix - you will lose the air.
To serve, spoon the mousse into glasses. Shave some dark chocolate over the top of the mousse using a vegetable peeler.
Chill for at least an hour or up to a day ahead (and resist the urge to sneak a couple bites!).
Enjoy!
Notes
Recipe Adapted from Ingrid Hoffmann

[RAW EGG WARNING] – take caution because of the raw eggs in this. Obviously, consuming raw and lightly-cooked eggs puts one at the slight risk of Salmonella or other food-borne illness. To reduce this risk, it's recommended that you use only very fresh, properly-refrigerated with intact shells. If something is off – go with your instinct and don't serve.
7.6.8
900
https://cookinginstilettos.com/spiked-mexican-chocolate-mousse/
All images and content are © Cooking In Stilettos. Please do not republish without contacting us first. Thank you.
The Godiva Truffle Flights are the perfect end to an evening or a fabulous gift for the holidays or anytime.  Many thanks to Godiva for a fabulous evening and y'all are going to LOVE the recipes – I will be spotlighting them all next week.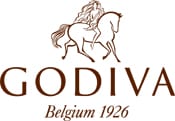 INTRODUCING THE GODIVA Truffle Flight
Get ready to experience truffles as you never have before. Much like you would taste a wine flight, tasting a GODIVA Truffle Flight is a progressive exploration of flavors, textures and aromas. Our Executive Chef Chocolatier, Thierry Muret, personally selected the truffles in each of the six flights, placing them in order for the ideal tasting experience. The concept is thoroughly groundbreaking—we know because we invented it—and deliciously GODIVA.

Disclosure: Compensated post by Godiva.
Did you enjoy this post?
| | |
| --- | --- |
| Share the love | Get free updates |