These Bacon Egg and Cheese Muffins are going to be a mainstay in my house – I can make a batch or two and freeze them. Instead of racing through a drive thru in the morning, I was able to grab a muffin, some fruit and was out the door in no time and knew I made a healthier choice for breakfast.
Making these couldn't be easier – just don't do what I did. Most of the time, when I make bacon, it is baked in the oven. I hate frying it in a skillet because the grease goes EVERYWHERE. I am not a fan of the bacon grease splatter. So – while it was getting crispy, I was removing the bacon as quickly as I could from the pan with a slotted spoon while trying to not get burned. Next thing I know, I see the paper towel on my paper-lined plate glowing. Apparently the heat was a tad too high and the flame caught on the paper towel and set it ablaze. So – like an idiot, I was huffing and puffing, trying to blow out the flaming paper towel before it reached the crispy bacon. Thankfully no bacon (or my kitchen) was harmed in the flaming chaos.
One other thing I did was reserve a teeny amount of bacon grease to softly scramble the eggs. It added more of a smoky bacon flavor to the eggs and I was able to get the bacon fond that was on the pan and who wouldn't love that, right? I also was originally going to use some cheddar/Monterey jack mix but decided that some seriously sharp cheddar would be better. One bite of these muffins and I knew that I made the right choice. These breakfast muffins are definitely going in the morning rotation.
Looking for a great breakfast idea – these Bacon Egg and Cheese Muffins would be fabulous for those busy mornings when time is of the essence!
On to the recipe:
Gather your ingredients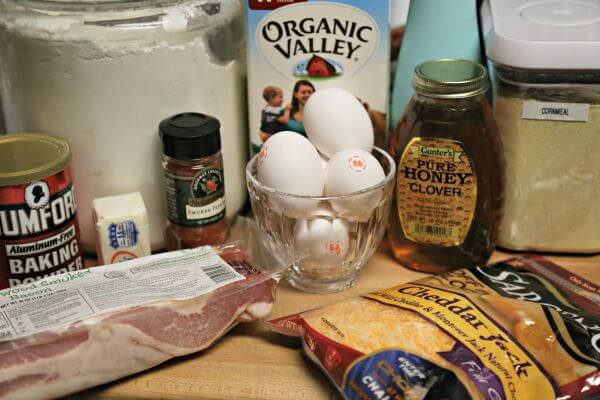 Whisk together the dry and wet ingredients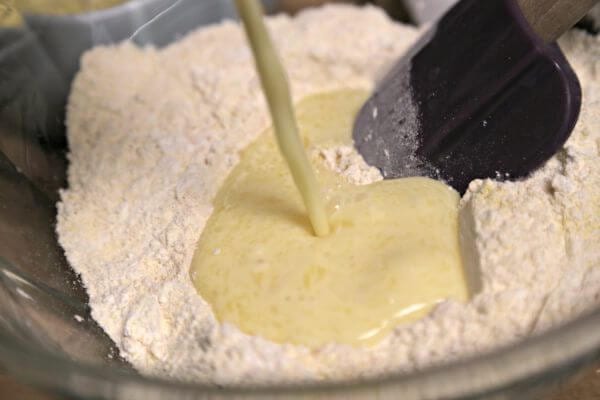 Softly scramble the eggs with a bit of bacon luv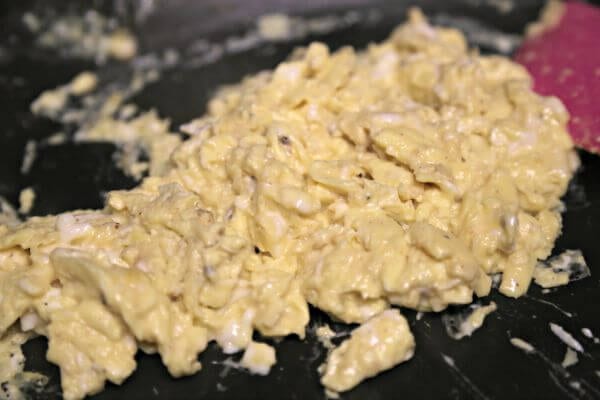 Time to fold the bacon, eggs and cheese into the mix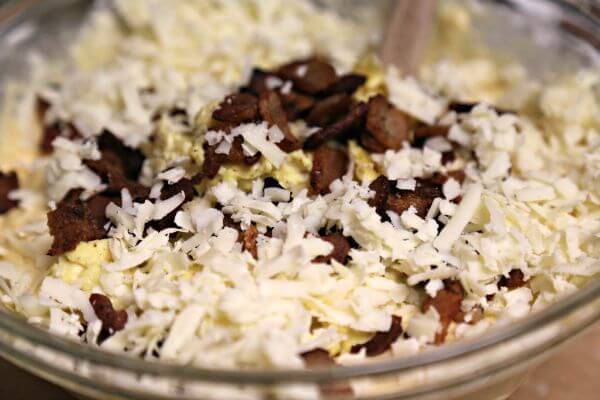 Off to the oven to bake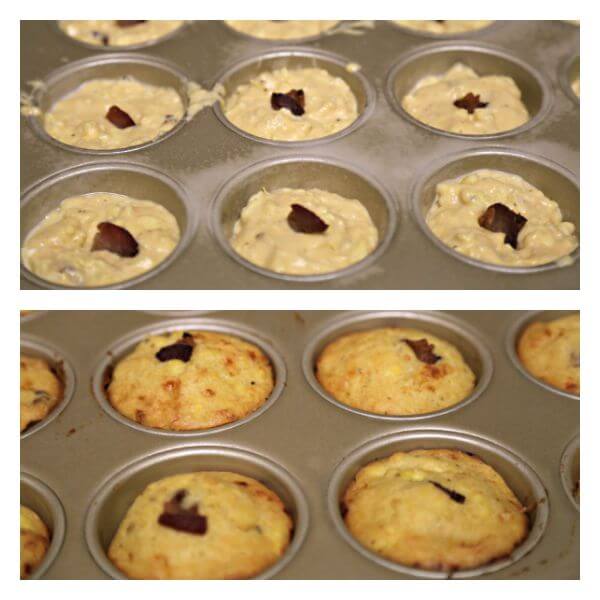 Now – do you want yours for here or to go?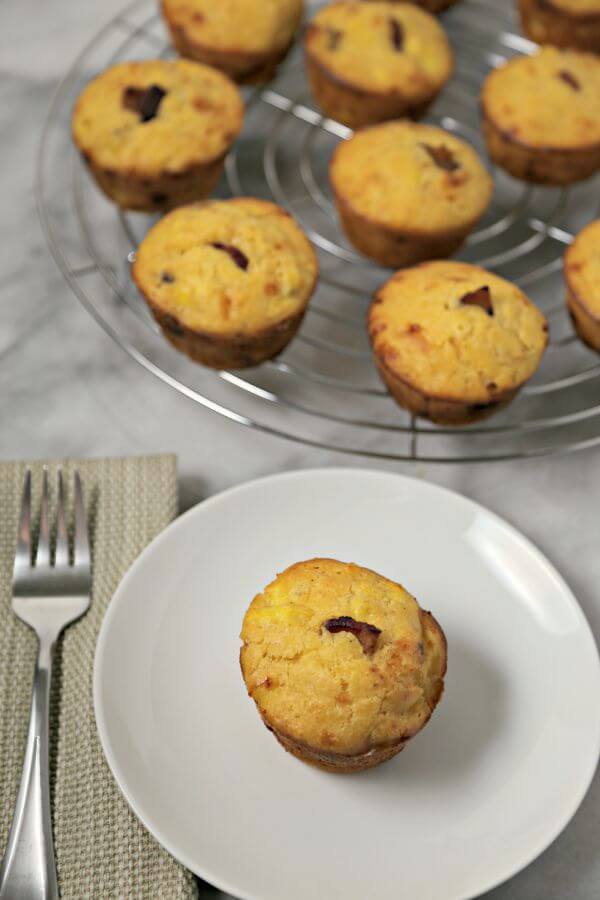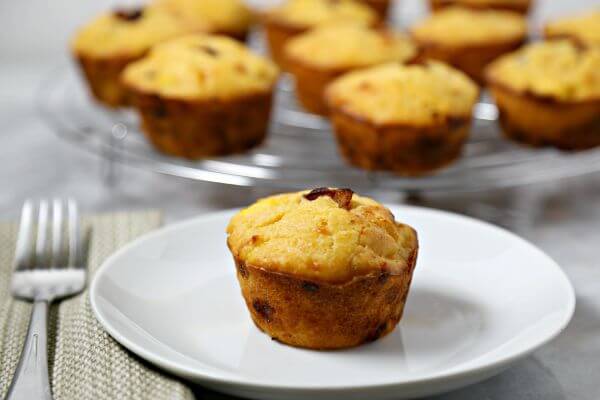 Adapted from Better Homes & Gardens "Fall Baking"
Yields 12
Bacon Egg and Cheese Muffins
These Bacon Egg and Cheese Muffins are the perfect grab and go breakfast. Crisp bacon and softly scrambled eggs are folded into a cheesy cornbread batter.
30 minPrep Time
20 minCook Time
50 minTotal Time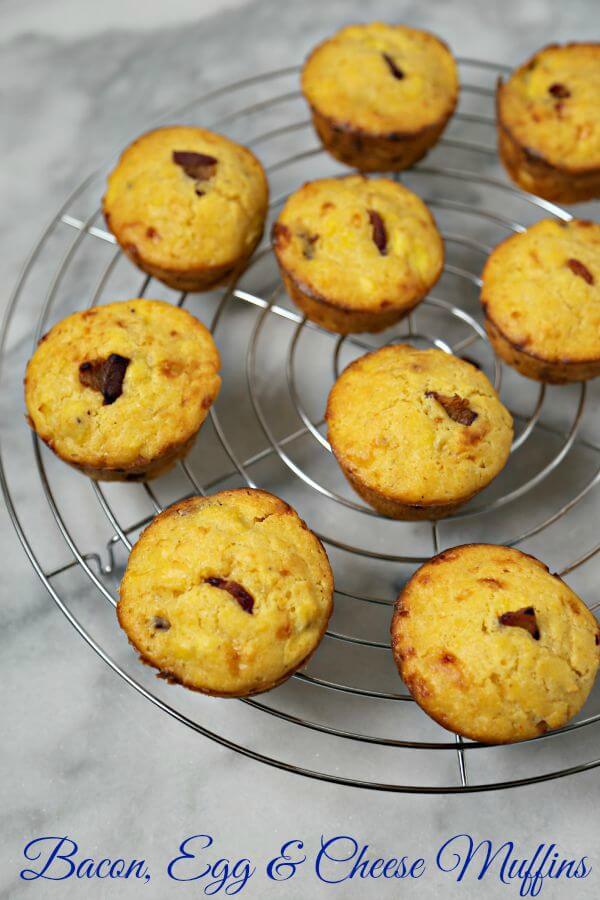 Ingredients
For the filling:

5 strips of thick cook bacon, diced
4 eggs
1 tablespoon of milk
1/4 teaspoon of kosher salt
1/8 teaspoon of freshly cracked black pepper
3/4 cup of shredded sharp cheddar cheese

For the muffin batter:

1/2 cup of cornmeal
1 cup of all-purpose flour
2 1/2 teaspoons of baking powder
1/2 teaspoon of salt
1/2 teaspoon of smoked paprika
1/4 teaspoon of freshly cracked black pepper
1 cup of milk
2 eggs
2 tablespoons of honey
1/4 cup of melted butter
Instructions
Preheat your oven to 400 degrees F.
Lightly spray a 12-cup muffin tin with nonstick baking spray and set aside.
In a large nonstick skillet, fry the bacon until it turns crisp. Remove to a paper lined plate, taking care to not set the plate or paper towel on fire like I did.
Drain the grease, reserving just a little bit for the eggs (about 2 teaspoons or so).
In a small bowl, whisk together the eggs with 1 tablespoon of milk.
Add the whisked eggs to the skillet and softly scramble the eggs, taking care to let the eggs set, then fold with a spatula until soft glossy curds form. Season with a bit of salt and pepper and set aside.
In a large bowl, add the cornmeal, flour, baking powder, salt, smoked paprika and pepper. Whisk together lightly with a fork until everything is combined.
Form a well in the center and assemble the wet ingredients.
In a small bowl, whisk together the milk, eggs, honey and melted butter until combined.
Pour into the center and stir until it is just combined.
Reserve 12 pieces of bacon for the top of the muffins. Add the remaining bacon, scrambled eggs and cheese to the batter and fold in so that it's distributed throughout.
Using a large ice cream scoop or small ladle, fill the muffin tins until they are two-thirds of the way full. Top each with a reserved piece of crisp bacon.
Bake for 15 to 17 minutes, until the muffins are golden brown and cooked through, testing with a toothpick and making sure that it comes out clean.
Let cool in the pan for about 10 minutes.
Enjoy!
Notes
If you keep these muffins in the fridge, it should be fine for 3 – 4 days. Warm in a microwave for a minute or so. If cooking from frozen, you might have to warm it a bit longer.
7.8.1.2
144
https://cookinginstilettos.com/bacon-egg-and-cheese-muffins/
Let's see what #BaconMonth deliciousness our group of bacon lovers have in store today!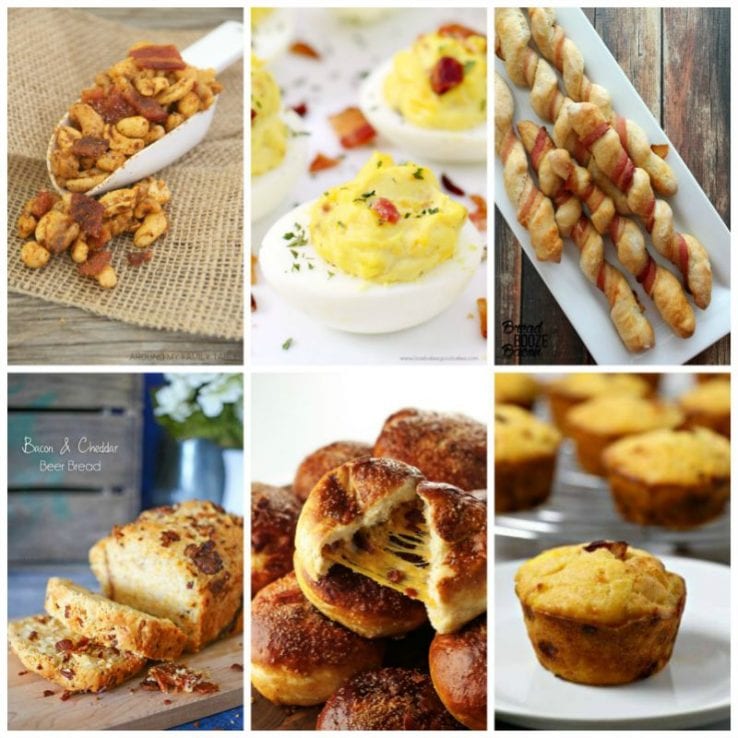 Cheesy Bacon Suffed Pretzel Rolls