Welcome to Day #1 of Appetizer Week, a multi-blogger event co-hosted by Kim of Cravings of a Lunatic and Kristen from Frugal Antics of a Harried Homemaker. With the big football game coming up, we wanted to make sure you had plenty of ideas for your game day spread. Each day we will be dishing up a different set of appetizers. We hope you enjoy this fabulous group of recipes. Tune in each day starting with Monday, January 20 and ending on Saturday, January 25. Lots of great prizes will be up for grabs so you do not want to miss one single day. Follow #AppetizerWeek on Twitter to keep up to date with all our amazing recipes and giveaways!
Are you getting your appetizers ready for The Big Game?  When it comes to menu planning, I tend to look for appetizers that are comforting yet chic and one recipe that is ALWAYS a hit at my soirees are Southern Meatballs. I do a slight variation on the typical grape jelly meatball recipe and switch it up with some whole berry cranberry sauce. Mixed with some chili sauce, red pepper flakes, a touch of brown sugar and a squeeze of lemon and you have a meatball that is sweet and spicy and your guests will beg you for the recipe.
I decided instead of using frozen meatballs, I'd make some turkey meatballs from scratch.  Plus – as y'all know, turkey and cranberry are a powerhouse flavor match. There was one hiccup with this recipe, however. I grabbed the ingredients and, being pressed for time, I was grabbing bottles, jars and boxes, lining up everything to get started and, like the blonde I am, I did not read the label of one of the jars. While the turkey meatballs were baking away in the oven, I went to make the sauce. I poured everything in the pot, took a quick taste and realized that I grabbed COCKTAIL SAUCE instead of chili sauce. While it might have worked, I personally didn't want that distinctive horseradish bite so I had to start the sauce over from scratch. Note to self – stock up on chili sauce, hide the cocktail sauce and read the labels before I start on my culinary experiments!
These meatballs were a hit and will be on the menu for the Big Game. They simmer away, absorbing all of the cranberry deliciousness and a few hours later, you are rewarded with the most moist, flavorful and downright addictive meatball you have ever tasted. Next time you have a soiree, make these and reap the compliments that will be coming your way. Just tell them it was "oh something that I whipped up" and let them think you are a culinary wiz!
On to the recipe:
Gather the ingredients *doh – how could I not see COCKTAIL SAUCE*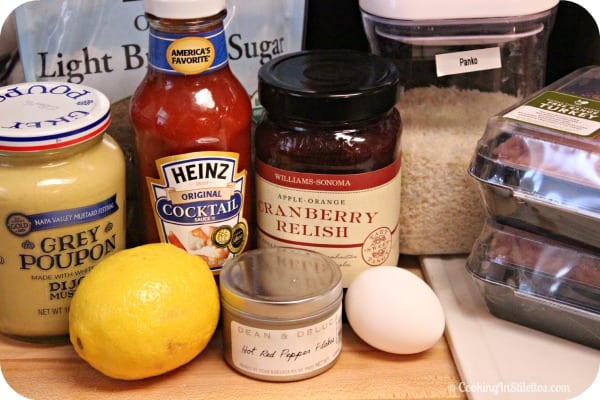 Time to bake the meatballs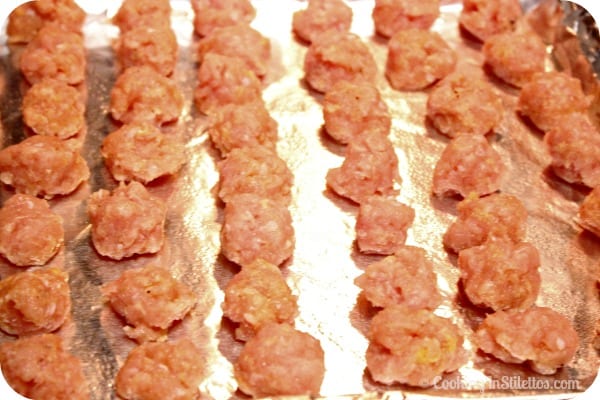 Take two – this time with CHILI sauce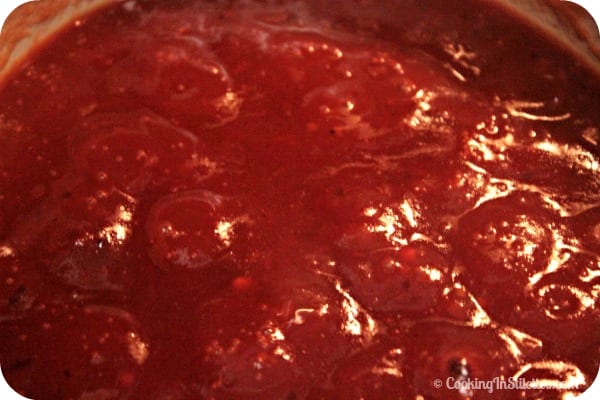 Pouring the sauce over the meatballs in the slow cooker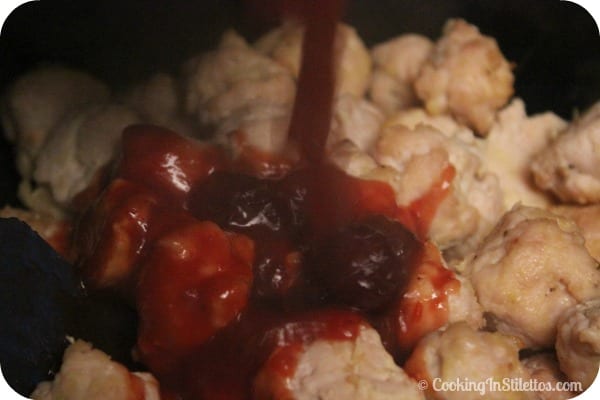 Try to have just one – I dare you!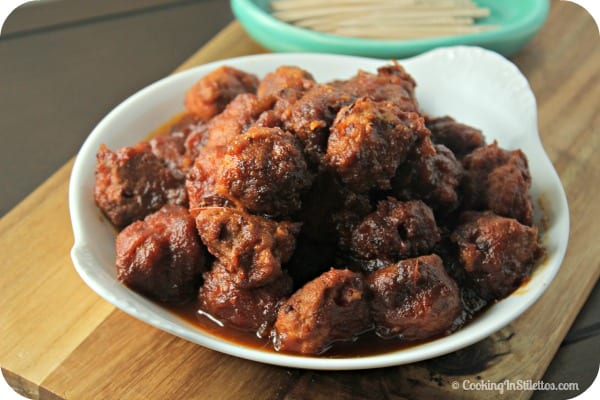 Aly M. Cleary
Sweetly Spicy Southern Meatballs
Southern Meatballs jazzed up with a bit of holiday spice. These meatballs will be a must make for any holiday, party or tailgate party!
20 minPrep Time
7 hr, 30 Cook Time
7 hr, 50 Total Time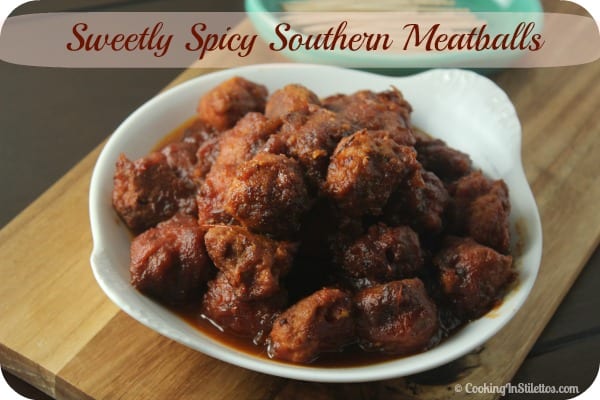 Ingredients
For the meatballs:

2 pounds of ground turkey
1 egg
1/3 cup of panko breadcrumbs
1/2 teaspoon of salt
1/4 teaspoon of ground pepper

For the sauce:

1 1/2 cups of chili sauce (1 12 oz. bottle should work perfectly)
1 1/2 cups of cranberry sauce
1 tablespoon of Dijon mustard
1 tablespoon of brown sugar
1/8 – 1/4 teaspoon of red pepper flakes
Salt and Pepper to taste
Instructions
For the meatballs:

Preheat the oven to 400 degrees F.
In a bowl, mix together the turkey, egg, panko breadcrumbs, salt and pepper.
Form into small meatballs and place onto a baking sheet lined with foil.
Bake for about 15 – 20 minutes, until the meatballs start to lightly brown and are cooked through.
Remove and place in the insert of a 4 qt. slow cooker.

For the sauce:

In a saucepan, mix together the chili sauce, cranberry sauce, Dijon mustard, brown sugar, and red pepper flakes.
Let simmer for a few minutes, taste and add a bit of salt and pepper as needed.
When the mixture comes to a bubble, turn off the heat and pour the sauce over the meatballs in the slow cooker.
Stir to coat everything thoroughly.
Set the slow cooker to LOW and let cook for 5 – 7 hours.
Enjoy!
7.8.1.2
273
https://cookinginstilettos.com/sweetly-spicy-southern-meatballs-with-homemade-turkey-meatballs/
Visit all the other Appetizer Week participants for more Football Munching Temptations: