I couldn't let the weekend start without sharing this utterly divine Salted Caramel Sauce that I played with using Kelsey Nixon's recipe.  Trust me when I say that you might want to double or triple this recipe.  I used the whole amount in the Carmelitas so, this morning when I had a craving for a caramel macchiato, I was a bit miffy that I didn't have any leftover.  Hmmm.. perhaps I should keep this in the fridge to cut down on those 'bucks runs.
This sauce is easy to make but it goes from clear to amber in a split second so my best advice – have all your ingredients at the ready, measured and prepared to mix together.  Also – I learned that a wet pastry brush comes in handy for all of those sugar crystals that tend to creep up the sides from swirling the water and sugar together.  And, of course, it goes without saying that you need to be careful because scalding hot sugar is NEVER fun my friends… not like I've ever experienced a sugar mishap *cough cough*.
I guarantee that if you love salted caramel, you will adore this sauce!
On to the recipe:
Gather the ingredients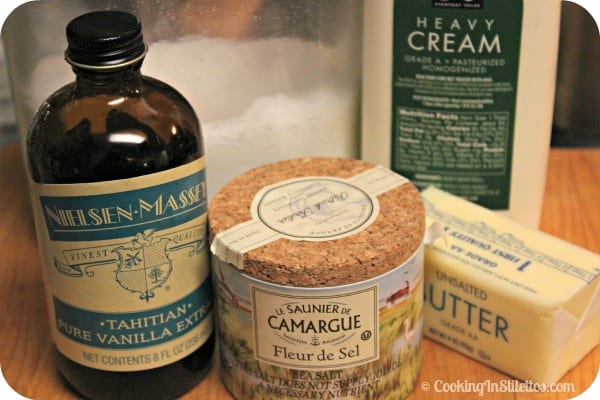 The makings of a caramel sauce – so simple!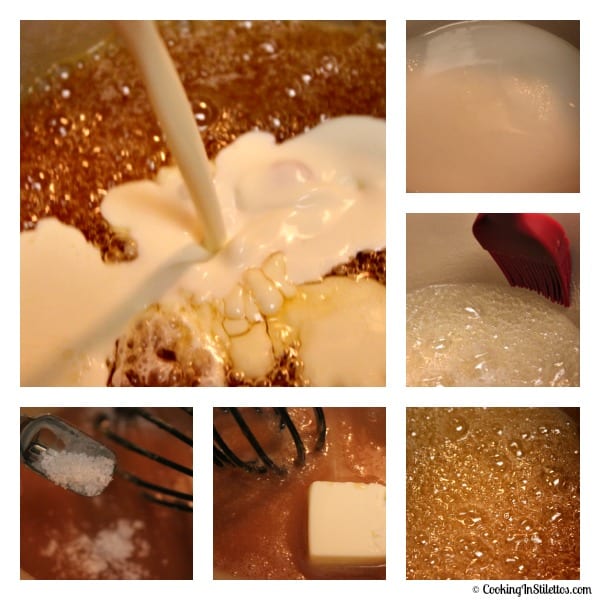 Try to resist the urge to channel your inner Nigella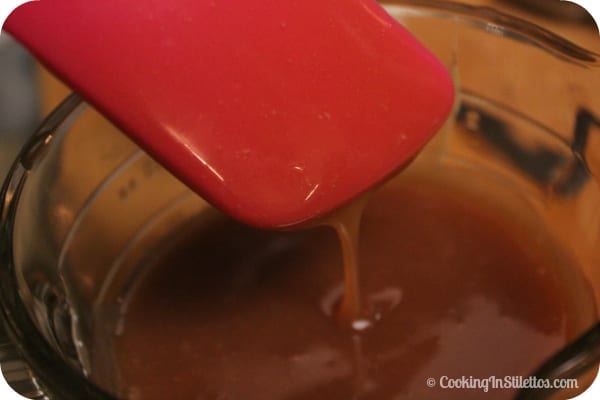 Tried and True: Salted Caramel Sauce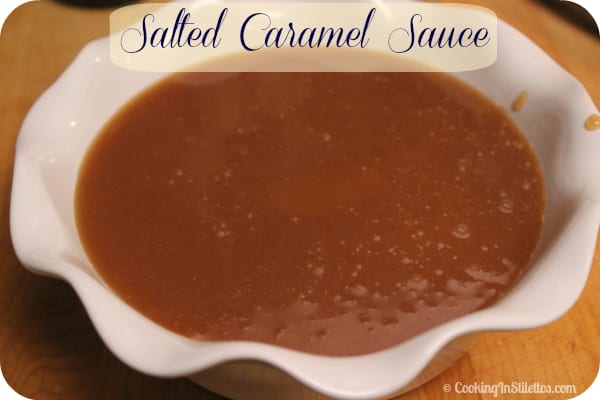 Ingredients
1 cup of sugar
1/4 cup of water
3/4 cup of heavy cream
3 tablespoons of unsalted butter
3/4 teaspoon of sea salt or kosher salt
1/2 teaspoon of vanilla extract
Instructions
Over medium low heat, combine the sugar and water in a heavy bottomed saucepan.
When the sugar fully dissolved, increase the heat and bring to a boil.
DO NOT STIR – just swirl the pan a bit. If sugar crystallizes on the side of the pan, use a wet pastry brush to whisk them into the boiling sugar.
Boil the sugar until it turns to a rich amber color – about 5 – 7 minutes.
Remove from the heat and quickly whisk in the heavy cream. It will bubble so have everything ready ahead of time.
Stir in the butter, salt and vanilla.
Transfer to a container and let cool.
This should keep about 2 weeks in the fridge (if it lasts that long).
Enjoy!
7.8.1.2
299
https://cookinginstilettos.com/salted-caramel-sauce/