This month I was thrilled to be paired up with Jennifer from 'Licious and she confessed that she had a thing for chocolate and caramel.  She also loved citrus but since the citrus at the store wasn't looking its best, I figured there's nothing that chocolate and caramel couldn't fix.  But what to make – my recipe idea didn't have any caramel in it and I did make brownies a couple months prior so my fave salted caramel brownies were out of the question.  Hmmm….
I have made caramel sauce before but with the goings on in the house – I could be watching the caramel and next thing I know, the SousPug falls off the couch or the Evil Minx starts a fight with the edge of the new sofa (don't ask *sigh*) and that lovely amber hue will turn dark and deadly in the blink of an eye.  So – with a bit of coordination, a careful ear for the the pug snore indicating that he would not be attempting another couch dive, I went to work.
Of course you can use your favorite caramel sauce in this recipe and Sandra Lee it but I went with a variation of Kelsey's version that I pinky swear to share tomorrow.  [Note: get the Salted Caramel Sauce recipe here.]  It's the perfect balance of sweet and salty and melded with dark chocolate and almonds – oh my heavens these are scrumptious!  Granted, of course, I kept a couple, but the majority of these lovelies are being whisked away on a jet plane, bound to arrive at Jenn's house tomorrow.
Make these lovelies for your friends and family but make sure to keep a couple to the side for yourself – they will be gone that quick!  Don't say I didn't warn you ?
On to the recipe:
Gather the ingredients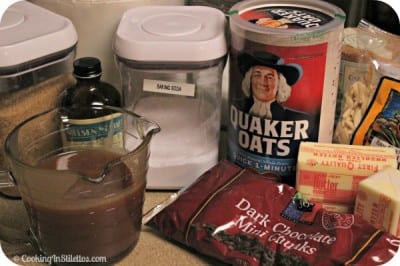 Tip – mix a sprinkle of flour with the chocolate chunks and almonds and it helps thicken everything and ensures nothing sinks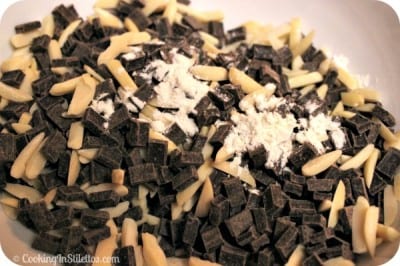 Pouring on the caramel before the top crust covers its beauty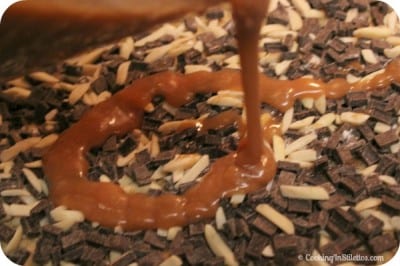 Adding an extra drizzle of salted caramel before it heads back into the oven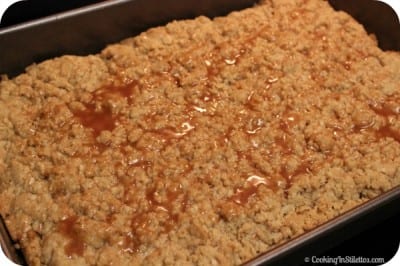 Let's see if you can just have one…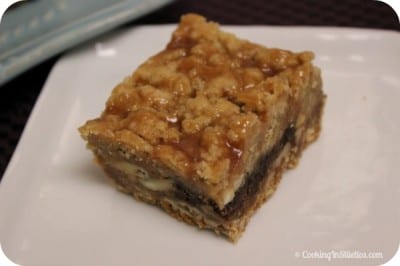 Kelsey Nixon
Homemade Carmelitas
These Carmelitas are the perfect mix of sweet and salty. After all - how can you go wrong with dark chocolate and salted caramel?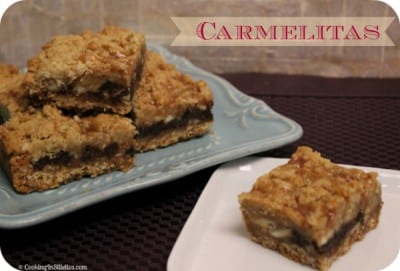 Ingredients
1 1/4 cups of brown sugar
1 1/4 cups (2 1/2 sticks) of unsalted butter, softened
1/2 teaspoon of vanilla extract
2 cups of all purpose flour
1 3/4 cups of quick-cooking oats
1 teaspoon of baking soda
1/4 teaspoon of salt
1 cup of dark chocolate chunks
1/2 cup of slivered almonds
2 tablespoons and 1/2 teaspoon of flour, divided
1 1/2 cups of Salted Caramel Sauce (or your favorite caramel sauce), divided
Instructions
Preheat the oven to 350 degrees F.
Lightly grease or spray a 9 by 13-inch pan.
Set aside 1/4 cup of the Salted Caramel sauce.
In the bowl of an electric mixer, cream together the brown sugar, vanilla and butter.
Add the flour, oats, baking soda, and salt and mix on low until crumbly.
Divide the batter into two equal portions.
Press half of the crumbly batter into the pan in an even layer.
Bake for 15 minutes and remove to cool for about 5 – 10 minutes.
In a bowl, mix the chocolate chunks, 1/2 teaspoon of flour and the slivered almonds together.
Tumble the chocolate over the crust, leaving a bit of a border around the sides.
In a bowl, mix the remaining 2 tablespoons of flour into 1 1/4 cups of the Salted Caramel sauce. Pour the caramel over the chocolate chunks and almonds.
Top the caramel chocolate mixture with the remaining crumb batter
Finally, for a bit of added decadence, drizzle the top of the carmelitas with a bit of the reserved caramel sauce.
Return the pan to the oven and bake for an additional 20 – 25 minutes or until the crust starts to brown.
Let cool for a bit and then refrigerate until the chocolate caramel filling is set.
Cut into bars and enjoy!
7.8.1.2
315
https://cookinginstilettos.com/homemade-carmelitas/