Over Memorial Day weekend, I couldn't resist picking up a couple pounds of cherries were in the fridge and, since I was making a challah French toast already, I figured why not have a spiced cherry syrup to go with.  I mean, making a fresh syrup isn't too hard – remember this lovely blackberry syrup?
This recipe is so simple to put together – you can have it simmering on the stovetop in a hot minute and, if you want to take my advice, I'd make a double-batch.  This spiced cherry syrup would be fantastic over ice cream, divine with a brownie, perfect with yogurt or *whispers* a spoonful or two by itself ala Nigella style. Don't worry – no judgment here. Also – one extra helpful tip – pit extra cherries because you might find yourself doing a bit of "quality control."
On to the recipe:
Gather the ingredients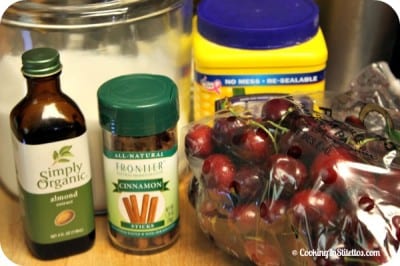 Pitting the cherries is the most strenuous part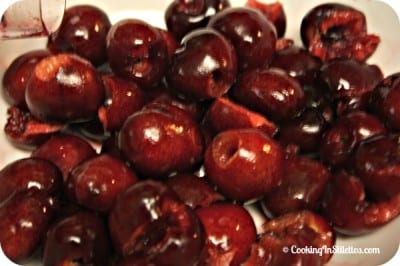 Cherries + Cinnamon = Match Made In Heaven (trust me on this)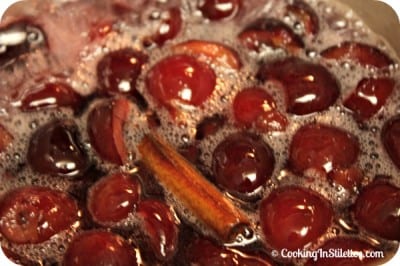 Time to thicken – boil boil boil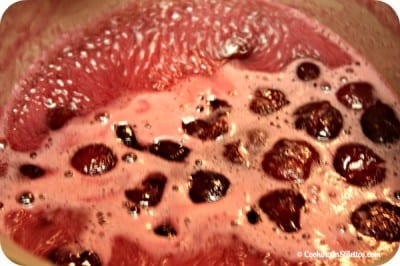 Viola – now you know you want some right?
Tried and True: Spiced Cherry Syrup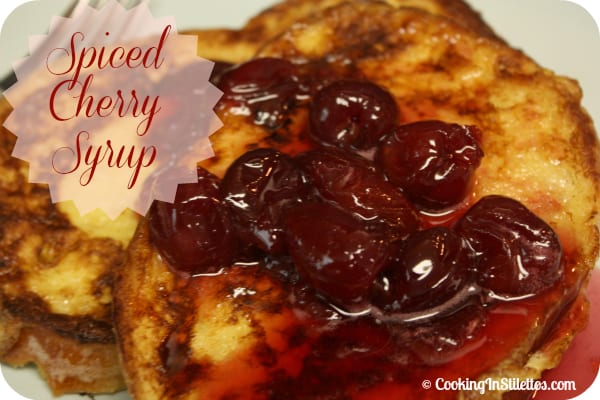 Ingredients
1 1/2 pounds of cherries (about 3-4 cups), pitted.
3/4 cup of granulated sugar (you can add more if the cherries are tart)
3/4 cup of water
1/2 cinnamon stick
1/4 – 1/2 teaspoon of almond extract (I tend to use less – just a hint of almond works perfectly)
1/2 teaspoon of vanilla extract
1 teaspoon of cornstarch
2 teaspoons of water
Instructions
In a medium heavy bottom saucepan, bring 3/4 cup of water and the granulated sugar to a boil and let boil for 5 minutes.
Tumble in the pitted cherries and the cinnamon stick and let simmer for about 10 minutes or so.
Add the almond and vanilla extracts and let simmer for an additional 2 minutes.
Make a slurry of the cornstarch and the 2 teaspoons of water and whisk into the cherry syrup mixture to start the thickening process.
Bring the mixture to a rapid boil for 1 minute and then remove from heat.
Let thicken for a few minutes and enjoy!
7.8.1.2
340
https://cookinginstilettos.com/spiced-cherry-syrup/