It never fails – whenever I head to the Italian Market, I always pick up cipollini onions. The same goes for when they cross my path at Whole Paychex or Wegmans. I love roasting them with potatoes as a quick side dish and there's this tried and true recipe that I can't believe that I haven't shared with you yet – Roasted Cipollini Onions.
This recipe couldn't be any easier – blanch the onions, roast them with some balsamic vinegar and you have a side dish that will be asked for time and time again.
What's one of your favorite side dishes to serve?
Gather The Ingredients
Time to blanch – don't skip this part!
Let's keep it a secret how amazingly simple it is to make these okay?
Tried and True: Roasted Cipollini Onions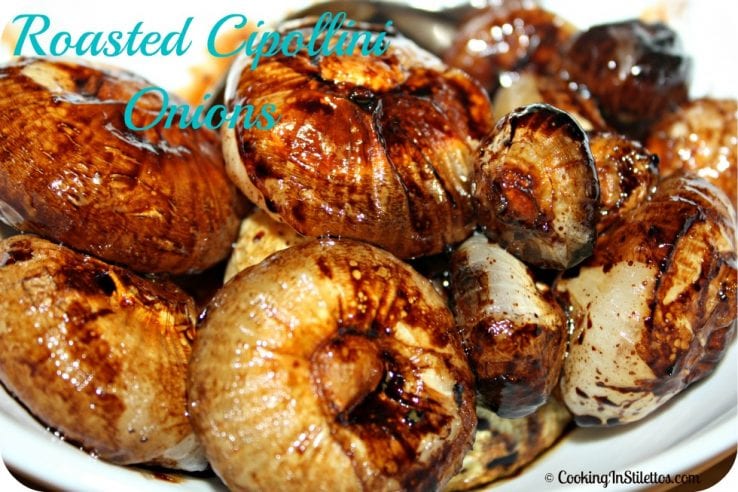 Ingredients
2 pounds of cipollini onions
2/3 cup of balsamic vinegar
1 tablespoon of extra virgin olive oil
1/2 teaspoon of salt
1/4 teaspoon of freshly cracked pepper
Instructions
Preheat the oven to 450 degrees F
Bring a pot of water to a boil.
Blanch the unpeeled onions in the boiling water for 2 minutes.
Remove immediately and immerse in an ice bath.
Let sit in the water for a couple minutes and then peel.
Place the peeled cipollini onions in a baking dish.
In a small bowl, mix the balsamic vinegar, olive oil, salt and pepper and then cover the onions with the mixture, making sure that the onions are coated.
Roast the balsamic coated onions in the oven for an hour or so, until they are tender and somewhat golden.
Enjoy!
7.8.1.2
383
https://cookinginstilettos.com/roasted-cipollini-onions/