Last year, I brought my favorite Apple Cinnamon Waffles with Pancetta and Apple Cider Syrup so for this year I had to top that one.  These Red Velvet Waffles with Bourbon Cherry Syrup and Cream Cheese Drizzle are the ultimate in waffle decadence!
Let me tell you what inspired these over the top waffles.  There is a divine restaurant here in Philly called Supper and if you want a fabulous weekend brunch – that's a must visit spot.  They have this Red Velvet Waffle that is so decadent that you will swoon with each bite – it's rich, dark and full of red velvet goodness.  However, I have the patience of a gnat and waiting overnight for the waffle batter is a no go. 
I made a huge waffle oops with this recipe – while whisking the wet ingredients, I totally spaced and added the red food coloring after the initial batter mix.  Thankfully this batter is forgiving so I was able to fold it in with no worries.  I used a natural red food coloring that I love so while it's not bright acid red, it's still red velvet by my recipe book.  Feel free to use any red food coloring that you adore.  Also – the cream cheese drizzle aka glaze is so good I had to resist my inner Nigella and not keep some of that in the fridge for a midnight bite.  It's so good and not too cloyingly sweet that I joked it should be bottled.  Cream cheese drizzle on everything!  The Bourbon Cherry Syrup is perfect over these waffles or would be fantastic over pound cake, ice cream or whatever your heart desires.  All of these components together make the ultimate red velvet waffle!
So – for your next brunch, whip up these Red Velvet Waffles with Bourbon Cherry Syrup and Cream Cheese Drizzle – it's up to you whether or not to share your top secret recipe!
On to the recipe:
Gather the ingredients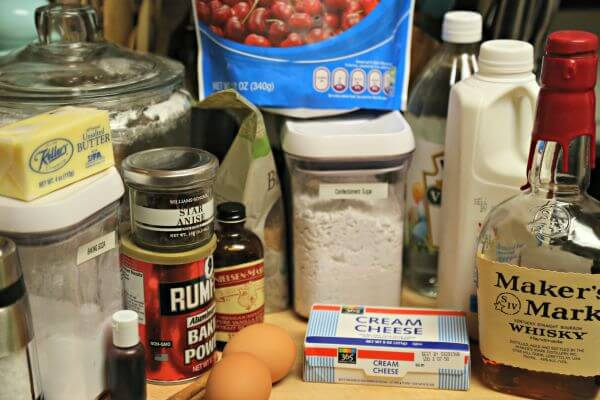 Whisking the wet and dry together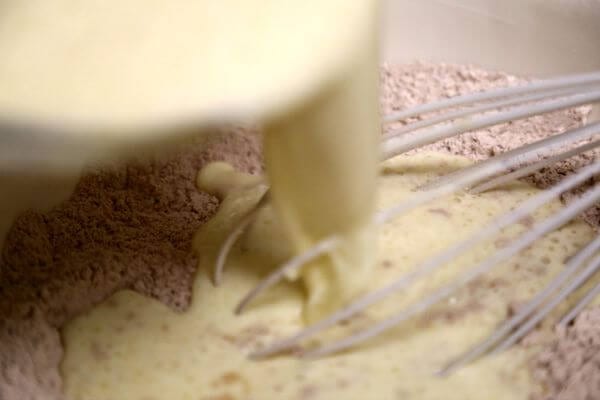 Adding a touch of red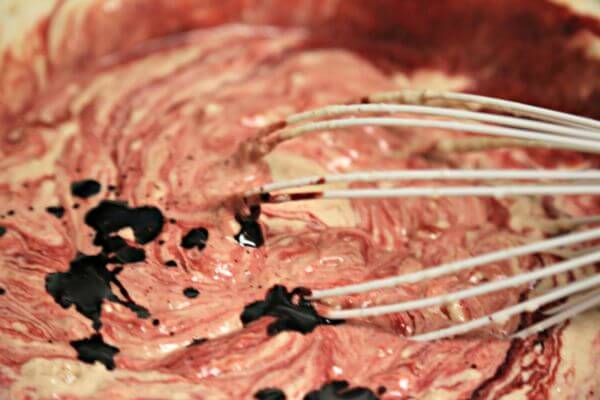 Let's make some waffles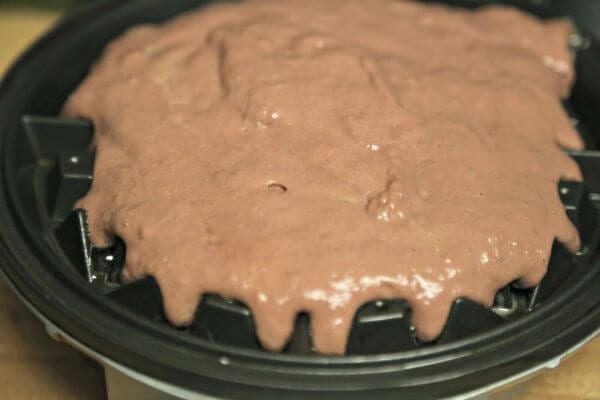 Now these are two essentials – the Cream Cheese Glaze & Bourbon Cherry Syrup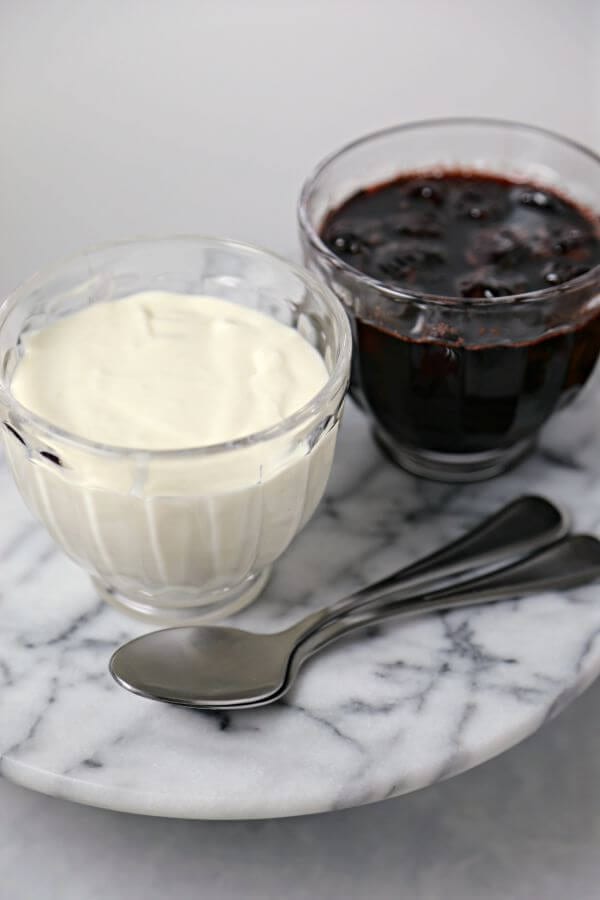 Seriously – these are the ultimate Red Velvet Waffles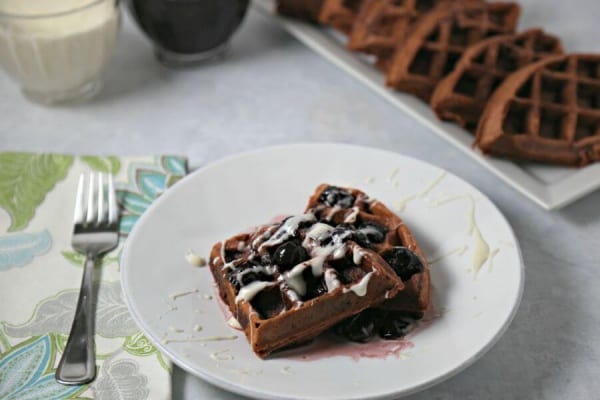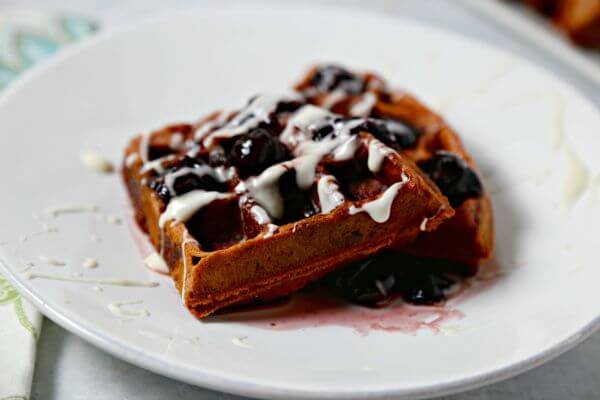 Aly M. Cleary
Yields 6
Red Velvet Waffles with Bourbon Cherry Syrup
These Red Velvet Waffles with Bourbon Cherry Syrup and Cream Cheese Drizzle are the ultimate red velvet waffles - rich, decadent and will have you swooning with each bite.
45 minPrep Time
30 minCook Time
1 hr, 15 Total Time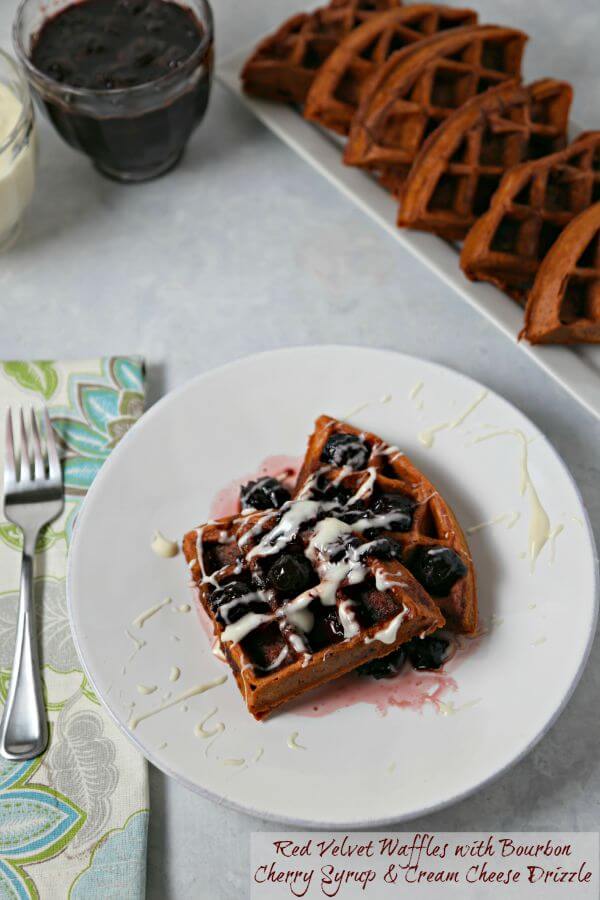 Ingredients
For the Waffles:

2 cups of all purpose flour
1/4 cup of brown sugar
1 tablespoon of baking powder
2 tablespoons of unsweetened natural cocoa powder
1/2 teaspoon of salt
1/2 teaspoon of cinnamon
2 eggs, room temperature
2 cups of buttermilk
1/3 cup of melted butter, cooled
1 teaspoon of vanilla extract
1/2 teaspoon of white vinegar
2 tablespoons of natural red food coloring

For the Bourbon Cherry Syrup

1 pound of frozen dark sweet cherries
1/2 cup of water
2 cups of light brown sugar
1 cup of bourbon
2 cinnamon sticks
1 whole star anise

For the cream cheese drizzle:

6 ounces of cream cheese (about 3/4 cup), softened
2 tablespoons of butter, room temperature
1/2 cup of milk
1 cup of confectioner's sugar
1 teaspoon of vanilla extract
Instructions
To make the waffle batter:

In a bowl, sift together the flour, brown sugar, baking powder, cocoa powder, salt, and cinnamon.
In another bowl, whisk together the eggs, buttermilk, melted butter, vanilla extract, vinegar and red food coloring.
Make a well in the center of the dry ingredients and add the buttermilk mixture.
Mix until everything is combined taking care to not overmix.
Let rest for 15 minutes while you make the syrup.

To make the syrup:

In a saucepan, combine the cherries, water, brown sugar, bourbon, cinnamon sticks, and star anise.
Stir together until everything is combined.
Bring to a boil over medium high heat and reduce to a simmer.
Let simmer for about 10 minutes or so until the syrup is reduced by half.
Keep warm while you make the waffles.

To make the cream cheese drizzle:

In a bowl, combine the softened cream cheese and butter.
Using an electric mixer, mix until everything is combined.
Add half of the confectioners' sugar followed by half of the milk and mix.
Add the remaining confectioners' sugar and milk followed by the vanilla and mix well until it's at a good consistency.
Set aside.
To make the waffles:
Mix the batter one more time with a spatula and add some of the center of a preheated waffle iron. I added a little nonstick baking spray to my waffle iron.
Bake until everything is done and then repeat.
Keep warm until ready to serve.
To serve - drizzle the red velvet waffles with some of the bourbon cherry syrup and cream cheese glaze and enjoy!
7.8.1.2
138
https://cookinginstilettos.com/red-velvet-waffles-with-bourbon-cherry-syrup/