The classic roast turkey recipe gets an upgrade with a sweet and spicy mustard maple glaze that is so flavorful your guests will beg for seconds. This Mustard Maple Glazed Roast Turkey with Homemade Gravy will be a holiday favorite!
This post may contain affiliate links to products I adore and use in my kitchen. Thank you for supporting Cooking In Stilettos.
Thanksgiving is here and I have a fabulous turkey recipe for those that want to take a bit of a deviation from the standard roast turkey recipe – a Mustard Maple Glazed Roast Turkey with Homemade Gravy.   This turkey is packed with flavor and the leftovers the next day are even better.  This is a repeat on my holiday menu – it's that good.
Thanksgiving came up quick this year and I have a confession – I'm still finalizing my menu.  I know, I know – late planning on my part but I know this turkey is making a repeat appearance this year along with my favorite loaded mashed potatoes, Stovetop Green Bean Casserole, my favorite Thanksgiving Stuffing, and a couple other sides.  I'm using a fresh turkey this year so I'll be fighting the crowds at the store early this morning to pick mine up and race home to get it chilled.  I have had too many frozen turkey mishaps over the years so to quote Nancy Fuller, "Fresh Is Best".  I'm also taking the opportunity to stock up on turkey stock because this is the only time of year I am able to find it at my local stores.
I saw a version of this recipe last year when I was watching an ep of Thanksgiving at Bobby's and of course, Bobby Flay had to add a bit of chile game to his turkey. I love the combo of chiles and turkey after my Thanksgiving Turkey with Cranberry Chile Tequila Glaze so I decided that I'd give the combo of mustard, maple and ancho chile a try and this, my friends, is off the charts amazing.
Most of the ingredients are probably already on your holiday shopping list and in your pantry and it really is so easy to make. If you can't find the turkey stock, feel free to use chicken stock.  Basically, this recipe requires just a little bit of prep and a bit of vino to sip on while you are making this turkey and you have the ultimate holiday turkey recipe.  While the turkey rests, you can easily whisk up this delicious homemade gravy that has hints of maple, mustard and ancho chile.
This Mustard Maple Glazed Roast Turkey with Homemade Gravy is a flavorful twist on a classic and perfect for your holiday table.
On to the recipe:
Gather your ingredients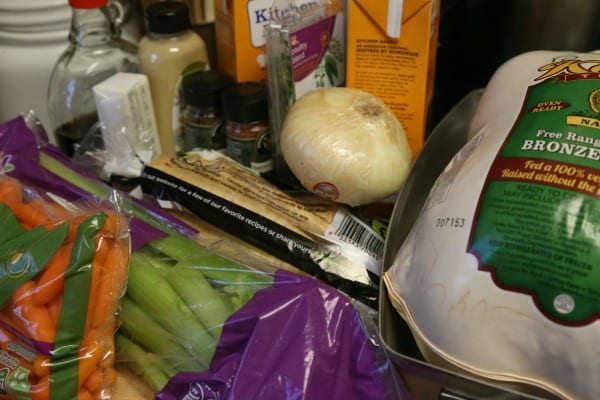 Creating a flavorful bed of veggies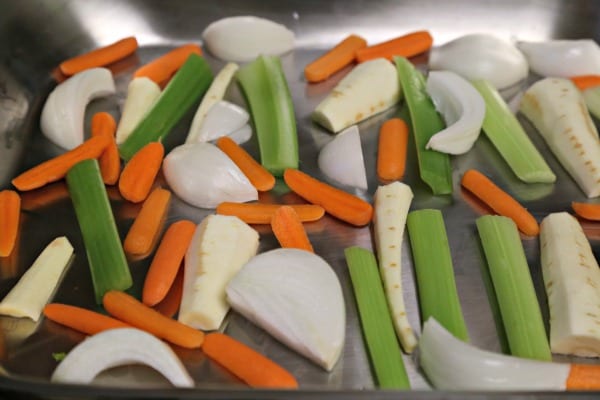 Ready to roast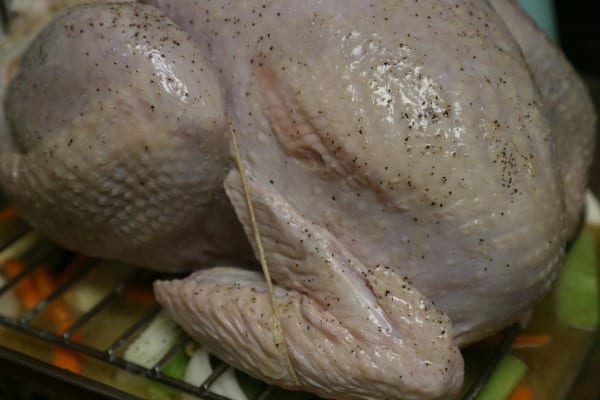 Ladling a bit of the buttery broth over the turkey – look at that golden skin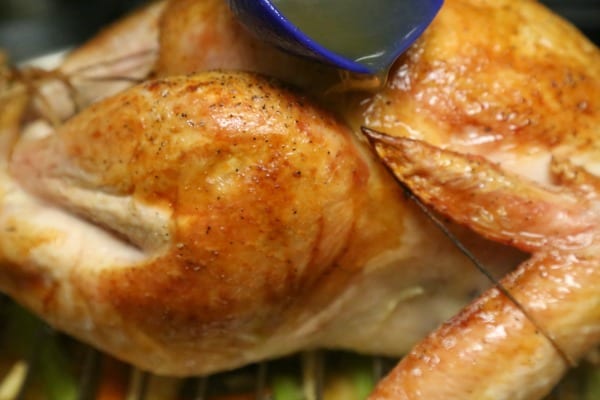 Nothing like a dark amber maple syrup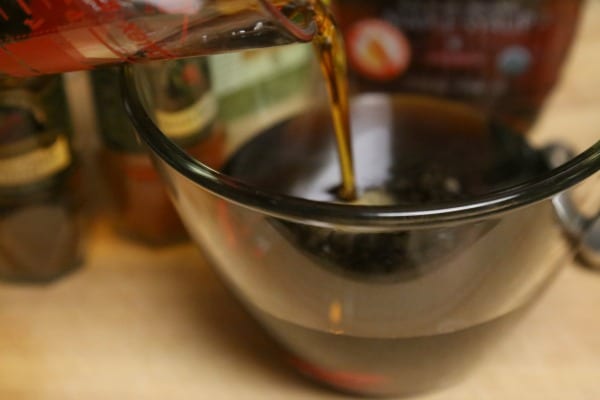 Adding a bit of mustard and spice for the perfect glaze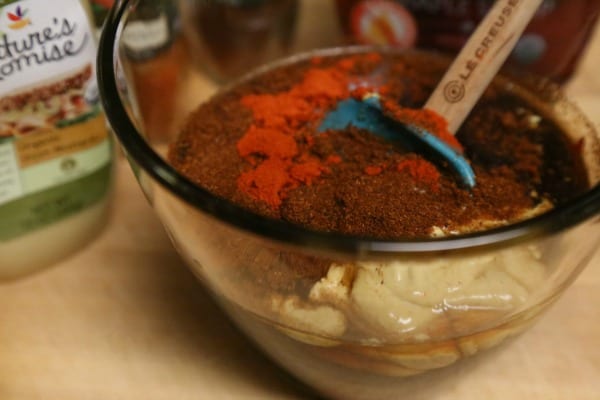 Time to glaze the turkey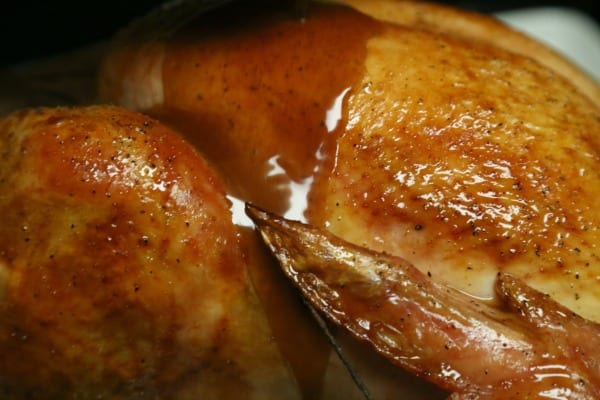 Straining the veggies for the gravy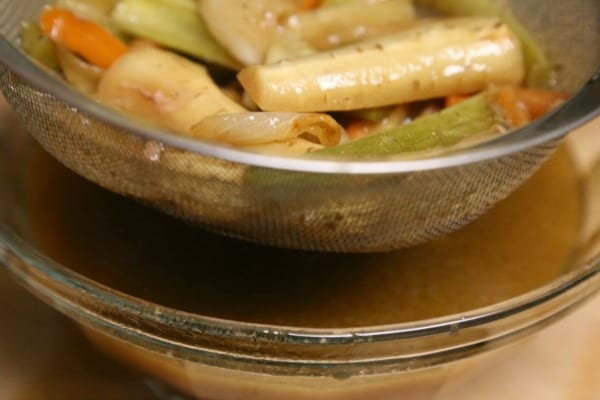 Let's get a golden hue on this roux shall we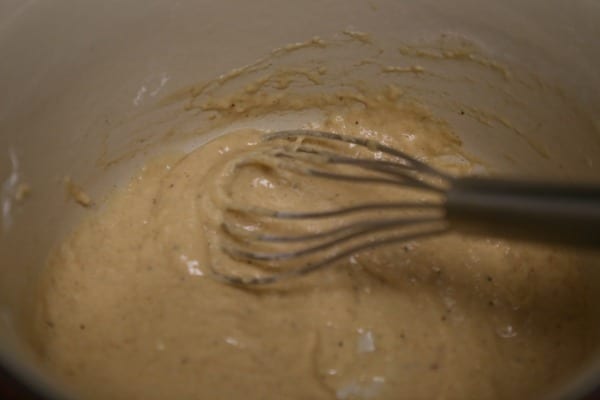 Whisking in the drippings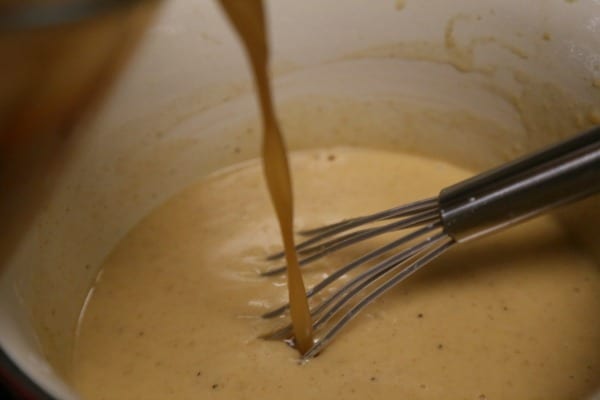 Look at this gravy – so good!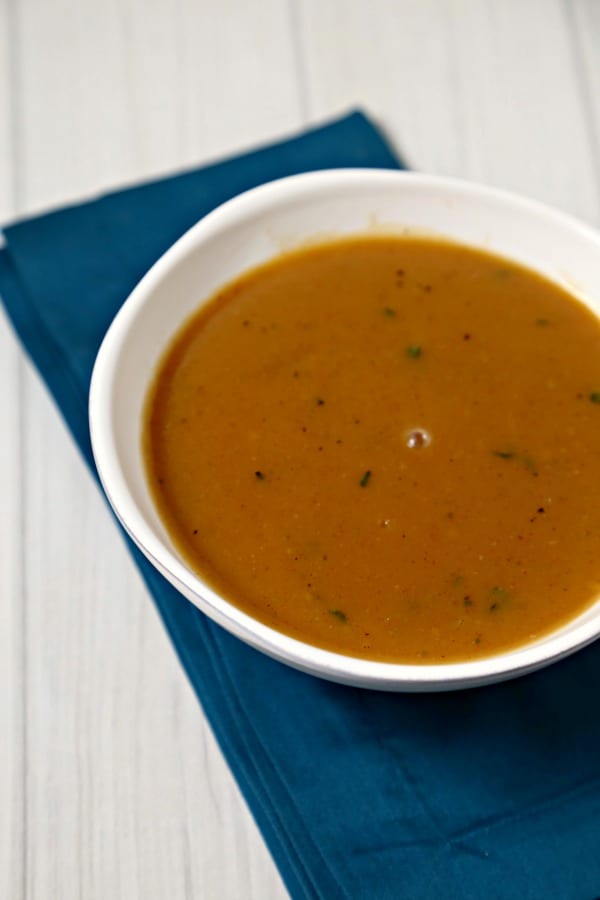 Now this, my friends, is a perfect turkey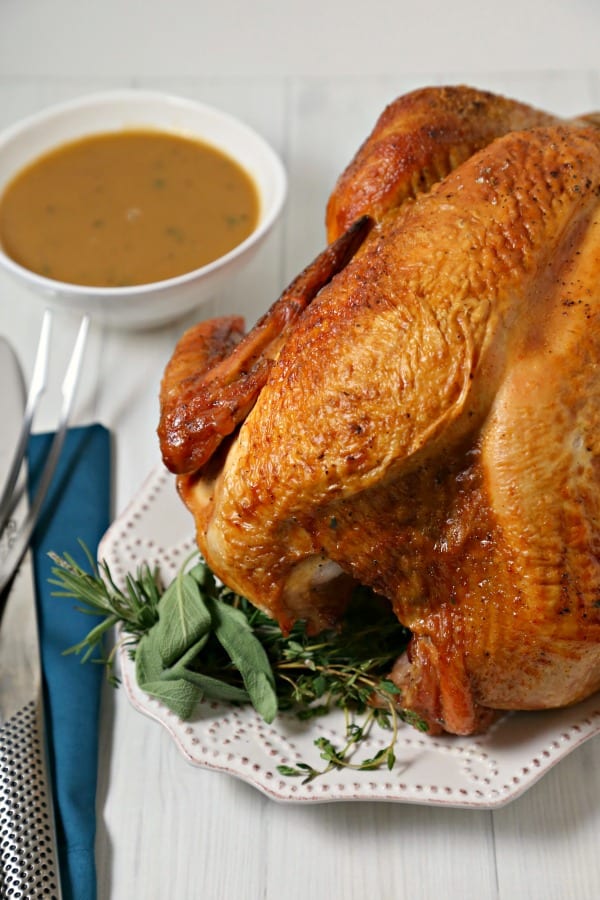 Adapted from Bobby Flay
Yields 12
Mustard Maple Glazed Roast Turkey with Homemade Gravy
This Mustard Maple Glazed Roast Turkey with Homemade Gravy takes the classic roast turkey recipe to new heights. Roast turkey is glazed with a spicy and sweet maple mustard glaze for the ultimate turkey recipe.
30 minPrep Time
3 hr, 30 Cook Time
4 hrTotal Time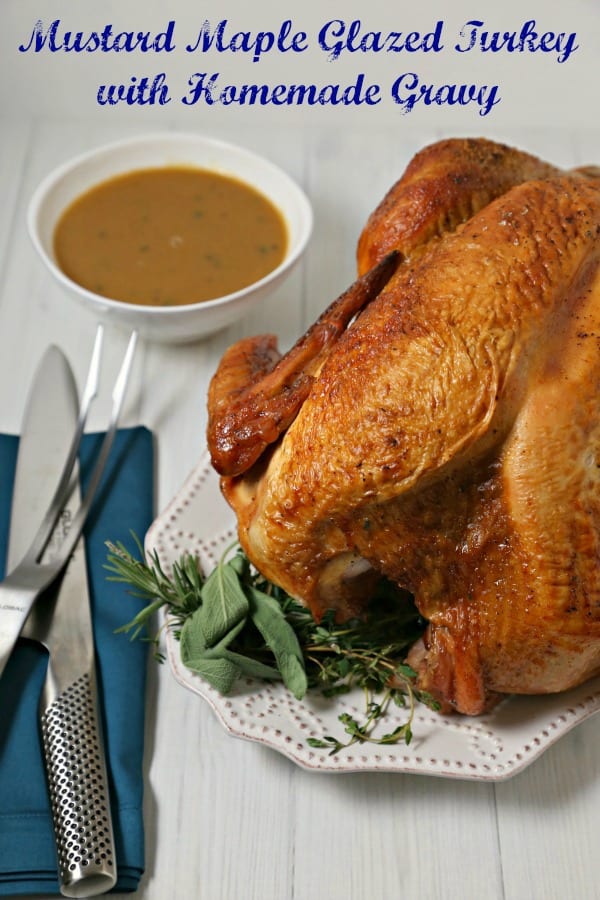 Ingredients
For the Turkey:
3 celery stalks, cut into large pieces
4 parsnips, cut into large pieces
1 1/2 cups of baby carrots, halved
3 large onions, quartered
1 12 – 14 pound fresh turkey, rinsed well and patted dry, giblets and neck removed
1 stick of butter, melted
8 cups of low-sodium turkey stock (or chicken stock)
1/2 stick of butter, unmelted
Kosher salt and freshly cracked black pepper.
For the Mustard Maple Glaze:
1 1/2 cups of pure dark amber maple syrup
2 tablespoons of Dijon mustard
2 teaspoons of smoked paprika
2 teaspoons of ancho chile pepper
3/4 teaspoon of kosher salt
1/2 teaspoon of freshly cracked black pepper
For the Gravy:
1 stick of unsalted butter
7 tablespoons of all-purpose flour
2 teaspoons of freshly chopped thyme
1 teaspoon of freshly chopped sage
Instructions
To make the Turkey:
Let the turkey come to room temperature for at least 30 minutes before cooking.
Heat the oven to 450 degrees F.
In a roasting pan, add the celery, parsnips, carrots and onions and set a roasting rack on top of the veggies. These veggies will add so much flavor to the pan drippings.
Season inside the cavity of the turkey with salt and pepper. Set on the roasting rack.
Brush the turkey with the melted butter and season with salt and pepper.
Keep a saucepan on the stove with warmed turkey stock and the 1/2 stick of butter and ladle a cup of the buttery broth over the turkey.
Roast the turkey in the oven for 45 minutes.
Reduce the heat to 350 degrees F. and continue to roast the turkey, basing with the warm turkey stock every 15 – 20 minutes until the turkey reaches 145 degrees F.
To make the Mustard Maple Glaze:
In a measuring cup, whisk together the maple syrup, Dijon mustard, smoked paprika, ancho chile pepper, salt, and black pepper until smooth.
Cover and let the flavors meld for at least 30 minutes before using to glaze the turkey.
When the turkey is at 145 degrees F., baste the turkey with the mustard maple glaze every 10 minutes until the turkey reaches 155 degrees F. It should take the turkey about 2 hours and 45 minutes in total to roast.
Transfer the turkey to a cutting board and tent the mustard maple glazed roast turkey with foil.
Let the turkey rest for about 45 minutes or so before slicing and while it rests, make the homemade gravy.
To make the homemade gravy:
Strain the drippings from the roasting pan into a bowl and discard the veggies. Discard any fat from the drippings. If you need extra liquid, feel free to add some more turkey stock to the mixture.
Over medium heat, melt the butter in a heavy bottomed saucepan.
Whisk in the flour and cook until the flour/butter mixture turns a light brown.
Slowly whisk the drippings into the flour mixture, ensuring that there are no lumps.
Bring the mixture to a boil, continuing to whisk and simmer for about 10 minutes.
Add the fresh herbs and season with salt and pepper.
Serve over the turkey and enjoy!
7.8.1.2
33
https://cookinginstilettos.com/mustard-maple-glazed-roast-turkey-with-homemade-gravy/