Homemade Cornbread Mix is so easy to make from scratch with just a few ingredients from your pantry!  This pantry staple is perfect for busy weeknights or would make a fabulous holiday gift!

This post may contain affiliate links to products I adore and trust in my kitchen.  Thank you for supporting Cooking In Stilettos.
Today I have something that is not only fabulous for your pantry but would make a fantastic gift for the holidays or just a money saver for that shopping fund – a Homemade Cornbread Mix that will have you skipping that little baking mix box that I know many of you keep in the pantry.  Whenever the need for cornbread or corn muffins arises, your pantry has all of the staples to make them from scratch.
Over the past year, I have found myself shopping more at the outer perimeters of the grocery store, focusing more on fresh produce, meats and dairy and if I can make something from scratch, I find that to be better for me.  I have been having issues with various processed foods and while I am nailing down what exactly is it that is making my system go all wonky, I have been sticking to buying ingredients from brands I trust and reading those labels on the side of the package.  They say stress does a number on one's digestive system and I guess with over 15 years built up of legal eagle stress, it's probably only natural that once I finally leave law behind that my system decides that it's going to give me quite the roller coaster ride.  I have found that when I'm cooking, I control the quality of the ingredients and when I use fresh quality ingredients, all is right in the world. 
I use to stock up on boxes of cornbread mix and corn muffin mix that I would love to serve with chili and soup but when I learned I could make a mix from ingredients in my pantry and keep it in an airtight container in my house, I wondered what rock I have been living under.  I love the variation as well when it comes to cornbread – add cheese or jalapenos or honey – whatever you prefer.  I love using this cornbread mix with a hint of honey and sometimes a bit of sharp cheddar.  You can use it to top my favorite cornbread topped chili, to serve with a steaming bowl of Lemon Chicken Noodle Soup, Baja Chicken Chili or Beef Stew or on the go breakfast sammie style with a bit of egg and Canadian bacon.
You could also make a few batches of this easy baking mix for the holidays.  Just put the cornbread mix in some airtight jars and include the easy recipe on how to make the classic favorite corn muffins.  You could even add some pretty measuring cups and a jar of your favorite honey or my favorite Bourbon Blue's Creole Butter for the holidays.
This easy Homemade Cornbread Mix will be a pantry staple in your house – perfect for busy weeknights!
Gather the ingredients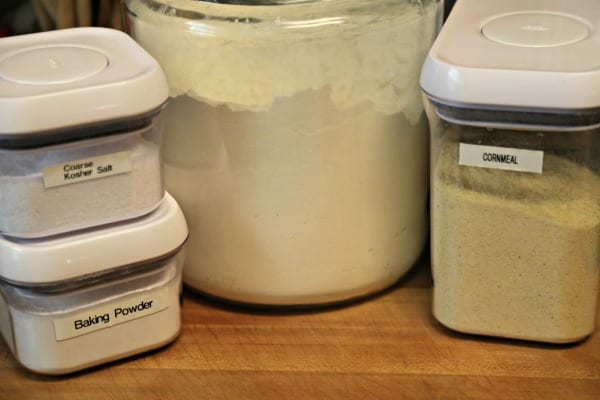 Aly M. Cleary
Yields 6
Tried and True: Homemade Cornbread Mix
This easy Homemade Cornbread Mix comes together in minutes and is a pantry staple, perfect for busy weeknights when you need some cornbread to serve with your favorite soup or chili.
5 minPrep Time
20 minCook Time
25 minTotal Time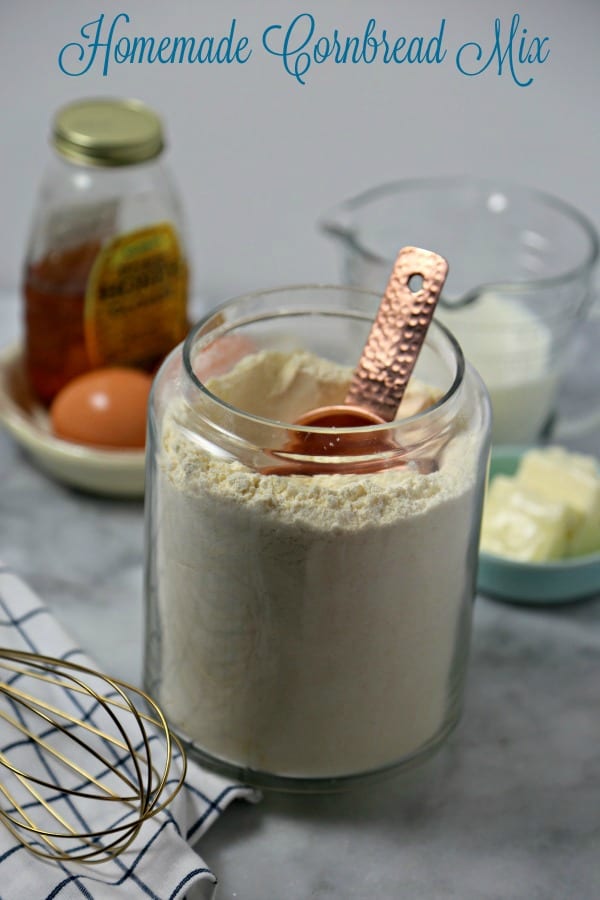 Ingredients
To Make the Cornbread Mix:
3 cups of all-purpose flour
2 cups of cornmeal
2 tablespoons of baking powder
1 1/2 teaspoons of kosher salt
To make the Cornbread:
2 1/4 cups of Homemade Cornbread Mix
1 cup of milk
2 eggs, beaten
4 tablespoons of butter, melted
2 tablespoons of honey (optional)
Instructions
To make the Homemade Cornbread Mix:
In a large bowl, whisk together the all-purpose flour, cornmeal, baking powder and kosher salt.
Store in an airtight container until ready to use.
To make Cornbread Muffins:
Heat the oven to 350 degrees F.
Spray a 12 cup muffin tin with nonstick spray and set aside.
In a large bowl, add the Homemade Cornbread Mix.
In a small bowl, whisk together the milk, eggs, melted butter and honey.
Fold the wet ingredients into the cornbread mix until the mixture just comes together.
Fill each muffin well three quarters of the way full.
Bake for 18 - 20 minutes, until a toothpick comes out clean.
Let cool for 5 minutes in the tin and remove to a baking rack to cool.
Enjoy!
7.8.1.2
32
https://cookinginstilettos.com/homemade-cornbread-mix-corn-muffin-mix/