This post has been sponsored by Prego®. My opinions are my own.
Ever have one of those days when you are trying to think what to make for dinner, and then your mind draws a blank? I deal with it more often than I care to admit.
With today's busy schedules, finding something that is ready in a flash with minimum effort is a must. For those nights when you're craving a bit of comfort, this Easy No-Boil Baked Tortellini comes to the rescue.
Some of my must-have staples include refrigerated tortellini, various cheeses including ricotta, mozzarella and Parmesan, fresh thyme, and, of course, Prego Sauces. So, one evening when I came home late from the 9 to 9 and did the classic "stare into the abyss of the refrigerator" thing looking for what to whip up for dinner, inspiration struck. I grabbed a few ingredients, and this recipe became a tried and true.
While I have used Prego Traditional sauce before in some of my favorite recipes, like my Rustic Skillet Lasagna, I find that the Prego Homestyle Alfredo sauce really accents the tortellini. One of my favorite tortellini flavors is chicken & prosciutto that I found melds perfectly with the Alfredo sauce. Of course, if you love Prego Traditional, by all means, give that a whirl. You know how I am about options and Prego allows you to channel your inner executive chef and play!
I find that refrigerated tortellini and ravioli is great to have on hand. I am not a fan of always breaking out my big pasta pot to boil the tortellini, so I thought if I let the tortellini simmer or bake in the sauce, it was a win/win. Not only was it one less pot to wash, but I found that the flavorful sauce really permeates the pasta. As I am obsessed with smoked mozzarella lately, I used that to top this pasta for a gooey cheesy crust but regular mozzarella would work just as well. As Parmesan cheese tends to be a bit salty, I did not add any extra salt to the recipe. Taste the sauce while you are whisking it up, and if you find that it needs more salt, add a bit. For that crispy, gooey cheesy crust, I added a minute under the broiler at the end to help the cheese caramelize a bit more. This dinner was a showstopper, especially when served with a light salad.
So – when you are thinking "What do I make for dinner tonight" and you want a recipe that your family will love, make this cheesy Easy No-Boil Baked Tortellini and watch it magically disappear!
On to the recipe:
Gather your ingredients and don't forget the Prego Homestyle Alfredo Sauce!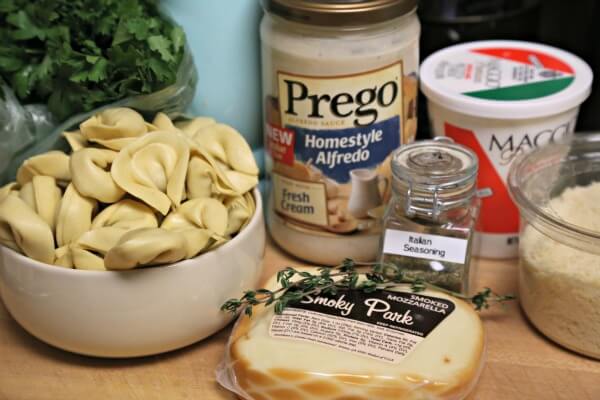 Let's whisk up this glorious cheesy sauce, shall we?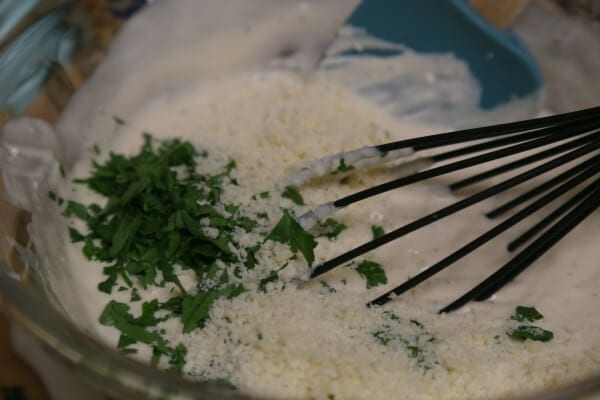 Folding in the tortellini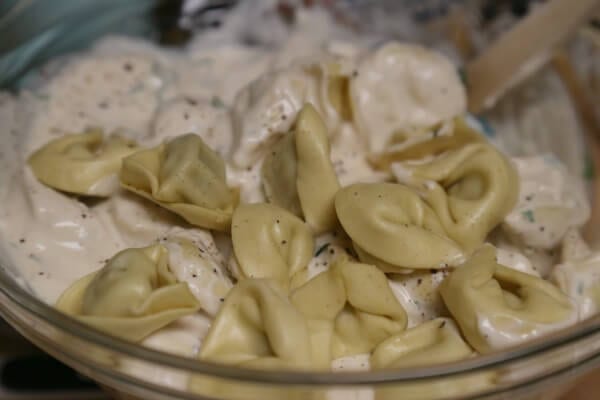 Topping with even more cheese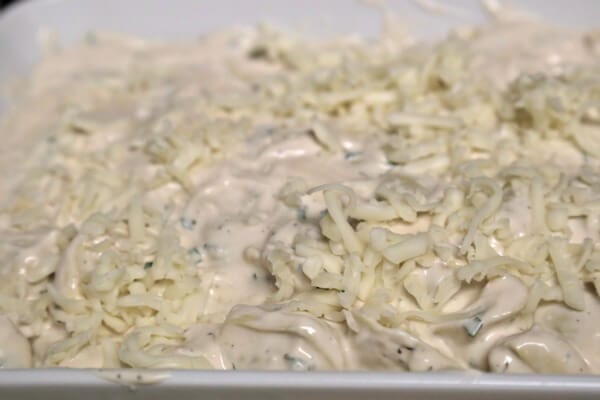 Now – doesn't this look fantastic?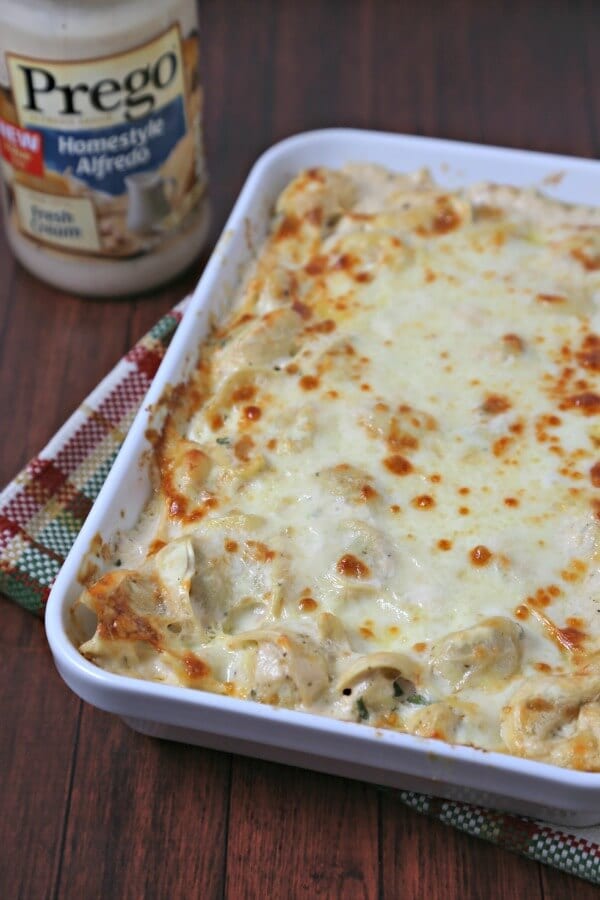 Let me make you a plate!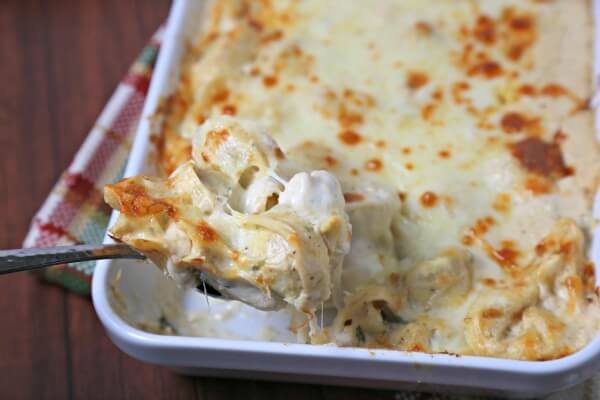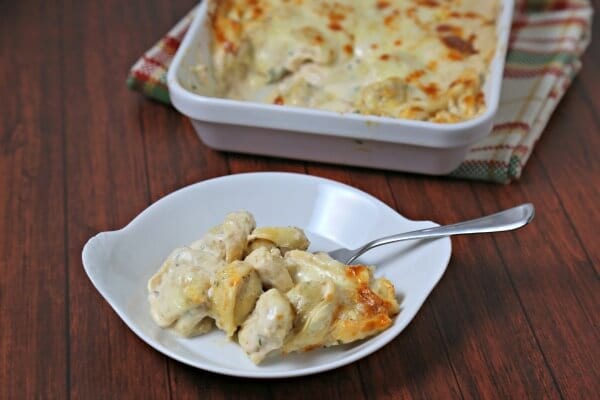 Aly M. Cleary
Yields 6
Easy No-Boil Baked Tortellini
This Easy No-Boil Baked Tortellini from CookingInStilettos.com comes together in a flash. Refrigerated tortellini is tossed with a cheesy alfredo sauce and then baked to perfection under layers of smoked mozzarella cheese. This is comfort in every bite!
15 minPrep Time
33 minCook Time
48 minTotal Time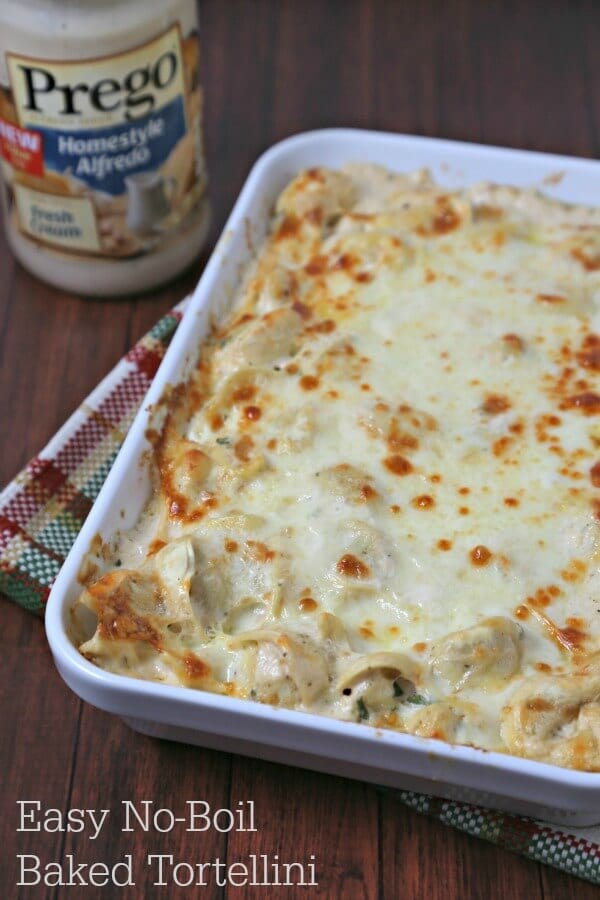 Ingredients
2 1/2 cups of i][Prego Homestyle Alfredo Sauce [/i]
1/2 cup of ricotta cheese
1/4 cup of Parmesan cheese plus 1 tablespoon, divided
1 teaspoon of fresh thyme, chopped
2 teaspoons of fresh parsley, chopped
1/2 teaspoon of Italian seasoning
1/4 teaspoon of freshly cracked black pepper
2 packages (9-ounces each) of your favorite refrigerated tortellini
3/4 cup of shredded smoked mozzarella
Instructions
Heat your oven to 350 degrees F.
Lightly butter or spray a 3 qt. baking dish and set aside.
In a large bowl, add the Prego Homestyle Alfredo Sauce, ricotta cheese, 1/4 cup of Parmesan cheese, fresh thyme, parsley, Italian seasoning, and pepper.
Whisk until the sauce is smooth.
Add the refrigerated tortellini to the sauce mixture and fold until the cheesy sauce coats all of the tortellini evenly.
Pour the tortellini and sauce into the prepared baking dish and make sure the top is even.
Sprinkle the smoked mozzarella cheese over the top as well as the remaining Parmesan cheese.
Cover with aluminum foil and bake for 25 minutes.
Remove the aluminum foil and bake for another 7 minutes or until the top is golden and bubbly.
If you want an even more caramelized cheesy crust, turn on the broiler and broil for a minute more.
Let cool for 5 minutes and enjoy!
7.8.1.2
110
https://cookinginstilettos.com/easy-no-boil-baked-tortellini/
This is a sponsored post with Prego Sauces. I was compensated for my recipe development. Thank you for supporting the brands that I adore which make Cooking In Stilettos possible.