This Rustic Skillet Lasagna is a delicious and easy weeknight dinner idea. A few ingredients, a bit of simmering and this skillet lasagna goes from stovetop to table in about 30 minutes!
This post has been sponsored by Prego® Italian Sauces. My opinions are my own.  This post may contain affiliate links to products I adore and trust in my kitchen.  Thank you for supporting Cooking In Stilettos.
Today, I have one of the best, easy dinner ideas that I promise your family will ask for often – a Rustic Skillet Lasagna. Even better, this Rustic Skillet Lasagna comes together in about 30 minutes with most of the ingredients straight from the pantry!
Whenever I think lasagna or want to have lasagna on the menu, I plan ahead and set aside some serious time to make it.   However, for a weeknight dinner, lasagna is not an option unless I have it at the ready in the freezer or fridge. Thankfully, this skillet lasagna has changed my outlook and comes together in a flash.
In my pantry, one of my staples is flavorful Prego® Italian sauces. I love the options and flavors, from their robust Traditional to the cheesy comforting Alfredo sauces. I keep a few jars on hand for whenever the mood strikes. I use pasta sauces in a variety of dishes – whether it is for comforting dinners, slow cooker dishes or even appetizers and I find that Prego allows me the option to be creative in the kitchen. With Prego Italian sauces in the pantry, I know I can whip up something delicious!
With the cool fall air nipping at the heels, I tend to break out comfort food classics and what is more comforting than lasagna with its tender noodles surrounded by a rich meaty sauce and cheesy layers. This skillet lasagna recipe is one that I promise will be in regular rotation. The key is to plan and have everything ready because when things start cooking, it moves fast. I often have Italian sausage in the fridge and find that it is a great flavor option with lasagna over ground turkey or beef. To make this a bit lighter, I used chicken Italian sausage but feel free to use your favorite – whether spicy or mild. I must confess that my fridge also stashes a variety of cheeses so I went with a smoked mozzarella but feel free to use your favorite mozzarella. I also whipped a touch of air into the ricotta making it a bit fluffy and perfect to dollop onto the bubbling saucy noodles. Garnished with some fresh basil and parsley and this skillet lasagna went from stovetop to table in about 30 minutes.
So – when you are looking for something delicious for dinner and want to switch it up a bit, serve this Rustic Skillet Lasagna and watch it become a family favorite!
On to the recipe:
Gather your ingredients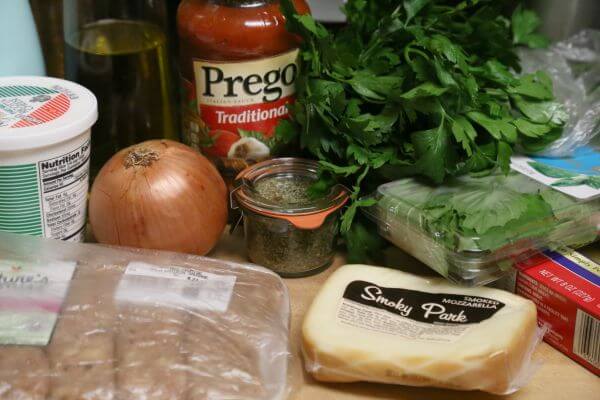 Adding some Italian Seasoning to the browned Italian sausage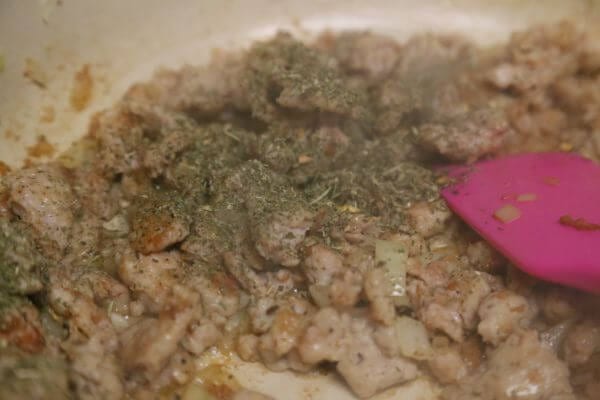 A pantry staple – Prego Traditional Italian Sauce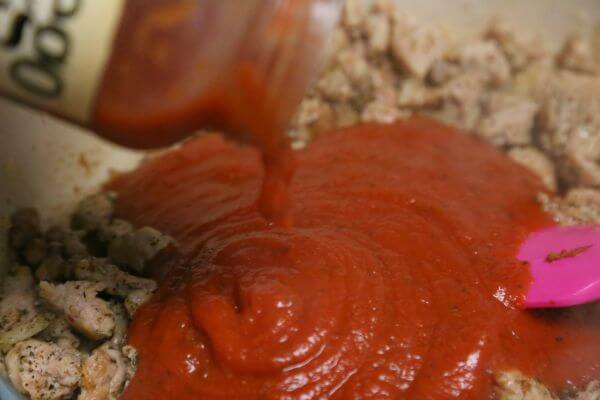 Nestle the shards of noodles under the bubbling sauce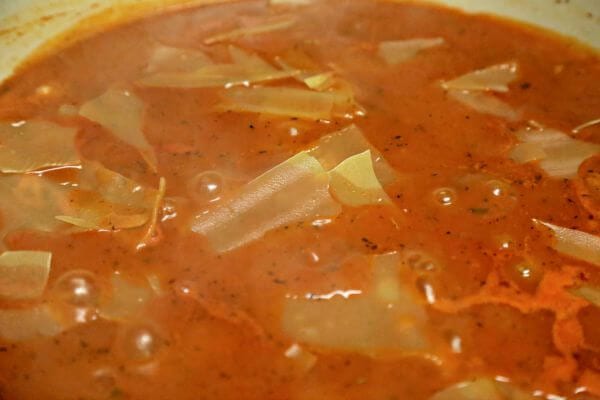 Lasagna made easy!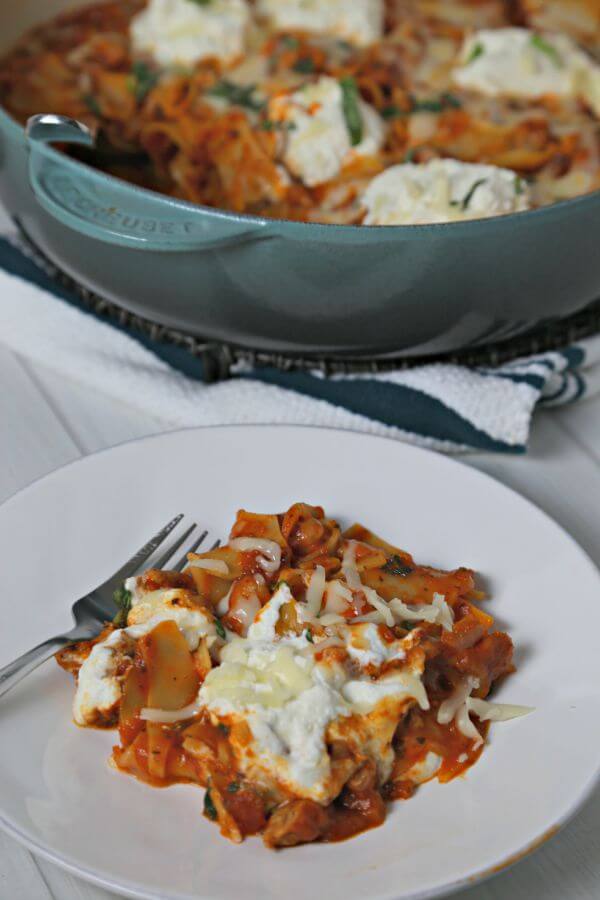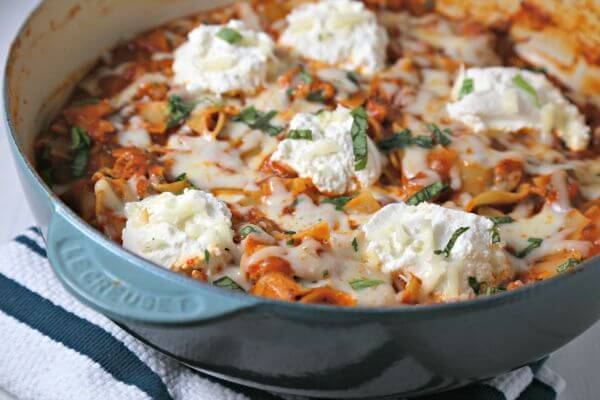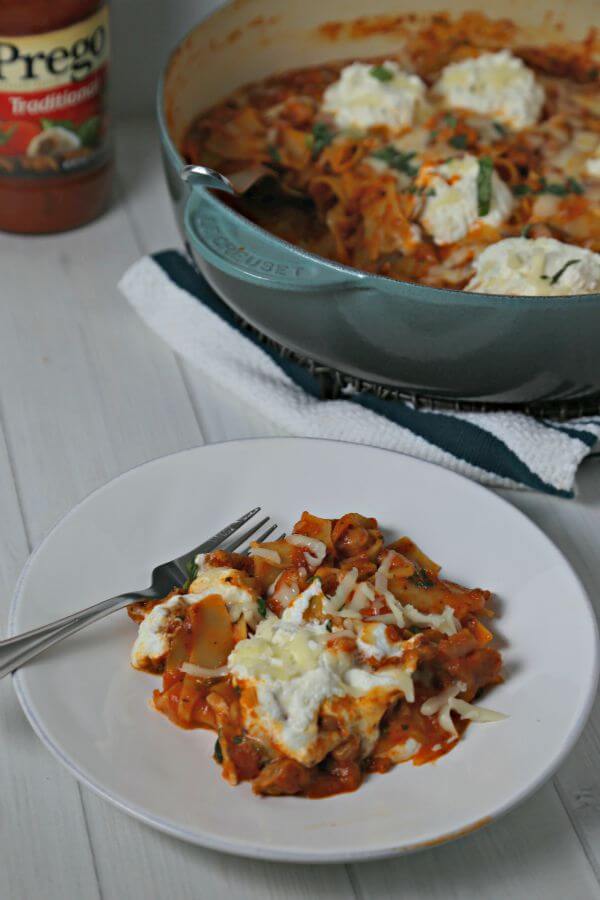 Aly M. Cleary
Yields 4
Rustic Skillet Lasagna
This Rustic Skillet Lasagna is a delicious easy weeknight dinner idea. A few ingredients, a bit of simmering in a skillet and from stove to table, dinner is ready!
10 minPrep Time
20 minCook Time
30 minTotal Time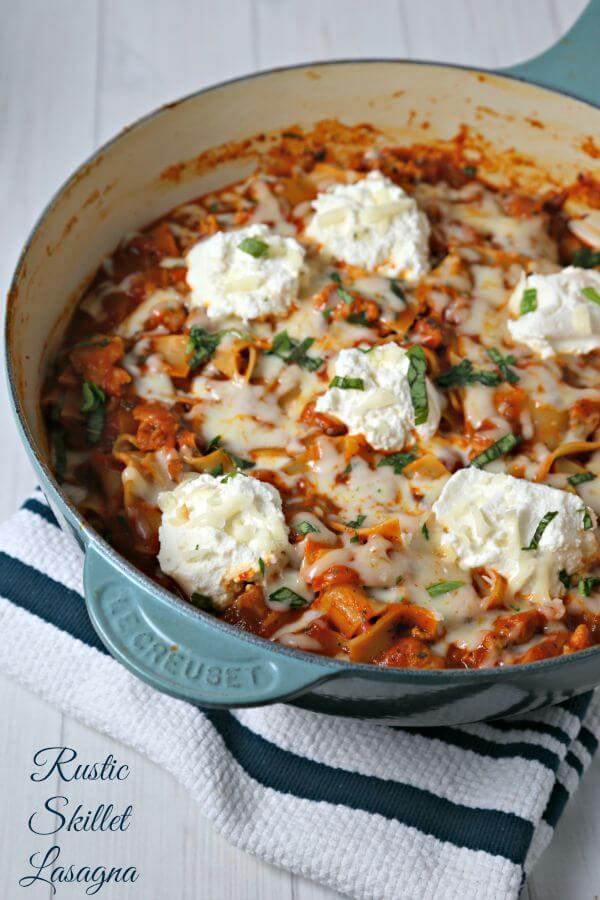 Ingredients
1 tablespoon of olive oil
1 pound of mild chicken Italian Sausage, casings removed
1 small onion, finely diced
2 teaspoons of Italian seasoning
1/4 teaspoon of freshly ground black pepper
1/2 teaspoon of kosher salt
1 24 ounce jar of Prego Traditional Italian Sauce
1 cup of water
8 sheets of no-boil lasagna pasta sheets, broken into pieces
2 tablespoons of flat leaf parsley, minced (optional)
1 cup of part skim ricotta cheese
1 cup of shredded smoked mozzarella cheese
1 tablespoon of fresh basil, minced
Instructions
In a large deep sauté pan or Dutch oven, add the olive oil over medium high heat.
Add the Italian sausage to the pan and break up with a wooden spoon or spatula and brown.
When the sausage is browned, add the diced onion to the pan and sauté until translucent.
Add the Italian seasoning, black pepper, and salt to the pan and stir for a moment to bloom the spices.
Add the Prego Traditional Italian sauce to the pot, scraping up any fond from the bottom of the pan.
Add the water so that it covers everything with about an inch to spare. (Note: I added the water to the Prego sauce jar to make sure I did not miss one delicious bit of sauce.) You might need to use an additional half a cup of water or so. Do not worry if it looks too saucy – it will reduce while cooking.
Bring the sauce mixture to a boil and then nestle the lasagna sheet pieces under the sauce so that the sauce covers them completely and no pasta is showing.
Cover the pan and reduce the heat to a simmer. Cook for about 6 – 8 minutes, until the pasta is al dente. (For me, it took about 7 minutes or so).
While the pasta is cooking, in a small bowl, whisk the ricotta cheese so that it gets a bit fluffy.
When the pasta is perfect, add the minced flat leaf parsley to the pan and stir so that everything is combined.
Turn off the heat, sprinkle with the smoked mozzarella cheese and dollop with the whipped ricotta.
Garnish with the minced basil and serve!
Enjoy!
7.8.1.2
127
https://cookinginstilettos.com/rustic-skillet-lasagna/
CHOOSE TASTE. CHOOSE PREGO.
Prego Italian sauces offer rich flavor with real ingredients you can see, taste and smell. It is because of this rich flavor that we believe our sauce brings you a superior taste experience that will make your weeknight dinner not only quick, but most importantly delicious and enjoyable for the whole family.
This is a sponsored post with Prego Italian Sauces. I was compensated for my recipe development. Thank you for supporting the brands that I adore which make Cooking In Stilettos possible.