When I was testing various cocktail and appetizer recipes for Halloween, one thing was certain – I really wanted to incorporate my favorite tequila into one of the dishes.  Y'all know how I not only love to craft sips with spirit, but also cook and bake with it as well.  I have to tell you – these Tequila Braised Short Rib Sliders are the perfect bite to compliment my Sparking Black Widow's Cocktail.
Whenever I'm cooking with alcohol, I have a strong and steadfast rule – only cook with ingredients that I would be more than happy to drink. So – with a bottle of my favorite Hornitos Reposado winking at me on the sideboard, I got to cooking.
I based this recipe on short rib enchiladas that I made many many moons ago. I was smarter this time – no attempt to set my kitchen on fire. I learned to turn the heat off, add the tequila and stir (with a heatproof silicone spatula) to combine before I turned the heat back on.  Added bonus – no fire but, just in case, I had the fire extinguisher at the ready and, of course the pan cover to smother out any flames that might want to make an appearance.
I love a great short rib recipe for fall. My local Whole Foods butchers always have some great short ribs on hand.  Whenever there is a blizzard or bad storm on the radar (which to me signals "break out the slow cooker) or when there are gorgeous short ribs for sale, I can't resist picking up a package or two.  While the enchilada recipe called for boneless, I felt that for this simmer time, I'd want the heft of a bone-in short rib to add some more depth to the sauce.  One other thing I adore – my immersion blender because I can make the sauce zippy quick in the pot – no muss, no fuss.  Once the ribs are shredded, back into the pot they go to be tossed in the delicious red orange hued sauce and then it's slider time.
These short rib sliders were sooo good and the leftovers, my heavens – what little that was left over found their way into cheesy quesadillas.  One can never let short ribs go to waste – that's my motto.
Tequila Braised Short Rib Sliders is a recipe you are going to want to make often.  Not only are they fabulous for Halloween, but they are also fantastic for holiday parties, for tailgating or just because. They are THAT good.
On to the recipe:
Aly M. Cleary
Yields 8
Tequila Braised Short Rib Sliders
Rich meaty beef short ribs are braised in a chipotle tequila tomato sauce for hours with a hint of orange and spice and then piled high on onion rolls. What's not to love?
20 minPrep Time
4 hr, 30 Cook Time
4 hr, 50 Total Time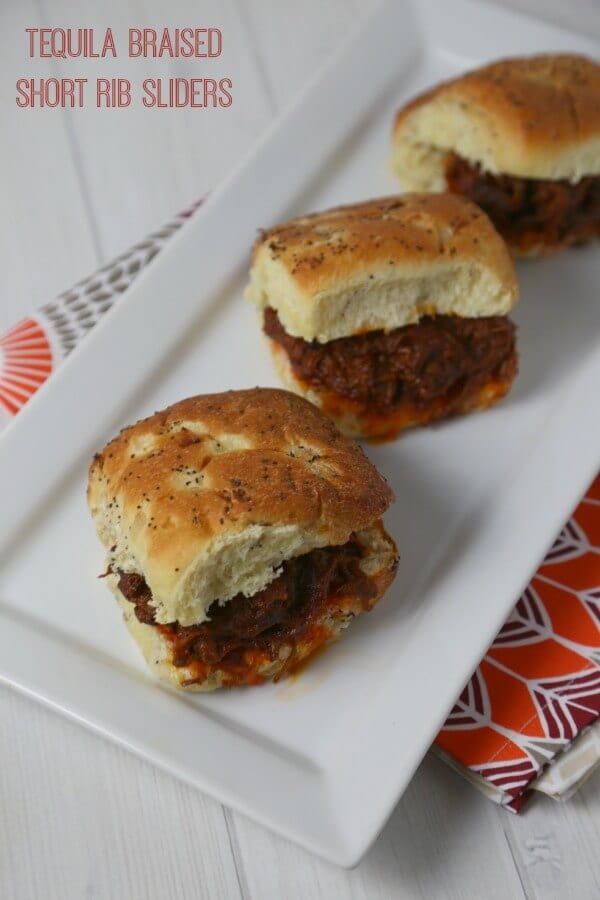 Ingredients
1 tablespoon of olive oil
2 – 3 pounds of beef short ribs
2 tablespoons of all purpose flour
3/4 teaspoon of kosher salt
1/2 teaspoon of freshly ground black pepper
1 large onion, diced
1 red bell pepper, seeded, cored and diced
2 cloves of garlic, minced
1 canned chipotle chile or 1 tablespoon of chipotle puree
1 teaspoon of ground cumin
1 teaspoon of smoked paprika
1/2 teaspoon of dried Mexican oregano
1 cup of tomato paste
1 15 ounce can of fire roasted tomatoes
2/3 cup of tequila
3 cups of beef stock
1 orange, quartered
2 bay leaves (you can use dried or fresh - I went with fresh bay leaves)
Onion rolls for serving
Instructions
Heat the oven to 350 degrees F.
Over medium high heat, heat the olive oil in a large oven safe Dutch oven.
Whisk together the flour, salt and pepper and lightly dredge the beef short ribs in the flour mixture.
In batches, brown the short ribs on all sides. Do not crowd the pan.
When the ribs are browned, set aside and remove all but 2 tablespoons of fat from the pan.
Add the diced onions and red bell pepper. Sauté for 5 – 7 minutes until the vegetables are soft.
Add the garlic, chipotle chile or chipotle puree, ground cumin, smoked paprika, Mexican oregano and tomato paste to the pan. Bloom the spices and sauté for a minute or so, until the tomato paste turns a brick red color.
Add the fire roasted tomatoes to the pan, using the juice of the tomatoes to deglaze it and scrape up any brown bits from the bottom. You do not want to lose that.
Turn the heat off and add the tequila to the pan. Do NOT add the tequila while the heat is on – the last thing you want to do is have a fire moment. (Not like I would know anything about that cough cough guilty as charged cough cough.)
Turn the heat back on to medium and add the beef stock and stir so that everything si combined.
Return the browned short ribs to the Dutch oven and add the orange quarters and bay leaves to the mixture, taking care to nestle everything in.
Bring the mixture to a boil.
When it comes to a boil, cover the pan and place in the oven.
Braise the short ribs in the oven for 3 1/2 to 4 hours or until the meat is falling off the bone.
When the short ribs are done, remove the short ribs from the pan and set aside.
Discard the bones and shred the meat.
Discard the bay leaves and orange quarters and skim any fat from the sauce.
Using an immersion blender preferably (or you can use a food processor or your blender), blend the vegetables and the sauce so it comes out to be like a chunky tomato sauce.
Shred the short ribs and add them to the sauce.
Pile the shredded short ribs on the slider buns. If you want to get creative and add a little sharp cheddar or a bit of spicy arugula or pickles – go right ahead.
Serve and watch your guests go mad.
Enjoy!
7.8.1.2
128
https://cookinginstilettos.com/tequila-braised-short-rib-sliders/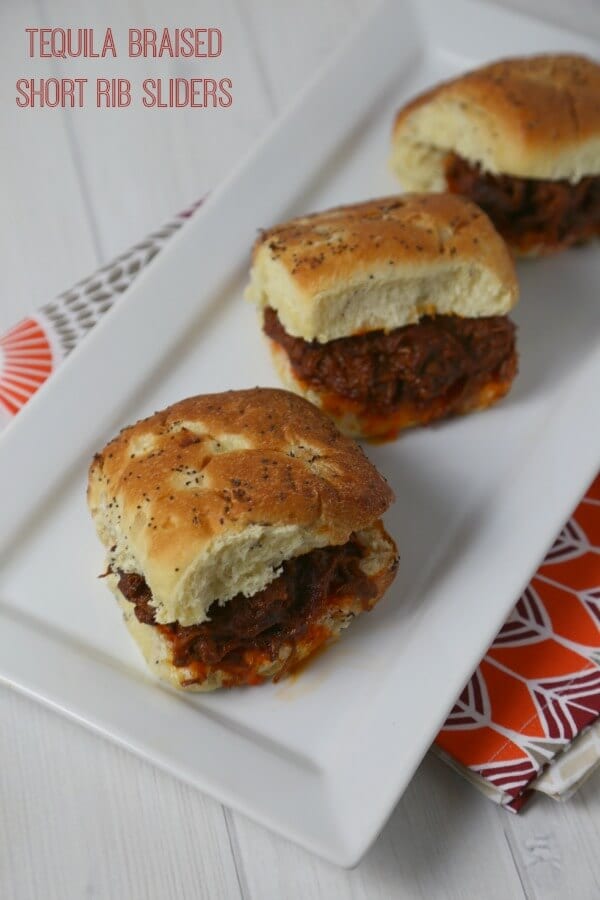 Disclosure: I was not compensated for this post.  As you know, I will be crafting holiday sips and dishes for Hornitos this season as disclosed in this post.  As always, my opinions and love for the brand are my own. Thank you for supporting the brands that I adore.