Ever have something that you want to share and you can't say a peep for a bit? Or – have the PERFECT recipe that you know your favorite people are going to LOVE and can't tell them? That was my recent dilemma.
For this recipe – I wanted to incorporate Philly flavors to it and it had to be savory. One of my favorite places here in Philly is the Italian Market and, quicker than Joey Tribiani can say "How You Doin'" or Rocky can spit out "YO", I knew – a Philly Style Sausage and Peppers Strata had to be made. Rich and flavorful with the flavors of sautéed red peppers and onions, smoked mozzarella and fresh Italian sausage nestled between thick slices of Italian bread and smothered in a rich cheesy egg custard – now doesn't that make you want a bite?
On to the recipe:
Gather your ingredients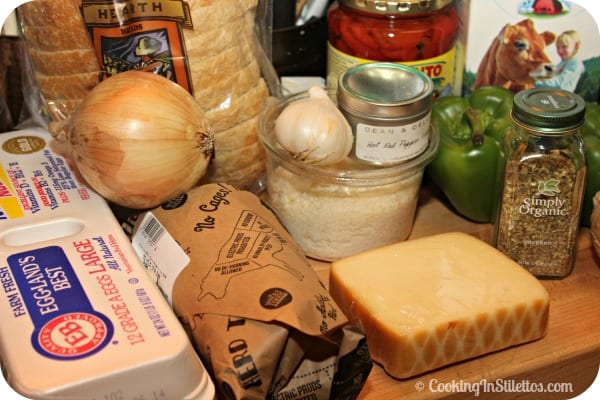 Sautéing the peppers and onions with a bit of spice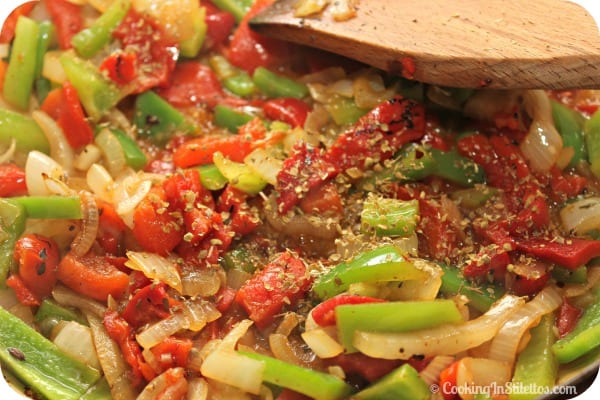 I know – it's a lot of eggs but it's worth it – trust me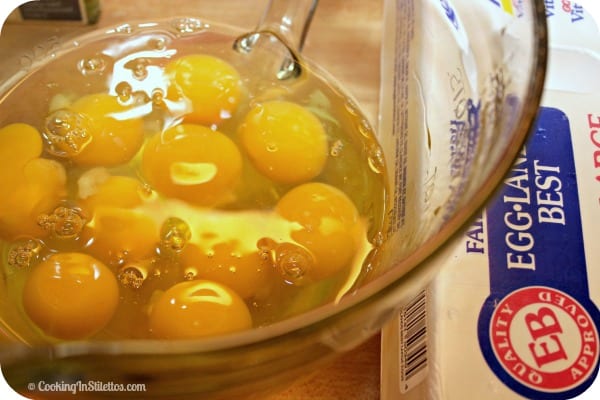 Pouring the rich eggy custard over the layers…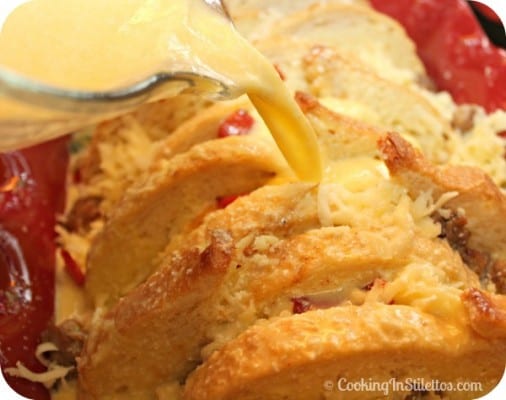 Adding even more smoked mozzarella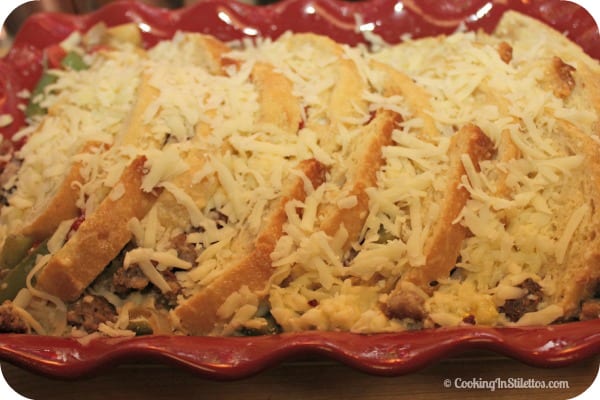 Fresh out of the oven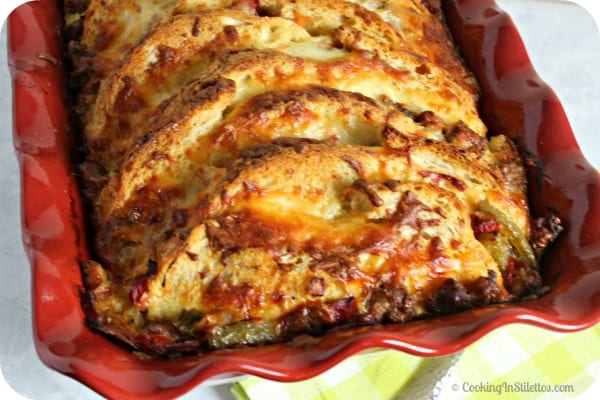 In true Philly style – you really don't have to share – just let them think you will.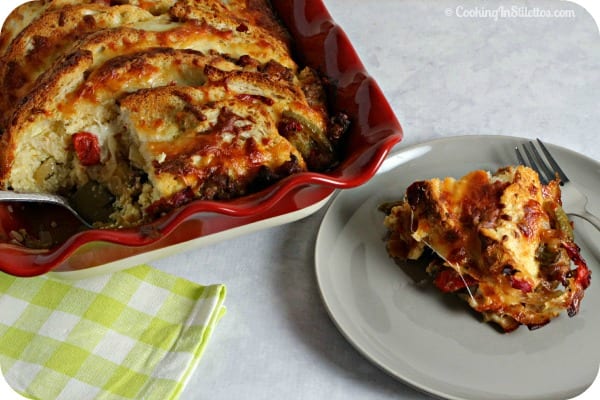 Aly M. Cleary
Yields 6-8
Philly Style Sausage And Peppers Strata
The flavors of Philly's Sausage & Peppers in strata form. Serve with a light green salad and it is perfect for brunch, lunch or even dinner.
2 hr, 30 Prep Time
1 hr, 15 Cook Time
3 hr, 45 Total Time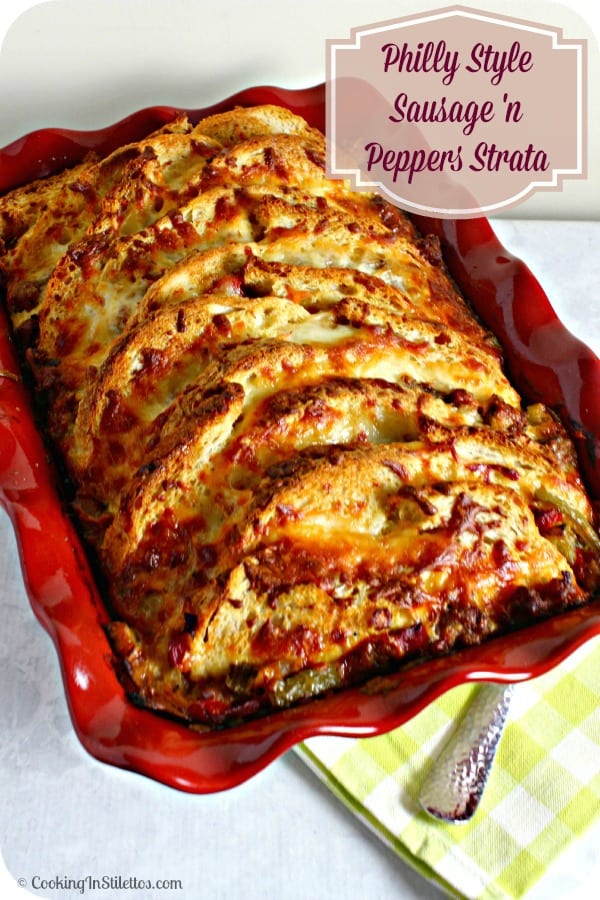 Ingredients
1 tablespoon of olive oil
1 pound of mild Italian sausages, casings removed
1 large sweet onion, sliced thin
2 green bell peppers, diced
2 roasted red peppers, diced
1 garlic clove, minced
1/2 teaspoon of dried oregano
1/8 teaspoon of red pepper flakes
10 eggs (I used Eggland's Best)
2 cups of milk
1/2 cup of grated parmesan cheese
1/2 teaspoon of freshly ground black pepper
1/4 to 1/2 teaspoon of salt (depending on taste – the cheese has a bit of a salty bite)
1 loaf of crusty Italian bread, sliced thick (about 10 – 12 slices)
1 cup of shredded smoked mozzarella cheese, divided
Instructions
Over medium high heat, heat the olive oil and add the Italian sausage. Crumble it up with a wooden spoon and brown on both sides.
When the Italian sausage is brown, remove to a plate lined with paper towels and remove some of the oil from the pan, leaving about 1 – 2 tablespoons.
Add the onions and green peppers and sauté for about 5 minutes or so until the onions are translucent and the green peppers are softened.
Add the roasted red peppers and minced garlic to the onions and green pepper and sauté for 2 minutes, scraping up any brown bits on the bottom of the pan.
Add the dried oregano and red pepper flakes and stir for a minute or so until the mixture is fragrant. Remove to a bowl to cool.
In a large bowl, whisk together the eggs and the milk until everything is fully combined and stir in the grated parmesan cheese, black pepper and salt.
Lightly spray a 9x13" baking dish with nonstick spray and add the bread in a shingle type pattern going lengthwise.
In between the bread slices, add some of the cooled pepper onion mixture, a bit of the Italian sausage and some of the smoked mozzarella cheese, reserving about 1/4 cup of the cheese for the top of the strata.
Pour over the rich eggy parmesan custard, making sure to distribute evenly over the bread.
Lightly press the bread into the egg custard mixture so that it soaks up every drop.
Sprinkle the reserved smoked mozzarella cheese over the top of the strata.
Cover with a bit of plastic wrap and put in the fridge for at least an hour and a half or overnight.
When you are ready to bake, preheat your oven to 350 degrees F. and remove the baking dish from the refrigerator.
Allow to come to room temperature (about 30 minutes) and bake for an hour or so, uncovered, until the top is golden brown and the custard is baked through.
Remove from the oven and let rest for about 15 minutes.
Enjoy!
Notes
The longer the strata soaks up the custard, the richer it tastes.
7.8.1.2
253
https://cookinginstilettos.com/philly-style-sausage-and-peppers-strata/