I have been obsessed with this Croque Madame Bread Pudding since I saw versions of it on Brunch at Bobby's and on The Chew.  However, I wanted to make a few changes that would have all of the familiar flavors but with less fuss.  If you have leftover ham from the holidays, this would be the perfect recipe for the next morning's brunch.  In lieu of roasting a whole ham for a couple slices, I took the shortcut method and bought some thick sliced ham and diced cubes went straight into the breakfast casserole.
As I had some gorgeous Cabot cheese on hand, I decided to go with Monterey Jack in lieu of the traditional gruyere and it melted gloriously.  Top each slice with a softly cooked egg and you will have have your guests oohhhhing and ahhhing over this stellar dish.   Best thing is you can make it the night before and bake it off in the morning.  Right before serving, fry up some sunny side up eggs and broil the casserole until the cheese is melty and serve – so easy!
For your next weekend brunch, make this Croque Madame Bread Pudding and enjoy the praises and accolades that your friends and family will most likely shower you with!
On to the recipe:
Gather your ingredients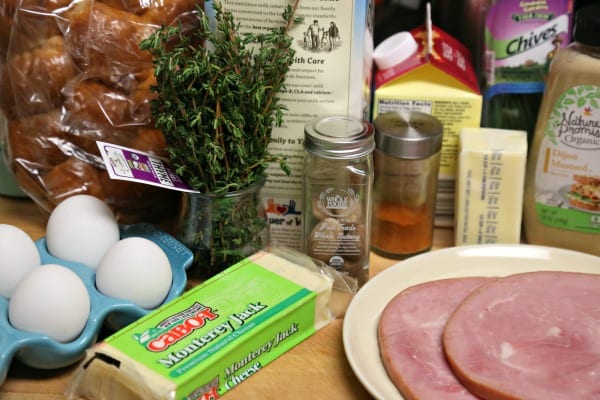 Everything good for brunch starts with some eggs and cheese, right?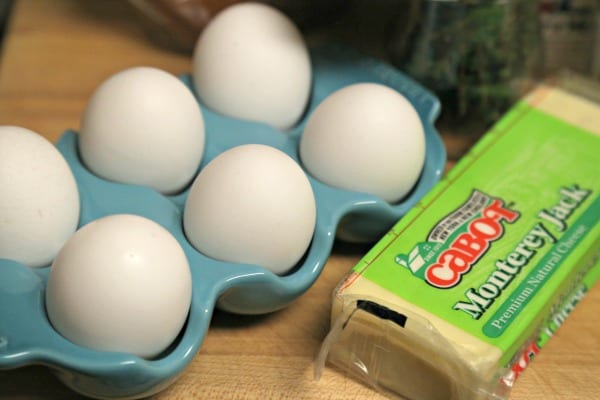 Adding a bit of spice to the custard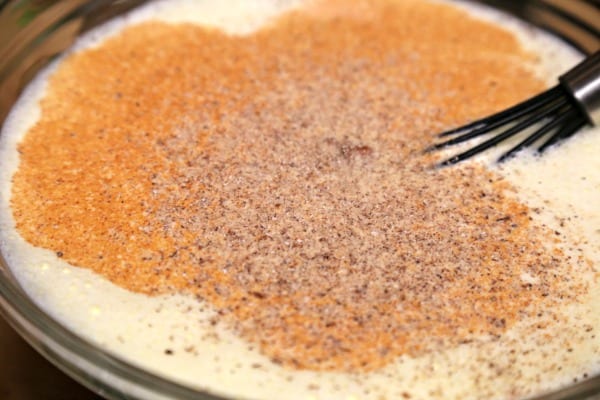 Layering the challah and ham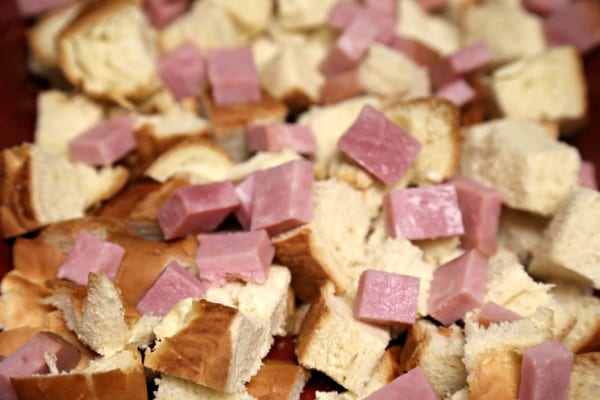 Look at this all puffed and glorious right out of the oven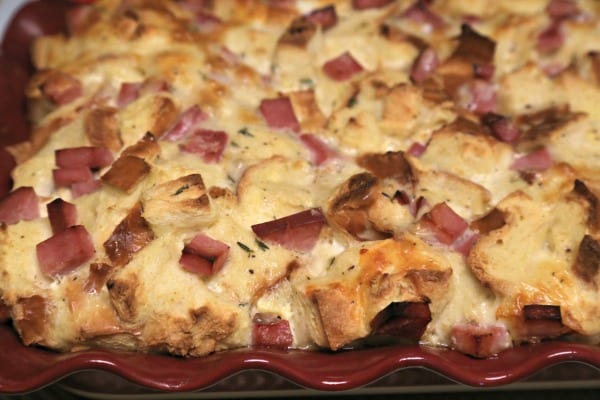 Now this is the way to do brunch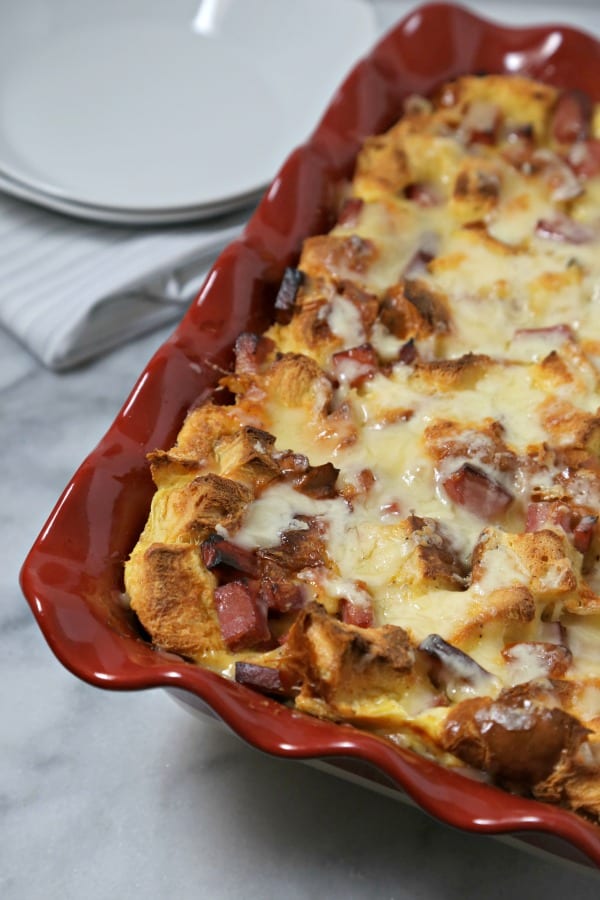 Shall I make you a plate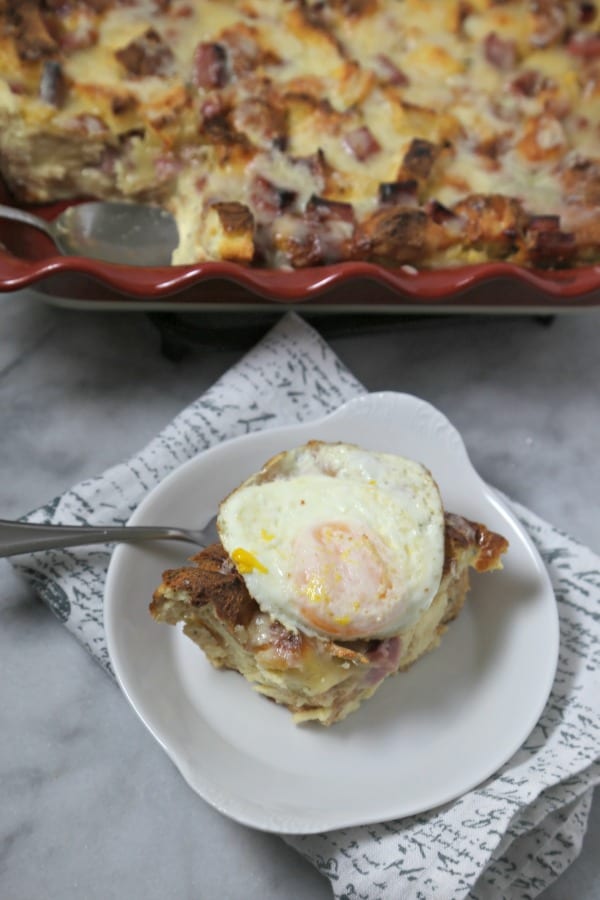 The proverbial yolk shot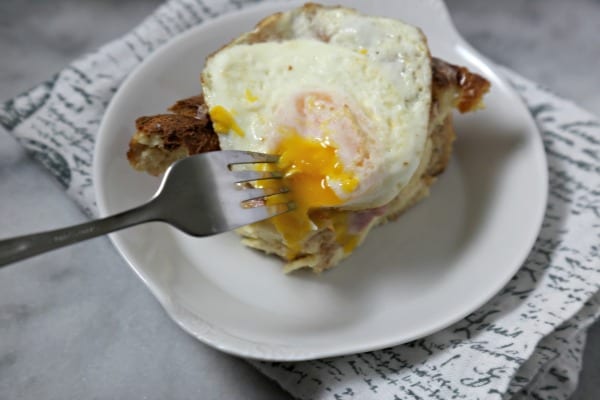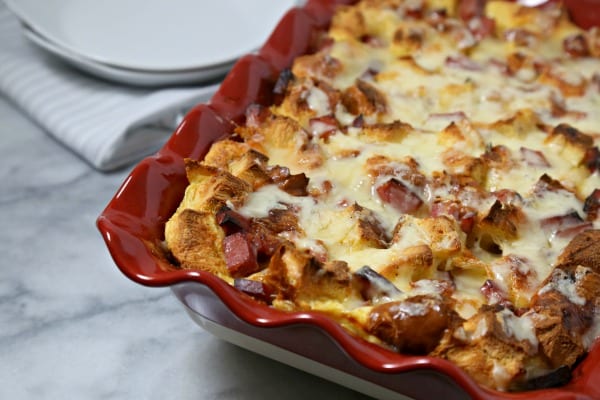 Aly M. Cleary
Yields 8

Croque Madame Bread Pudding

This Croque Madame Bread Pudding will be the hit of your next weekend brunch. The flavors of the familiar French classic come to life in an easy make ahead breakfast casserole.

1 hrPrep Time

1 hr, 30 Cook Time

2 hr, 30 Total Time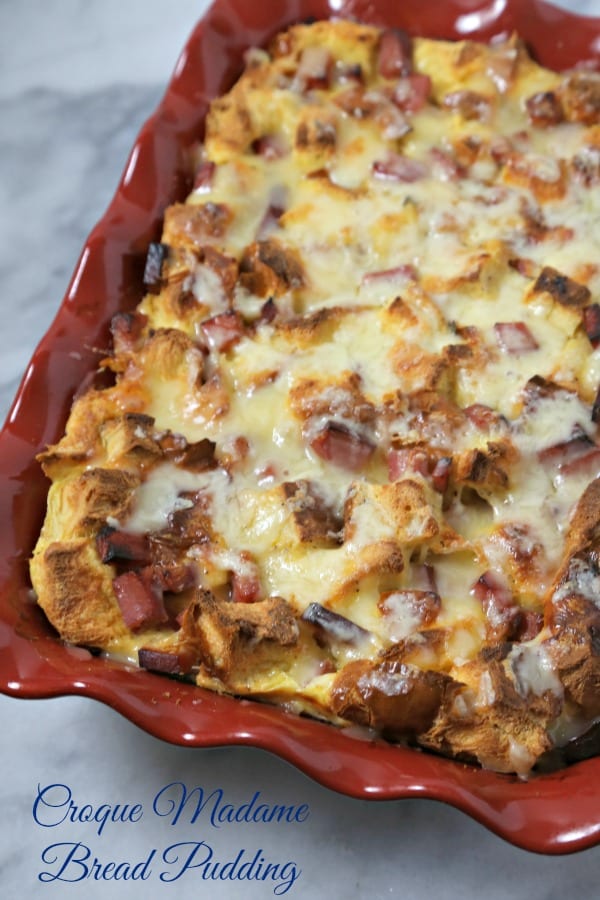 Ingredients
5 eggs
4 cups of milk
1/2 cup of half and half
1 tablespoon of Dijon mustard
1/8 teaspoon of freshly grated nutmeg
1/8 teaspoon of cayenne pepper
1/2 teaspoon of kosher salt
1/4 teaspoon of freshly cracked black pepper
1/2 teaspoon of fresh thyme, minced
1 1/2 cups of grated Monterey Jack cheese, divided
1 loaf of challah bread, cut into 1-inch cubes
1 pound of ham slices (about 2 large ham slices), diced
2 tablespoons of butter

For Serving:

3 teaspoons of butter, divided
8 eggs
Salt and Pepper, to taste
Instructions
Lightly spray a 9x13 baking dish with nonstick spray and set aside.
In a large bowl, whisk together the eggs, milk, half and half, Dijon mustard, grated nutmeg, cayenne pepper, kosher salt, freshly cracked black pepper and thyme.
Add 1 cup of the grated Monterey Jack cheese to the custard mixture and whisk together.
Add half of the cubes of challah bread to the prepared baking dish.
Add half of the diced ham slices over the challah cubes.
Layer the remaining challah cubes over followed by the remaining ham.
Pour the custard mixture over the bread, taking care to make sure the bread cubes are fully submerged under the custard.
Let soak for 15 – 30 minutes, at least.
Heat the oven to 350 degrees F.
Dot the top of the bread pudding with the 2 tablespoons of softened butter.
Bake the bread pudding for 60 – 75 minutes, until the mixture is puffed, golden and cooked through.
Let the bread pudding cool for about 30 minutes.
When you are almost ready to serve, heat your broiler.
Add the remaining 1/2 cup of shredded cheese to the top of the bread pudding and place under the broiler until the cheese is bubbling and molten and the bread cubes are crispy on the edges – about 3 – 4 minutes.

To serve:

To a nonstick pan, add a touch of butter and fry a few eggs at a time.
Season the eggs with a bit of salt and pepper and serve over a square of the Croque Madame Bread Pudding.
Enjoy!
7.8.1.2

96

https://cookinginstilettos.com/croque-madame-bread-pudding-recipe/



Let's see what recipes some of my fave bloggers are kicking off #BrunchWeek with:
BrunchWeek Beverages:
BrunchWeek Breads, Grains and Pastries:
BrunchWeek Fruits, Vegetables and Sides:
BrunchWeek Egg Dishes:
BrunchWeek Main Dishes:
BrunchWeek Desserts:
Have you entered the fabulous #BrunchWeek Giveaway yet? Enter HERE to win!
Disclaimer: Thank you to #BrunchWeek Sponsors: Red Star Yeast, Dixie Crystals, Cabot Cheese, Vidalia Onion Committee, Sage Fruits, Nielsen-Massey, KitchenIQ, and Le Creuset for providing the prizes free of charge. These companies also provided the bloggers with samples and product to use for #BrunchWeek. All opinions are my own.