La Brea Bakery, a bakery that captured my heart when I was out on the West Coast, told me that they were coming to town to visit on their Breaking Bread Tour.  They wanted to know if I could whip up a little something spotlighting their fabulous breads. Well, being that Philly is such a food town and we love our brunch spots, I brought a recipe that is not only chic with La Brea Bakery's ciabatta bread being one of the main stars of the show, but also will have everyone swooning at first bite – Chile Relleno Style Eggs in Ciabatta.
There's something to be said for using quality ingredients in recipes – the flavor really reflects it. La Brea Bakery's ciabatta loaves have a crisp exterior and a tender inside which made them perfect for this recipe.  They are fantastic in sandwiches, tailgate bites and so much more. La Brea Bakery has a host of delicious items, including sourdough loaves, flatbreads, various breads, gluten free offerings and some divine granola that is the perfect way to start the day. You don't have to be on the West Coast to check out their products. You can find a number of La Brea Bakery's products at various grocery stores around the country!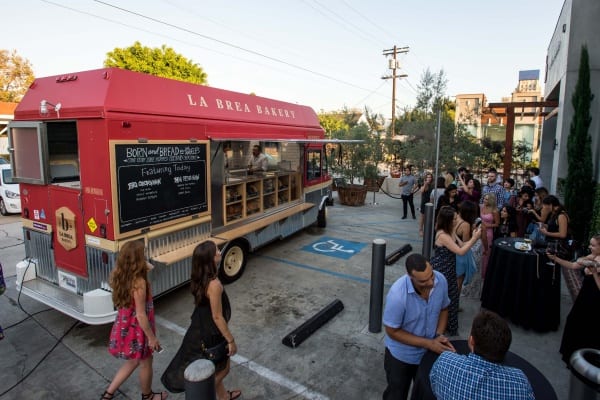 La Brea Bakery's Breaking Bread Tour will be in the Philly area this Wednesday and Thursday. On Wednesday, September 16th, the tour stops at Weis in Huntington Valley on East County Line Road from 2 – 3 and from 4:30 to 5:30pm, you can find them at the Weis in Norriton on W. Germantown Pike. On Thursday September 17th, the party heads to ACME in Paoli on Leopard Road from 3:45 pm to 4:45 pm. Also – for my Boston peeps, they will be in the Boston area September 19th and 20th. Check out their website for details!
At the tour stops, you can sample some delicious bites highlighting their breads including Raspberry Jam and Almond Butter on a French Baguette, Salami, Sriracha Aioli and Pepper Jack Cheese on Rosemary Olive Oil bread, and Tomato Herb Bruschetta served on their famous Tuscan Loaf.  The recipes will feature ingredients from artisan partners, including cheese from Tillamook Cheese, jams and spreads provided by Stonewall Kitchen, and a variety of nut butters created by Justin's. Hungry yet?
OK – now I know you want the deets on that glorious recipe pictured above right?
Chile Relleno Style Eggs in Ciabatta is one of those brunch recipes that will have your guests pestering you for the recipe. Freshly roasted poblano peppers, crisp pancetta, and spices are whisked into a creamy cheesy egg custard and baked in artisan ciabatta bread. It's a showstopper of a dish and you will find yourself making it for weekend brunch or even those nights when you want breakfast for dinner!  I found that I kept snacking on the bread cubes from the ciabatta where I had to learn a bit of self restraint.  I mixed some Monterey Jack and Sharp Cheddar cheese to give it that gooey cheesy bite.  Being that I adore fresh poblanos, I roasted them under the broiler and it was so zippy quick that I was able to get everything else together while various components were getting ready.
All in all, this Chile Relleno Style Eggs in Ciabatta will be that go-to dish you will whip out for company.  If you see some La Brea Bakery ciabatta in your local grocery store, pick it up and make this recipe.  You can tell your guests it's something you just whisked together!
On to the recipe:
There is nothing like a toasty loaf of ciabatta bread.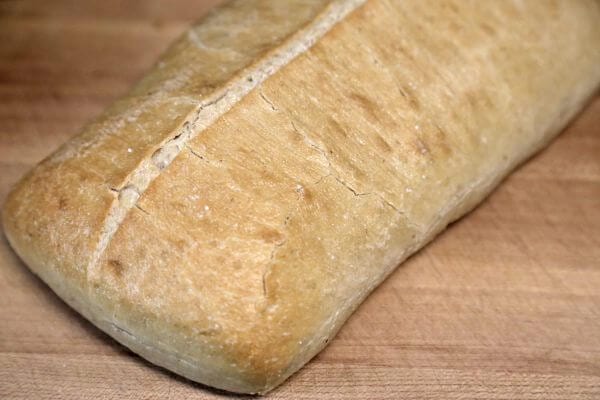 Let's get this in the oven to toast – just a bit of olive oil and a bake to help keep everything toasty and crisp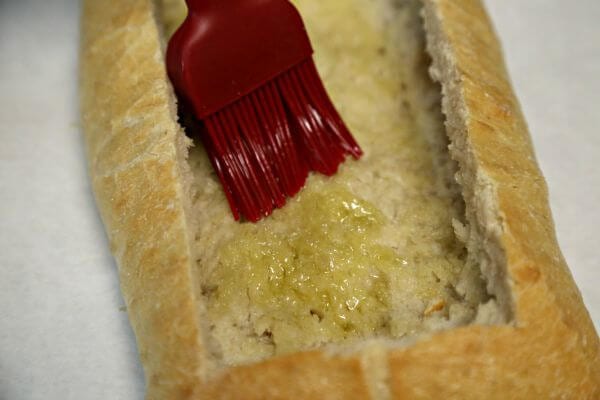 Freshly roasted poblano peppers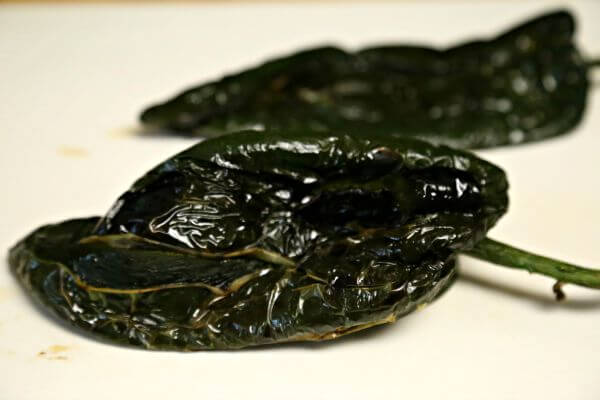 Don't forget the pancetta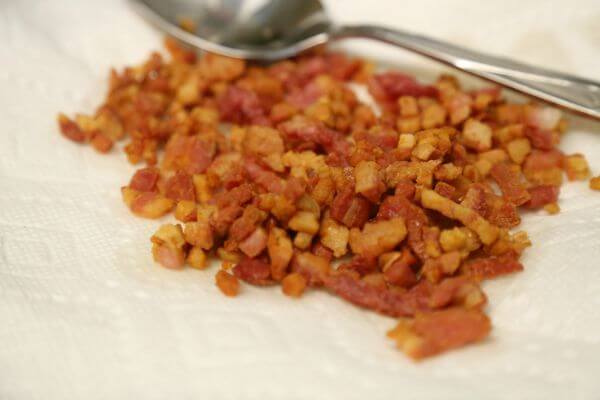 Adding the custard to the ciabatta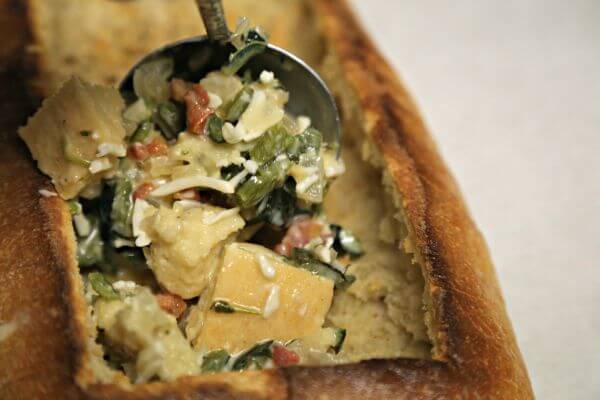 How good does this look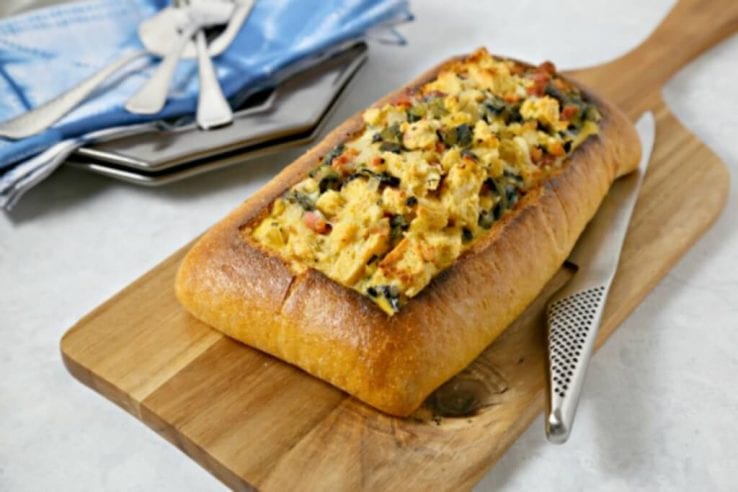 Shall I cut you a slice?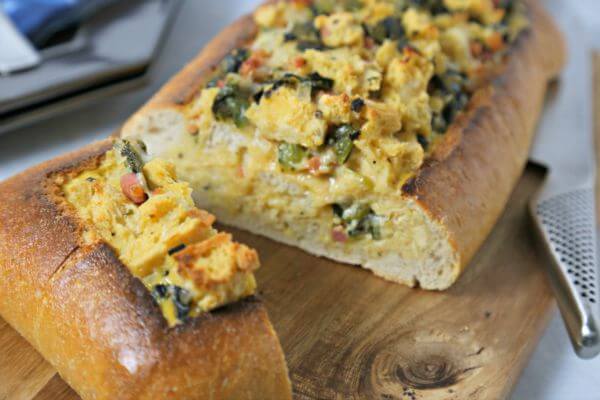 Aly M. Cleary
Yields 6
Chile Relleno Style Eggs In Ciabatta
Chile Relleno Style Eggs in Ciabatta are a chic brunch bite. A creamy spiced egg custard baked in ciabatta with roasted poblanos, cheese and pancetta for a fun southwestern twist
30 minPrep Time
60 minCook Time
1 hr, 30 Total Time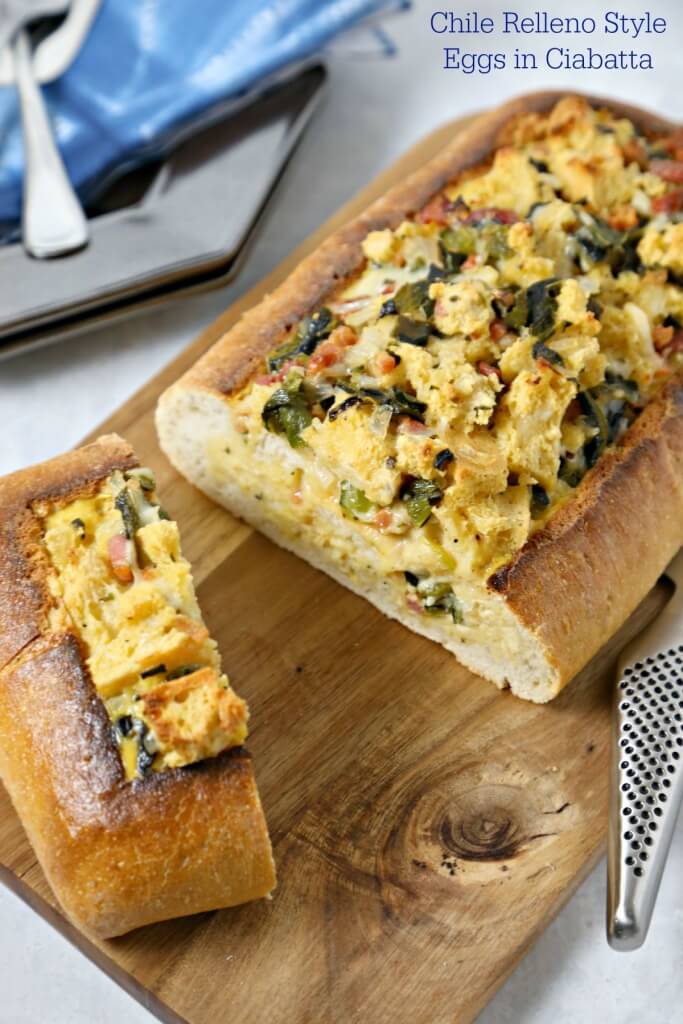 Ingredients
1 loaf of fresh baked ciabatta bread
2 tablespoon of olive oil, divided
2 poblano peppers
4 ounces of pancetta or bacon, diced
1/2 a Vidalia or sweet onion, diced
4 eggs
1/2 cup of milk
1/4 cup of sour cream
1/2 teaspoon of smoked paprika
1/4 teaspoon of Mexican oregano
1/4 teaspoon of ground cumin
1/4 cup of shredded Monterey Jack cheese
1/4 cup of shredded sharp cheddar cheese
Instructions
Place the poblano peppers on a baking sheet lined with aluminum foil. Roast the poblanos until they are black on all sides either under a broiler or on the stovetop using tongs over a gas flame.
When the poblanos are sufficiently blackened, place in a plastic bag and let steam for about 15 minutes.
Heat the oven to 350 degrees F.
Hollow out the loaf of ciabatta bread and reserve the bread trimmings, including the crust of the bread. Dice into 1" pieces and set aside.
Brush the interior of the ciabatta bread with the olive oil and toast in the oven for about 10 minutes. If using the broiler previously for the poblanos – please make sure the broiler flames are off or the top of your ciabatta might be a bit too toasty. Toast for about 7 minutes and then remove to cool while you prepare the filing.
In a small nonstick pan, crisp up the pancetta or bacon.
Remove the pancetta or bacon to a paper lined plate and discard all of the oil except for a teaspoon or so.
Add the diced onions and sauté until translucent. Set aside.
By this time, the poblanos should be cool. Remove them from the plastic bag and, using a paper towel, remove the charred skin from the poblanos. Also remove the stem, seeds and ribs.
Dice the poblano peppers and add them to the onion mixture.
In a bowl, whisk together the eggs, milk and sour cream until everything is well mixed.
Add the smoked paprika, Mexican oregano, cumin, Monterey Jack and sharp cheddar cheese to the egg custard. Whisk until everything is mixed.
Add the cooled poblanos, onions and pancetta to the custard followed by the reserved bread cubes.
Add the egg mixture to the cooled toasted ciabatta loaf and bake for 35 – 45 minutes, until the egg mixture is cooked through and set.
Let rest for 5 minutes and then cut the ciabatta loaf into slices.
Serve immediately and enjoy!
7.8.1.2
136
https://cookinginstilettos.com/chile-relleno-style-eggs-in-ciabatta/

With a dedication to artisan tradition for more than 25 years, and pure ingredients in all 200 varieties of foods and breads,
La Brea Bakery
proudly offers a multitude of options, including dinner and telera rolls, baguettes and batards, ciabatta, focaccia, flatbreads, loaves, rounds, ovals, sandwich rolls, sliced artisan sandwich breads and Take & Bake breads. La Brea Bakery breads and foods can be found at grocery stores across the country.
For more information on La Brea Bakery, visit labreabakery.com. The latest on the Breaking Bread Tour, including tour stops, can be found at breakingbreadtour.com and you can also follow along on Facebook, Twitter and Instagram.
This is a sponsored post with La Brea Bakery.  I was compensated for my recipe development.  Thank you for supporting the brands that I adore which make Cooking In Stilettos possible.