When I have tortillas around, sometimes I'll whip up breakfast enchiladas on the weekend or for those nights when I want breakfast for dinner.  Now – when I first started cooking, I would use enchilada sauce in a can but a couple years ago, I made some turkey and cheese enchiladas with a homemade enchilada sauce that changed my outlook forever.  More than likely, everything you need is in your pantry already.  The secret ingredient – a little bit of unsweetened cocoa powder simmered in the sauce which adds a whole new dimension of flavor taking this dish from ordinary to extraordinary.  After making the sauce, you can brown some of your favorite sausage (I use mild Italian sausage), add some softly scrambled eggs and a combo of Monterey Jack and Cheddar cheeses and you have a breakfast dish that will have everyone singing your praises.
These Breakfast Enchiladas are perfect for brunch this weekend.  The homemade enchilada sauce – that needs to be in your repertoire permanently for whenever you have an enchilada craving.
On to the recipe:
Gather your ingredients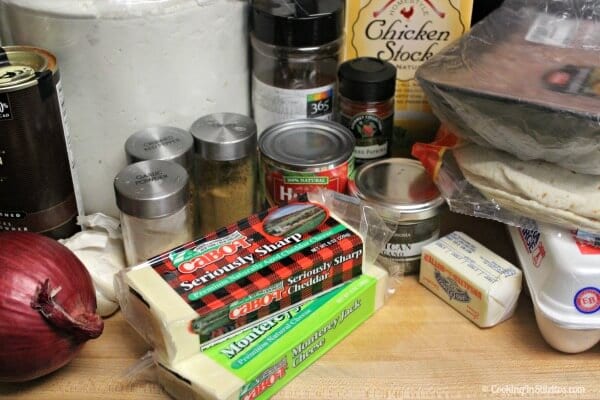 First – let's make this easy homemade enchilada sauce – you'll never buy canned again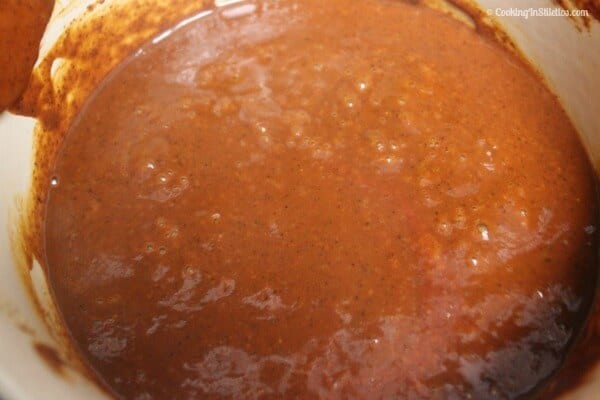 Let's get a bit of color on the sausage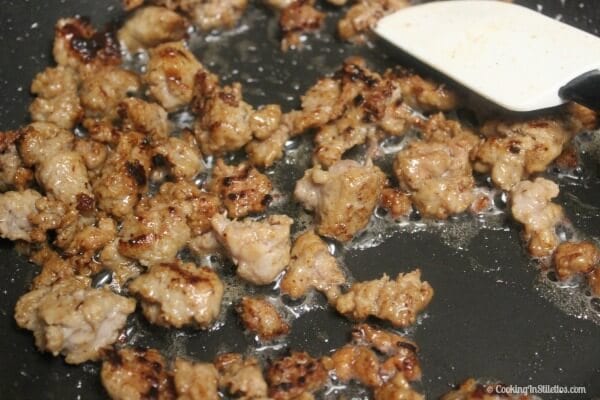 Time to assemble the ingredients – sausage followed by some softly scrambled eggs and a bit of cheese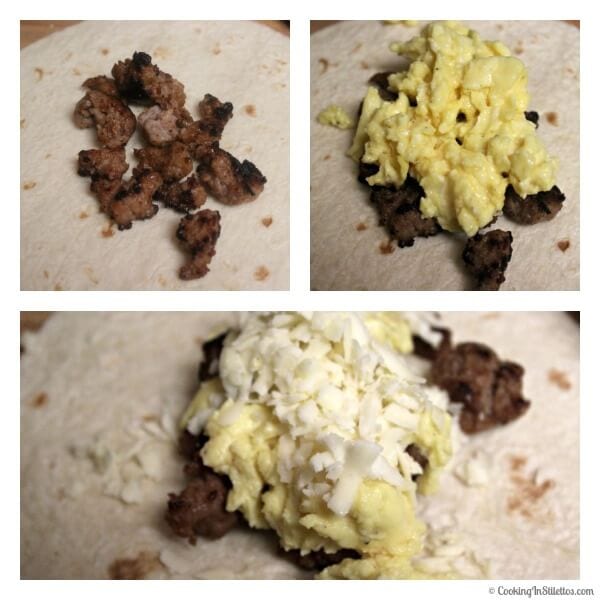 Let's add a bit more cheese before we head into the oven shall we?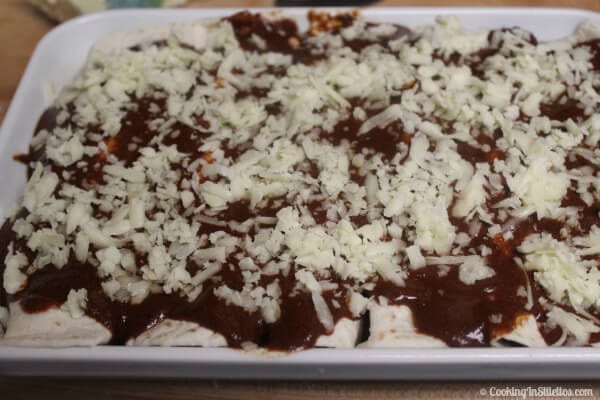 Look at this glorious dish of homemade breakfast enchiladas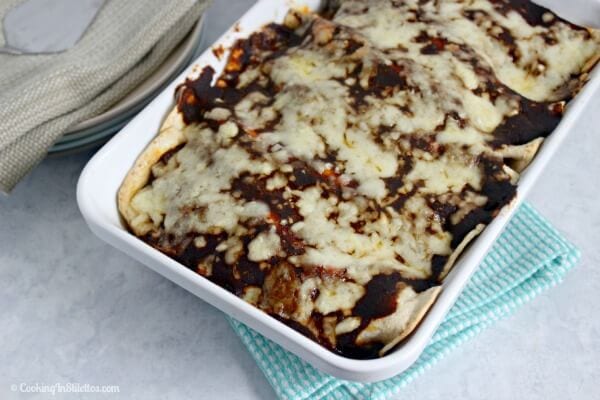 Wouldn't you want this for breakfast?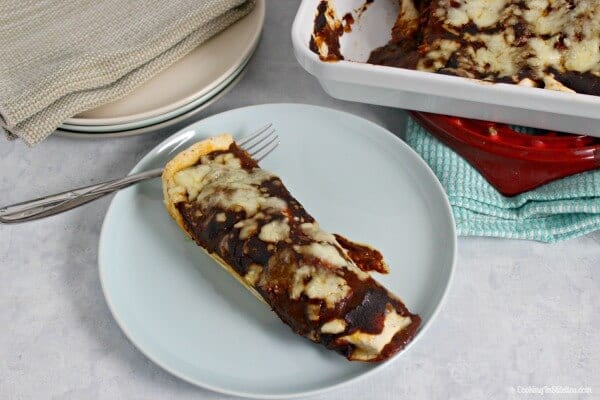 Aly M. Cleary
Yields 4-6
Breakfast Enchiladas With Homemade Enchilada Sauce
These Breakfast Enchiladas are perfect to whip up for an easy weekend brunch. What takes it over the moon is a ridiculously easy homemade enchilada sauce. One taste and you will never buy canned enchilada sauce again.
30 minPrep Time
1 hrCook Time
1 hr, 30 Total Time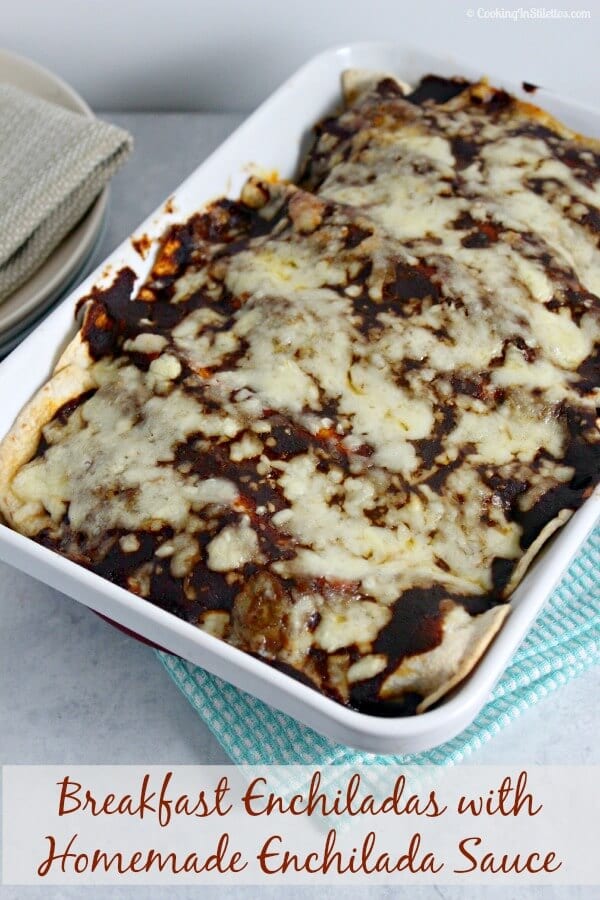 Ingredients
For the Homemade Enchilada Sauce:

2 teaspoons of olive oil
3 tablespoons of chili powder
1 tablespoon of all purpose flour
1 8 ounce can of tomato sauce
1 teaspoon of cumin
1 tablespoon of unsweetened cocoa powder
1 teaspoon of Mexican oregano
1 teaspoon of smoked paprika
1 teaspoon of garlic powder
1/2 teaspoon of red pepper flakes
1/2 teaspoon of salt
1 cup of chicken stock

For the Breakfast Enchiladas:

1 pound of mild Italian sausage, casings removed
8 eggs
2 tablespoons of milk
2 tablespoons of butter
8 tortillas
1 cup of shredded cheddar cheese
1 cup of shredded Monterey Jack cheese
Sour cream for serving
Instructions
For the Homemade Enchilada Sauce:

In a heavy-bottom sauce pan, add the olive oil over medium high heat.
Add the chili powder and allow to bloom for a minute or so. Follow that with the flour and stir until the flour is cooked and it forms a sort of a roux.
Whisk in the tomato sauce and let simmer until the mixture is thickened slightly.
Add the cumin, cocoa powder, Mexican oregano, smoked paprika, garlic powder, red pepper flakes and salt. Stir until the spices are combined thoroughly.
Whisk in the chicken broth, mixing thoroughly until the sauce has thickened.
Keep warm while you prepare the enchiladas.

For the Breakfast Enchiladas:

Preheat the oven to 350 degrees F.
In a nonstick skillet, brown the Italian Sausage, breaking into small chunks, until it is nicely browned and starting to crisp.
Remove to a paper lined plate and reserve about 1 tablespoon of the oil.
In a bowl, whisk together the eggs and milk.
In the reserved non-stick pan, reduce the heat to medium low, and add the butter to the oil.
Add the eggs and gently scramble them low and slow, until the eggs are softly cooked - about 3 - 4 minutes. Remove from the heat and set aside.

To assemble the enchiladas:

Lightly spray a 9x13 pan with nonstick spray.
Gently add a small amount of the homemade enchilada sauce to the base and spread lightly.
Take one tortilla and add some of the browned sausage to the center (about a tablespoon or so)
Top with a bit of the softly scrambled egg (about 2 tablespoons)
Finally top with about a bit of cheese, about a teaspoon or so.
Roll the tortilla tightly and add to the pan, seam side down.
Continue with the remaining tortillas.
Pour the remaining enchilada sauce down the center of the enchiladas and top with the remaining cheese.
Bake for about 20 minutes or so, until everything is golden and bubbly.
Serve with a dollop of sour cream and enjoy!
7.8.1.2
170
https://cookinginstilettos.com/breakfast-enchiladas-with-homemade-enchilada-sauce/