Cinnamon Donut Muffins have the flavors of your favorite cinnamon donut but in a muffin.  This tender fluffy muffin is flavored with cinnamon and nutmeg and then dusted with vanilla cinnamon sugar – what's not to love?
Ahhhhhh – April 15th – the day many dread – Tax Day.  Today's tax day has a not only a forecast of dreary and raining cats and dogs to add to the "blah" factor, but also there's whisperings of it being cold enough for some snow to come our way.  Needless to say, this gal is none to pleased and I can guarantee the Junior Sous Pug will be quite the perturbed pup.
However, one positive highlight of the day are these Cinnamon Donut Muffins.  I made these muffins eons ago when I first started to learn on my culinary journey and they have been a household favorite.  Baked, not fried and a little cinnamon sugar dusted dose of comfort – perfect for days like these. 
I decide to give them a bit of a redo as I like the spicy cinnamon bite throughout.  These muffins couldn't be easier to make and they do taste like a cinnamon dusted donut – but in muffin form.  What is not to love, right?  I have to tell you, one thing I swear by – these Gold Muffin Tins from Williams Sonoma.  They guarantee a perfect muffin every time and I don't have to use a bunch of nonstick spray – easy peasy.  A few spices, a bit of butter and *boom* muffin goodness.
So – instead of worrying about The Taxman Cometh – make some of these Cinnamon Donut Muffins, curl up on the couch and watch Gibbs and the NCIS crew while sipping on some coffee.  That, I promise, will bring a smile or two.
On to the recipe:
Gather your ingredients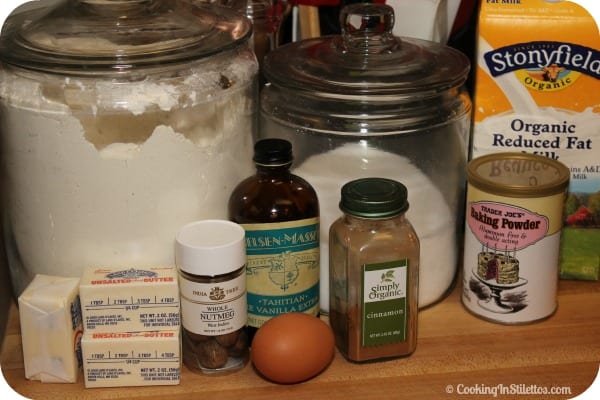 Look at all of that cinnamon and nutmeg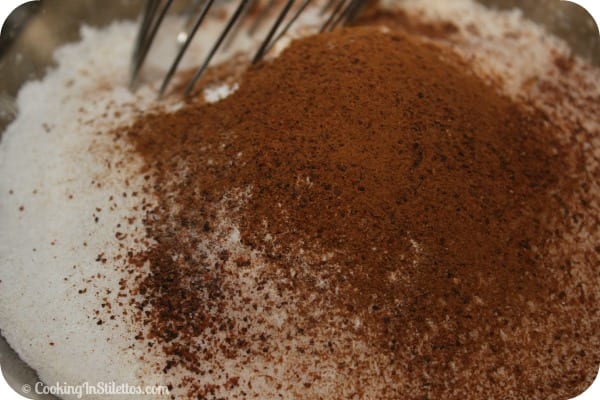 Off to the oven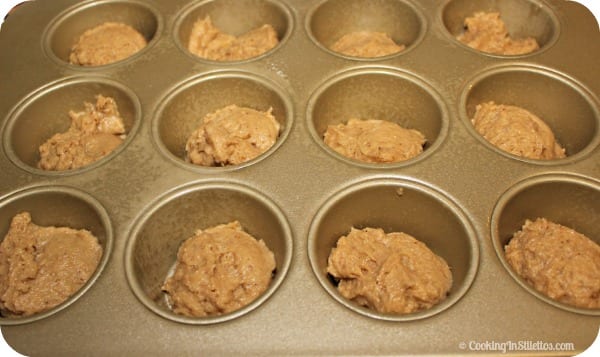 The final flourish – a butter dip followed by a vanilla cinnamon sugar tumble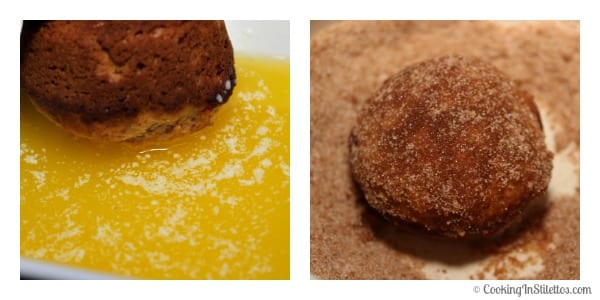 Now – get your coffee and enjoy a donut muffin or two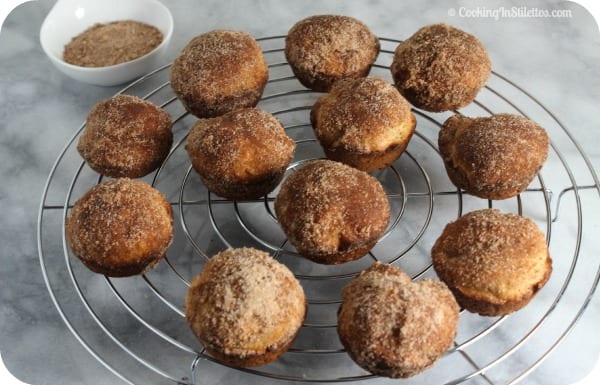 Recipe adapted from HorizonOrganic.com

Yields 12

Cinnamon Donut Muffins

Make Cinnamon Donut Muffins , curl up on the couch and watch Gibbs and the NCIS crew while sipping on some coffee. That, I promise, will bring a smile or two.

40 minPrep Time

17 minCook Time

57 minTotal Time

Ingredients

For the Donut Muffins:

1/3 cup of butter, melted and cooled
1/2 cup milk (I used reduced fat)
1 egg
1 teaspoon of vanilla
1 1/2 cups of all-purpose flour
1/2 cup of granulated sugar
1 1/2 teaspoon of baking powder
1 teaspoon of ground cinnamon
1/2 teaspoon of nutmeg, freshly grated (if possible)
1/2 teaspoon of salt

For the Vanilla Cinnamon Sugar Topping

1 1/4 teaspoons of ground cinnamon
1/2 cup of sugar
1/2 teaspoon of vanilla (you can use extract or even better – 1 vanilla bean, scraped)
1/3 cup of butter, melted

Instructions

Preheat the oven to 400 degrees F.
Coat a 12-cup muffin tin with baking spray or line with paper liners and set aside.
Whisk together the cooled butter, milk, egg and vanilla until everything is well mixed.
In a large bowl, whisk the flour, sugar, baking powder, cinnamon, nutmeg and salt.
Slowly pour the wet mixture into the dry, mixing until combined. The batter will be thick and lumpy so don't be alarmed.
Fill each muffin cup about halfway full. (I used a cookie scoop and it worked out perfectly)
Bake for about 18 minutes or so, until the muffins are golden and a toothpick inserted in the center comes out clean.
While the muffins are baking, make the Vanilla Cinnamon Sugar topping.
In a bowl, combine the cinnamon, sugar and vanilla until everything is well mixed.
When the muffins are done, remove them from the pan and let them cool – about 5 minutes or so.
Dip each muffin in butter and then into the Vanilla Cinnamon Sugar mixture.
Enjoy!

7.8.1.2

257

https://cookinginstilettos.com/cinnamon-donut-muffins/