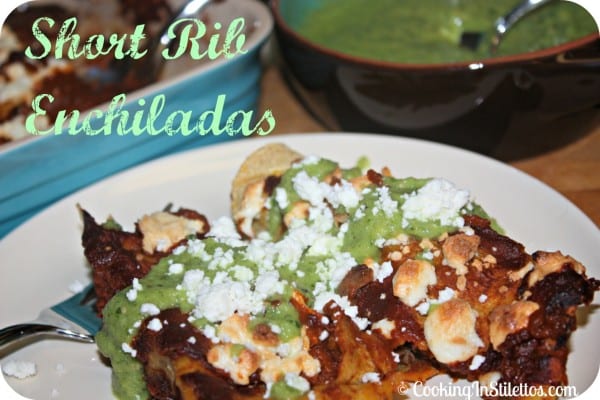 It's no secret that I adore short ribs – whether they are cooked low and slow, in a hearty chili, with pasta or nestled in these chic lasagna rolls. There are numerous ways to use them – not just the standard simmer in red wine method (but that's good too – don't get me wrong).
I never thought to put them in an enchilada until I happened to come across this recipe for Beef Short Rib Enchiladas at Food Network and, thanks to this recipe, I received quite the lesson in cooking. I learned the value of patience, gratitude for pre-prepped ingredients (like my chipotle puree that I stash in the freezer), appreciation of good kitchen tools (like my new BFF, the Vitamix), how to cook with alcohol safely (or a lesson in what NOT to do) and, to read the FULL recipe before you even attempt it and block off the proper time to make it. This is no 30-minute meal, my friends. This multi-step recipe is WELL worth your time in trying one day when you just want to putter about the kitchen.
I will share this – do NOT, stress DO NOT, cook with tequila without being prepared. I had a bit of an inferno caused by a bay leaf that burnt to a crisp in the tequila flames and it caused a bit of a panic attack (and a frantic note to self to get a daggone fire extinguisher for the kitchen). Thankfully everything was salvageable (except the bay leaves – but put those in AFTER the tequila flame dies down please) and this dish was one that I WILL make again – granted with the fire extinguisher nearby of course.
Gather the Ingredients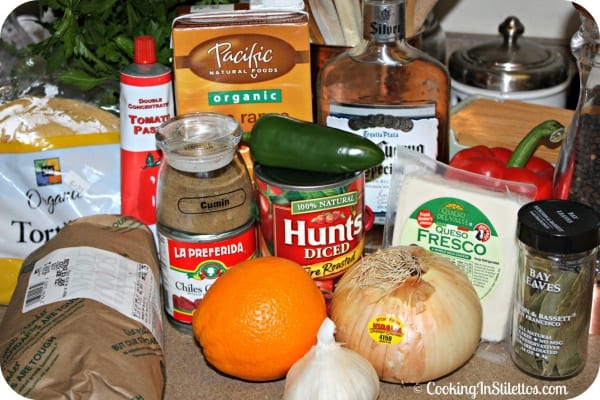 The Tequila Inferno (my camera didn't catch the flame out quick enough)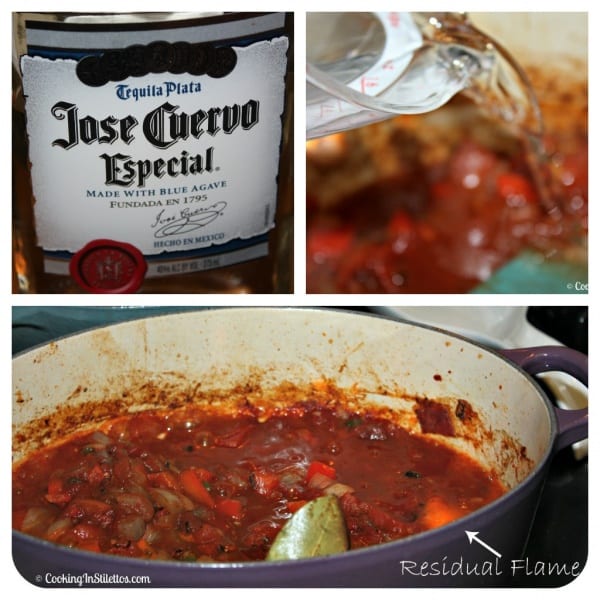 Simmering the Sauce
The Tomatillo Salsa
Assembling The Short Rib Enchiladas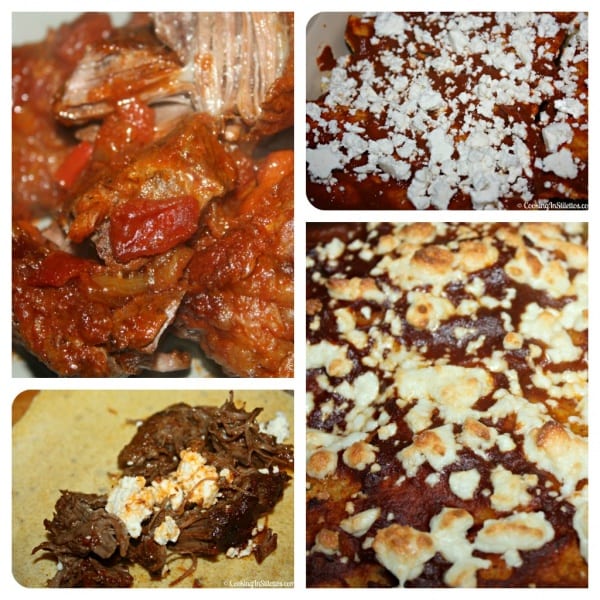 [b]Short Rib Enchiladas[/b]
---
Recipe adapted from Food Network / John Pettitt of Wine Cask Restaurant
Yields 8
These Short Rib Enchiladas take enchiladas to new heights. Rich beefy short ribs are simmered for hours in a tequila tomato sauce and wrapped in tortillas and then smothered with a homemade tomatillo sauce and lots of queso fresco
30 minPrep Time
4 hrCook Time
4 hr, 30 Total Time
Ingredients
For the Tomatillo Salsa:

5 tomatillos, chopped
2 yellow onion, diced
1 jalapeno, seeds removed, diced
1/2 cup freshly chopped cilantro
Olive oil

For the Beef Short Rib Enchiladas:

Olive Oil
2 to 3 pounds boneless beef short ribs
Salt and freshly ground black pepper
1 yellow onion, diced
1 red bell pepper, seeded and cored, diced
4 cloves garlic, minced
1 jalapeno, seeds removed, diced
1 canned chipotle chili or 1 tablespoon of chipotle puree
1 15 oz. can of fire roasted tomatoes
1 teaspoon ground cumin
1 cup tomato paste
1 cup tequila
1 orange, cut in quarters
4 cups chicken stock
2 bay leaves
1 cup Queso fresco, plus more for garnish (I was a bit liberal)
Corn Tortillas
Directions
Preheat oven to 350 degrees F.

For the Beef Short Ribs:

Over high heat, heat up a bit of olive oil in a dutch oven.
Season the short ribs with a bit of salt and pepper and sear all sides until golden brown. When they are properly seared, remove from the pan and set aside.
Reduce the heat to medium, add a tablespoon of olive oil to the pan (if needed), add the onion, red bell pepper, garlic, jalapeño and cook until tender.
Add chipotle paste, tomatoes, cumin, and tomato paste to the vegetable mixture and cook until liquid has evaporated.
Deglaze with tequila CAREFULLY and cook for 2 minutes.
Season with salt and pepper.
Add the seared short ribs, orange quarters, and bay leaves to the mixture along with the chicken stock.
Bring the mixture to a boil, cover, and place in the preheated oven for 3 1/2 to 4 hours or until meat is falling apart.
Remove meat from liquid and let cool.
Remove the orange sections and bay leaf and discard. Puree the cooking liquid and vegetables into a smooth enchilada sauce. Check for seasoning, add salt, and pepper if needed. Set aside.
Shred the meat and set aside.

For the Tomatillo Salsa:

Over medium heat, add the tomatillos, onions and jalapeño to about a tablespoon of olive oil and sauté. Cook for about 10 minutes.
Puree the ingredients in a blender (this is why I love my vitamix – got the enchilada sauce and the tomatillo salsa done zippy quick).
Add the chopped cilantro (if using) and keep warm.

For The Short Rib Enchiladas:

Preheat the oven to 400 degrees
Prepare a 9x13 baking dish with a bit of cooking spray. Add some of the enchilada sauce to the bottom of the pan.
To a corn tortilla, add some of the shredded short ribs, a bit of queso fresco and roll.
Place the rolled tortilla seam side down in the baking dish.
Continue with the remaining tortillas until the dish is full.
Cover with remaining enchilada sauce and top with queso fresco.
Place into the oven and bake for about 10 minutes, or until the cheese is nicely golden.
Serve the enchiladas drizzled with a bit of tomatillo salsa and a bit more queso fresco and enjoy!
7.6.8
874
https://cookinginstilettos.com/short-rib-enchiladas/
All images and content are © Cooking In Stilettos. Please do not republish without contacting us first. Thank you.
Have you ever tried a recipe that has been much more than you expected and, if so, what did you learn from it? Would love to hear your experiences.
[FTC Disclosure: This post contains affiliate links. As always, my opinions are 100% my own]
Did you enjoy this post?
| | |
| --- | --- |
| Share the love | Get free updates |