You ever plan out your meals, know exactly what you are going to make and then you see something and scrap all your prior dinner plans for something totally different? That's what I had to face this week. See, I had every intention of making one recipe, already did most of the prep work for it, had plans to head out to the store to pick up the one missing ingredient I needed and then I turned on my DVR for a spell. Big mistake.
I'm starting to learn that Jamie Deen's new show is bad to watch before I make a recipe because Jamie made a grilled lemon rosemary chicken and, well, you can guess where this went. I already had all of the ingredients in the pantry and fridge for this particular recipe. I knew I had to go to Whole Paychex for that other ingredient for that other recipe and, well, why not try Jamie's right?  I could curl up for the evening, watch a little Merlin (shush – don't judge!) and the other recipe could be prepared the next day.  
This recipe came together in a flash. I used chicken breasts instead of tenders so they took a bit longer to grill (and you know me with meat thermometers – I used two and neither agreed with the other.) This recipe could also be easily baked and, served over some couscous flavored with a squeeze of lemon, and you have yourself a super quick dinner that is full of lemony flavor. Any leftovers are great in a chicken salad the next day – not that I would ever know anything about that. *whistles*
Seriously, next time you are pondering what's for dinner and not sure what to prepare, grab some chicken, rosemary and some lemon and get to grilling!
Grilled Lemon Rosemary Chicken
---
Ingredients
Zest and juice of two lemons
1/4 cup of olive oil
1 tablespoon of Dijon mustard
1 tablespoon of fresh rosemary, minced
2 cloves of garlic, minced
4 chicken breasts
Kosher salt
Freshly cracked black pepper
Canola oil for greasing the grill
Directions
In a medium bowl, whisk together the lemon juice, zest, olive oil, Dijon mustard, rosemary and garlic. Season with a bit of salt and pepper.
In a plastic bag, add the chicken breasts and the marinade. Seal the bag and make sure the chicken breasts are fully coated.
Place in the refrigerator to marinate for about 15-20 minutes.
Remove from the refrigerator, let come to room temperature.
While the chicken is coming to room temperature, preheat your grill.
Lightly grease the grill with a bit of canola oil.
Add the chicken and grill for about 5 to 7 minutes. After that, flip the chicken and grill on the other side until it is cooked through.
Enjoy!
Notes
Recipe slightly adapted from Jamie Deen
7.6.7
809
https://cookinginstilettos.com/grilled-lemon-rosemary-chicken/
All images and content are © Cooking In Stilettos. Please do not republish without contacting us first. Thank you.
Gather the Ingredients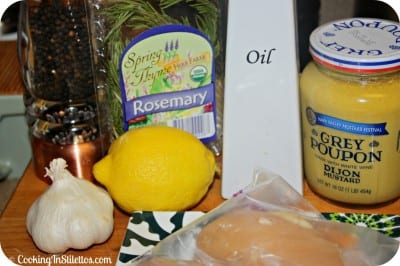 Whisk in the olive oil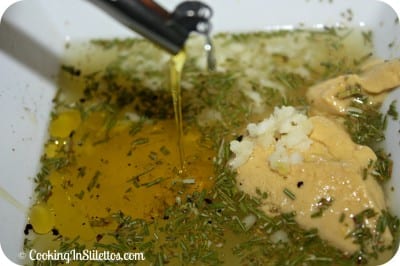 Time to marinate!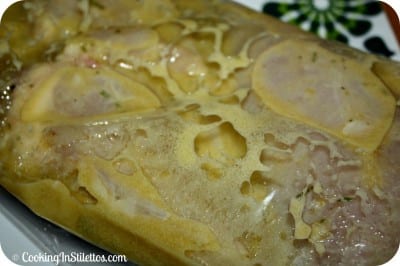 The best lemon rosemary chicken I have ever had!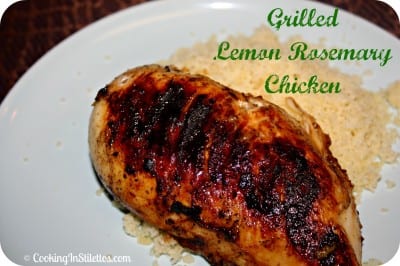 Have you ever dropped your dinner recipe plans for something totally different?  What was the recipe?
Did you enjoy this post?
| | |
| --- | --- |
| Share the love | Get free updates |