Growing up, there was an appetizer that I vaguely remember having which was essentially bites of pineapple wrapped in bacon.  Sure – that sounds tasty but what if you take it up a notch?  I saw a recipe for bacon pineapple appetizers in a Hawaiian cookbook that basically said "take pineapple, put in bacon with water chestnut and broil" and that was it.  To me, while simple, it didn't have that za za zu factor.
Good thing I have lots of pineapple at my house because it took a few tries to get these Bacon Wrapped Pineapple Bites "just right" – it's sweetly salty with a slight kick of heat.  I have to warn you, these do take a bit of time to assemble but it's worth it.  One bite of these Bacon Wrapped Pineapple Bites and your guests will go crazy.  Just don't get mad at me if you find yourself hiding a couple of these so the guests can't find your secret stash.
On to the recipe:
Gather your ingredients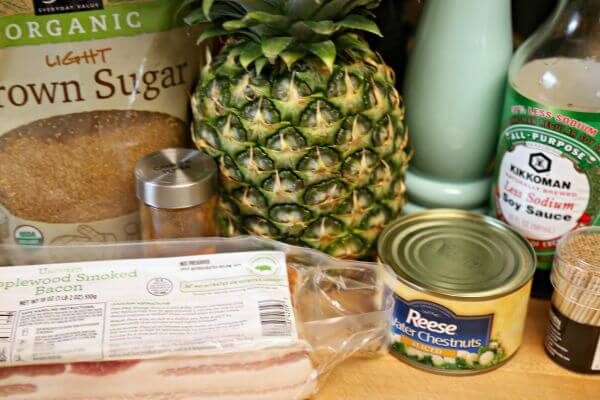 Nothing like fresh pineapple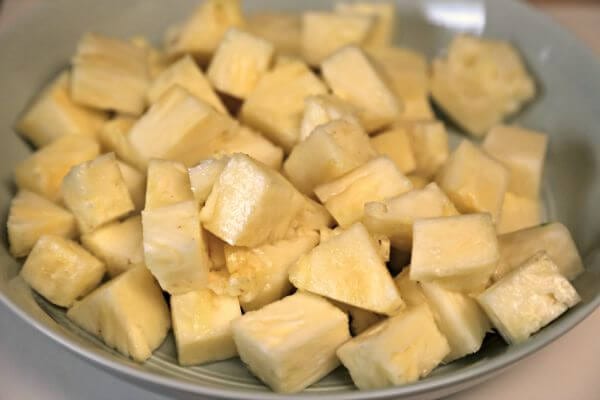 Let's assemble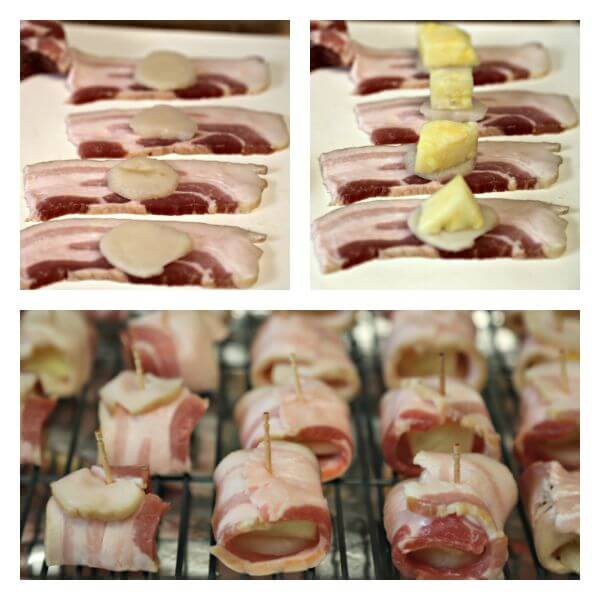 Brushing with a bit of that spicy sweet glaze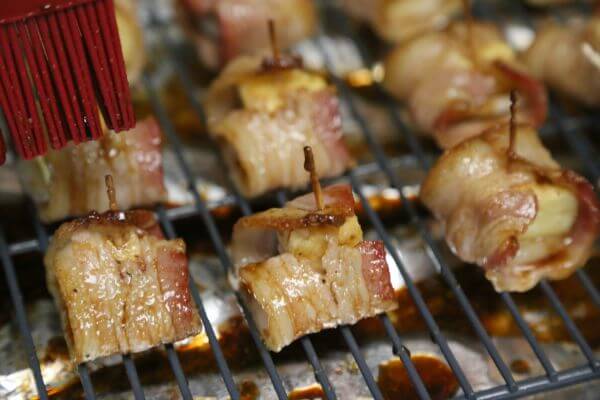 Now this is a sweet salty bite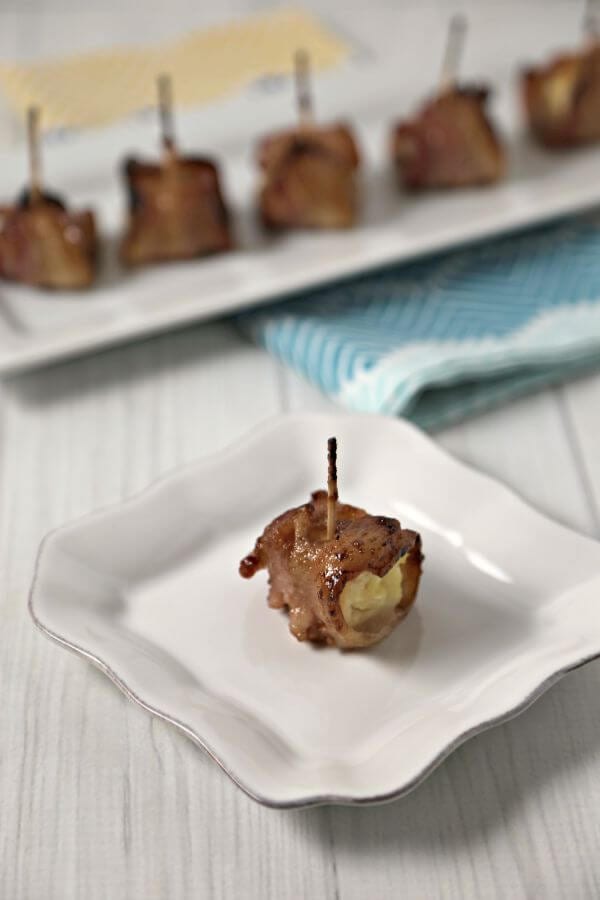 Try to have just one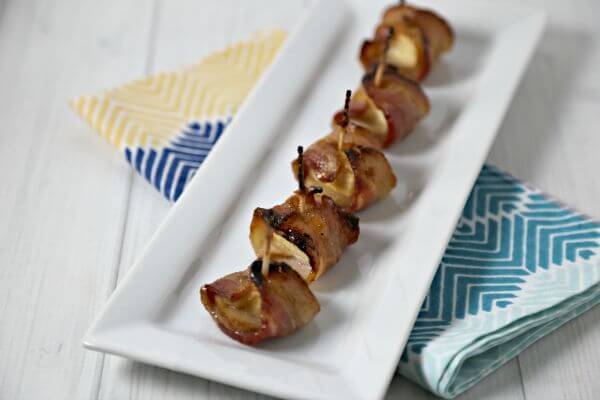 Aly M. Cleary
Yields 24
Bacon Wrapped Pineapple Bites
These Bacon Wrapped Pineapple Bites are a bit retro but with a modern spin. Thick cut bacon wrapped around sweet pineapple and glazed with a spicy sweet sauce.
20 minPrep Time
40 minCook Time
1 hrTotal Time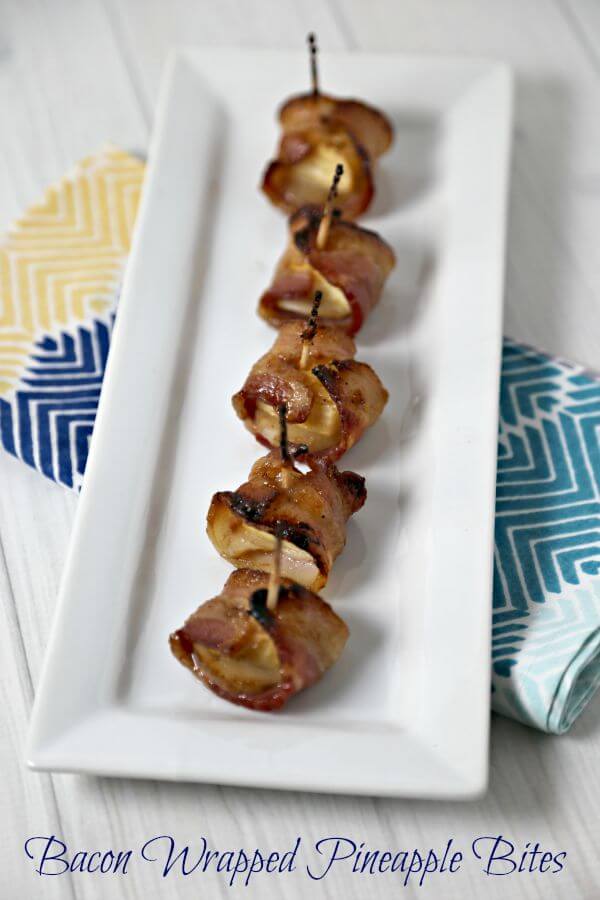 Ingredients
1 pound of thick cut bacon, cut in half
1 small pineapple, cored and sliced into chunks
1 small can of water chestnuts, drained and rinsed

For the sauce:

1/4 cup of brown sugar
1/4 cup of soy sauce
1/8 teaspoon of cayenne pepper
1/8 teaspoon of freshly cracked black pepper
Instructions
Preheat your oven to 425 degrees F.
Line a baking sheet with foil and place a baking rack over the top.
On a cutting board, lay out the half slices of thick cut bacon.
Lay a water chestnut on each slice followed by a cube of pineapple.
Secure with a toothpick and place on the baking sheet.
Bake for 25 minutes or so until you can see the bacon crisp up. As this is thick cut bacon so it takes some time.
While the bites are baking, to a bowl add the brown sugar, soy sauce, cayenne pepper and freshly cracked black pepper. Whisk to combine, making sure that all of the brown sugar is dissolved.
Remove the bites from the oven and brush each bite liberally with the sauce. If some of the toothpicks come undone, just re-secure them.
Bake for another 10 - 15 minutes until the bacon is crisp and the sauce has formed a nice glaze.
Serve immediately.
Enjoy!
7.8.1.2
145
https://cookinginstilettos.com/bacon-wrapped-pineapple-bites/