Looking for something fresh to serve at your next brunch?  Make this Easiest Ever Strawberry Jam recipe with just a few ingredients and is ready in no time. You'll never go back to store-bought again!
Disclosure:  This post may contain affiliate links of products that I adore and trust in my kitchen.  Thank you for supporting Cooking In Stilettos. This recipe originally appeared on Cooking in Stilettos in February 2010 and has been updated to reflect the changes I have incorporated over the years as well as new photos.
I have to admit that when it comes to all things jam, the thought of making my own never crossed my mind.  When something called for jam, that entailed a trip to the store to buy something that was premade.  That all changed once I saw that it really isn't so difficult thanks to the Barefoot Contessa.  She has a recipe for Easy Strawberry Jam and since the recent snow-in of Philadelphia afforded one to carry on more than one kitchen experiment, I thought this might be worth a try.
I had most of the ingredients on hand and, instead of the Grand Marnier, I went with a tried and true – fresh orange juice and zest.  The slight sprinkle of blueberries adds a depth of flavor and the tart granny smith apple not only thickens the mixture beautifully, but adds a slight tangy note, eliminating the need for any pectin.  This recipe is in my tried and true file for a reason – it's that good.  As this is a refrigerator jam, this Strawberry Jam will only keep a couple weeks in the refrigerator.  If you want to make it shelf stable, you can process the mixture as you normally would in canning jars.  I just have the patience of a gnat so refrigerator jam it is.  The depth of flavor is amazing and this recipe is going to be in my tried and true file.  Sadly, it only keeps in the fridge for about 2 weeks so I'll be using what's left for some baking projects and even a PB&J or two.  If I swipe a spoonful ala Nigella style – well, I'll never tell.
When you want to serve something bright and fresh at your next brunch, make a couple jars of this Easiest Ever Strawberry Jam and be prepared for compliments galore!
On to the recipe:
Gather The Ingredients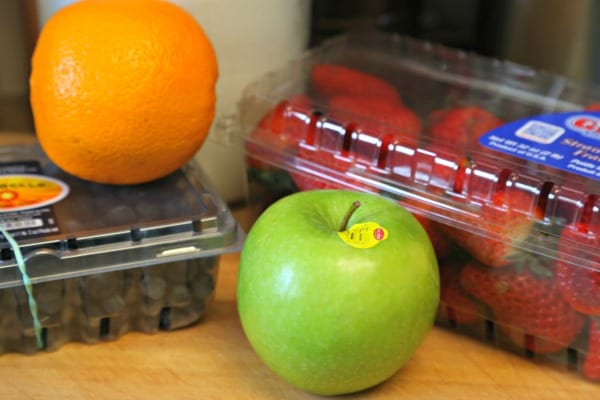 These gorgeous berries are mixed with a bit of orange love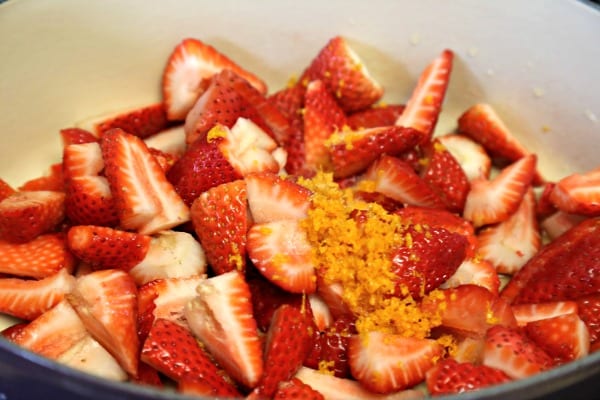 Adding some sugar to the mix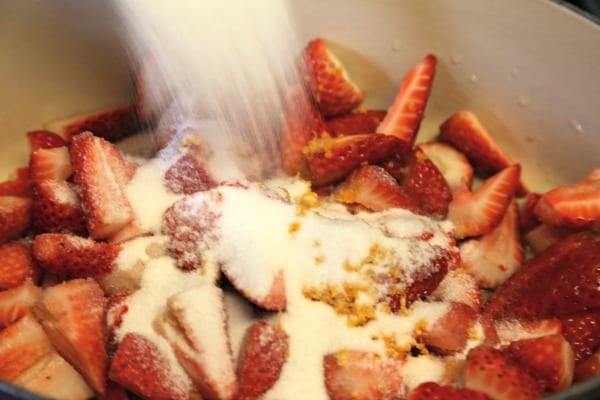 Time to bring the mixture to a bubble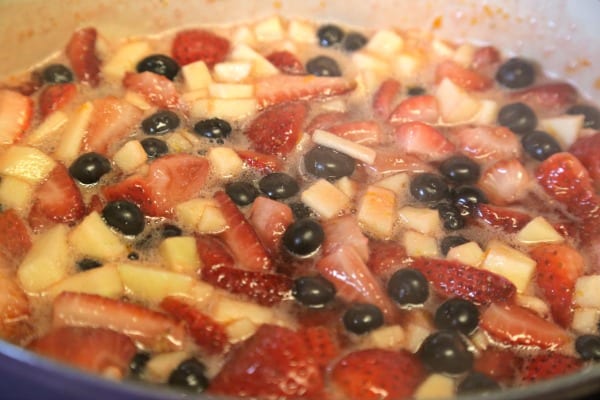 Mashing the berries with my OXO masher  for a smoother jam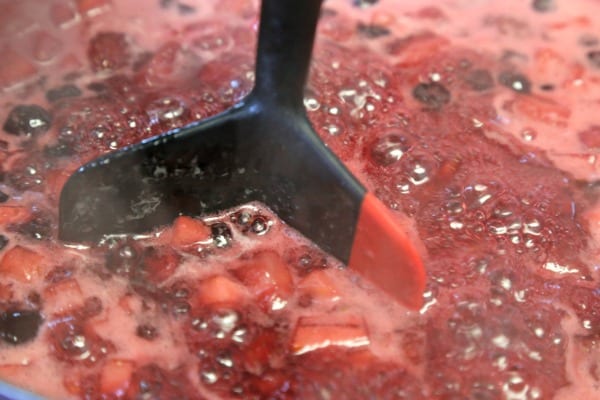 Ready to spoon into jars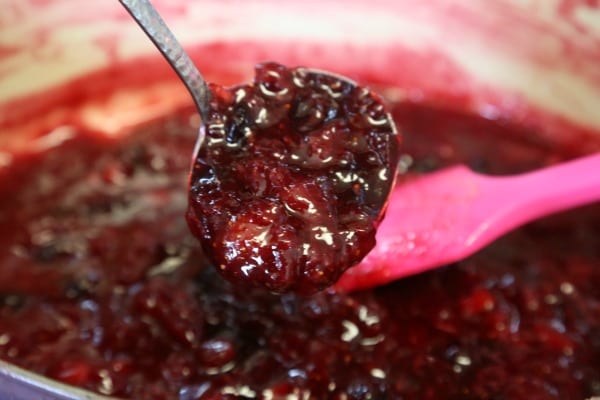 Easiest Ever Strawberry Jam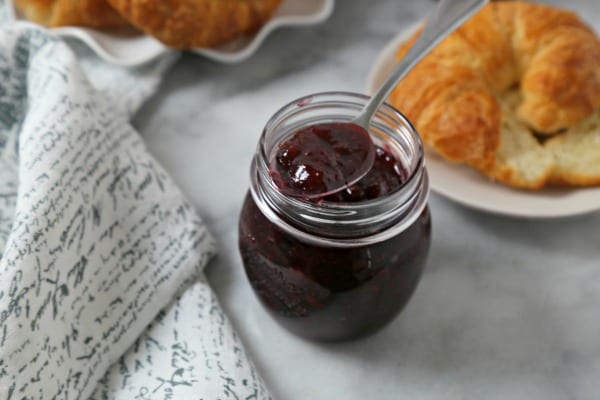 Aly M. Cleary | Adapted from Ina Garten
Yields 3-4
Easiest Ever Strawberry Jam Recipe
For your next brunch, make this delicious Easiest Ever Strawberry Jam recipe. Fresh ripe strawberries are simmered with orange zest, juice, and a bit of sugar for the best ever refrigerator jam.
15 minPrep Time
35 minCook Time
50 minTotal Time
Ingredients
2 pounds of fresh strawberries, rinsed and hulled.
Zest of one orange
1/4 cup of fresh orange juice
1 1/2 – 2 cups of granulated sugar (depending on how sweet the strawberries are)
1/2 of a Granny Smith apple, peeled, cored and small-diced
1/2 cup of fresh blueberries, rinsed
Instructions
Slice the strawberries into quarters and place in a heavy Dutch oven or heavy bottomed pan.
Add the orange zest and orange juice to the strawberries.
Add the sugar to the strawberry mixture and mix with a spatula.
Bring the berries to a boil over medium heat, stirring often.
Add the diced apple and blueberries to the bubbling strawberry mixture and stir to combine.
Let the mixture continue to boil, stirring occasionally with a silicone spatula. Skim any white foam off of the top of the mixture.
Bring the mixture to 220 degrees on a candy thermometer – about 25 – 30 minutes or so.
Using a potato masher and mash the berries a bit if they haven't fully broken down.
Take the mixture off the heat and allow to cool to room temperature.
Ladle the cooled jam into jars and store in the refrigerator, covered, for about 2 weeks or so.
Enjoy!
Notes
Keeps in the refrigerator for 2 weeks or so – if it lasts that long.
7.8.1.2
102
https://cookinginstilettos.com/easiest-ever-strawberry-jam-recipe/