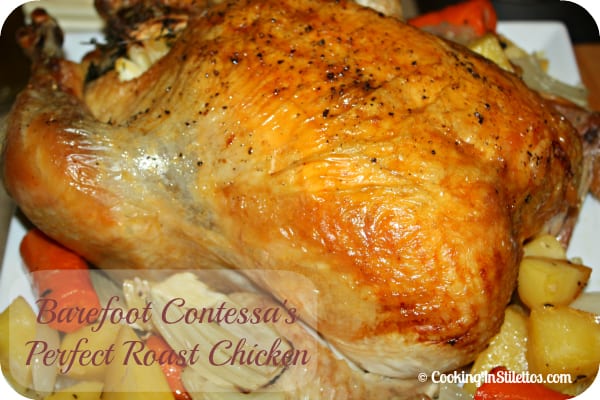 This has been a much awaited recipe redo for the Barefoot Contessa's Perfect Roast Chicken and, in my opinion, should be a recipe in everyone's cooking arsenal.  When you see how easy it is, you will wonder why you haven't been making it all along.   Now, back when I first attempted it in 2009, I was still new to the whole "cook a whole chicken" but, over time, I've gotten pretty proficient at it, changing up the cavity stuffings with various citrus, or onion and a bit of garlic.  Sometimes I use Mojo de Ajo in place of butter for that nice roasted garlic flavor.  However, to make it straight up Barefoot Contessa style, right down to the fennel?  Well, it was time to toss on the stilettos and get in the kitchen.
This really is the perfect way to make chicken – a few *good* ingredients and you have a perfectly roasted chicken that will be perfect for dinner.  As an added bonus, the leftovers can be used in a ton of dishes, like my Roasted Chicken Orzo, Lemon Chicken Noodle Soup , Chipotle Southwestern Corn & Chicken Soup, or this tried and true Chicken Cheddar Pot Pie.
As Barefoot Contessa has said before – sometimes you just need to get Back to Basics.
Onto the Recipe:
Gather the Ingredients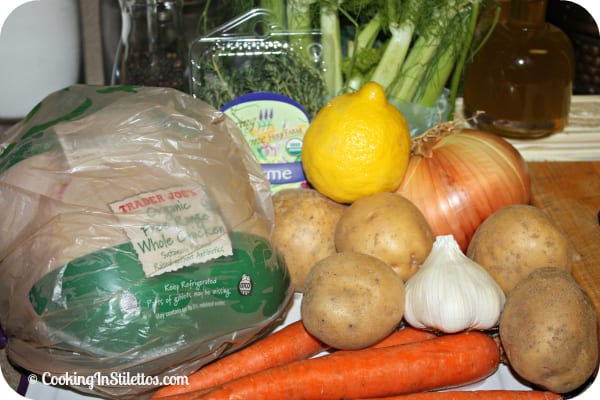 Trussing Time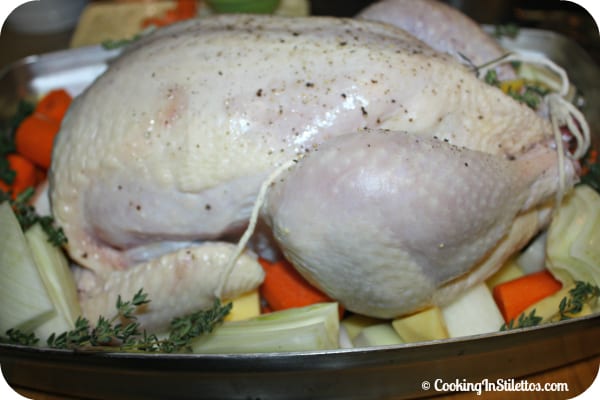 Now tell me – doesn't that look glorious?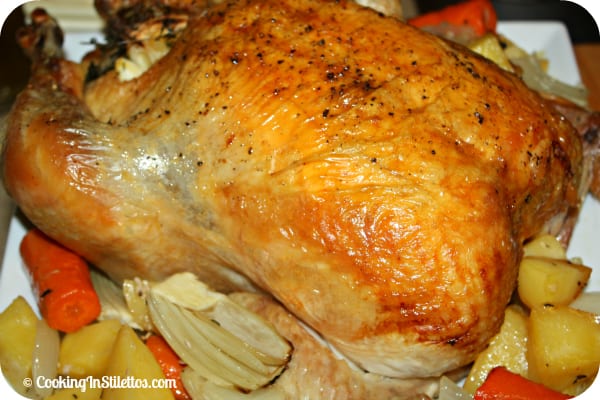 Barefoot Contessa's Perfect Roast Chicken
---
Adapted from The Barefoot Contessa
Yields 4
The ultimate perfect roast chicken - perfectly cooked chicken, crispy skin and full of flavor. how bad can that be?
30 minPrep Time
1 hr, 30 Cook Time
2 hrTotal Time
Ingredients
1 (5 to 6 pound) roasting chicken
Kosher salt
Freshly ground black pepper
1 large bunch fresh thyme, divided
1 lemon, halved
1 head garlic, cut in half crosswise
1 large onion, thickly sliced
1 bulb of fennel, tops removed, and cut into wedges
4 Yukon Gold Potatoes, cut into 2-inch chunks
4 carrots cut into large chunks
Olive oil (I used some i][Mojo de Ajo [/i] for that added roasted garlic punch)
Directions
Preheat the oven to 425 degrees F.
Remove the chicken giblets and discard. Per the Barefoot Contessa you can rinse the chicken and pat dry.
Salt and pepper the inside of the chicken.
Stuff the cavity with half of the bunch of thyme, both halves of lemon, and all the garlic.
Brush the outside of the chicken with 2 tablespoons of olive oil and sprinkle again with salt and pepper.
Tie the legs together with kitchen string and tuck the wing tips under the body of the chicken.
Place the onions, fennel, carrots, and potatoes in a roasting pan. Toss with salt, pepper, remaining thyme, and olive oil.
Spread around the bottom of the roasting pan and place the chicken on top.
Roast the chicken for 1 1/2 hours, or until the juices run clear when you cut between a leg and thigh.
Remove the chicken and vegetables to a platter and cover with aluminum foil for about 20 minutes.
Slice the chicken onto a platter and serve it with the roasted vegetables.
Enjoy!
Notes
Slightly adapted from the Barefoot Contessa.
7.6.8
884
https://cookinginstilettos.com/recipe-redo-barefoot-contessas-perfect-roast-chicken/
All images and content are © Cooking In Stilettos. Please do not republish without contacting us first. Thank you.
[The
Recipe Redo Series
is when I take one of my earlier posts here at
Cooking In Stilettos
, redo the recipe with new pictures and add any tips I've learned along the way. This Tried & True originally appeared back in December of 2009:
Tried and True: Barefoot Contessa's Perfect Roast Chicken
. Promise not to laugh at the beyond horrid photo please.]
Did you enjoy this post?
| | |
| --- | --- |
| Share the love | Get free updates |