When I got word that I was going to be heading to Orlando for Food Blog Forum Orlando, I knew that I couldn't visit OTown and not have dinner at SL's with some dear friends.
Prior to my leaving Philly, I had talked with SL about what should be on the menu. Knowing he's a huge fan of anything cooked with wine, he had suggested my slow cooker beef bourguignon, but I knew that time would be of the essence on Sunday and an all day slow cooker meal might not be an option. Thankfully, Nigella Lawson had a recipe that was perfect for the evening – a Coq au Riesling Sauvignon Blanc.  I would have gotten a Riesling but I'm especially fond of the Casillero del Diablo wines and there was no Riesling to be found.
On Sunday, after FBFOrl wrapped, I departed all things Disney and headed up I-4 towards SL's abode in Altamonte – right near where I used to reside (those daggone golf students are probably still causing havoc and don't even get me started on how much of a harlot's den my old apartment appears to be from the street.  The windows alone are draped in deep blood red velvet looking curtains – scary!).  Anywho – after a quick trip to my fave Publix  to stock up for the necessary provisions for dinner and the bar, it was back to SL's to break out this gal's chef knives and break in SL's new Le Creuset Deep Saute Pan.
This recipe is SO simple and it is perfect for that weeknight meal for friends and family. Essentially, it's chicken thighs cooked with wine, bacon, a little bit of onion and mushrooms served on a bed of egg noodles. SL made it abundantly clear that he needed "more sauce" on his noodles and, if he could have, he would have drained the pan of any and all remaining sauce right into a bowl.
Dinner was served with a fabulous orzo salad, crusty French bread and, as always with my friends, fabulous conversation. It's for reasons like this, I love heading to Orlando.
Ingredients
6 slices of thick bacon, chopped
2 cloves of garlic, minced
3 small young Vidalia onions (or if you can't find those, substitute one medium Vidalia onion, sliced thin)
12 skinless boneless chicken thighs
3 bay leaves
8 ounces of sliced baby portabella mushrooms
1 bottle of your favorite Sauvignon Blanc
Salt and freshly ground black pepper
1 to 2 tablespoons freshly chopped dill
1 to 2 tablespoons of freshly chopped flat leaf parsley.
Cooked Egg noodles
Directions
In a large Dutch oven, add the bacon and brown until slightly crisp.
Drain some of the bacon grease, add the sliced onions and sauté with the bacon for a couple minutes.
Add the garlic and sauté for a minute.
To the onion, bacon and garlic mixture, add the chicken thighs, bay leaves, mushrooms and wine.
Season with salt and pepper and bring the mixture to a boil.
When the mixture is boiling, cover the pan and simmer for an hour or so.
Remove the bay leaves, serve over the cooked egg noodles and garnish with a bit of dill and parsley.
Enjoy!
Notes
Recipe adapted from Nigella Lawson
7.6.7
777
https://cookinginstilettos.com/coq-au-sauvignon-blanc/
All images and content are © Cooking In Stilettos. Please do not republish without contacting us first. Thank you.
 Gather the ingredients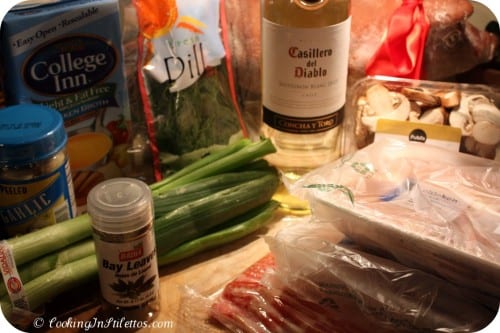 I have NEVER seen young Vidalia onions like this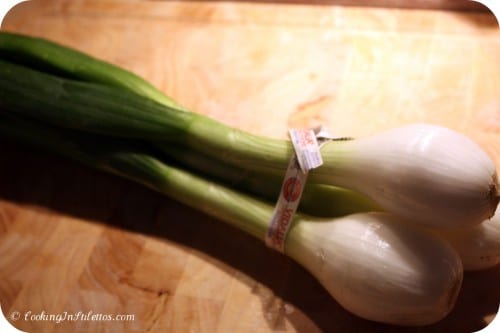 Bacon and onions – a delightful combo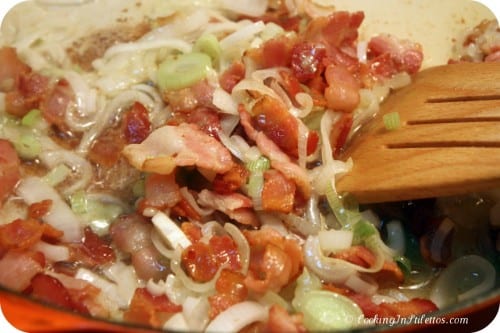 Easiest wine measurement ever – just add the whole bottle!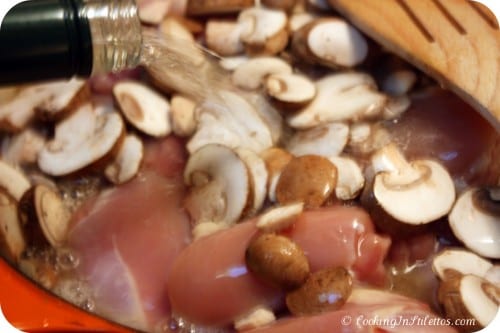 One of my favorite dishes to date.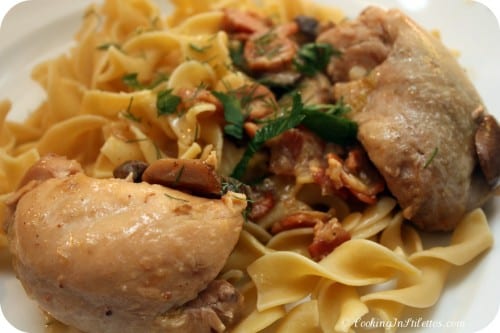 Did you enjoy this post?
| | |
| --- | --- |
| Share the love | Get free updates |