Forget the standard blueberry muffin recipe, these Blueberry Morning Glory Muffins are a delicious way to start the day and is a must for the breakfast or brunch table!
Disclosure:  This post may contain affiliate links of products I adore and trust in my kitchen.  Thank you for supporting Cooking In Stilettos
Whenever I get the idea to bake muffins for breakfast, 9 times out of 10 it's going to be blueberry muffins. It's no secret that I'm a huge blueberry aficionado so when I was leafing through this cookbook, Very Blueberry, that has been on my cookbook shelf for ages, I discovered a recipe for  Blueberry Morning Glory Muffins.
Say what?
Now – y'all know I adore the flavors that are in my favorite Morning Glory Baked Oatmeal and this muffin is like a cross between a carrot cake, a moist blueberry muffin and a nutty pecan quick bread with a hint of coconut. Talk about a flavor whirlwind but it all works together like a symphony.
I played with the original recipe and came up with a version that my family and friends absolutely adored and this recipe, I pinky swear, will be a favorite with your family as well. Even the pickiest carrot avoider will be begging you for seconds after trying these fluffy muffins. You don't even have to disclose that there are carrots in the muffins as there is too much goodness with the apples, the dried cherries, the cranberries and the crunchy pecans that work in harmony with the blueberries.
To add extra moisture to the muffin batter, I used applesauce in lieu of oil and that made a world of difference. I found that these muffins didn't dry out, even after a couple days. I love using fresh blueberries whenever possible but you can always swap out frozen blueberries if you can't find fresh. These muffins also freeze well so you can bake up an extra batch and keep them in the freezer for busy mornings.
For breakfast, bake up a batch of these fluffy Blueberry Morning Glory Muffins but make sure to grab one for yourself because they will go quickly!
On to the recipe:
Adapted from the Very Blueberry Cookbook
Yields 18
Blueberry Morning Glory Muffins
These Blueberry Morning Glory Muffins are a delicious way to start the day. Plump blueberries are baked in a spiced muffin batter with carrots, apples, pecans and dried fruit for the ultimate blueberry muffin!
25 minPrep Time
20 minCook Time
45 minTotal Time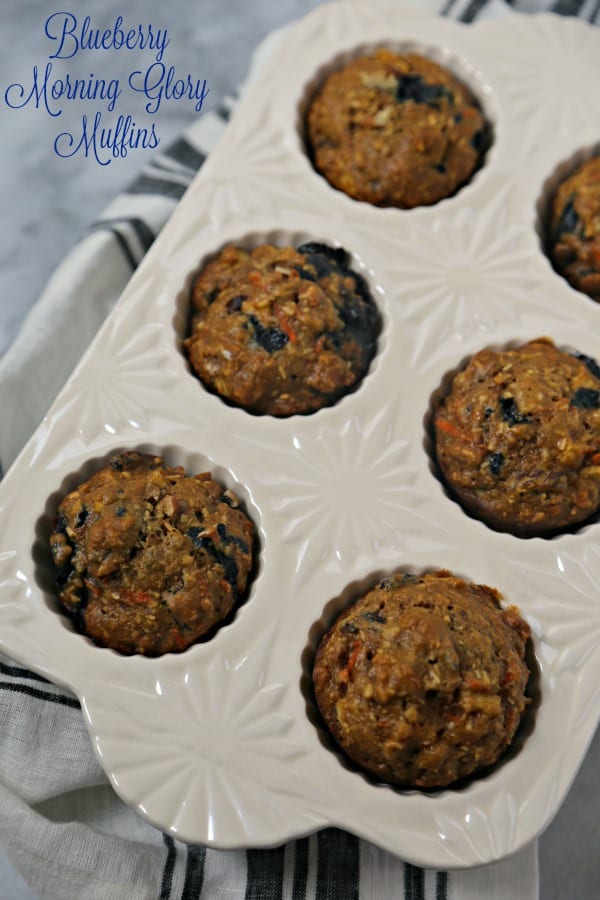 Ingredients
2 cups of all-purpose flour
2 teaspoons of baking soda
1 1/2 teaspoons of cinnamon
1/4 teaspoon of freshly grated nutmeg
1/4 teaspoon of salt
3 large eggs
3/4 cup of unsweetened applesauce
1 cup of brown sugar
2 teaspoons of vanilla extract
2 large carrots, grated (about 1 cup of freshly grated carrot)
1 medium granny smith apple, peeled and finely diced
1/2 cup of dried cherries
1/4 cup of dried cranberries
3/4 cup of unsweetened shredded coconut
3/4 cup of chopped pecans
1 cup of fresh blueberries
Instructions
Heat the oven to 350 degrees F. Lightly spray 2 muffin tin trays with a nonstick baking spray and set aside.
In a medium bowl, sift together the all-purpose flour, baking soda, cinnamon, nutmeg and salt. Set aside.
In a large bowl, whisk together the eggs, applesauce, brown sugar, and vanilla until the eggs are mixed and the brown sugar starts to dissolve.
Fold the carrots, diced apple, dried cherries, dried cranberries and shredded coconut into the wet mixture.
Add the dry ingredients to the wet mixture along with the chopped pecans. Fold the mixture together taking care to not overmix.
Finally, fold in the plump fresh blueberries into the batter and set aside.
Using a large ice cream scoop, fill each muffin well about 3/4 of the way full.
Lightly tap the muffin tins on the counter to eliminate any bubbles.
Bake the muffins for 15 – 20 minutes until a toothpick inserted in the center comes out clean.
Cool on a wire rack and enjoy!
7.8.1.2
64
https://cookinginstilettos.com/blueberry-morning-glory-muffins/