These Ultimate Stuffed 'Shrooms with a zesty Horseradish Dipping Sauce are a nod to the Houlihan's classic but with a bit of a twist. 
When I lived in Florida, there was a chain restaurant that had these amazing stuffed mushrooms – they were creamy, cheesy and just the best mushroom ever, served with this horseradish dipping sauce. Many an evening was spent there with friends laughing over cocktails and a plate of these stuffed mushrooms.  However they were fried and while fried can be delicious, I wanted to whip up a version that was a homage to them with some of the same flavors but made a bit lighter.
These Ultimate Stuffed 'Shrooms are baked – not fried – and are spicy with a touch of sweetness. The dipping sauce has the same horseradish bite but finishes with a mellow flavor.
Next time you want to make a stuffed mushroom, you will want to whip these up. And while you might be tempted to fry – resist. These Ultimate Stuffed 'Shrooms are much better baked.
On to the recipe:
Gather your ingredients
Chop chop chop | Dice dice dice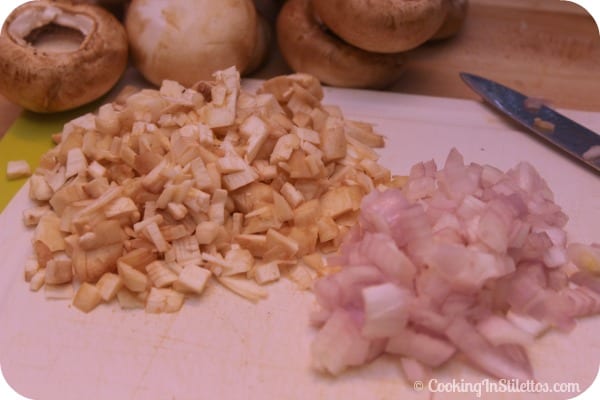 Making the filling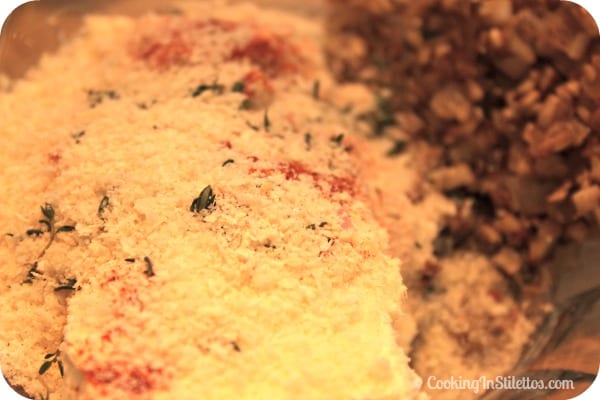 Before and after the oven sauna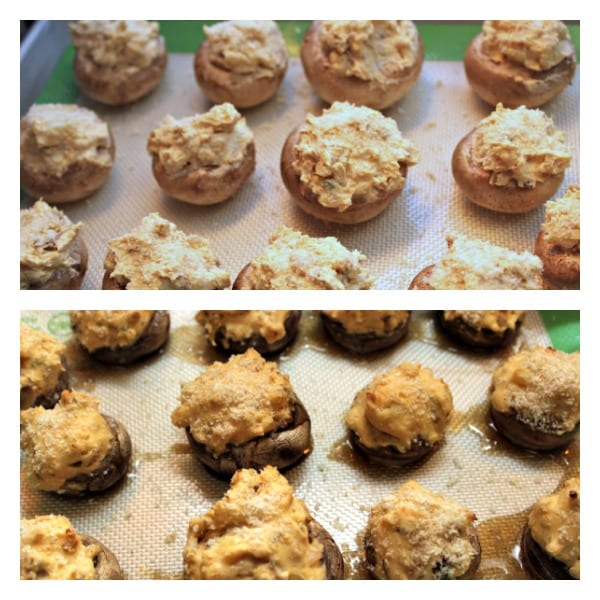 Now – try to eat just one – I dare ya!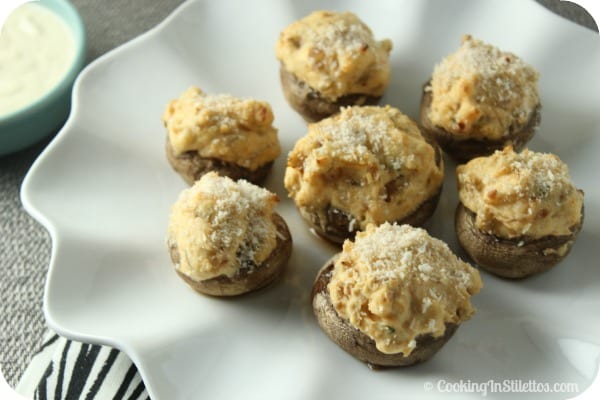 Aly M. Cleary
Ultimate Stuffed 'Shrooms
These Stuffed Mushrooms are stuffed with a velvety parmesan filling and are baked, not fried. Served with a horseradish dipping sauce, these Ultimate Stuffed 'Shrooms will be your go-to appetizer!
30 minPrep Time
30 minCook Time
1 hrTotal Time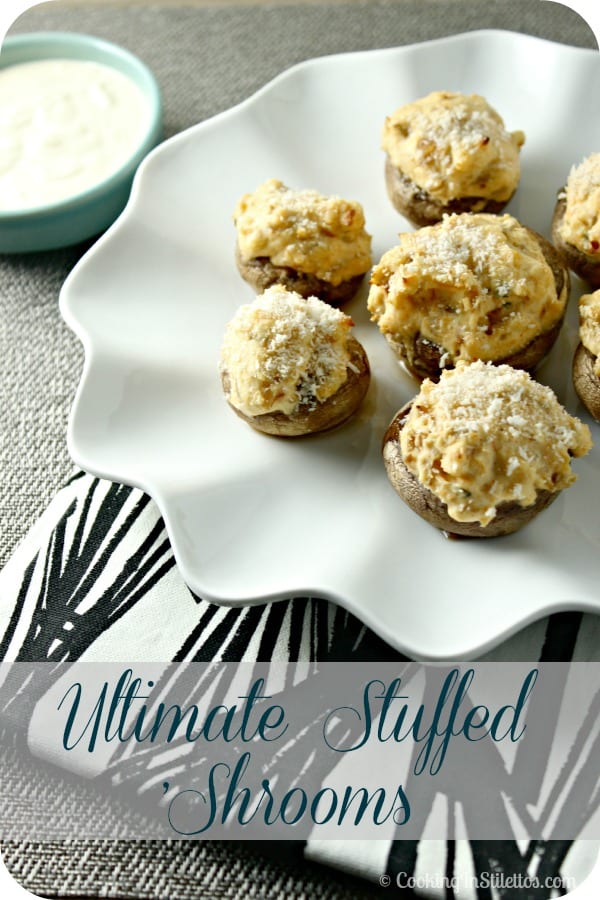 Ingredients
12 whole fresh button mushrooms
1 tablespoon of olive oil
1 medium shallot, minced
1 8-ounce package of Neufchatel cream cheese, softened
1/4 cup of grated Parmesan cheese
1/4 teaspoon of fresh thyme
1/4 teaspoon of smoked paprika
1/8 teaspoon of cayenne pepper
2 tablespoons of panko bread crumbs, divided
Pinch of salt and freshly cracked black pepper

For the Horseradish Dipping Sauce

1/4 cup of light mayonnaise
1/4 cup of Greek yogurt
2 teaspoons of horseradish
2 teaspoons of Dijon mustard
1 teaspoon of white wine vinegar (I used champagne)
1/4 teaspoon of sugar
Salt and pepper to taste
Instructions
Preheat the oven to 350 degrees F.
Clean the mushrooms with a damp paper towel.
Break off the stems and set aside.
Finely chop the stems, discarding the tough end.
Preheat the olive oil in a non-stick skillet.
Over medium heat, sauté the mushroom stems and minced shallot.
Sauté until slightly browned and set aside to cool.
In a bowl, mix together the Neufchatel cheese, Parmesan cheese, thyme, smoked paprika, cayenne pepper, 1 tablespoon of panko bread crumbs and salt and pepper.
Mix in the sautéed shallots and mushroom stems.
Carefully fill the mushroom caps with the cream cheese mixture, taking care to mound it up a little.
Place on a small baking sheet lined with a silpat or sprayed with non-stick cooking spray.
Sprinkle with a bit of the remaining panko breadcrumbs.
Bake for about 20 minutes or so until the mushrooms are piping hot and start to release their liquid.

For the dipping sauce:

In a bowl, mix together the mayonnaise, Greek yogurt, horseradish, Dijon mustard, white wine vinegar, sugar and a touch of salt and pepper.
Mix well and serve with the hot mushrooms.
Enjoy!
7.8.1.2
269
https://cookinginstilettos.com/ultimate-stuffed-mushrooms-with-horseradish-dipping-sauce/