Welcome to Day #3 of Appetizer Week, a multi-blogger event co-hosted by Kim of Cravings of a Lunatic and Kristen from Frugal Antics of a Harried Homemaker. Whether you are a Broncos fan or a Seahawks fan, we wanted to make sure you had plenty of ideas for your game day spread. Each day we will be dishing up a different set of appetizers. We hope you enjoy this fabulous group of recipes. Tune in each day starting with Monday, January 20 and ending on Saturday, January 25.

We're in the midst of Appetizer Week helping you get your recipes together for The Big Game. One tried and true that always gets rave reviews is my Bourbon Pulled Pork.
I have to confess, this recipe for these Bourbon Pulled Pork Sliders couldn't be easier. A few ingredients whisked together and poured over a pork shoulder nestled in a bed of sliced onions in a slow cooker and *viola* you have a recipe that will make your house smell heavenly and flavors that will make your tastebuds sing. Want to up the ante even further – serve it on some slider rolls and your guests will adore you.
I promise you – serve these Bourbon Pulled Pork Sliders at your next soiree and you'll score a touchdown every time.
On to the recipe:
Gather your ingredients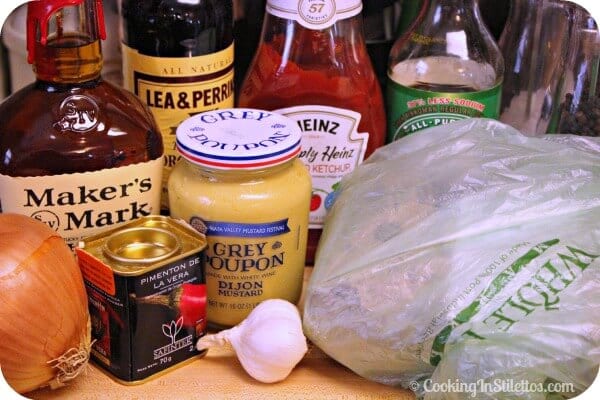 There's flavor in the brown – trust me – it's worth the effort to brown all sides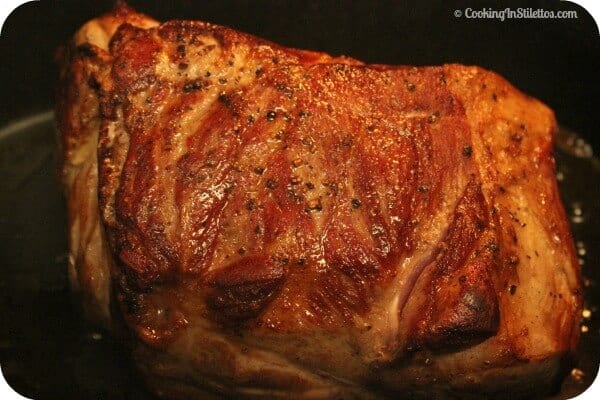 Adding a bit of bourbon to the sauce (try not to sip too much)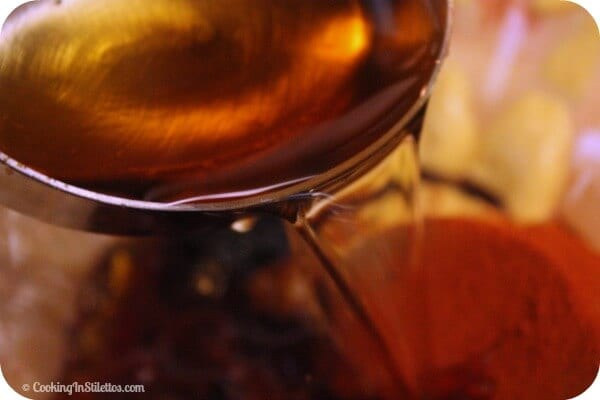 Nestle the pork on a bed of onions and drench with the bourbon sauce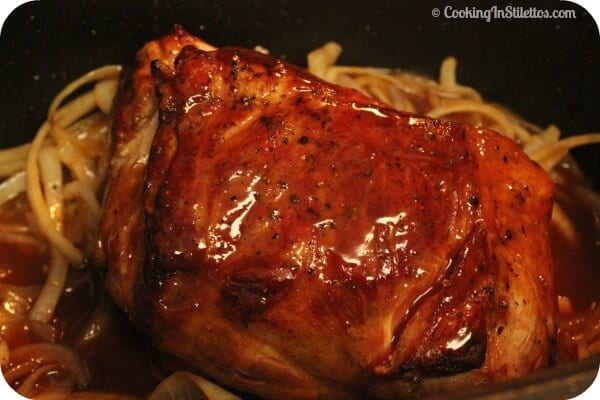 Now – don't you want a bite?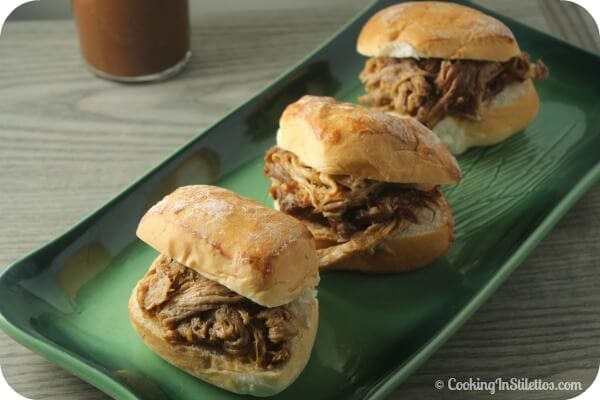 [b]Bourbon Pulled Pork Sliders [/b]
---
Aly M. Cleary | Inspired by Nigella Lawson
Yields 8
These Bourbon Pulled Pork Sliders will be a favorite for any party, tailgate or just because. Tender pork is simmered for hours in a deliciously rich bourbon barbecue sauce. What's not to love.
10 minPrep Time
8 hr, 30 Cook Time
8 hr, 40 Total Time
Ingredients
Bourbon Pulled Pork Sliders
1 – 2 teaspoons of canola oil
2 – 3 lb. pork shoulder
1/2 cup of dark brown sugar
1/2 cup of bourbon
2 tablespoons of soy sauce
1 tablespoon of Worcestershire sauce
2 tablespoons of Dijon mustard
2 tablespoons of ketchup
3/4 teaspoon of smoked paprika
1 large onion, sliced
Salt and Freshly Cracked Black Pepper
Slider buns for serving
Directions
Season the pork shoulder with salt and pepper.
In a dutch oven or a stovetop safe slow cooker insert, add the canola oil.
Over medium high heat, brown the pork shoulder on all sides.
In a bowl, mix together the dark brown sugar, bourbon, soy sauce, Worcestershire sauce, Dijon mustard, ketchup and smoked paprika until the sugar is dissolved.
Taste for seasoning and add salt and pepper if needed.
In the base of the slow cooker, layer the sliced onions.
Nestle the pork shoulder on top and pour over the sauce.
Make sure the pork is covered with the sauce, start the slow cooker and set to low.
Let cook on LOW for 8 hours or so, until the pork is fork tender.
Halfway through, if possible, turn the pork on the opposite side.
Remove the cooked pork to a dish and shred the meat using two forks.
Skim the fat from the sauce and the onions.
Puree the onions and the sauce using an immersion blender until smooth.
Pour some of the sauce over the pulled pork until the pork is "wet".
Serve on slider buns with a bit of sauce on the side.
Enjoy!
7.6.7
917
https://cookinginstilettos.com/bourbon-pulled-pork-sliders/
All images and content are © Cooking In Stilettos. Please do not republish without contacting us first. Thank you.
Visit all the other Appetizer Week Blogs for more Snack Time Deliciousness:
Today's sponsor is Not So Simple Syrup. They can be found on Facebook, and Twitter. Not So Simple Syrup is a small, local maker of simple syrups. Heidi and Barbie's passion is to create all natural syrups that inspire and stimulate your penchant for amazing mixed drinks as well as iced teas, non-alcoholic beverages and dessert making and baking too. They pride themselves on individual service. When you purchase a NSSS product, you can be sure that it received their personal stamp of approval. Not So Simple Syrup is providing us with a 6-month gift basket subscription for the winner. Each month you will get a gift package with a new theme and everything you need to whip up a favorite recipe from the Not So Simple Syrup crew. Everything but the booze will be included and shipped directly to your door. Like wine of the month, but with simple syrups. It's the gift that keeps on giving!
***Disclaimer: This giveaway is being provided by Not So Simple Syrup. #AppetizerWeek bloggers have not received product or been compensated as a part of this giveaway.***
Did you enjoy this post?
| | |
| --- | --- |
| Share the love | Get free updates |