These PB & J Wings will be a hit at your next game day or tailgate soiree.  Baked chicken wings are tossed in a spicy sweet sauce for a winning bite!

Welcome to Day #6 of Appetizer Week, a multi-blogger event co-hosted by Kim of Cravings of a Lunatic and Kristen from Frugal Antics of a Harried Homemaker. Whether you are a Broncos fan or a Seahawks fan, we wanted to make sure you had plenty of ideas for your game day spread. Each day we will be dishing up a different set of appetizers. We hope you enjoy this fabulous group of recipes. Tune in each day starting with Monday, January 20 and ending on Saturday, January 25. Today is our final day of #AppetizerWeek. We hope you have enjoyed it as much as we have! Should we make it an annual event? I think so!
[FTC Disclosure: This post contains affiliate and/or referral links which help offset the cost of hosting this site. However, as always, my opinions are 100% my own]
I cannot believe that Appetizer Week is coming to a close. Let me tell you – not only did I get a ton of appetizer ideas for the Big Game, but also I have found some amazing blogs, fabulous recipes and the prizes – oh heavens – the prizes. Our fearless leaders, Kim and Kristen really went above and beyond for the readers and today's giveaway is beyond amazing. More on that in a moment.
To finish up Appetizer Week, I knew that wings had to be in the mix. My gal Sunny Anderson has a killer wing CHAPTER in her cookbook, Sunny's Kitchen and these PB & J wings are my absolute favorite. I know – you are going "Aly – PB&J is a SANDWICH not a WING" but hear me out. Grape jelly goes well in a ton of dishes (including my tried and true Southern aka Grape Jelly Meatballs). Peanut sauce goes fabulous with chicken. So – if you marry the two, you have a sweet, spicy, and salty combo that will have you licking your fingers and looking for more because these wings are THAT good.
When you see how easy this recipe is to throw together, this will definitely be a go-to. One thing I did was bake the wings because, while I do love a fried wing, I have Miami on the schedule in May and my butt does not need any fryer action. So – baking the wings was a healthier spin on the traditional and the oven did all the work.  Secondly – the sauce is beyond delicious but remember that it is molten peanut butter & jelly while it's simmering – so be careful when tasting for seasoning.
So – for the Big Game – why not whip up a batch of these along with the traditional wing options. I promise you – these PB & J Wings will be star of your Game Day Buffet.
On to the recipe:
Gather your ingredients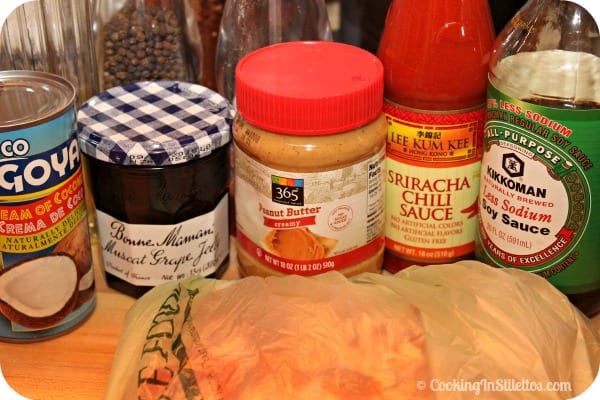 Coconut CREAM not milk – and make sure to mix everything first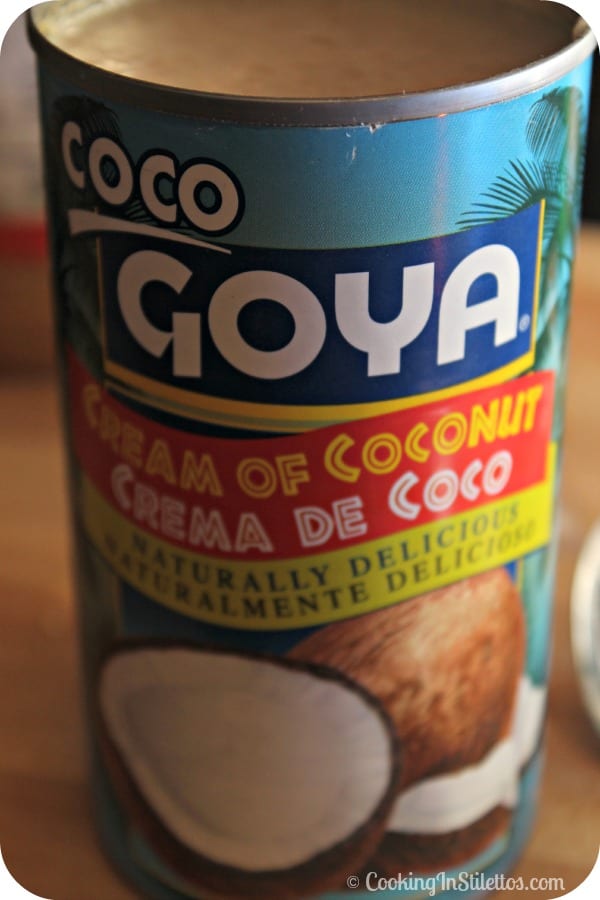 Baking instead of frying – I know I know – don't shoot me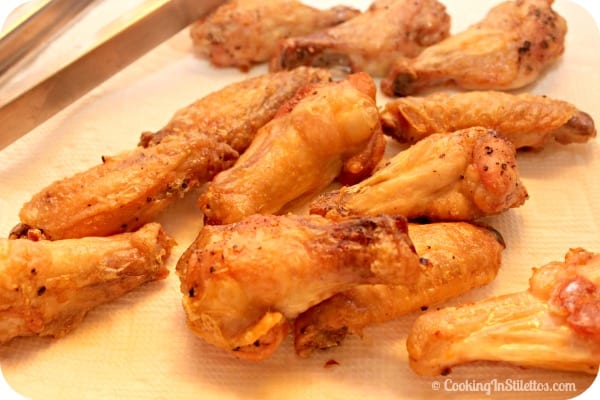 Easiest wing sauce ever – sweet and spicy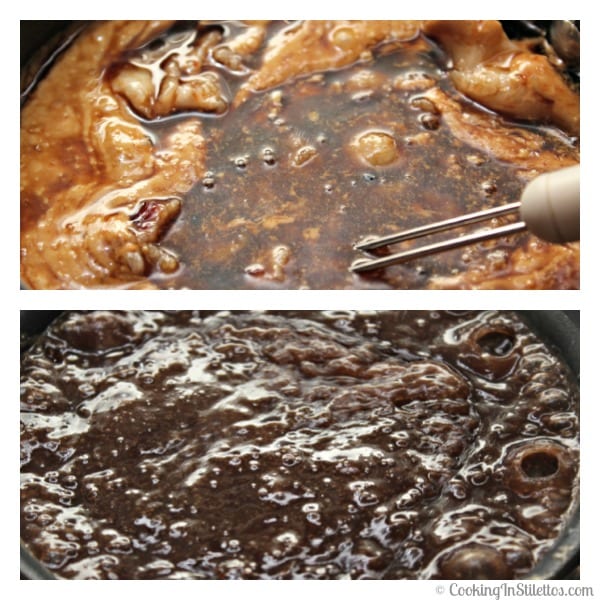 Time to marry the wings and the sauce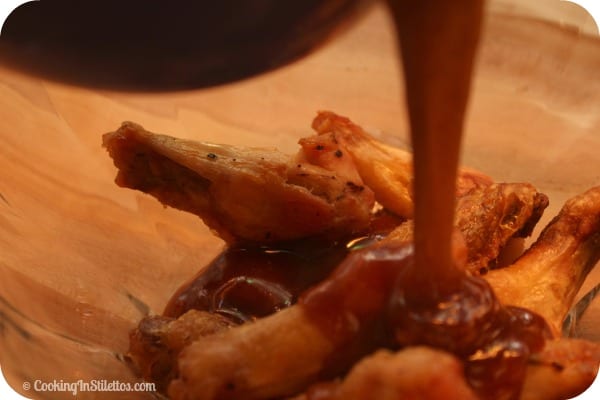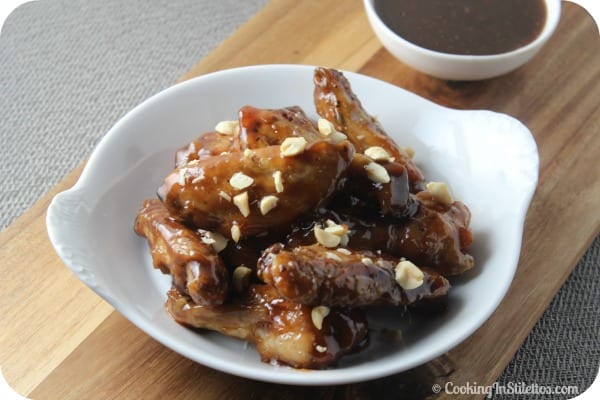 Adapted from Sunny Anderson
Yields 10
PB & J Wings
These PB & J Wings will be a hit at your next game day or tailgate soiree. Baked chicken wings are tossed in a spicy sweet sauce for a winning bite!
20 minPrep Time
60 minCook Time
1 hr, 20 Total Time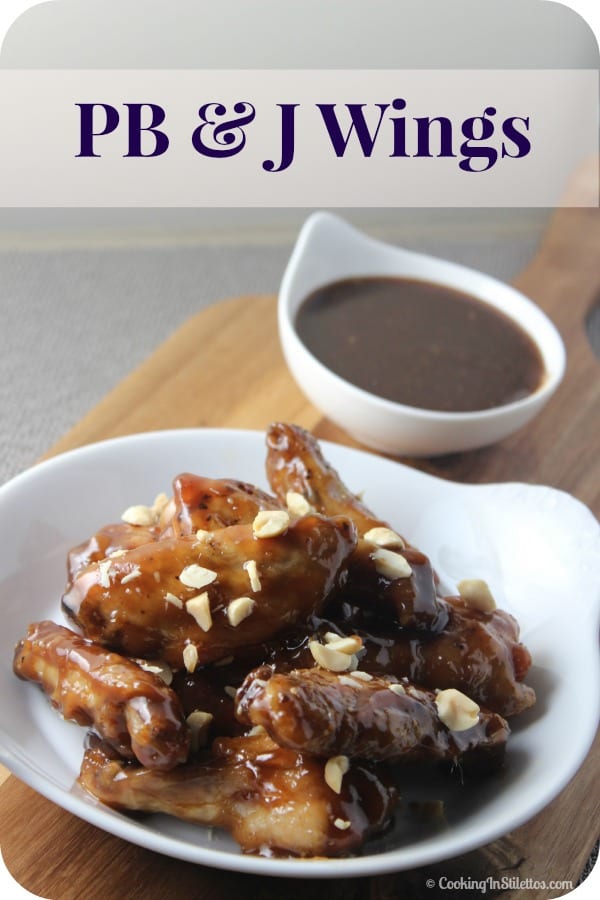 Ingredients
For the wings:

10 chicken wings
2 tablespoons of canola oil
Salt and pepper

For the Sauce:

1/2 cup of smooth peanut butter
1/2 cup of grape jelly
1/3 cup of coconut cream
1 teaspoon of sriracha sauce
1 1/2 tablespoons of soy sauce
2 tablespoons of hot water (if needed)
Salt and pepper to taste
Chopped peanuts for garnish
Instructions
Preheat your oven to 375 degrees F.
In a plastic bag, add your chicken wings, the canola oil and a bit of salt and pepper. Mix well so each wing is well coated.
On a baking sheet (rimmed and on a rack preferably because you don't want grease going all over your oven like someone we might know who used a rimless baking sheet cough cough my poor oven cough cough), lined with foil, tumble out the wings.
Bake for about 45 minutes to an hour, until the wings are crispy and cooked through.
While the wings are baking, make your sauce.
In a saucepan, whisk together the peanut butter, grape jelly, coconut cream, sriracha sauce, soy sauce, and a bit of water to loosen up everything.
Bring to a boil, reduce to a simmer and let thicken for about 5 – 10 minutes.
Remove the wings from the oven to a paper lined plate and then, in a large bowl, toss together the wings and the sauce.
Garnish with some chopped peanuts, serve with some extra sauce and enjoy.
7.8.1.2
268
https://cookinginstilettos.com/pb-j-wings/
Visit all the other Appetizer Week participants for more dishes for the Big Game:
Black Bean Hummus by Home Cooking Memories