This Smoky Pancetta Quiche is the perfect for weekend brunch, lunch or even breakfast for dinner. Crisp pancetta is baked with fresh arugula and buttery mushrooms in a cheesy egg custard that will have you swooning at first bite!
Disclosure:  This post may contain affiliate links to products I trust and adore in my kitchen.  Thank you for supporting Cooking In Stilettos.
As we are in the midst of #BaconMonth, you know I had to bring you something that was perfect for brunch, right?  This Smoky Pancetta Quiche is so easy to whip up and I promise that one bite of this lovely will have you whipping this up for many a weekend brunch or when you have that breakfast for dinner urge.
Inspired by a classic Giada recipe, I took the recipe's advice and went with a store bought crust.  Crust and I are not friends, as many know from the Apple Cheddar Pie debacle and my last quiche attempt so I've come to terms that perhaps, homemade crust and I will be on speaking terms but for now, I'm not going to feel one iota of guilt for going with the store bought.
I have to say – while I loved my Chile Relleno quiche, this Smoky Pancetta Quiche kicked that one out of the park.  While I knew that bacon (or in my case pancetta) had to be at the forefront for #BaconMonth, I improvised and looked into the fridge to see what else I had available to play.  Some fresh sauteed mushrooms, crisp shallots, a bit of smoked mozzarella and, in lieu of spinach, and some peppery arugula melded together perfectly.  The creamy custard was accented by just a touch of cheese and this quiche had people asking for seconds.   This, my friends is a winner of a brunch (or dinner).
Know someone that turns their nose up at the mere mention of the word "Quiche"?  Call it a pie, a tart or even a "bake" because I guarantee that while the saying "real men don't eat quiche" is often joked about, I can assure you that with one bite of this creation, men will be singing your praises and your mother-in-law will think you are a domestic goddess.  When asked what they are enjoying, my suggestion is to just say "Oh – I just whipped this up from a few things I had in the fridge" and add this Smoky Pancetta Quiche to your recipe tried and true file.
On to the recipe:
Gather your ingredients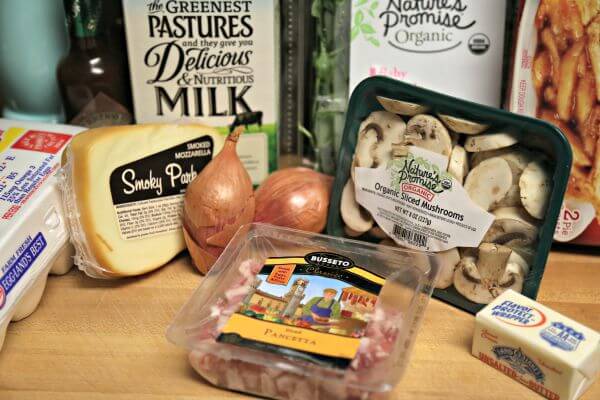 Make sure to really butter and flour your tart pan well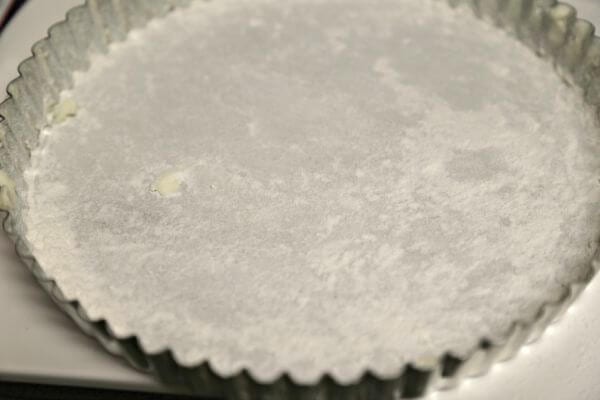 Let's crisp up the key ingredient – my favorite – pancetta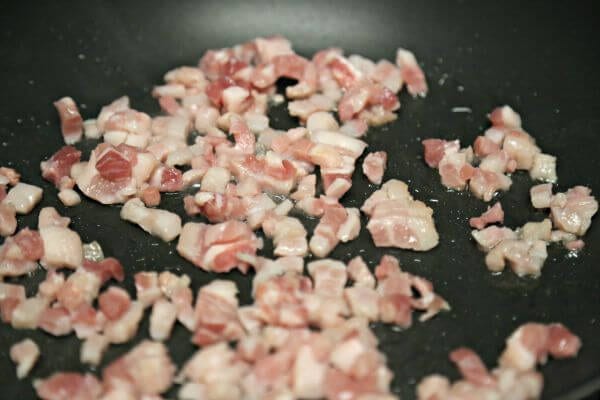 Browning the mushrooms in butter – yes please!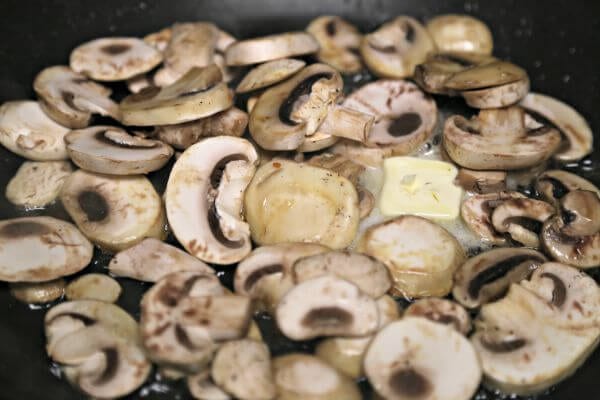 Look how that bunch of arugula quickly wilts down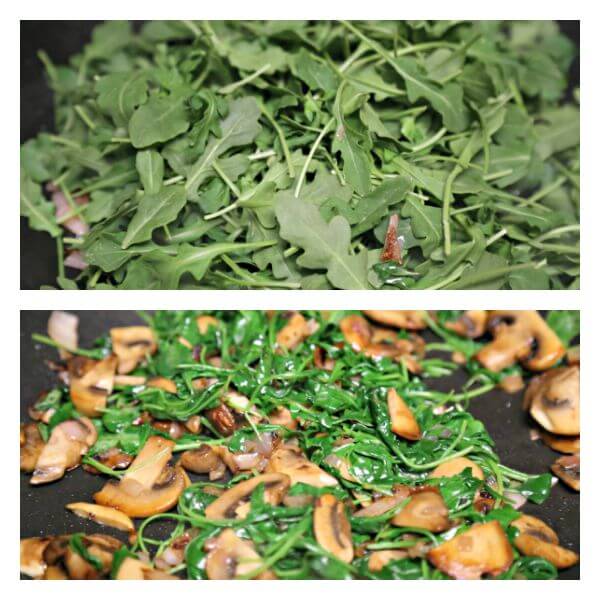 Yes, I know – lots of filling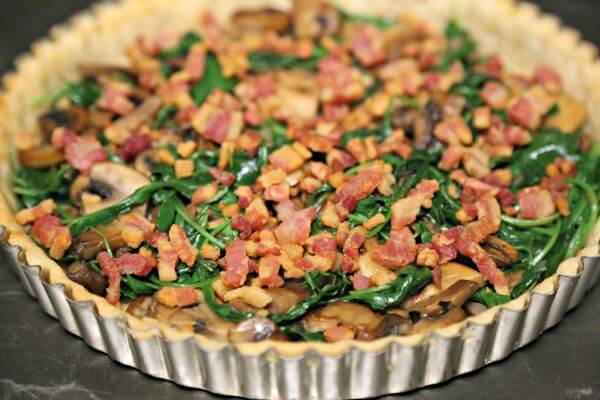 Adding the custard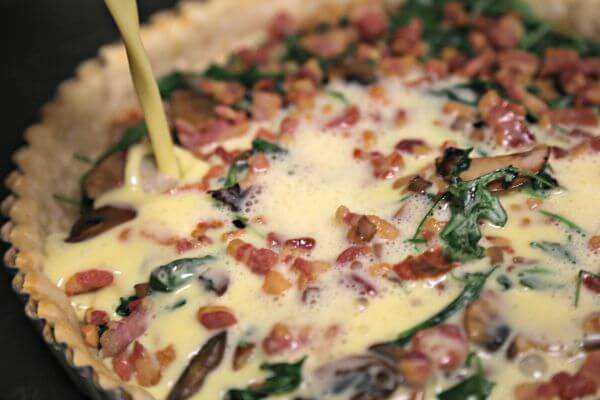 Let me get you a slice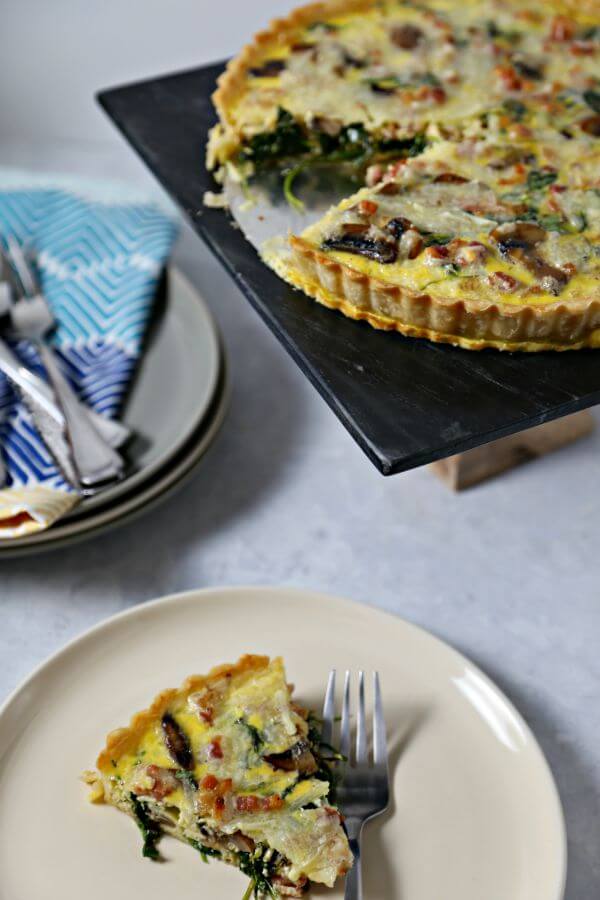 Aly M. Cleary | Inspired by Giada de Laurentiis
Yields 6
Smoky Pancetta Quiche
This Smoky Pancetta Quiche is the perfect for weekend brunch, lunch or even breakfast for dinner. Crisp pancetta is baked with fresh arugula and buttery mushrooms in a cheesy egg custard that will have you swooning at first bite!
30 minPrep Time
40 minCook Time
1 hr, 10 Total Time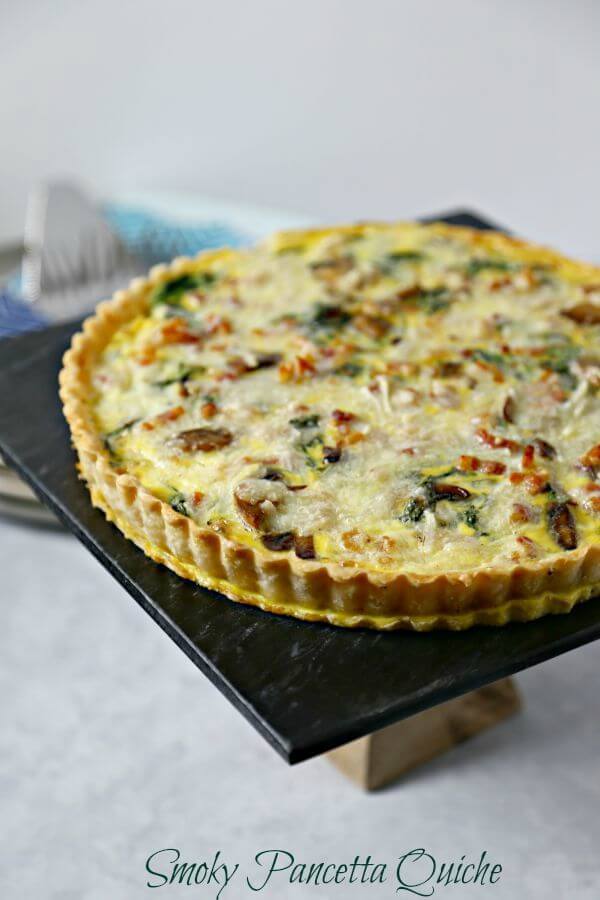 Ingredients
FOR THE CRUST:

1 store-bought pie crust
Butter and flour for flouring the tart pan (about 1 tablespoon of each)
1 egg white, beaten

FOR THE FILLING:

1 tablespoon of olive oil
4 ounces of diced pancetta
1 tablespoon of butter
8 ounces of sliced white button mushrooms (about 1 small container)
2 large shallots, diced
3 ounces of baby arugula, washed and dried
4 eggs
1/8 to 1/4 teaspoon of chipotle hot sauce
1/8 teaspoon of smoked paprika
1/4 teaspoon of freshly cracked black pepper
1/4 teaspoon of kosher salt
1/2 cup of shredded smoked mozzarella cheese
Instructions
Heat your oven to 400 degrees F.
Butter and flour a 9-inch tart pan with a removable bottom thoroughly, making sure to get in the edges of the tart pan sides. Place on a sheet pan.
Unroll your pie dough and gently fit into the tart pan, making sure to remove any excess after you fit it into the fluted sides.
Using a fork, prick the base of the dough so that it won't puff up in the oven.
Brush the dough lightly with the beaten egg white and bake for 10 minutes or until the crust is golden brown.
Remove from the oven and let cool for 15 minutes while you prepare the filling.
In a large skillet, add the olive oil and the pancetta. Cook until the pancetta starts to crisp and then remove the pancetta to a paper lined plate.
To the pancetta drippings, add the butter and the mushrooms.
Sauté until the mushrooms are a brown.
Add the shallots and sauté until they are translucent.
Add the fresh arugula and cook until it wilts down, about a minute or two.
Add the arugula mushroom mixture to the cooled crust and sprinkle the crisp pancetta over the mixture.
In a bowl, whisk together the eggs, hot sauce, smoked paprika, black pepper, salt and shredded smoked mozzarella.
Pour the custard over the filling, making sure it gets right to the top.
Bake until the mixture is set and golden, about 18 – 20 min.
Let cool for about 15 minutes and then serve.
Enjoy!
Notes
Special Equipment: 9-Inch Tart Pan with Removable Bottom
7.8.1.2
147
https://cookinginstilettos.com/smoky-pancetta-quiche/
Let's see what the other #BaconMonth bloggers brought to the table shall we?