It's that time again – Secret Recipe Club reveal day and boy do I have a fabulous recipe for you that you can use for entertaining, a quick weeknight meal or when you have a killer burger craving – Barbeque Cheeseburger Meatloaf Sliders.  How did I come across this recipe you ask – why, through my September Secret Recipe Club assignment – The Lives and Loves of Grumpy's Honey Bunch.  Shelby is the brains behind GHB and is an amazing cook who has some seriously delish recipes on her site.  When I got my assignment, I spent a few days pouring over her recipe index, torn between sweet and savory dishes and wondering what would be a good recipe that would take me out of my comfort zone.   I could get my inner breadmaker on and make her English Muffin Bread, channel sweet and savory with her Quick & Easy Bacon Cayenne Cinnamon Buns, or go with a classic Italian Sausage Sandwich.  However, when I saw her Bacon Cheeseburger Meatloaf Sliders, I knew that was the one to make.
Confession:  During my "I can't cook days", I adored a certain takeout joint's meatloaf sandwiches.  There's something about a toasty roll filled with a divine ketchup crusted meatloaf with the melty cheddar cheese and the crisp onion.  So, when I did learn to cook, meatloaf and I got along fine but we were far from bffs (except my chipotle glazed meatloaf – love that recipe!) but it was making a meatloaf sammie that I looked forward to the next day.  Is it wrong to make meatloaf just for the leftovers?
I decided to have a bit of fun with Shelby's recipe, adding a bit of barbecue flavor to the mix with one of my new fave bbq sauces and, of course, I couldn't forget the bacon, right?  These sliders were the perfect bite and served with some toasty onion rings, it was the perfect dinner to curl up with while watching dvr'd eps. of Law & Order & NCIS this weekend.
Many many thanks to Shelby for fabulous recipe inspiration and, of course, our fearless leaders at the Secret Recipe Club for such a fun assignment.  These Barbeque Cheeseburger Meatloaf Sliders hit the spot!
Gather the ingredients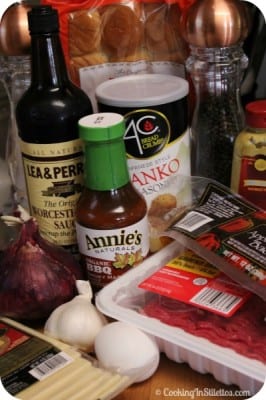 Best way to meld the onion into meatloaf or burger mixes – grated onion.  I forgot where I learned this tip but it's served me well over the years.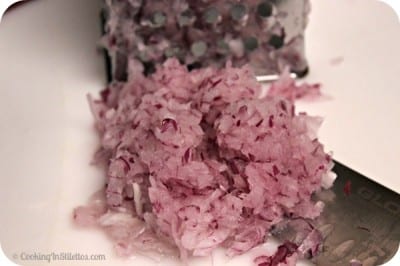 Everything in the bowl and ready to mix.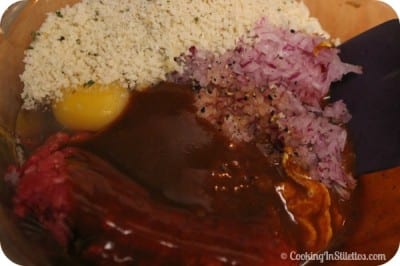 Sliders grilled and toasty – just waiting to nestle into their buns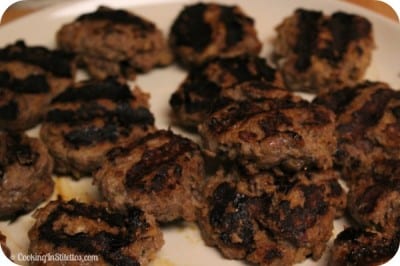 Now – don't you want a bite?
Secret Recipe Club: Barbecue Cheeseburger Meatloaf Sliders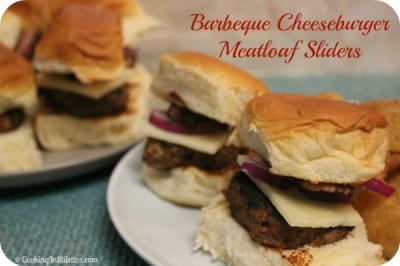 Ingredients
1 pound of lean ground beef
1/2 of a red onion, grated
1 clove of garlic, finely minced
1/4 cup of your favorite barbecue sauce
1 tablespoon of spicy brown mustard
1 teaspoon of Worcestershire sauce
1/2 cup of Italian Seasoned Panko bread crumbs
1 egg
1/2 teaspoon of freshly ground pepper
1/2 teaspoon of kosher salt
Cheddar cheese slices (I used about 4, sliced into quarters)
Crisp bacon slices
Additional barbecue sauce for garnish.
1/4 red onion, sliced thin for topping
Slider buns for serving
Instructions
Preheat the oven to 325 degrees F.
Split the slider rolls and toast lightly in the oven - set aside.
In a large bowl, mix together the ground beef, grated onion, minced garlic, barbeque sauce, mustard, Worcestershire sauce, panko bread crumbs, egg, ground pepper and salt.
Using an ice cream scoop, form meatloaf mixture into small patties with a slight indentation in the center.
Grill on either your outdoor grill or a grill pan, taking care to flip over 3 - 5 minutes.
When the meatloaf sliders are fully cooked, place on a slider bun, top with the cheese, bacon and raw onion (if desired).
Spread the top of the slider bun with a bit of the barbeque sauce and top the meatloaf sliders.
Enjoy!
7.8.1.2
300
https://cookinginstilettos.com/barbecue-cheeseburger-meatloaf-sliders/