I was determined to make this killer Chipotle Glazed Meatloaf from one of my fave tex-mex cookbooks, The Homesick Texan Cookbook
. Sure, meatloaf sounds a bit more like Bobby Ewing's style but, I could see Miss Ellie serving this and not allowing J.R. to protest that evening's menu. To make it a bit more "fancy-pants", I used ground short rib in place of the chorizo and added some smoky goodness with smoked paprika. I used the chipotle puree from my freezer and some ground garlic crackers in place of the tortilla chips. The glaze pureed up nicely in the Vitamix (sidenote – how did I ever live without my new toy. My kitchen didn't look like a bomb hit it like it does when I use a food processor).
Final verdict – This meatloaf was spicy, sweet and just "stick to your ribs" good.
 Gather your ingredients
Time to make the glaze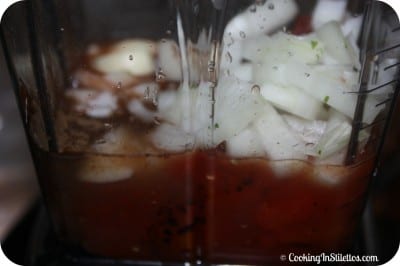 Glaze the meatloaf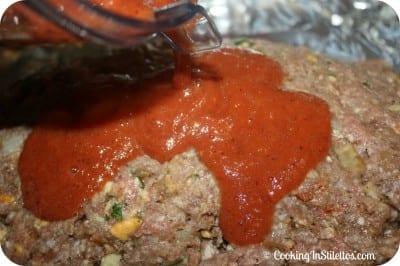 The end result – a meatloaf Miss Ellie would be proud of.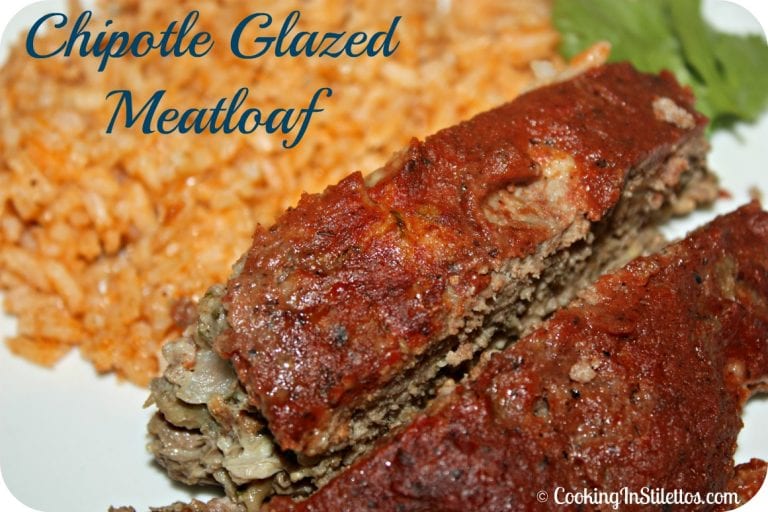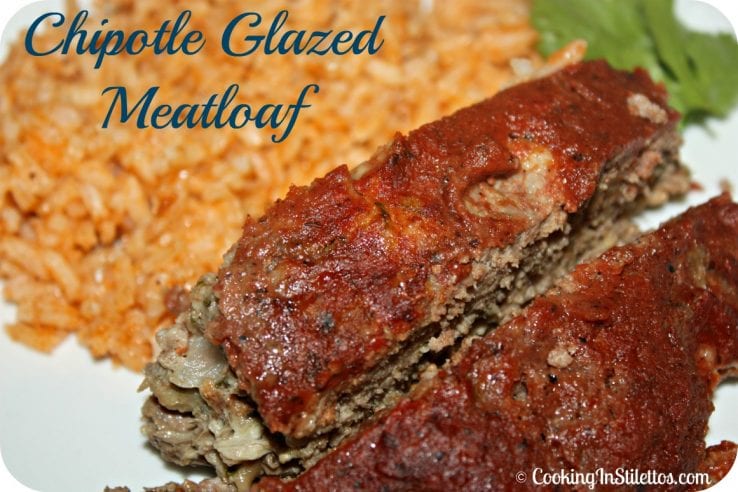 Miss Ellie's Kitchen: Chipotle Glazed Meatloaf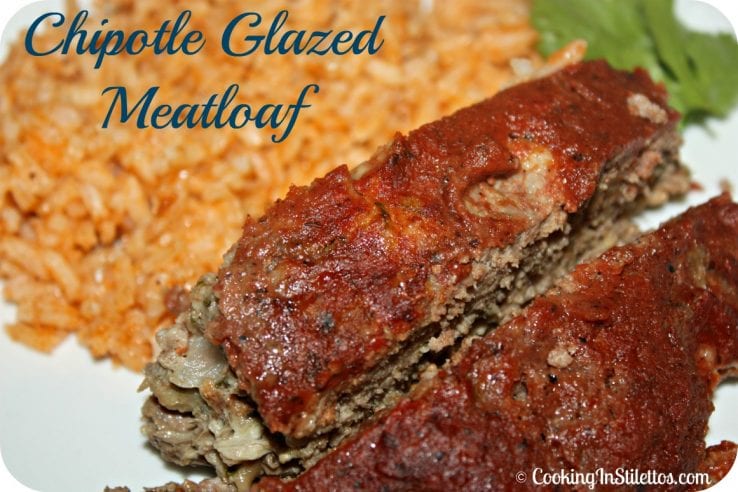 Ingredients
For the Glaze:

1 1/2 cups fire roasted tomatoes
1/2 -1 teaspoon of chipotle puree or one chipotle pepper in adobo
Zest and juice of one lime
1/2 teaspoon of ground allspice
2 cloves of garlic, smashed
1/2 small Vidalia onion, diced
1/2 teaspoon of kosher salt

For the Meat Loaf:

1/2 tablespoon of olive oil
1/2 small Vidalia onion, diced
2 cloves of garlic, minced
1 teaspoon dried Mexican oregano
1 teaspoon ground cumin
1 teaspoon smoked paprika
1 1/2 pounds of ground beef
1/2 pound of ground short rib
1 cup finely crushed garlic Ritz crackers
2 eggs
1 teaspoon Worcestershire sauce
1/4 cup of chopped cilantro
1 teaspoon freshly cracked black pepper
1 teaspoon kosher salt
Instructions
Preheat oven to 350º F.
Line a large baking sheet with foil and spray with a non-stick spray. Set aside.

To make the glaze:

Add the fire roasted tomatoes, chipotle puree, onion, garlic, allspice, lime zest and juice and salt to a blender or food processor.
Puree until smooth and set aside.

To make the Meatloaf:

Over medium heat, heat the olive oil in a non-stick skillet.
Add the onion and sauté for a few minutes. Add the garlic and stir for a minute more.
To the onion and garlic mixture, add the Mexican oregano, cumin and smoked paprika. Allow the spices to bloom for a minute and then remove the mixture from the heat.
To a large bowl, add the onion garlic mixture, ground beef, ground short rib, crushed crackers, eggs, Worcestershire sauce, cilantro, black pepper and salt and mix thoroughly, taking care to not over mix everything. The last thing you want is a tough meatloaf.
Add the meatloaf mixture to the lined baking sheet, forming the mixture into a loaf.
Add half of the chipotle glaze mixture to the top of the meatloaf, spreading it on the tops and sides.
Place the meatloaf in the oven and let bake for about 55 minutes.
Remove the mixture from the oven and glaze again with the remainder of the mixture.
Return the meatloaf to the oven and let bake for about 15 minutes more.
After the meatloaf is baked, allow it to rest for an additional 15 minutes, slice and serve.
Enjoy!
7.8.1.2
301
https://cookinginstilettos.com/chipotle-glazed-meatloaf/