With all the recent DALLAS promos everywhere, I feel like I'm a kid again. Every Friday evening, without fail, I knew that at 9 p.m. my parents would be tuning in to see what was the latest happenings over at Southfork.  I would quietly sneak out of my room and position myself behind the couch where I could peek around and watch the antics of J.R., Sue Ellen, Bobby and the rest of the Ewing clan. Sue Ellen could rock a stiletto even when tipsy, the drama was scandalous and, c'mon – who can forget who shot J.R. Now that I am much older, I found out that I was not as stealthy as I thought when I was younger, my hiding place was not so secret, but, thankfully, the memories of those iconic episodes remain.
TNT is bring DALLAS back to Southfork this Wednesday night with J.R., Sue Ellen, Bobby, Lucy, Ray and the whole Ewing lot with new storylines, lots of drama and, hopefully, some seriously killer stilettos.  I am not always a fan of a rebooted show. I have seen some of my favorite shows rebooted that do a serious injustice to the original (*cough cough* Melrose Place *cough cough*), or take the original to new heights (Hawaii 5-0 anyone?).  However, I was thrilled to hear that TNT isn't rehashing the old storylines from this iconic series – it's a continuation 20 years later complete with Bobby running Southfork, J.R. in a nursing home (who knew) and Sue Ellen being a survivor and not a victim. I just want to know – where is Cliff Barnes in all this – you can't have J.R. up to his dastardly self and not have Cliff around to keep him in check.
In honor of DALLAS, I decided to whip up some Tex-Mex recipes from some of my favorite cookbooks with, of course, a bit of stiletto spin. I mean, after all, these are dishes that, while comforting, would have to be "Miss Ellie" worthy – able to grace the Southfork dining room table and be classy enough to come from Miss Ellie's kitchen.
In thinking about the recipes for Miss Ellie's Kitchen, I had to consider whether or not J.R. would really eat meatloaf.  He always strikes me as a steak and escargot type of guy.  See, I was determined to make this killer Chipotle Glazed Meatloaf from one of my fave tex-mex cookbooks, The Homesick Texan Cookbook
. Sure, meatloaf sounds a bit more like Bobby Ewing's style but, I could see Miss Ellie serving this and not allowing J.R. to protest that evening's menu. To make it a bit more "fancy-pants", I used ground short rib in place of the chorizo and added some smoky goodness with smoked paprika. I used the chipotle puree from my freezer and some ground garlic crackers in place of the tortilla chips. The glaze pureed up nicely in the Vitamix (sidenote – how did I ever live without my new toy. My kitchen didn't look like a bomb hit it like it does when I use a food processor).
Final verdict – This meatloaf was spicy, sweet and just "stick to your ribs" good.
Chipotle Glazed Texan Meatloaf
---
Ingredients
For the Glaze:

1 1/2 cups fire roasted tomatoes
1/2 -1 teaspoon of

chipotle puree

or one chipotle pepper in adobo
Zest and juice of one lime
1/2 teaspoon of ground allspice
2 cloves of garlic, smashed
1/2 small Vidalia onion, diced
1/2 teaspoon of kosher salt

For the Meat Loaf:

1/2 tablespoon of olive oil
1/2 small Vidalia onion, diced
2 cloves of garlic, minced
1 teaspoon dried Mexican oregano
1 teaspoon ground cumin
1 teaspoon smoked paprika
1 1/2 pounds of ground beef
1/2 pound of ground short rib
1 cup finely crushed garlic Ritz crackers
2 eggs
1 teaspoon Worcestershire sauce
1/4 cup of chopped cilantro
1 teaspoon freshly cracked black pepper
1 teaspoon kosher salt
Directions
Preheat oven to 350º F.
Line a large baking sheet with foil and spray with a non-stick spray. Set aside.

To make the glaze:

Add the fire roasted tomatoes, chipotle puree, onion, garlic, allspice, lime zest and juice and salt to a blender or food processor.
Puree until smooth and set aside.

To make the Meatloaf:

Over medium heat, heat the olive oil in a non-stick skillet.
Add the onion and sauté for a few minutes. Add the garlic and stir for a minute more.
To the onion and garlic mixture, add the Mexican oregano, cumin and smoked paprika. Allow the spices to bloom for a minute and then remove the mixture from the heat.
To a large bowl, add the onion garlic mixture, ground beef, ground short rib, crushed crackers, eggs, Worcestershire sauce, cilantro, black pepper and salt and mix thoroughly, taking care to not over mix everything. The last thing you want is a tough meatloaf.
Add the meatloaf mixture to the lined baking sheet, forming the mixture into a loaf.
Add half of the chipotle glaze mixture to the top of the meatloaf, spreading it on the tops and sides.
Place the meatloaf in the oven and let bake for about 55 minutes.
Remove the mixture from the oven and glaze again with the remainder of the mixture.
Return the meatloaf to the oven and let bake for about 15 minutes more.
After the meatloaf is baked, allow it to rest for an additional 15 minutes, slice and serve.
Enjoy!
Notes
Adapted from Lisa Fain, The Homesick Texan
7.6.7
745
https://cookinginstilettos.com/chipotle-glazed-meatloaf/
All images and content are © Cooking In Stilettos. Please do not republish without contacting us first. Thank you.
 Gather your ingredients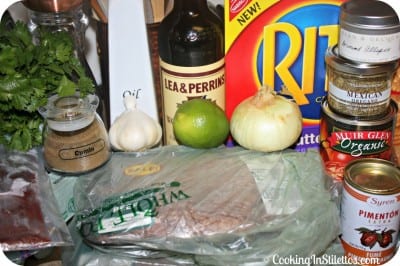 Time to make the glaze (Oh Vitamix, how I love thee!)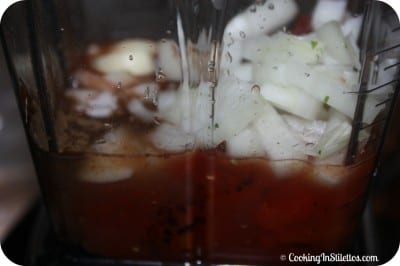 Glaze the meatloaf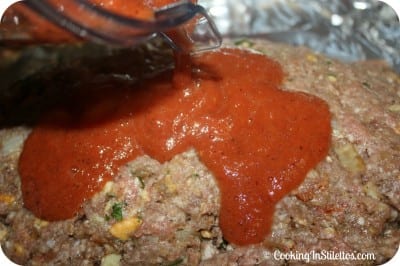 The end result – a meatloaf Miss Ellie would be proud of.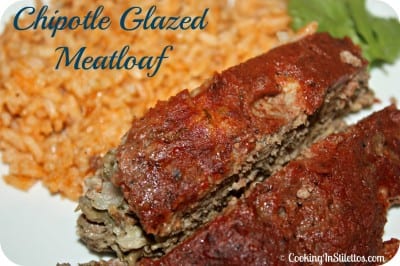 Will you be watching DALLAS on TNT this Wednesday?
[Disclosure: The post contains affiliate links. My opinion, as always, is 100% my own]
Did you enjoy this post?
| | |
| --- | --- |
| Share the love | Get free updates |