For a chic and easy dessert, whip up a Roasted Cherry Meringue Fool.  Rich and creamy and packed with cinnamon roasted cherries, this sweet bite will be a favorite with your friends and family!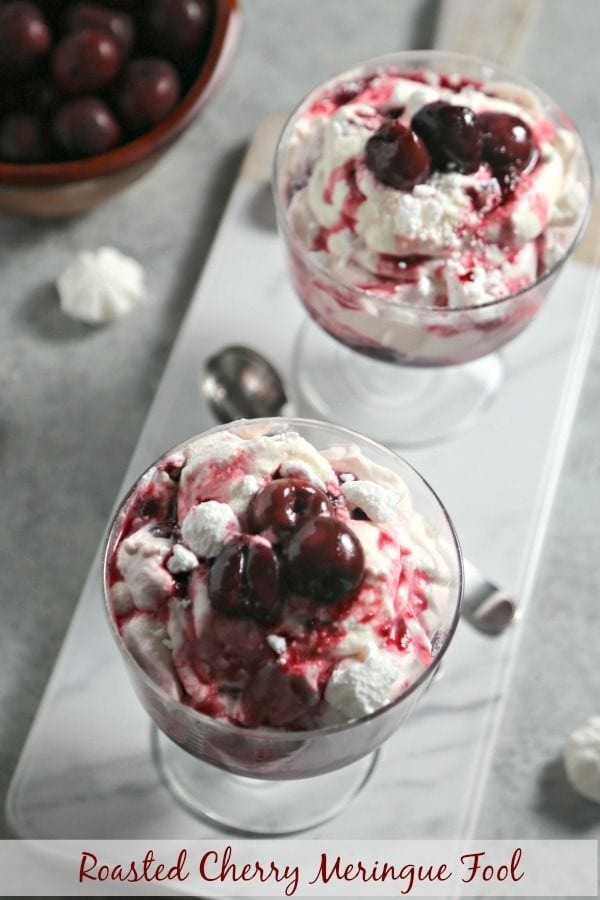 Happy Monday y'all! I have a sweet treat that y'all are going to love and it is so easy to whip up that your friends and family will be "fooled" into thinking think that it took you forever but reality is, it's essentially roast, whip and assemble – Roasted Cherry Meringue Fool.
One thing I love about summer is the bounty of fresh summer produce everywhere.  If you open my fridge you will find a plethora of sweet cherries, fresh ripe summer berries and lots of crisp veggies at the ready.  When I am spending time in Connecticut, like I have been recently, I must confess most of my kitchen supplies are back in Philly, including my beloved stand mixer and cake pans.  So, I find that when it comes to recipes, especially desserts, I want something that is easy, no fuss and I can whip up quickly.  Being in a hot kitchen at the cottage is not always a favorite.
One thing I have been doing on the regular is roasting sweet cherries with a touch of sugar and a cinnamon stick for a sweet cherry compote of sorts.  If I roast the cherries early in the morning, they keep well in the fridge and the kitchen cools down before the midday heat takes over.  Whenever I travel to Connecticut, I often pack some of my favorite supplies like my knives, a couple of my pots, my blender and, of course, since it is cherry season, my OXO Cherry Pitter.  I find that their cherry pitter does the job so efficiently, making pitting cherries a breeze and if you pit them over a small bowl, essentially there is no mess – even better.  Their cherry pitter came in handy as I found myself calmly pitting cherries early in the morning while gazing at the lake and listening to the ducks and birds start their day – no thoughts of all the stuff I've got in the pipeline but just focusing on the task at hand.  Who knew that pitting cherries could be so zen :).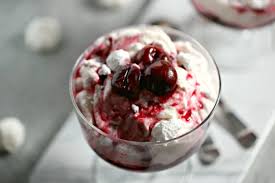 My guests went crazy at the first bite of this Roasted Cherry Meringue Fool and they were none the wiser about how easy it was to assemble with essentially just a few ingredients I had on hand.  If you can't find meringue cookies, you can use some biscoff cookies, almond biscotti or your favorite cookie – it all adds a bit of crunch.  Just use what you have on hand.  If you don't have cherries but have strawberries – roast them the same way.  Roasting concentrates the fruit flavor and brings out the sweetness.  It's a great way to impart a lot of flavor with just a few ingredients.
Make this easy recipe and your friends and family will love every bite of this Roasted Cherry Meringue Fool.  They just don't have to know how easy this recipe really is.
Aly M. Cleary
Yields 6
Roasted Cherry Meringue Fool
Sweet fresh cherries are roasted with a bit of cinnamon sweetness and then folded in a fluffy tart cream and layered with vanilla meringue cookies.
25 minPrep Time
35 minCook Time
1 hrTotal Time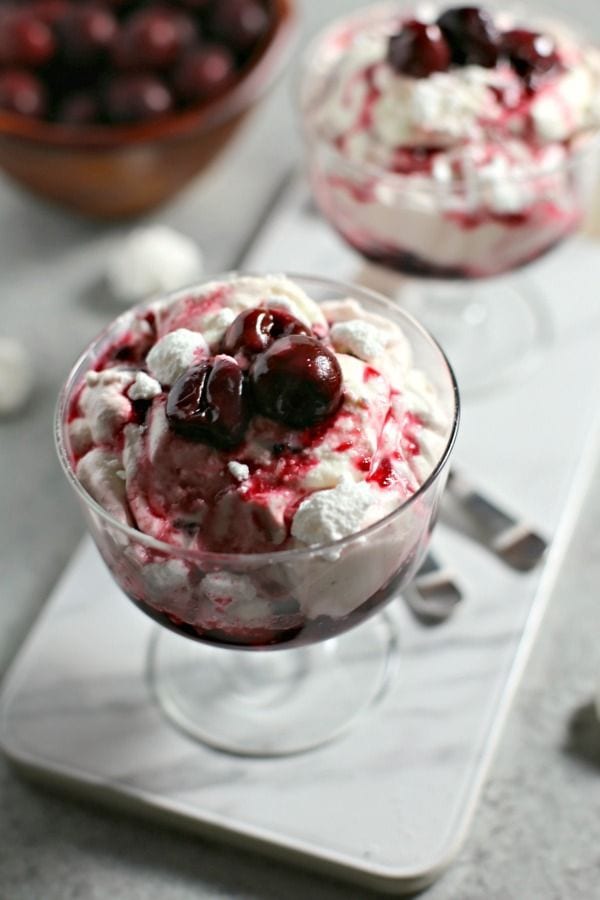 Ingredients
2 cups of fresh sweet Rainier cherries, pitted
1/4 cup plus 2 tablespoons of granulated sugar (I love using Dixie Crystals sugar for this), divided
1 cinnamon stick
1 1/2 cups of chilled heavy cream
1/2 cup of Greek yogurt
1 teaspoon of vanilla extract
3/4 cup of crushed vanilla meringue cookies
Instructions
Heat oven to 400 degrees F.
Tumble the pitted cherries into a ovenproof casserole along with 1/4 cup of granulated sugar. Toss everything together. Nestle a cinnamon stick in between the pitted cherries and roast for about 35 minutes.
Remove from the oven, discard the cinnamon stick and let the roasted cherries cool while you make the whipped cream base.
In a large glass bowl, using a hand mixer or stand mixer, whip the heavy cream to soft peaks.
While the mixer is running, gradually add in the 2 tablespoons of sugar as well as the vanilla extract.
Whip the cream until it is almost stiff peaks and then add the yogurt. Mix thoroughly.
Fold about 2/3 of the roasted cherry mixture into the whipped cream base so that it is streaked throughout the creamy white base. Return to the fridge until you are ready to assemble.
To assemble: In a dessert glass or stemless wine glass, add a small layer of the roasted cherries.
Top the cherries with a bit of the crushed vanilla meringue cookies
Dollop with the cherry fool mixture.
Garnish with a bit more of the meringue cookies and then a roasted cherry or two and drizzle with the sweetened cherry juice.
Serve immediately.
Enjoy!
7.8.1.2
14
https://cookinginstilettos.com/roasted-cherry-meringue-fool-recipe/