For a sweet twist on a classic, make Summer Berry Dessert Bruschetta. Toasted buttery brioche is dolloped with a vanilla marscapone cream and topped with sweet summer berries for a chic and easy dessert!
I have a fabulously easy dessert to share with you today that you are going to love – Summer Berry Dessert Bruschetta.
You can't walk into the market without seeing such amazing sales on fresh summer berries.  I'm guilty of often adding a pint (or three) to my cart so finding innovative ways to use up these lovelies are always an adventure.  Blueberries and blackberries are my ultimate favorites – something about that sweet tart flavor I can't resist.
When I'm entertaining, one recipe that is always a success with friends and family is bruschetta.  I decided to take it on a sweet turn and give it a bit of a summer twist.  You can always change it up to use whatever fruit you have on hand – it would be fabulous with some roasted cherries (or boozy cherries), sweet grilled plums, summer strawberries – you name it.
This dessert is so easy to put together – the only time you heat the oven is essentially to toast the brioche.  You could also lightly spray the brioche with some canola oil and throw it on a grill for a smoky twist.  The buttery brioche gets golden quick so make sure you keep an eye on it.  I love using marscapone for desserts – it's beyond creamy, but can be a bit rich. I cut some of the richness with some Greek yogurt and added a touch of sugar and vanilla.  The berries macerate in the sugar and lemon so no cooking is needed.  Just a quick mash with a fork and you have the perfect dessert bruschetta topping!
My guests adored these two bite dessert treats and it had just enough sweetness to satisfy a sweet tooth without being too heavy – just perfect for summer.  When you are looking for something that is so easy to make in a hot minute, these lovelies will be on your dessert table in no time!
Make these Summer Berry Dessert Bruschetta for your next summer soiree – but make sure to save one (or two) for yourself because they will go quick!

Aly M. Cleary
Yields 20
Summer Berry Dessert Bruschetta
Summer Berry Dessert Bruschetta is the perfect sweet ending to any summer soiree. Golden buttery brioche is dolloped with vanilla marscapone cream and sweet summer berries.
15 minPrep Time
15 minCook Time
30 minTotal Time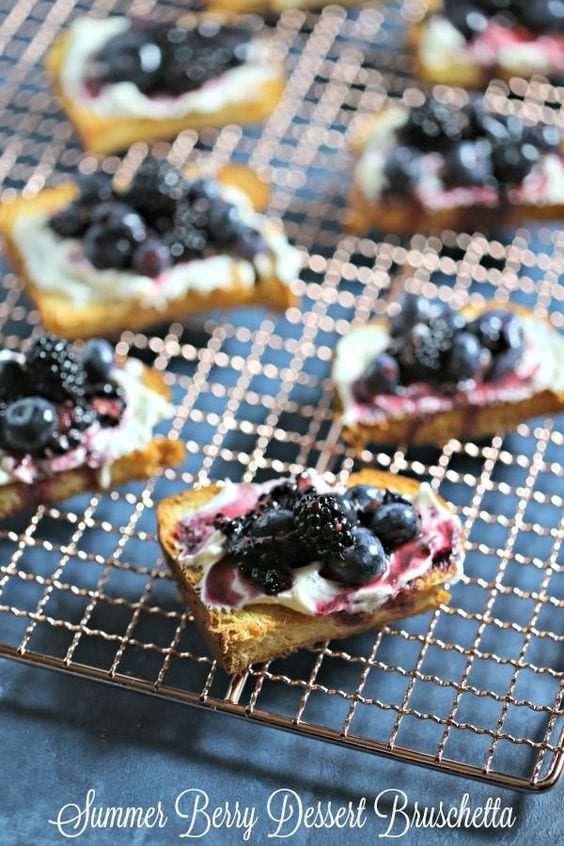 Ingredients
10 slices of brioche bread
2/3 cup of fresh blueberries, rinsed and drained
2/3 cup of fresh blackberries, rinsed and drained
2 tablespoons of Dixie Crystals granulated sugar, divided
Zest and juice of 1/2 a lemon
1/2 cup of marscapone
3 tablespoons of Greek yogurt
1 teaspoon of pure vanilla extract
Instructions
Heat oven to 350 degrees F.
Slice the brioche bread slices in half to make 20 brioche bites.
Place the brioche slices on a baking sheet and place in the oven. Bake the slices for 10 – 15 minutes, until golden on each side, turning the slices over halfway through.
Set some of the fresh blueberries and blackberries aside.
In a medium sized bowl, place the remaining blueberries and blackberries along with a tablespoon of sugar, lemon zest and lemon juice.
Let the berries macerate for about 15 minutes or so. Roughly mash the berries with a fork or spoon (or in my case, cocktail muddler) and then tumble the remaining whole blueberries and blackberries in the bowl. Fold everything together and set aside.
In another bowl, whisk together the marscapone, Greek yogurt, vanilla extract and the remaining tablespoon of sugar until everything is mixed through.
Spread some of the vanilla marscapone on the brioche slices and add some of the sweet macerated berries on top.
Enjoy.
7.8.1.2
73
https://cookinginstilettos.com/summer-berry-dessert-bruschetta-recipe/