There is nothing I adore more than the meld of sweet and savory. If I see salted caramel, there's a strong likelihood that I'll be trying it. When Crown Maple presented a few bloggers with a Tap to Table Recipe Challenge to meld sweet and savory with Crown Maple being at the forefront, I knew I had to take it on.
I originally thought I'd go with a crostata but we all know my irrational culinary fear of all things pie crust. I also love melding cheddar cheese with apples – there's something about the sharpness of the cheddar melted onto the spiced sweet apples that is heaven. Having grown up in New England, it tends to be a bit more common than people think. Also one thing that can be found everywhere in New England – pure maple syrup. Whenever friends and family come down from there to visit, I always ask for them to bring me a bottle of maple syrup or some maple candy. However, I need to confess – I don't bake often with maple syrup and, after this recipe, I need to rectify it. There's a pure sweetness that the maple brings to this apple crisp and the maple sugar and maple syrup melted into a rich gooey salted caramel is the perfect drizzle over a divine dessert.
Next time you are wanting a bit of savory and sweet and want your guests to beg for the recipe, make this Maple Apple Cheddar Crisp with Salted Maple Caramel Sauce – they will love you forever!
Happy Holidays everyone!
On to the recipe:
Gather the ingredients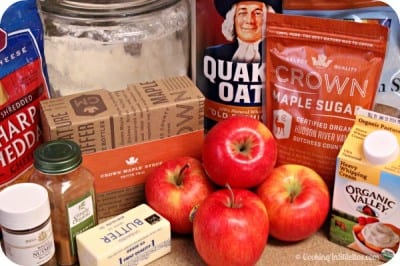 The key ingredient – All Things Crown Maple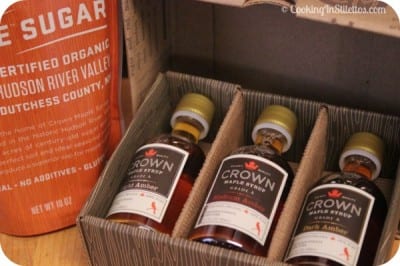 Adding the maple to the apples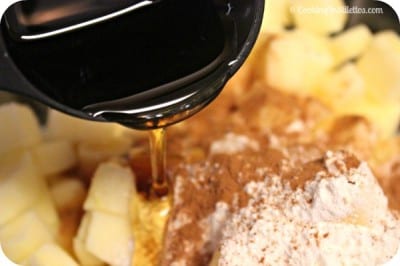 Love this cheesy crisp topping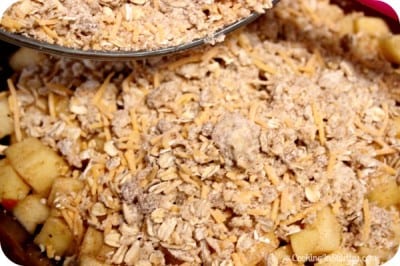 Look at the apples bubbling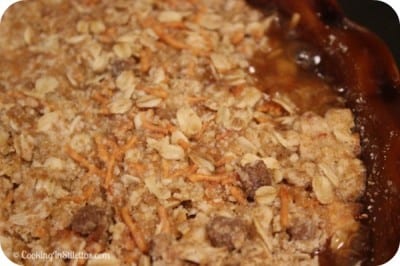 Time to make the caramel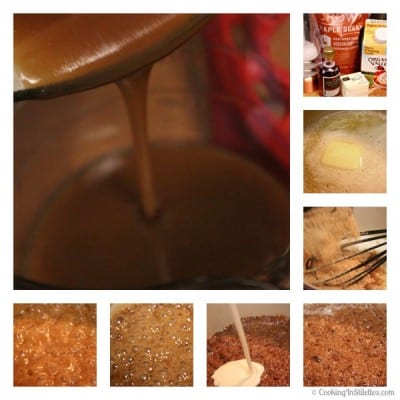 Now – don't you want a bite?
Caramel Recipe slightly adapted from Bon Appetit
Maple Apple Cheddar Crisp With Salted Maple Caramel Sauce
Maple and Apples are a classic combination. Add a sharp cheddar cheese to the mix and drizzle with Salted Maple Caramel and you have a dessert that will have people asking for seconds!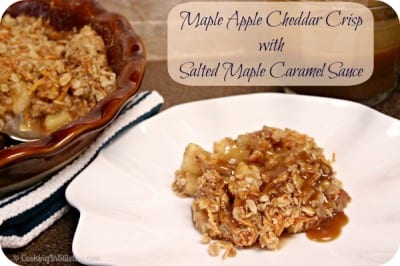 Ingredients
For the Apple Filling

5 – 6 apples, diced (I used Braeburn apples – divine)
2/3 of pure maple syrup (I used medium amber)
2 tablespoons of flour
1/2 teaspoon of cinnamon
1/8 teaspoon of freshly grated nutmeg
Pinch of kosher salt

For the Crisp Topping

1/2 cup of rolled oats
1/2 cup of flour
1/2 cup of brown sugar
1/4 teaspoon of cinnamon
1/8 teaspoon of kosher salt
1/3 cup of butter, softened
1/2 cup of finely shredded cheddar cheese (I like it sharper than mild)

For the Salted Maple Caramel Sauce

1/4 cup of unsalted butter
1/2 cup of maple sugar
3/4 cup of heavy cream
1/8 teaspoon of kosher salt
1/2 teaspoon of pure maple syrup (I used medium amber)
Instructions
Preheat the oven to 375 degrees F.
In a large bowl, mix together the diced apples, maple syrup, flour, cinnamon, nutmeg and the kosher salt.
Pour into a lightly greased pie plate.
In another bowl, mix together the oats, flour, brown sugar, cinnamon and salt.
Using a pastry cutter (or your hands), cut in the butter until it turns crumbly.
Mix in the shredded cheddar cheese and pour over the apple filling.
Bake for about 35 – 45 minutes, until the crust is browned, the cheese is a touch melty and the apples are bubbling.

To make the caramel:

In a heavy bottomed saucepan, melt the butter.
Whisk in the maple sugar and bring to a boil for about 2 minutes or so.
Carefully whisk in the heavy cream and let boil for about 3 minutes, until it is thick and covers the back of a spoon.
Take off the heat and whisk in the salt and maple syrup.
Serve with the apple crisp and enjoy!
7.8.1.2
276
https://cookinginstilettos.com/maple-apple-cheddar-crisp-with-salted-maple-caramel-sauce/