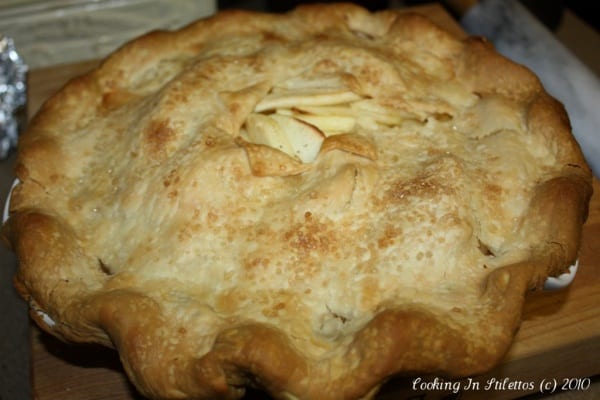 I had quite the baking doozy over the holidays. I decided to step out of my comfort zone and make Anne Thornton's Cheddar Cheese Apple Pie from scratch. Not many people know this but my favorite way to eat apples is with a bit of sharp cheddar – the flavors just work SO well together.
So, I took my spiffy new Emile Henry Artisan Ruffled Pie Dish out of its safe nook in the cupboard, prepped my ingredients, broke out my lovely marble pastry board and rolling pin and decided that even I could master the impossible – a flaky pie crust.
Well – after following the instructions to a "T", I realized that I need to start baking in training wheels because I messed that crust up to within an inch of its flour dusted life. I couldn't understand where the hell I went wrong until one of my dear friends Bec – who is a baking goddess – asked me "Did you put too much flour on the board? You know flour dries out dough, right?" I think I used every colorful word in my vocabulary when I realized my oops.
Well, I hope the baking powers that be don't kick my proverbial stiletto-wearing behind because I did the unthinkable and used the premade pie crusts as I didn't have the luxury to start all over again. I was on a tight deadline and had to transport that pie up to my mother's house for the holidays. Well, can I say this Apple Cheddar Cheese Pie ROCKED – even with my stupid oops – and I have to attempt this again, but I promise to watch the flour dusting. Oh – and to watch my mouth next time I make such a stupid mistake as over dusting that pastry board. Clearly, I have much to learn about baking.
On to the recipe:
Gather Your Ingredients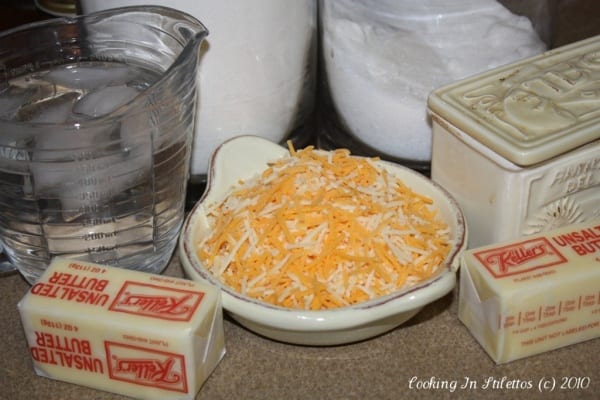 Mmmmm – Apples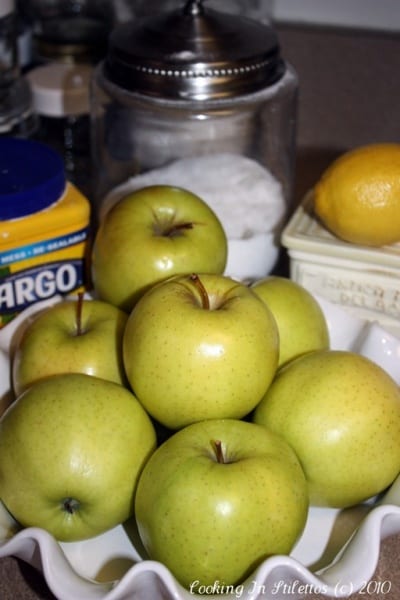 Time to make the Dough – sorry no nuts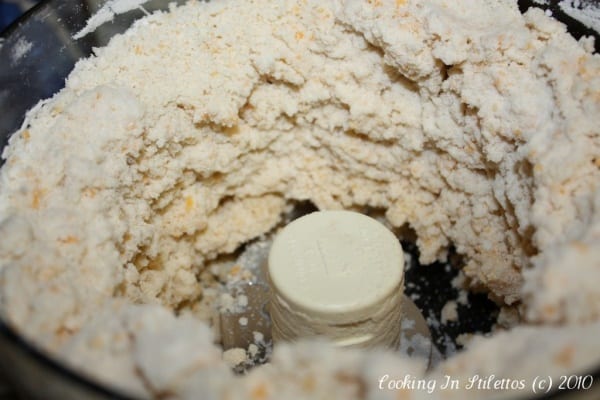 Shall We Roll?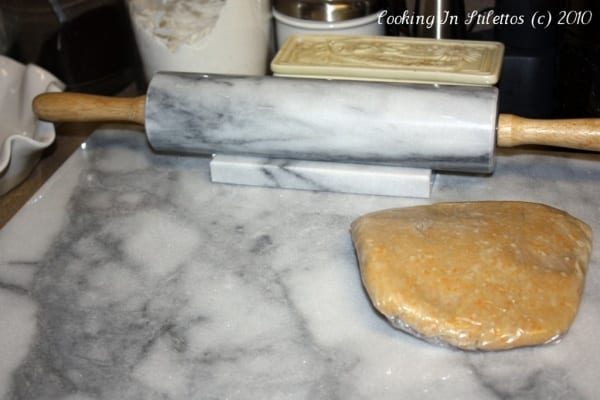 And My Utter #EpicFail – No Way This is "Lightly" Dusted – oops!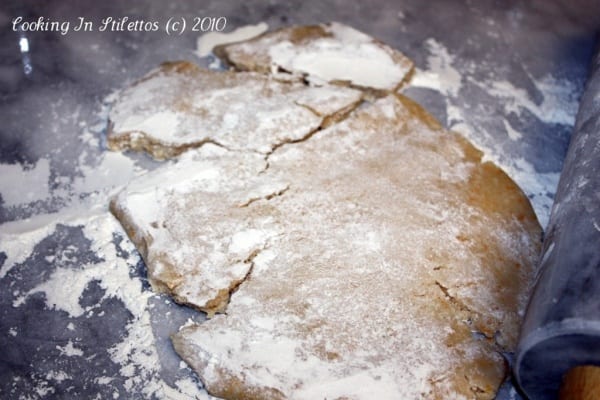 I could smooch that doughboy right now…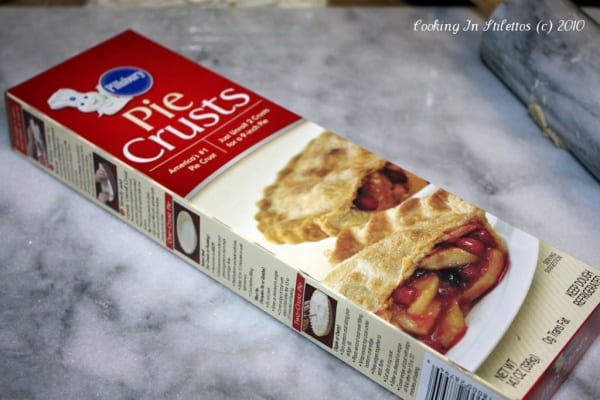 All Glossed Up With Somewhere To Go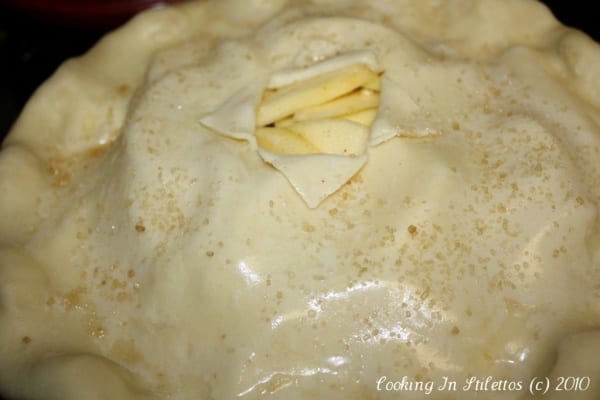 And, May I Present My First Quasi Homemade Apple Cheddar Pie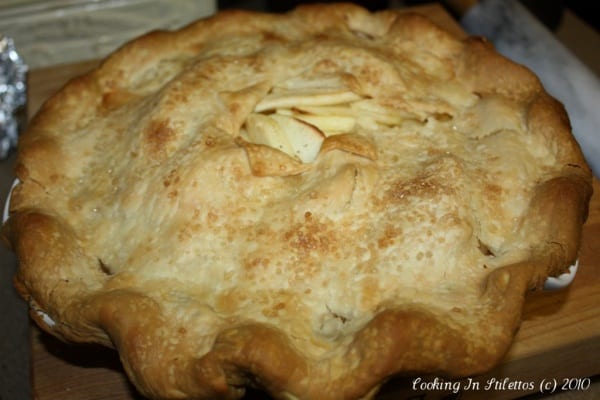 Ingredients
For the Crust (if not using premade)

2 1/2 cups of all purpose flour
1 tablespoon of sugar
1/2 teaspoon of kosher salt
2 sticks of cold unsalted butter, cut into 1/2" cubes
1 cup of grated sharp cheddar cheese
5 tablespoons of ice water (more if needed)

Note: Or if you screw up with me, two store bought pie crusts

For the Filling:

1 1/2 tablespoons of cornstarch
1/3 cup of sugar
6 Golden Delicious or Granny Smith apples, cored, peeled and thinly sliced
1 tablespoon of fresh lemon juice
1/2 teaspoon of grated fresh lemon zest
Pinch of kosher
2 tablespoons of butter, chilled and diced
Tablespoon of turbinado sugar for dusting
Directions
For the Crust (if making from scratch)

In a food processor, mix the flour, sugar, salt and pulse for 5 seconds.
To the mixture, add the chilled butter and pulse until the dough looks like peas.
Add the cheddar cheese and pulse for a few more seconds.
Transfer the flour mixture to a large bowl and add the ice water slowly, mixing with a fork until moist clumps form. If the dough becomes too dry, add ice water, one tablespoon at a time.
Form the dough into a ball and divide in half.
Flatten each half into a disk, wrap with cling wrap and place in fridge for at least an hour.

For the Filling:

Preheat the oven to 400 degrees F.
Whisk together the cornstarch and sugar in a bowl thoroughly ensuring that there are no lumps in the cornstarch.
Add the apples, lemon juice, lemon zest and salt.

Assembly:

On a large LIGHTLY floured workspace, roll out one of the disks to a 13-inch round. (Key term – lightly).
If using a store bought dough, sprinkle some of the cheddar cheese onto the dough (about 1/3 of a cup) pre-rolling to ensure that the cheddar cheese is in the dough.
Transfer the dough to a 9-inch deep pie plate and brush the dough hanging over the edge with water.
If you are using store bought dough, add some of the cheddar cheese to the bottom before you add the filling (about 1/2 a cup)
Pour the filling into the dough-lined dish and dot it with the 2 tablespoons of butter.
On the same LIGHTLY floured surface, roll out the second disk into a 12-inch round. (Really can't stress the lightly enough).
If using store bought dough, add the remaining tablespoon or so of shredded cheese and roll that into the dough.
Place the dough on top of the filling and press the dough overhang from the bottom and top pieces to seal.
Cut the overhang to 1/2 an inch.
Fold the overhang over and crimp decoratively.
Cut a small decorative "X" in the center and fold corners back to allow the steam to escape.
Lightly brush the top of the pie with ice water and dust lightly with the turbinado sugar.
Bake until the pie is lightly golden brown, about 30 minutes.
Cover the crust edge with foil and turn the oven temperature to 375 degrees.
Bake the pie for another 30 minutes until the filling is bubbling.
Cool pie on rack for an hour.
7.6.4
873
https://cookinginstilettos.com/cheddar-cheese-apple-pie/
All images and content are © Cooking In Stilettos. Please do not republish without contacting us first. Thank you.
Note: I heard it was even good for breakfast the next day – not that I attempted that. *cough cough*
[FTC Disclosure: This post contains affiliate links. My opinions (and screw-ups) are 100% my own]
Did you enjoy this post?
| | |
| --- | --- |
| Share the love | Get free updates |