This rich and decadent Gluten Free Chocolate Caramel Tart with Macadamia Nut Crust will be a dessert showstopper this holiday season. Luscious caramel and rich dark chocolate are nestled in a golden macadamia nut crust that is baked to perfection.
When it comes to desserts for the holiday season, I often look for that showstopper sweet treat that will have my guests swooning at first bite. This year, I'll be serving this  Chocolate Caramel Tart with Macadamia Nut Crust that is not only decadent but is also gluten free thanks to Bob's Red Mill's Gluten Free 1-to-1 Baking Flour.
This holiday season, I was thrilled to partner with Bob's Red Mill again to bake up something sweet for the holiday table.  They sent me three fabulous flours, perfect for holiday baking – their Organic All-Purpose Flour that I use in my Bourbon Pecan Pumpkin Pie, their  Almond Flour that I have planned for some delicious holiday sweet treats and their Gluten Free 1-to-1 Baking Flour.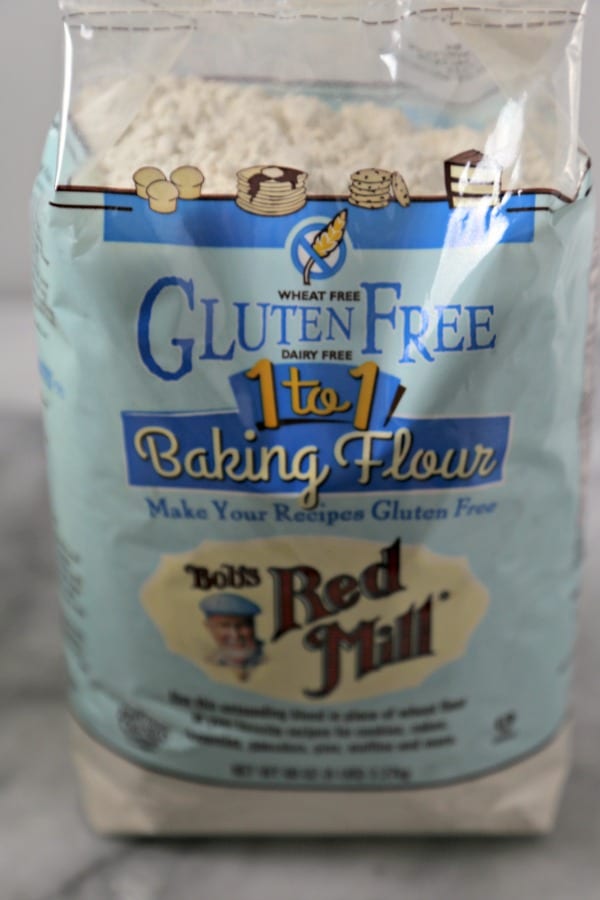 When it comes to baking, Bob's Red Mill is a brand that I trust. I use so many of their products in my recipes as they always turn out a fabulous dish. Bob's Red Mill's Gluten Free 1-to-1 Baking Flour works essentially like their standard flour. If your recipe calls for 1 1/2 cups of all-purpose flour, you can use Bob's Red Mill's Gluten Free 1-to-1 Baking Flour in its place. This flour combines finely ground brown rice flour, sweet white rice flour, whole grain sorghum flour, potato starch, and tapioca flour with just a bit of xanthan gum that creates the perfect baked goods like cookies, cakes and muffins.
Some of my friends and family have gone gluten-free for medical reasons so I've been learning more about various ways of cooking and what is and what isn't allowed. While this tart isn't vegan or paleo by any means, a few substitutions could easily switch it up for your needs. You will probably have to allow for some leeway with various ingredients to conform them to gluten free standards. For example, I had no idea that some brands of confectioner's sugar are not gluten free. Having read that, I made a substitution of super fine sugar which has no cornstarch at all and it was perfect.
I have been obsessed with a similar tart by Gesine Bullock Prado that she spotlighted on The Talk eons ago but you know I have a bit of a "struggle" with crusts. Whether it's a tart, quiche or pie – crust and I haven't always been the best of friends. However, having made a tart crust successfully from Dorie Greenspan's cookbook, I figured I'd play and make this tart a gluten free version using Dorie's tart crust method with a bit of macadamia nuts baked within for additional buttery richness.
I am not going to lie – this tart is a bit time consuming but it's more of patience and waiting type of recipe where you allow everything to chill before you layer on the next flavor. If you have the patience, I promise this dessert will be the belle of the holiday soiree. It's a fabulous make ahead dessert and a great alternative to the standard holiday desserts.
This holiday, add this Gluten Free Chocolate Caramel Tart with Macadamia Nut Crust to your dessert table. Your guests will think you are a pastry genius!
On to the recipe:
Gather your ingredients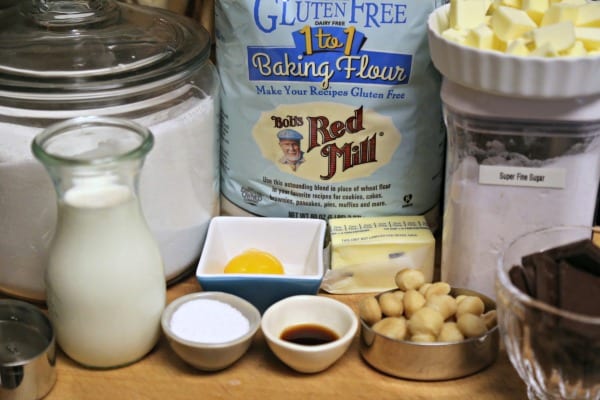 This Gluten Free 1-to-1 Baking Flour is so easy to use!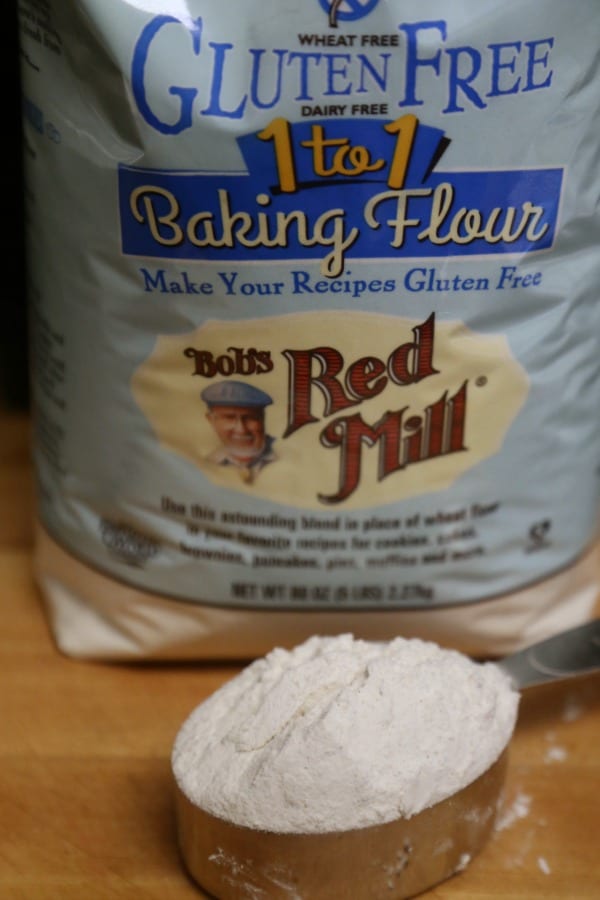 Cold Cold Butter needs to be pulsed through.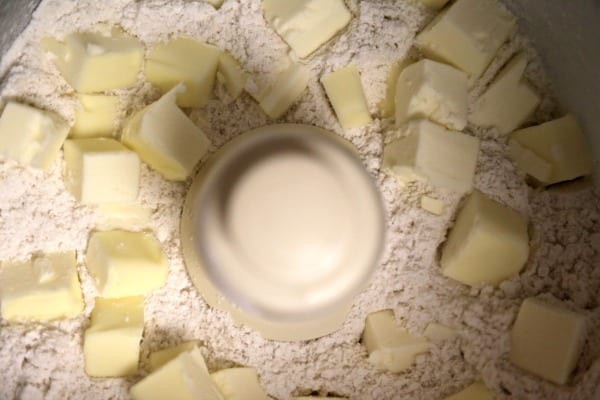 This is what I mean when the dough comes together. It looks crumbly but it isn't.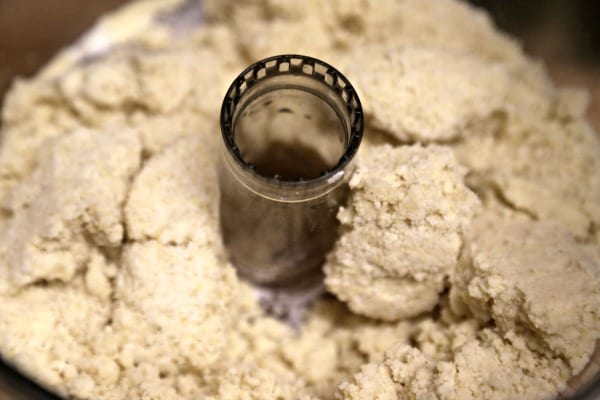 Chilled tart ready to bake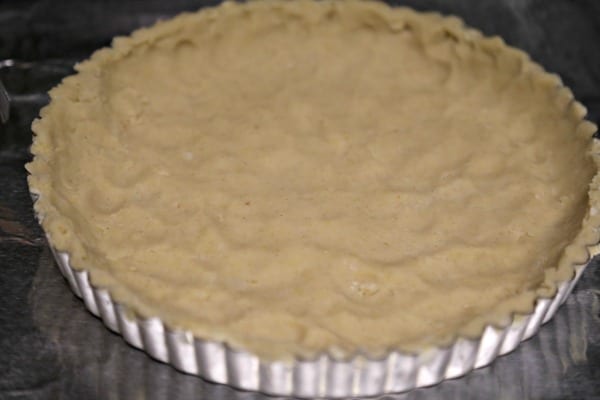 Time to make the caramel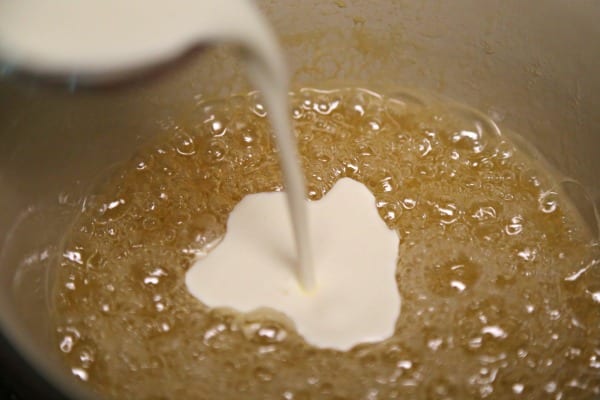 Pouring the caramel into the tart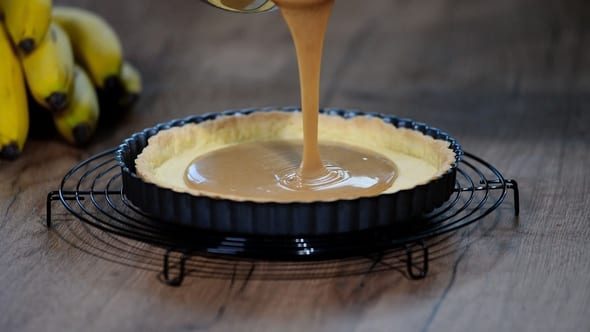 Gorgeous!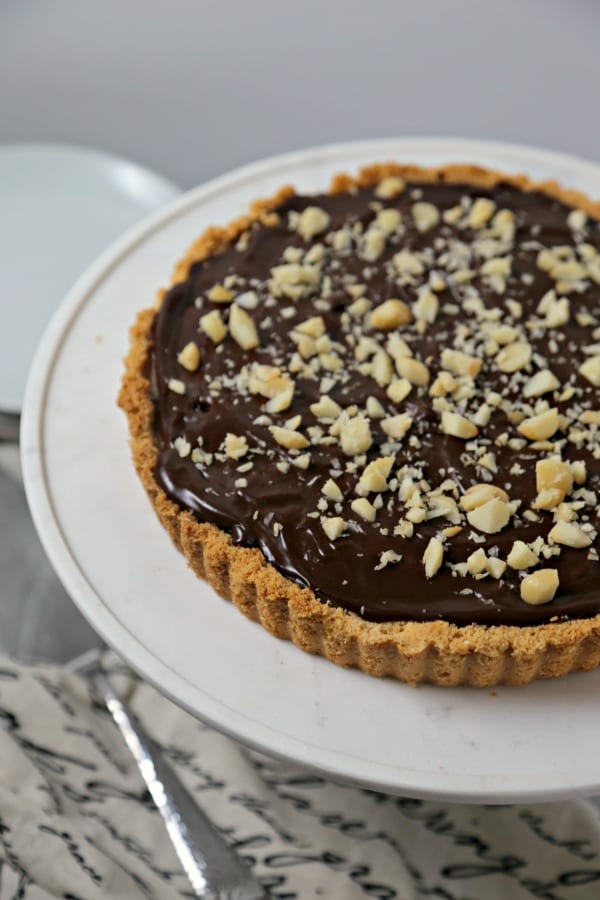 Shall I cut you a slice?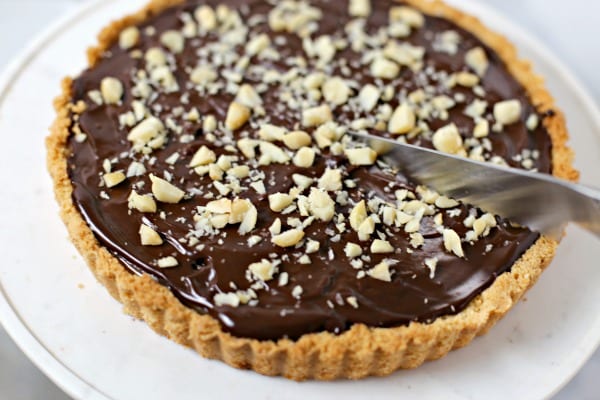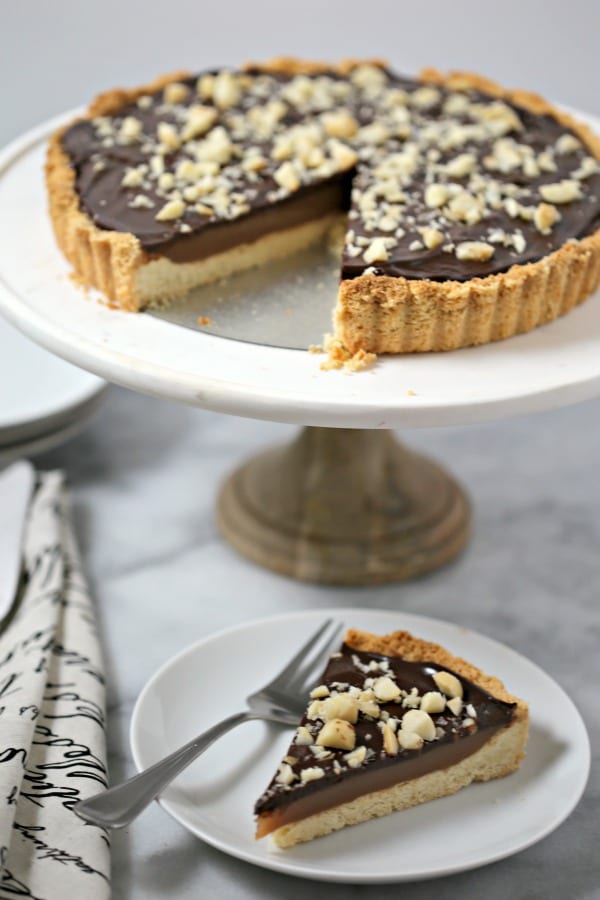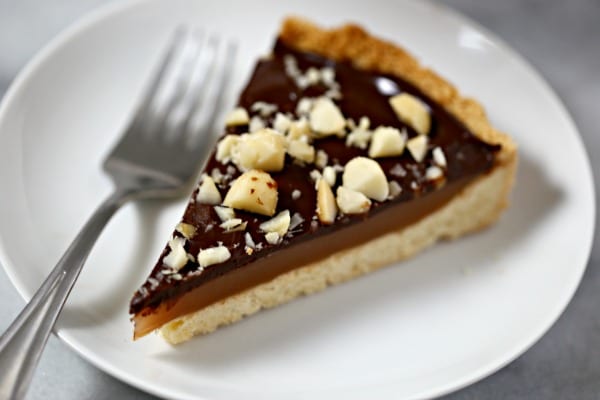 Aly M. Cleary
Yields 8
Gluten Free Chocolate Caramel Tart with Macadamia Nut Crust
This rich and decadent Gluten-Free Chocolate Caramel Tart with Macadamia Nut Crust will be the star of your holiday table with layers of gooey salted caramel and dark chocolate ganache with a hint of macadamia nuts.
3 hr, 30 Prep Time
1 hr, 10 Cook Time
4 hr, 40 Total Time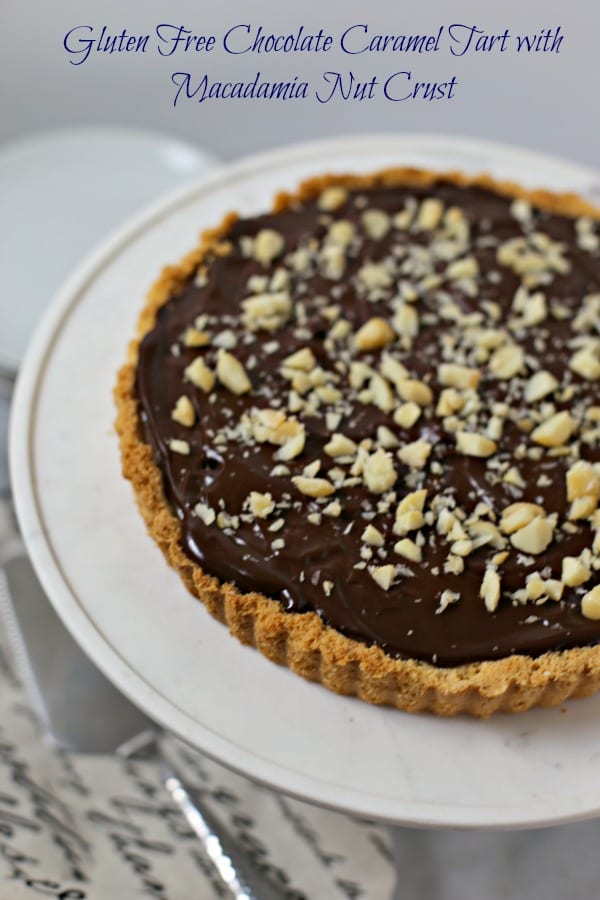 Ingredients
For the Gluten Free Tart Crust
1/3 cup of toasted macadamia nuts
1 1/2 cups of Bob's Red Mill Gluten Free 1-to-1 Baking Flour
1/2 cup of super fine sugar
1/4 teaspoon of kosher salt
9 tablespoons of butter, cut into cubes and chilled
1 large egg yolk
For the Caramel:
2 cups of sugar
1/2 cup of water
1/3 cup of light corn syrup
3/4 teaspoon of salt
1/2 cup of heavy cream
1/2 cup of butter
1 1/2 teaspoons of vanilla
For the Chocolate Ganache:
4 ounces of bittersweet chocolate, chopped (I used 60%)
1/3 cup of heavy cream
2 tablespoons of butter
1/8 teaspoon of salt
1 1/2 teaspoons of vanilla
To finish:
Flaky Sea Salt
Toasted macadamia nuts, chopped
Instructions
To make the Gluten Free Crust:
Butter a 9" tart pan and set aside.
To a food processor, add the macadamia nuts and pulse until they are almost finely chopped.
Add the flour, super fine sugar and salt and pulse a few more times to combine.
Add the very cold chilled butter cubes scattered throughout the food processor bowl and pulse until the butter resembles peas in the flour mixture.
Break up the egg yolk with a fork and beat it lightly. Drizzle over the dough mixture.
Pulse until the dough starts to come together. You will hear the change as the consistency starts to pull together.
Remove the dough from the food processor and lightly knead the dough so that it comes together.
Add the dough to the tart pan with your hands, taking care to press the dough up the sides of the fluted tart pan and creating a even base.
Freeze the crust for about 45 minutes.
Heat the oven to 375 degrees F.
Place the tart pan on a baking sheet.
Lightly butter the shiny side of a piece of foil and, with the butter side facing down, cover the tart crust for a blind bake. You do not need pie weights for this as the crust is frozen – trust me on this.
Bake for about 25 – 30 minutes.
Remove the foil and bake for another 8 – 10 minutes more. When it is golden brown, remove and let cool completely.
To make the Caramel Layer:
In a heavy bottomed saucepan, add the sugar, water, corn syrup and salt.
Swirl to combine – do not stir. Swirl the pan so that the sugar dissolves over medium high heat.
When the caramel turns that gorgeous amber color, take it off the heat and immediately add the cream, butter and vanilla, whisking constantly. It's going to bubble up furiously – do not worry – everything is moving according to plan.
Return to the heat and, using a candy thermometer, cook the caramel until it is 243 degrees F.
Let cool for about 20 minutes - it will thicken as it cools.
Pour the caramel into the cooled tart crust.
Chill for 45 minutes.
To make the Chocolate Ganache Layer:
Add the chopped dark chocolate to a large bowl.
In a small saucepan, bring the heavy cream, butter and salt to a simmer.
Remove from the heat, add the vanilla and pour over the chopped chocolate.
Using a spatula, stir the chocolate until it is melted fully and glossy.
Spread the chocolate ganache over the set caramel layer.
Top with a bit of fleur de sel and chopped macadamia nuts and chill until ready to serve.
Enjoy!
7.8.1.2
60
https://cookinginstilettos.com/gluten-free-chocolate-caramel-tart-with-macadamia-nut-crust/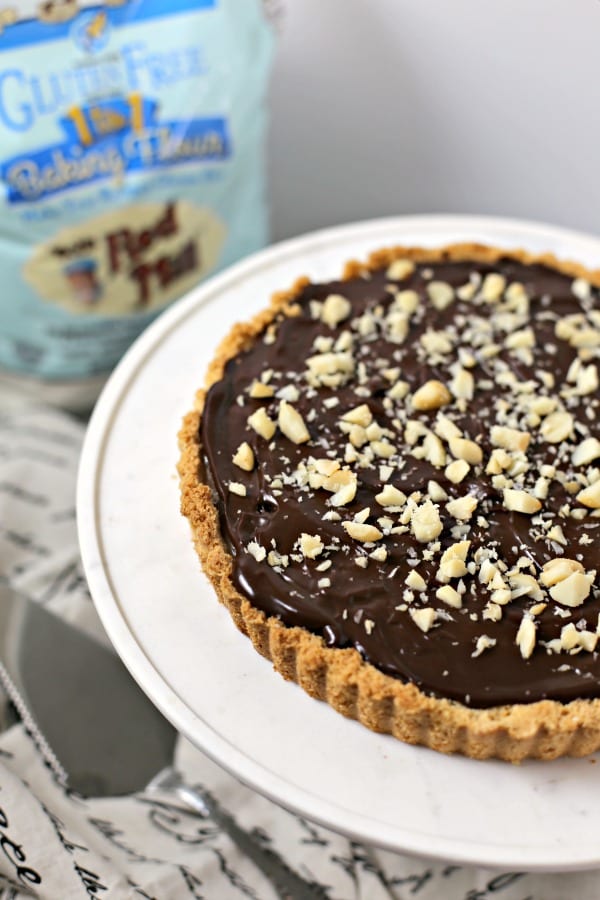 I was selected for this opportunity as a member of CLEVER and the content and opinions expressed here are all my own.