A steaming mug of this creamy Chila 'Orchata White Hot Chocolate is a delicious way to ring in the holidays with a bit of spirit!
This post has been sponsored by Chila 'Orchata. My adoration for the brand is all my own. Thank you for supporting brands that make Cooking In Stilettos possible.
The holidays are fast approaching and Old Man Winter is knocking at the door. However, I have the perfect stress free sip that will bring a smile to your soul – a creamy Chila 'Orchata White Hot Chocolate that is so easy to make, you will never look at those instant cocoa mix packets ever again.
Ever since I learned to make hot chocolate from scratch, I wondered why I didn't learn how to make homemade hot chocolate sooner. It just takes a few ingredients to whisk up something creamy and delicious and, if you are feeling a touch decadent, you can add a bit of spirit and heavy cream to the mix for something that is truly out of this world. You control the flavor and the ingredients and the possibilities are endless.
I have been making hot chocolate laced with cinnamon since I can remember. There's something about that warming spice that makes it a perfect compliment to a mug of chocolate. When one of my favorite spirits, Chila 'Orchata, asked if I had a cocktail that would be fabulous for the holidays, I knew immediately it had to be something perfect for sipping by the lights of a twinkling tree or a roaring fire but with a twist.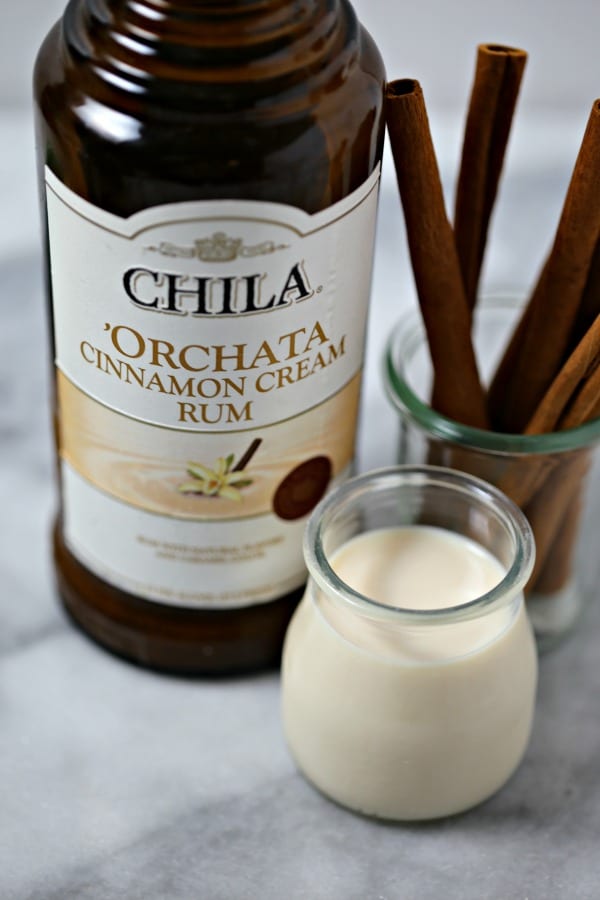 Chila 'Orchata is a delicious cinnamon cream rum that is a blend of cinnamon horchata, rich Puerto Rican rum and Tahitian vanilla that adds the perfect twist to your favorite martini, coffee or cocoa and, of course, this sip. If it's not in your liquor cabinets, you so need a bottle this holiday season. It's perfect on the rocks, drizzled into your iced latte or baked into your favorite sweet treat like these scrumptious Chila 'Orchata Mini Bundt Cakes. This rich yet delicate cream rum is the perfect fusion of flavors.
I made a white hot chocolate that really only took a few ingredients. I added a hint of extra cinnamon and let a cinnamon stick simmer in the mix. Ladled into mugs with a cinnamon stick "stirrer", this Chila 'Orchata White Hot Chocolate is the perfect sip to enjoy with friends and family, or even just sip by yourself when you have a little "me" time.
Bonus tip – if you want to double or triple the recipe to make a huge pot of this in the slow cooker, you can – just keep everything on low for about 2 hours, stir every 30 minutes and add the Chila 'Orchata to the mug before ladling in the white hot chocolate. It couldn't be easier!
This creamy Chila 'Orchata White Hot Chocolate will be fabulous for a signature-warming sip this holiday season.
On to the recipe:
Gather your ingredients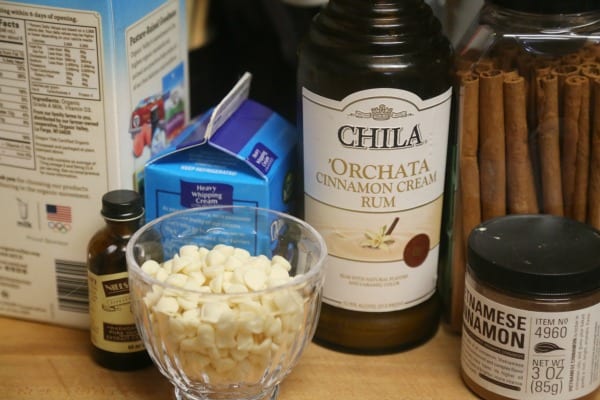 Just a touch of cinnamon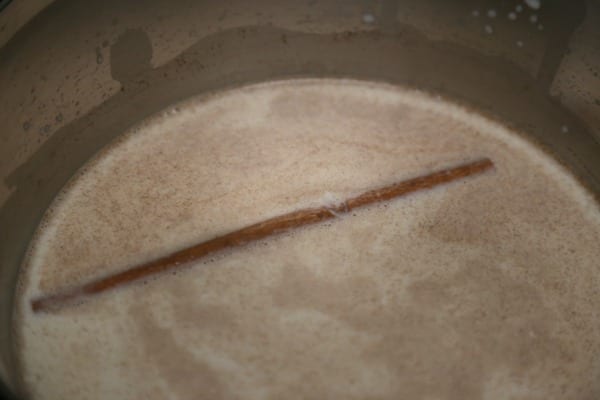 Adding the white chocolate chips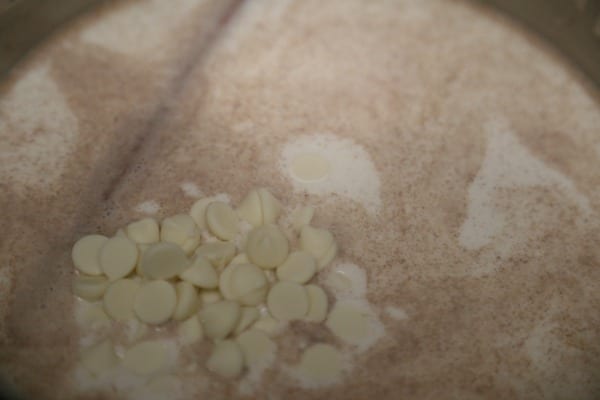 Finally, a touch of Chila 'Orchata to the simmering white hot chocolate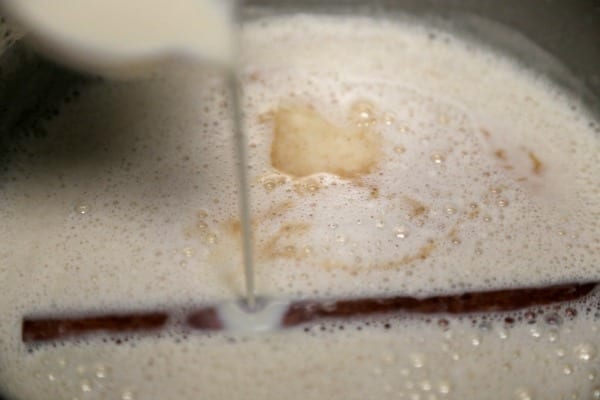 Shall I get you a mug?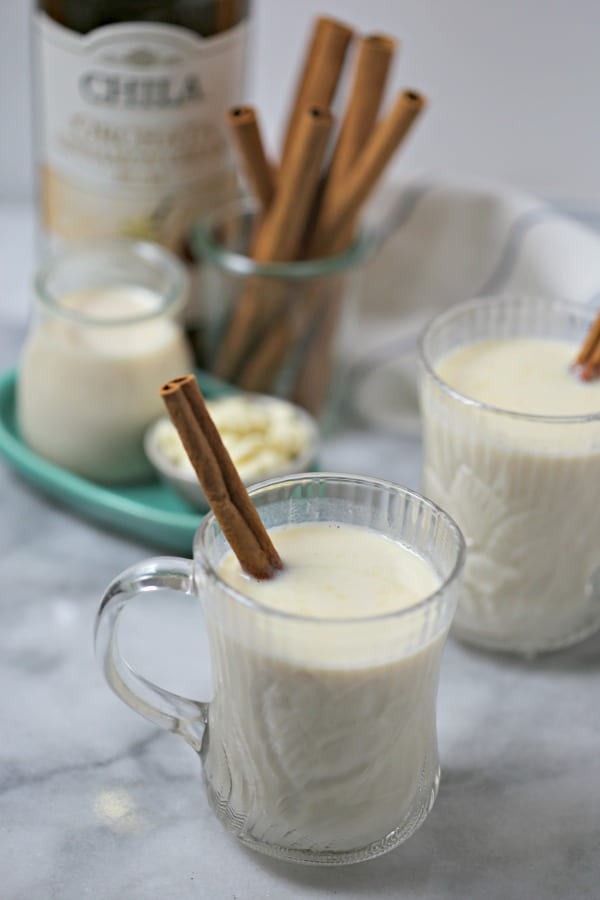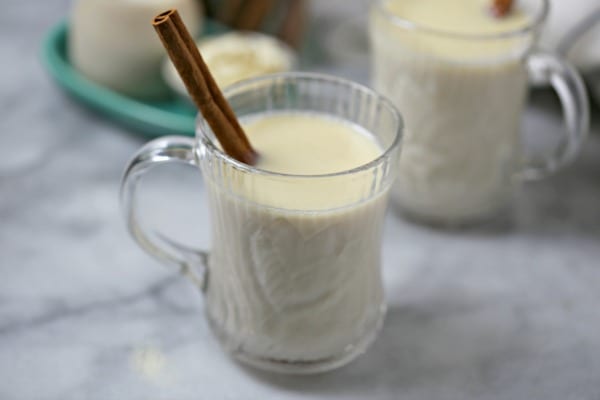 Aly M. Cleary
Yields 4
Chila 'Orchata White Hot Chocolate
This creamy Chila 'Orchata White Hot Chocolate whisks up in a few minutes, made from just a few pantry ingredients with a touch of cinnamon spiced spirit. Please sip responsibly.
3 minPrep Time
7 minCook Time
10 minTotal Time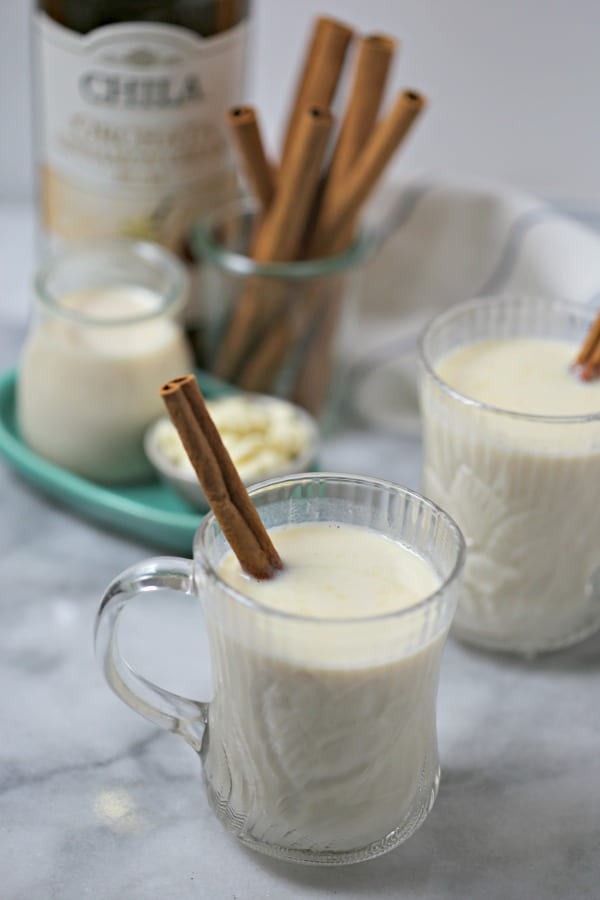 Ingredients
2 2/3 cup of milk
3/4 cup of heavy cream
1/4 teaspoon of ground cinnamon
1 cinnamon stick
1/8 teaspoon of salt
1 1/4 cup of white chocolate chips
1/2 teaspoon of vanilla extract
3 ounces of Chila 'Orchata Cinnamon Cream Rum
Cinnamon sticks for serving
Instructions
In a heavy bottomed saucepan, add the milk and heavy cream. Whisk in the ground cinnamon and salt and lay the cinnamon stick in the mixture to steep.
Bring the milk and cream mixture to a simmer, about 4 – 5 minutes, until bubbles start to form on the edge of the pan, whisking occasionally so as not to form a skin on the top of the mixture.
Add the white chocolate chips to the milk mixture.
Whisk the mixture vigorously, making sure that the white chocolate melts smoothly in the milk mixture.
Let simmer for about 5 – 7 minutes, whisking occasionally.
Remove from the heat, remove the cinnamon stick and whisk in the vanilla and Chila 'Orchata.
Serve in mugs and garnish with a cinnamon stick.
Enjoy!
7.8.1.2
70
https://cookinginstilettos.com/chila-orchata-white-hot-chocolate/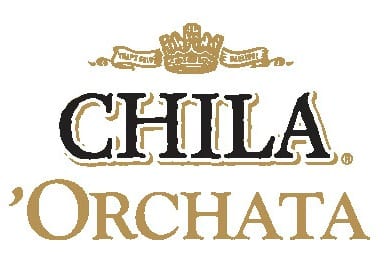 For more information on Chila Orchata, you can check out their website for great recipes and give them on a follow on Facebook, Twitter, Pinterest and Instagram. Please sip responsibly.