This summer, it's all about life's margarita moments. There's nothing like chilling with some great friends and whipping up a pitcher of margaritas to share. One fun thing I'm loving lately is DIY projects so when Sauza's beloved cowboy challenged us to "Jort It Up" and get a bit crafty, well then – it was time to break out the sparkle, pour the tequila and have a blast. Well – never one to back away from a challenge, I whipped out my trusty scissors, some fave fabric glue and got to work. I decided that I was going to take a bit of a feminine flair to the jorts for the summer with a bit of lace and sparkle. Dressed up with a flowy black top and a belt with my fave Choo wedges or casual with a loosely tied shirt and some casual Ugg flats, these Jorts are one of a kind.  However – when you are cutting fabric – hold off on the margarita sip until you have everything cut and then you can enjoy your margarita while giving your jorts your own style.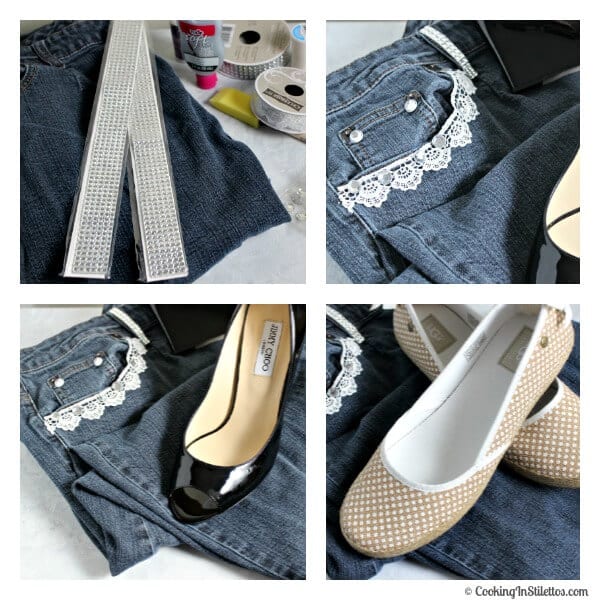 One of the other things I love to DIY is homemade beauty scrubs and potions – you can check out my Summer State of Mind board on Pinterest where I've pinned some of my fave DIY ideas, some fantastic recipes and, of course, cocktails.  A bit of a DIY party and some Sauza margaritas makes for an amazing Girls' Night In.
Follow Cooking In Stilettos's board Summer State of Mind on Pinterest.
Now – for the perfect summery punch, I had to go with a bit of the tropics.  This Margarita recipe is based on one of my absolute favorite summer drinks – 
'Otai
.
'Otai is a freshly blended Polynesian fruit drink full of watermelon, pineapple, a bit of lime and coconut milk.  My friends' mom used to make a killer 'otai back when I lived in Orlando and every time I sip this, I flash back to  those times full of fun conversations and laughter.  It's hard not to smile while you are sipping this lovely libation.  Even better is when you are enjoying it with friends. To prepare cocktails and get fresh juice we recommend Cold Press Juicers for Fruits and Veggies!
I decided to make a Watermelon Otai Margarita for a bit of summer freshness and it was a hit!  Now – granted, tequila is not normally part of the 'Otai recipe so if you want to make it straight without the spirit – feel free. Instead of blending ice into the cocktail, I decided to freeze some of the watermelon instead – the last thing you want is a watery cocktail, right? Also – it packs a bit of a wallop so drink responsibly.  If it gets too thick, feel free to add a bit of coconut water to thin it out a bit.  This Watermelon 'Otai Margarita is beyond refreshing and full of summer flavors!
OK – enough already – let me shush…
On to the recipe:
Gather your ingredients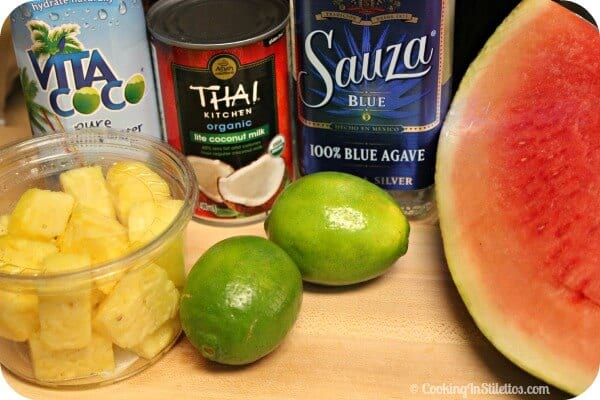 Look at all of that watermelon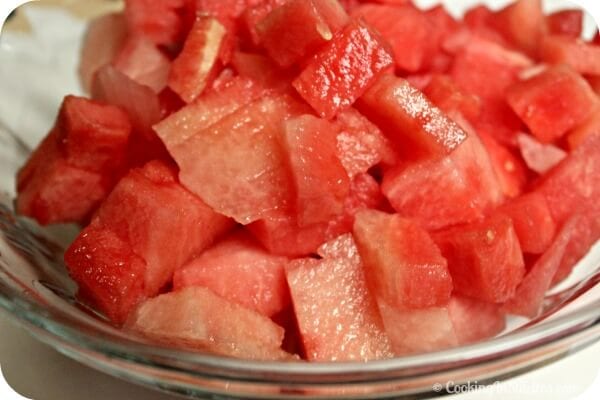 Adding the fresh pineapple and lime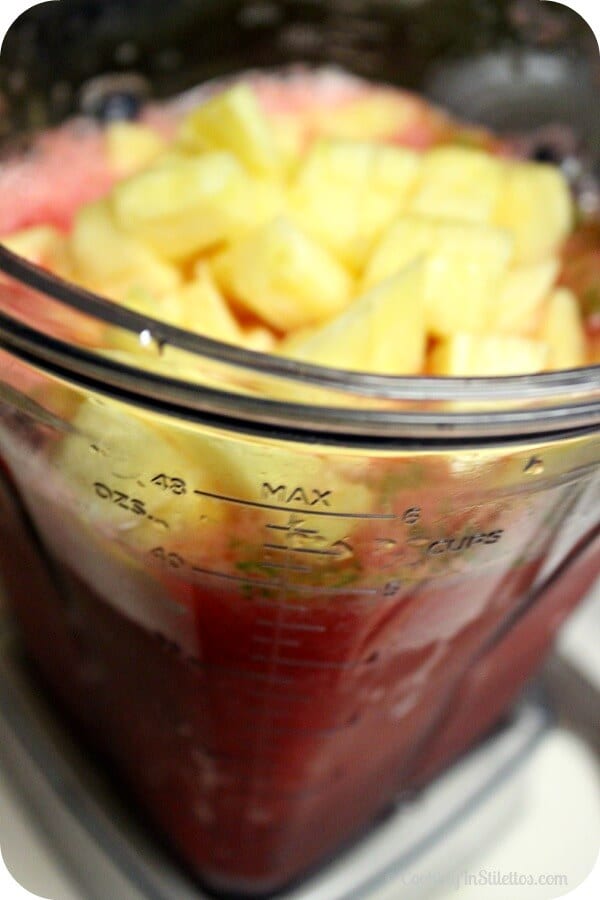 Want a sip?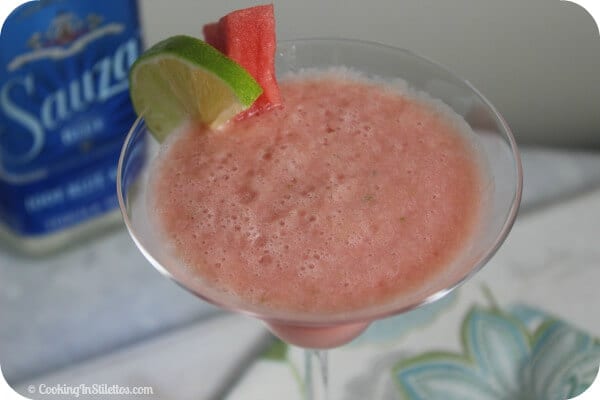 Aly M. Cleary
Yields 4
Watermelon Margarita
This makes a pitcher of the most delicious Watermelon 'Otai Margaritas - grab some friends and enjoy!
20 minPrep Time
20 minTotal Time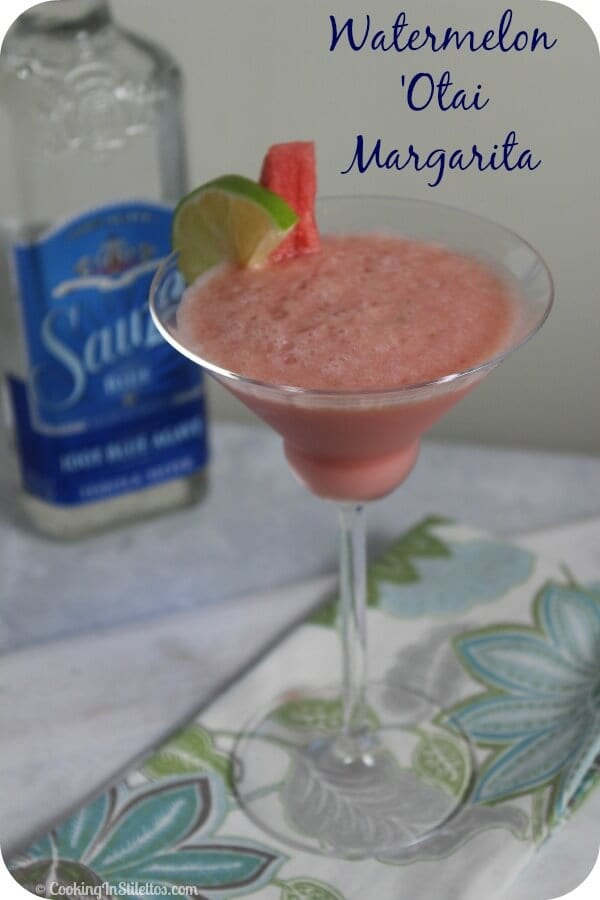 Ingredients
5 cups of cubed watermelon, divided
1 cup of diced pineapple
Zest and juice of two limes
1 can of light coconut milk
3/4 cup of Sauza Blue tequila
Instructions
Freeze 1 cup of the cubed watermelon.
In a blender or using an immersion blender in a large bowl, blend the remaining watermelon into a bit of a coarse puree.
Add the pineapple, lime zest and lime juice. Blend again.
Add the coconut milk and tequila. Tumble in the frozen watermelon cubes and blend one more time until icy cold and a bit frothy.
Pour into glasses, garnish with a bit of watermelon and lime and enjoy!
7.8.1.2
236
https://cookinginstilettos.com/watermelon-otai-margarita/
Ever think you could make jorts with a cowboy? Here's your chance to meet a man who crafts his heart out. Okay, so maybe he's not the best DIY-er. But what he lacks in cutting skills, he more than makes up for when he makes the perfect Sauza-rita. Watch him in action for ideas for your next ladies' night in: http://bit.ly/1juaLln.
Disclosure: Sauza® is a registered trademark of Tequila Sauza S. de R.L. de C.V. ("Tequila Sauza") and is used with permission. The information, comments and ideas expressed on this website do not necessarily reflect the views or opinions of Tequila Sauza, its affiliated companies or any of their directors or employees. Tequila Sauza does not sponsor, authorize, or otherwise endorse this website.