Ever find yourself in a bit of a midday slump where it's not quite quitting time and you need a bit of a bite to pick yourself up? In the morning, do you find yourself racing off to the 9to9 and not in the mood for a heavy breakfast but want something flavorful with a bit of a protein kick? I have the perfect bite for you – this Lemon Berry Yogurt Crunch Parfait.
I have a bit of an obsession with lemon curd. It's sweet and tart and when it's paired with berries, it's heaven on a spoon. I would get this yogurt cup from a coffee house that had a bit of lemon curd and berries with a hint of granola but at $4 a pop plus coffee, well, my wallet threatened an intervention.
These Lemon Berry Yogurt Crunch Parfaits were so simple to put together. Layer a bit of crunchy Nature Valley Oats 'n Honey Granola followed by alternating layers of Yoplait Vanilla Greek Yogurt, fresh strawberry jam and sweetly tart lemon curd with more granola interspersed between for texture and you have the perfect sweet treat. I use small 6 ounce jars so it is just the right amount to stave off that midday slump. You could either swirl all the layers together or use the spoon to pull through the layers bit by bit. The best thing is this recipe can be customized to your tastes and your preferences.
When you want to #besnacksational, make this Lemon Berry Yogurt Crunch Parfait!
On to the recipe:
Gather your ingredients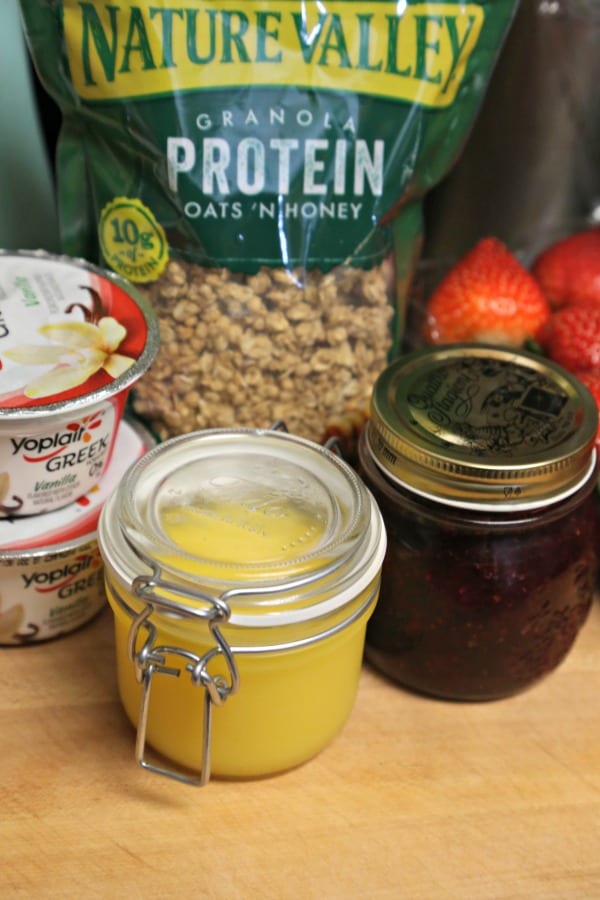 Let's start with a bit of granola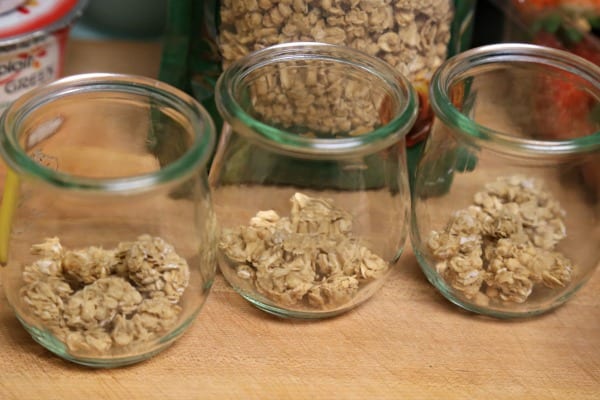 Followed by some vanilla heaven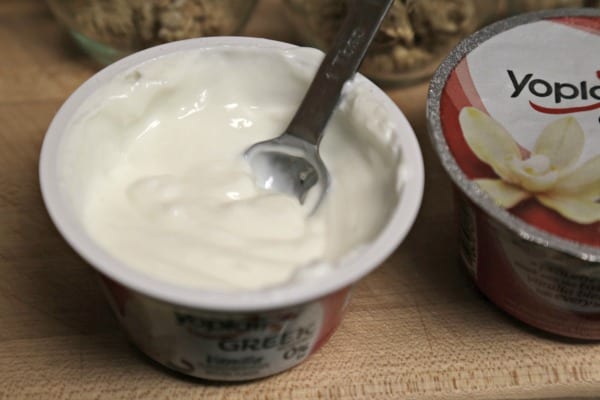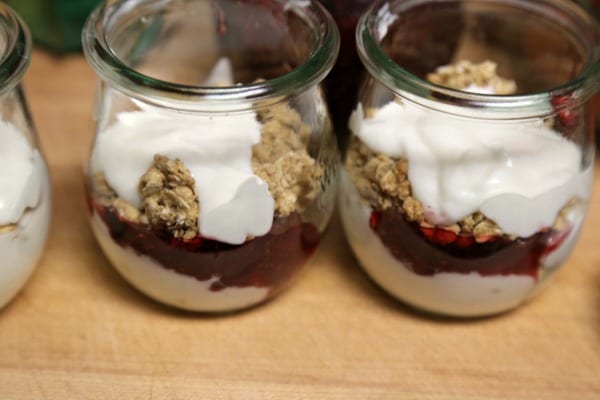 Perfection ready for a spoon or to store for later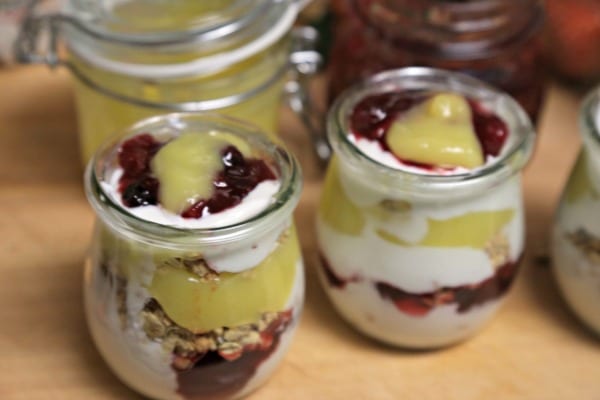 Now – doesn't this look scrumptious?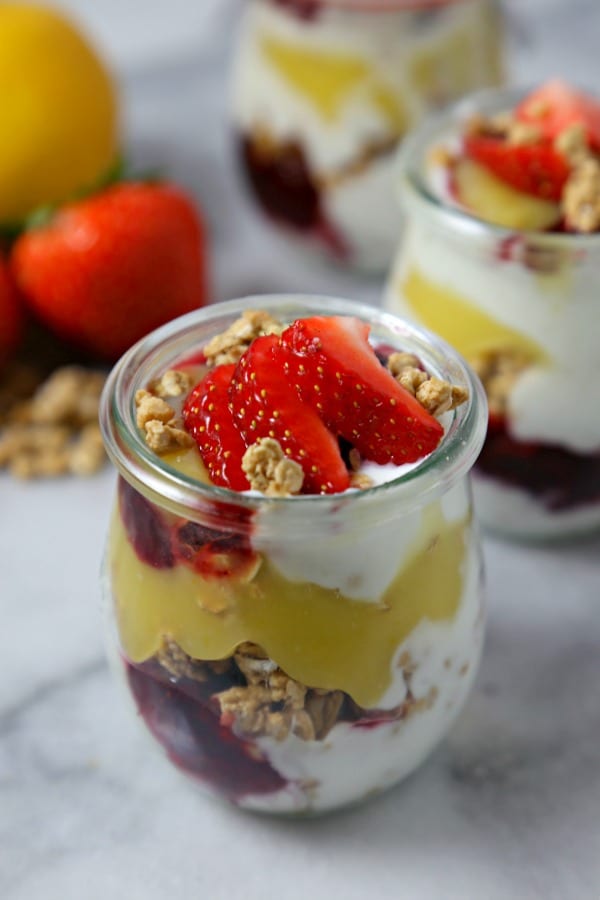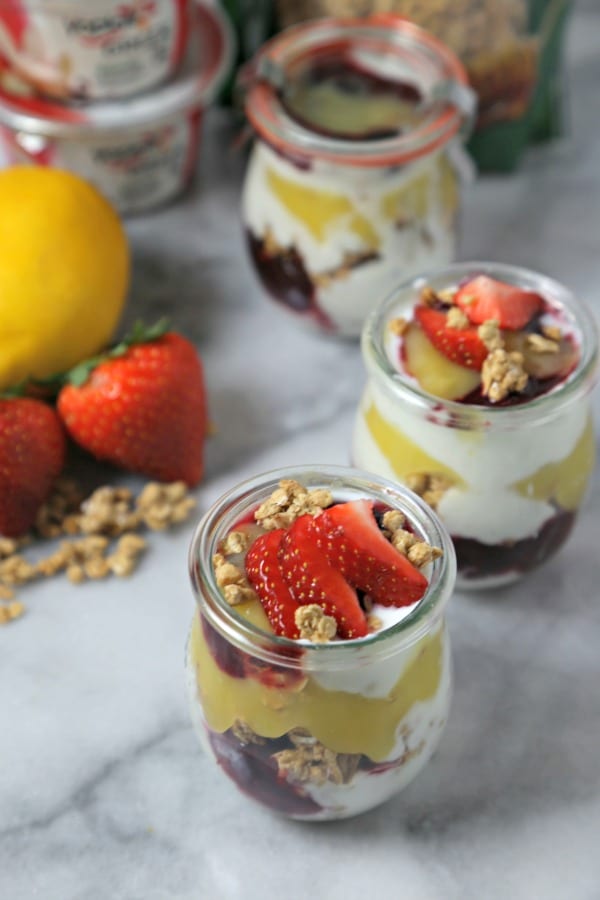 Should I get you a spoon?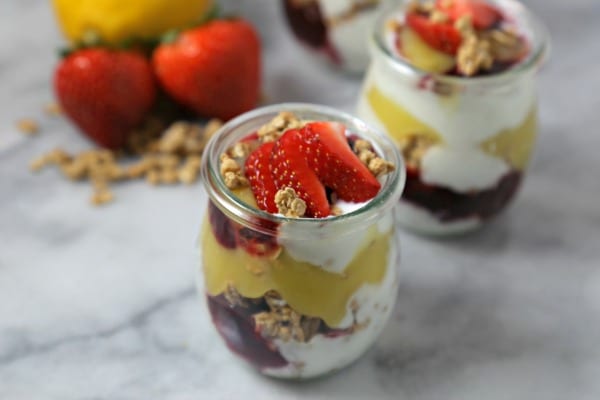 Aly M. Cleary
Yields 4
Lemon Berry Yogurt Crunch Parfait
This Lemon Berry Yogurt Crunch Parfait is the perfect sweet treat either for breakfast on the go or a midday snack. Sweet and crunchy granola is layered with vanilla Greek yogurt, lemon curd and strawberry jam - all you need is a spoon.
5 minPrep Time
5 minTotal Time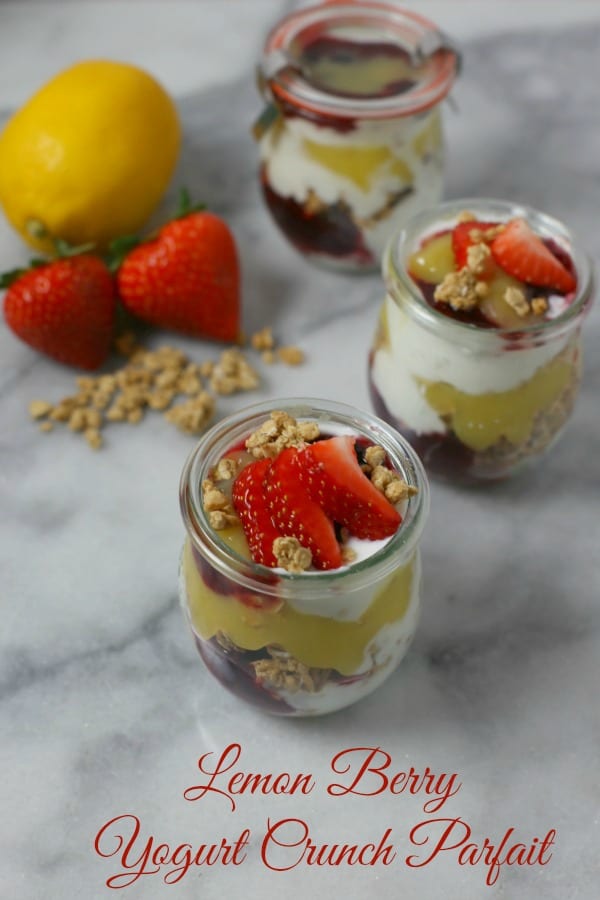 Ingredients
1 1/4 cups of Nature Valley Oats 'n Honey Granola
1 1/4 cups of Yoplait Greek Yogurt in Vanilla (about 2 small containers)
1/4 cup of strawberry jam
1/4 cup of lemon curd
Fresh sliced strawberries for garnish (optional)

Special equipment:

4 6-ounce canning jars
Instructions
To the bottom of each jar, add about 3 tablespoons of granola.
Follow with 2 heaping tablespoons of vanilla Greek yogurt.
Add about a tablespoon or so of strawberry jam.
Follow that with a tablespoon or two of granola.
Add another layer of Greek yogurt followed a layer of lemon curd (about 2 tablespoons or so).
Add another layer of granola (about a tablespoon), followed by another layer of Greek yogurt.
Top each parfait with a bit more strawberry jam and lemon curd with a sprinkling of granola.
To serve, you can top each parfait with a bit of sliced strawberries.
Enjoy
7.8.1.2
103
https://cookinginstilettos.com/lemon-berry-yogurt-crunch-parfait/