Bread pudding is one of those comfort desserts that always seems to go over with friends and family.  Now – a Spiced Rum Raisin Bread Pudding drizzled with a Spiced Rum Syrup – that might just have your guests swooning and begging for the recipe.
I partnered with the Grain Foods Foundation to put a whole grain spin on a tried and true holiday recipe and these Mini Spiced Rum Raisin Bread Puddings would be perfect for your holiday table.   Made with whole wheat bread, your guests would have no idea that it's even a bit healthier than the standard bread pudding recipe.  Even better, having individual bread puddings for each guest helps with portion control and these little bread pudding "muffins" couldn't be easier to prepare.  Plus – I can promise that you probably have everything already ready in your pantry and dessert will be on the table within the hour. 
So – for a comfortingly chic recipe, add a bit of bread pudding love to your holiday table with a Mini Spiced Rum Raisin Bread Pudding and Spiced Rum Syrup.
On to the recipe:
Gather your ingredients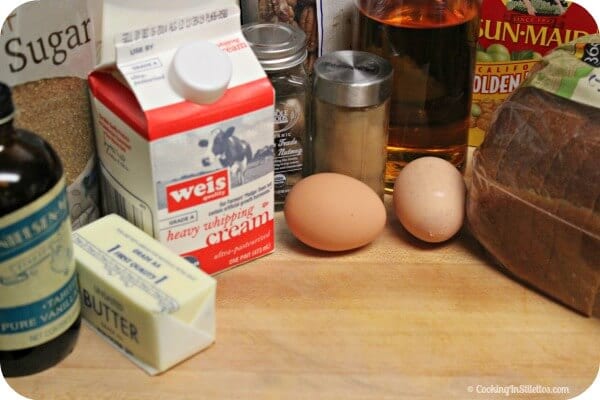 Soaking the raisins in a bit of spiced rum goodness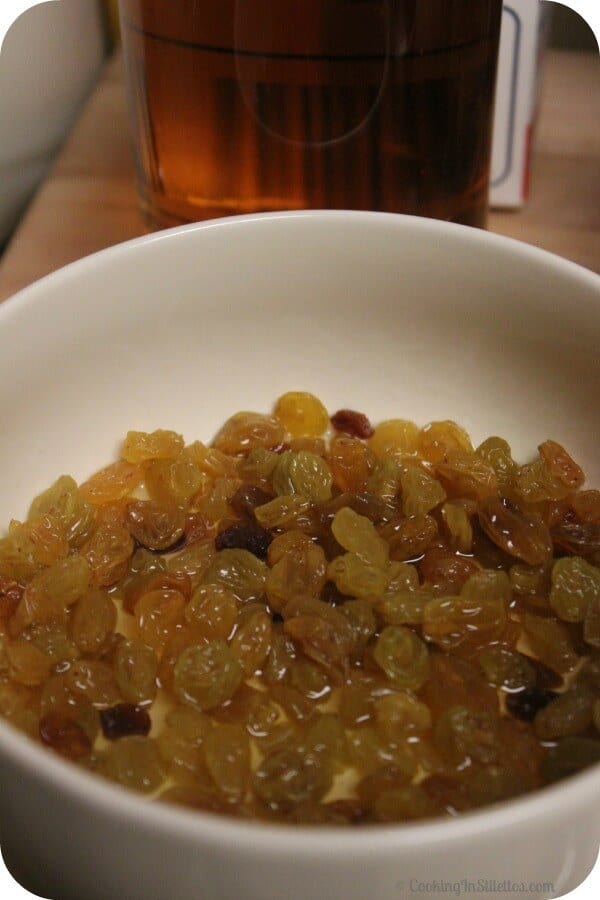 Let's get this bread ready to soak for a few minutes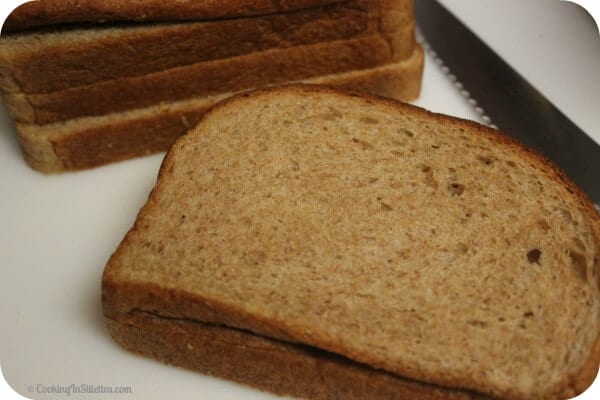 Before and after baking – look at its puffy gloriousness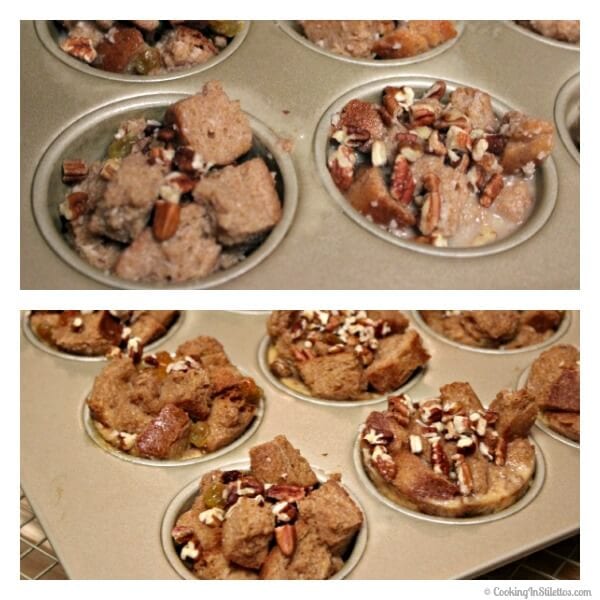 Let's drizzle on some of that spiced cinnamon rum syrup shall we?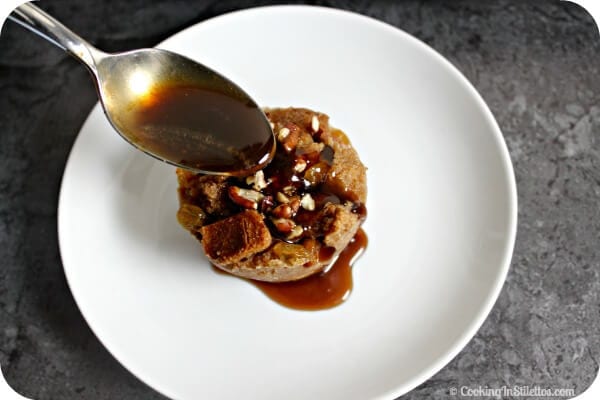 Now – wouldn't you want one of these for dessert?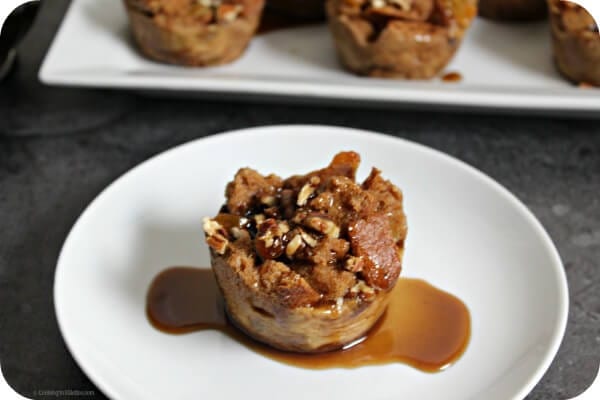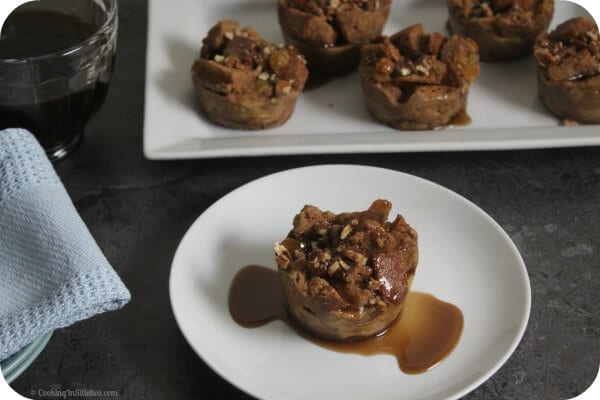 Adapted from Eating Well
Yields 12
Mini Spiced Rum Raisin Bread Pudding with Spiced Rum Syrup
This Spiced Rum Raisin Bread Pudding goes mini with individual baked portions and drizzled with a spiced cinnamon rum syrup.
35 minPrep Time
25 minCook Time
1 hrTotal Time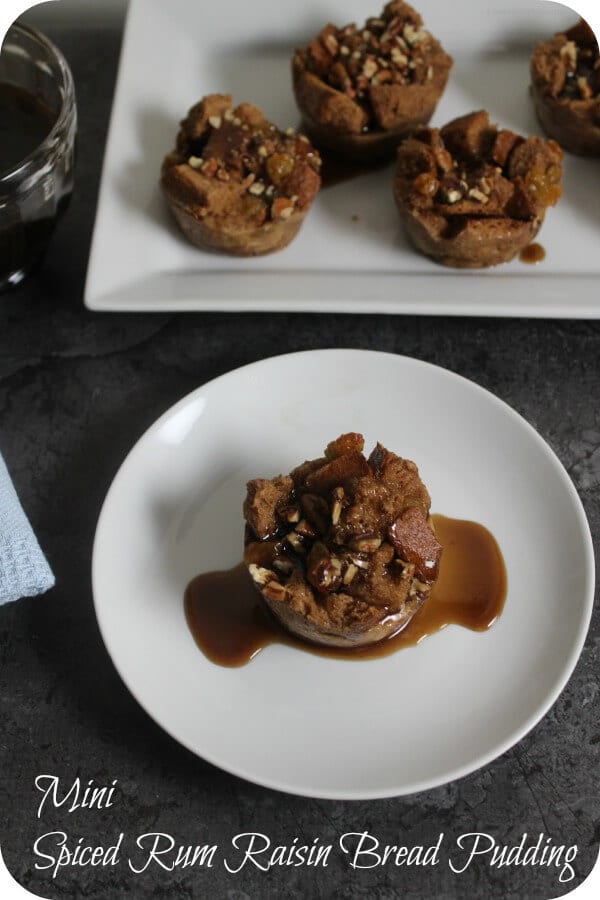 Ingredients
For the Rum Raisin Bread Pudding:

1/2 cup of golden raisins
3 tablespoons of spiced rum
5 cups of whole wheat bread, sliced into 1/2" cubes
2 eggs
2 cups of low fat milk
1 teaspoon of vanilla extract
1/2 cup of brown sugar
1 1/2 teaspoons of cinnamon
1/4 teaspoon of freshly grated nutmeg
1/4 teaspoon of kosher salt
1/3 cup of chopped pecans

For the Spiced Rum Syrup:

1 cup of water
1 cup of brown sugar
2 tablespoons of heavy cream
1 1/2 tablespoons of spiced rum
1/2 teaspoon of cinnamon
Grating of fresh nutmeg
Instructions
To make the bread pudding:

Preheat the oven to 325 degrees F and spray a 12 cup muffin tin with nonstick baking spray. Set aside.
Add the raisins to a small bowl and pour over the spiced rum. Stir to combine and let soak for about 10 minutes or so.
In a large bowl, whisk together the eggs, milk and vanilla extract. Add the brown sugar and whisk until the sugar has melted.
To the custard mixture, add the cinnamon, nutmeg and salt and stir well.
Add the bread cubes and the rum soaked raisins (and any rum) to the custard mixture and fold so that the bread is covered with the custard.
Let the mixture soak for about 10 - 15 minutes.
Using a large scoop, add some of the bread pudding mixture to each muffin cup.
Sprinkle each bread pudding with a bit of the chopped pecans.
Bake for about 25 minutes or so until the bread pudding is puffed and golden.
When the bread puddings are done, remove from the oven and let cool on a rack for about 10 minutes or so.

For the Spiced Rum Syrup:

To a heavy bottomed saucepan, add the brown sugar and water.
Stir to combined and bring to a boil over medium high heat.
Let boil for about 7 - 10 minutes until the mixture has reduced by half.
When the mixture has reduced, take off the heat and whisk in the heavy cream, spiced rum, cinnamon and nutmeg.
Serve drizzled over the bread pudding and enjoy!
7.8.1.2
192
https://cookinginstilettos.com/mini-spiced-rum-raisin-bread-pudding-with-spiced-rum-syrup/
Disclosure: I partnered with Grain Foods Foundation to develop this recipe.  My opinions are my own.