I often have leftover chicken in the fridge, whether it's from a rotisserie chicken, my perfect roast chicken (or citrus roasted chicken) or from roasting a couple chicken breasts over the weekend for weeknight meals.
Some nights, when I want to watch something a little bit different and cannot take another reality show or some competition program, I turn to the LiveWell Network. They often have Rick Bayless and some fab cooking programs, but there is one program that I was watching one night, Steven and Chris, that featured this recipe for Apple Cheddar Chicken Muffins and the main ingredient – leftover chicken. You know I perked up for that. Plus – it had cheese and apples so you know Sous Pug was all for a little kitchen experiment (provided that he got a bite of crunchy apple – he's strict about that, ya know).
This recipe was so easy to prepare and I decided to do a "split test" – breaking out not only a mini muffin pan, but also my not used enough popover pan.   The great thing about this recipe is that you can use it as a base for your favorite leftovers, using turkey or ham in place of the chicken, subbing your favorite cheese or using spinach instead of arugula. Think of this muffin recipe as your "Leftover Muffin Canvas" and get to cookin!
On to the recipe:
Gather the ingredients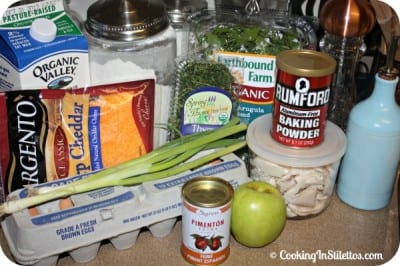 The Sous Pug's favorite ingredient: chopped apple.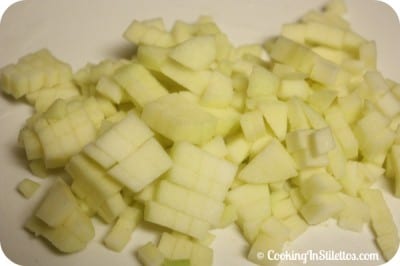 Time to meld the wet with the dry.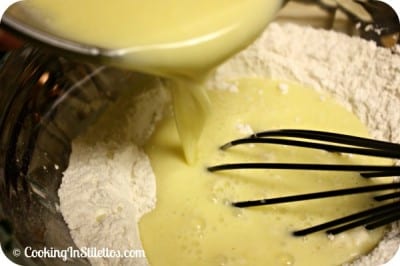 Off to the oven!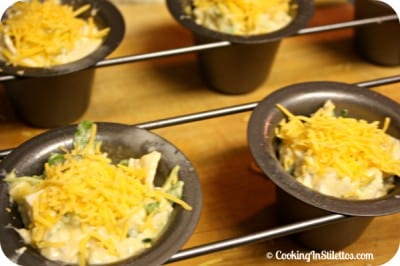 Now – tell me your guests wouldn't love this!
Tried and True: Apple Cheddar Chicken Muffins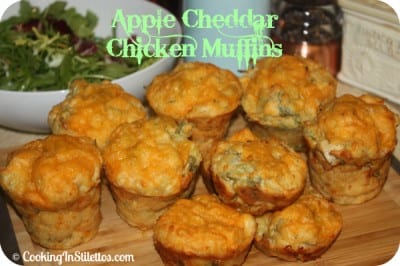 Ingredients
2 cups all-purpose flour
2 1/2 teaspoon baking powder
1 teaspoon salt
1/2 teaspoon black pepper
1 teaspoon fresh thyme, chopped
1/2 teaspoon of smoked paprika
1 cup milk (I used low fat)
2 eggs
1/4 cup olive oil
3/4 cup shredded cheddar cheese, divided
2 green onions, finely sliced
1 cup Granny Smith apple, peeled and chopped
1 cup arugula, finely chopped
1 1/2 to 2 cups cooked chicken, finely chopped
Instructions
Preheat the oven to 350º F.
Lightly spray the muffin pans with a non-stick coating spray or lightly grease with butter.
In a large bowl, combine the flour, baking powder, salt, pepper, thyme and smoked paprika.
In a small bowl, whisk together the milk, eggs and olive oil.
Gently mix the wet with the dry ingredients until combined.
Set aside 1/4 cup of the shredded cheese.
To the batter, fold in the chicken, apple, onions, arugula and remaining cheese.
Using a ice cream scoop or small ladle, add the mixture to the muffin tins until it is about 3/4 of the way full.
Top each muffin with the remaining cheddar cheese.
Bake until golden, about 25 to 35 minutes, and a toothpick inserted in the center of the muffin is clean.
Transfer to a wire rack to cool and enjoy!
7.8.1.2
353
https://cookinginstilettos.com/apple-cheddar-chicken-muffins/