One good thing about roasting your own chicken, you control the ingredients and flavors.  Have leftovers?  Well, this chicken works beautifully in lemon chicken noodle soup or a roasted chicken orzo.  I tend to roast a chicken over the weekend and the leftovers come in handy for busy weeknight suppers.  My favorite way to roast the chicken is to stuff it with loads of citrus, some garlic, an onion and viola!  Simple, right?  Sometimes I toss some onions, potatoes and carrots at the bottom of the pan as a type of "roasting rack" and add a bit of chicken stock halfway through to keep everything moist.
The good thing is you can stuff the chicken with pretty much whatever you want to flavor it. I often pick up a kosher chicken from Whole Paychex and it always comes out perfectly.  For your next Sunday dinner, why not say "adios" to grocery rotisserie chicken and give this recipe a try.
Gather the Ingredients
Prepping the Citrus for Stuffing
Voila – Succulent Citrus Roasted Chicken
Tried and True: Citrus Roasted Chicken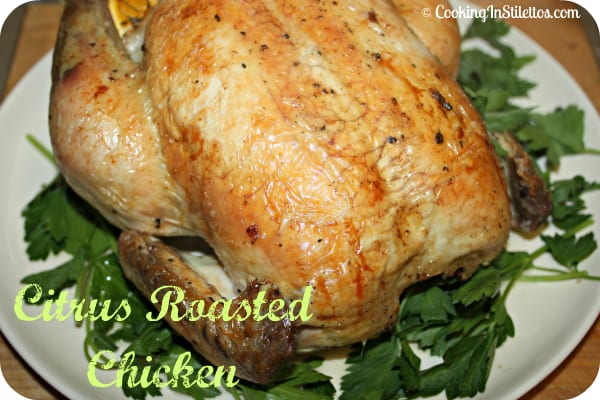 Ingredients
1 3-4 lb. chicken, neck and giblets removed
1 small onion, quartered
1 head of garlic, halved
1 small lemon, quartered
1 small lime, quartered
1/2 a navel orange, quartered
1-2 sprigs of fresh thyme
2 tablespoons olive oil
1/2 cup of chicken stock
Salt and Freshly Ground Pepper
Instructions
Preheat the oven to 425 degrees F.
Season the chicken cavity with salt and pepper.
Stuff the cavity with the onion, garlic and follow with the citrus quarters and thyme.
Season the outside of the chicken with salt and pepper and tie the legs with kitchen twine, making sure to tuck the wings under the breast.
Drizzle the chicken with the olive oil.
Place the trussed chicken in the roasting pan and place the roasting pan in the oven.
Let the chicken cook for 30 minutes at 425 degrees and, after 30 minutes, reduce the heat to 400 degrees F., flip the chicken so that it is breast side down for another 30 minutes, adding the chicken stock to the pan.
For the last 30 minutes, return the chicken to its "upright position", breast side up, and cook until the juices run clear and the breast is nicely browned.
Let the chicken rest tented with foil for 15-20 minutes and then serve.
Enjoy!
7.8.1.2
375
https://cookinginstilettos.com/citrus-roasted-chicken/