The unofficial start to summer has begun and, while I don't have a ton on my summer dance card yet, I know that there will be some weekend trips to see family and friends, a possible trip to the shore, wandering through farmer's markets and seeing more of this gorgeous city that captured my heart as a child. Really – is there anything better. One thing that is on the agenda – a cookout (or four).
Whenever there is a cookout planned, I know there is one side that has to be on the menu – my favorite coleslaw recipe ever – Sunny Anderson's Firecracker Cole Slaw. It's sweet yet spicy and definitely is a new take on the traditional. I have to warn you – this recipe will make coleslaw for days so if it's only for a few people, I might suggest that you halve the recipe.
Sunny's recipes are always foolproof so I knew that for Memorial Day, this would be the perfect side. I adapted it a bit as I was trying out this new eggless vegan mayo and, can I say, it rocked. I kept shredding everything in the Cuisinart, one after the other – my reasoning was that the bowl was massive and I figured it would be easier to just shred away and then mix everything in one big swoop. Only one problem – it turned the coleslaw beyond purple so I channeled my inner Prince and started singing "Let's Go Crazy". I served it with some roasted garlic burgers and Hebrew National hot dogs and everyone was happy – purple slaw and all.
For your next cookout, give this slaw a whirl and let me know what happens!
On to the recipe:
Gather the ingredients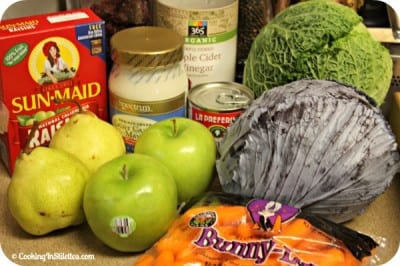 Shred Shred Shred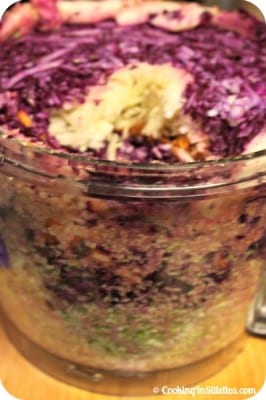 "Purple Slaw – Purple Slaw" – sorry – let me stop channeling my inner Prince backup singer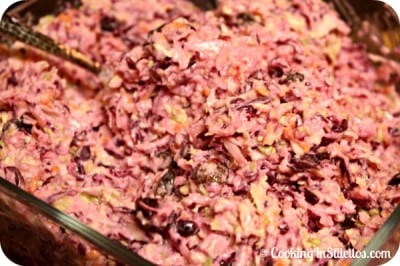 Now – isn't this the best side to go with your fave Hebrew National Hot Dogs?
Firecracker Slaw – The Perfect Summer Side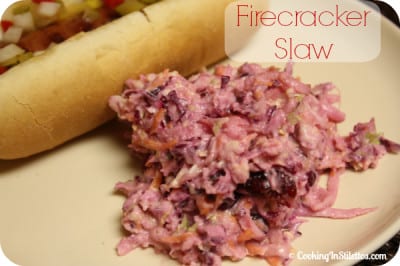 Ingredients
2 1/2 cups of light mayonnaise
1/4 cup apple cider vinegar
2 teaspoons of adobo sauce, plus more as needed
1 chipotle pepper in adobo sauce, finely chopped
2 cups carrots, shredded
1/2 cup dried cranberries
1/2 cup raisins
2 Granny Smith apples, cored and shredded
2 Bartlett pears, cored and shredded
1/2 head red cabbage, shredded or sliced thin (do this first and mix this in LAST!)
1 head Savoy cabbage, shredded or sliced thin
Salt and freshly ground black pepper
Instructions
Mix together the mayonnaise, apple cider vinegar, adobo sauce and the minced chipotle pepper in a large bowl. Taste it and, if needed, add a bit of salt and pepper or a bit more vinegar to make it more "saucy". Want it spicier – add more adobo sauce (note – for the record, I'm a wimp. Sunny's recipe calls for a tablespoon – my mouth would be on fiyah for that).
Add the carrots, dried cranberries and raisins, shredded apples, pears and cabbages and mix well.
Taste and season with a bit more salt and pepper, cover and let "marinate" in the fridge for at least an hour. The longer it sits, the better the flavors meld.
Enjoy!
7.8.1.2
339
https://cookinginstilettos.com/firecracker-slaw/