This is a sponsored post written by me on behalf of Turkey Hill Dairy. All opinions are my own.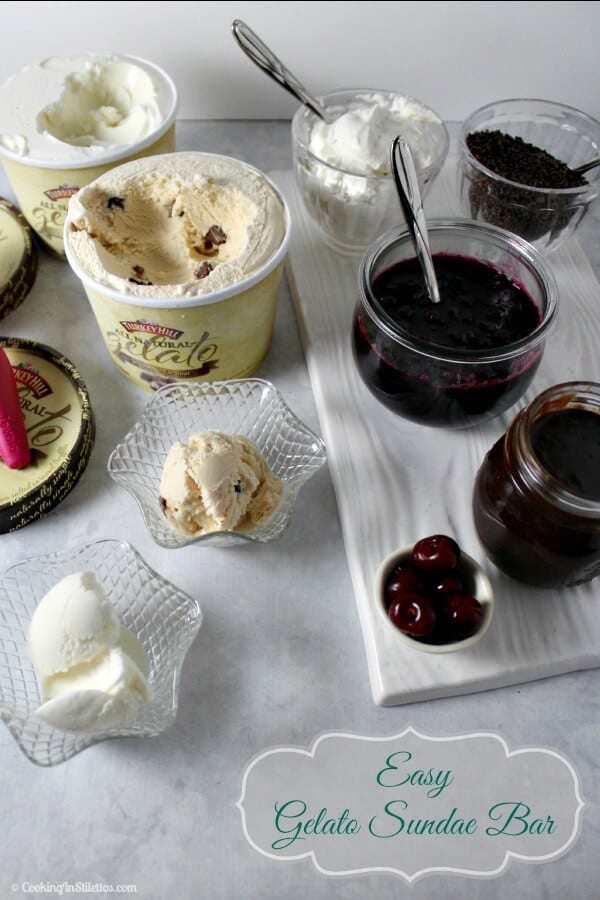 There are two factions in my inner circle of friends and family – those that are #TeamChocolate and those are #TeamVanilla. So – let's say if we were having a party and I had something sweet and chilly to serve, I need to plan accordingly. For the record, I'm neutral – there are days I adore all things chocolate and there are days when only vanilla will do.
Recently, I came across this new All Natural Gelato from Turkey Hill Dairy. I have to tell you – while I adore their ice cream, their All Natural Gelato – oh my heavens – we are talking luscious, creamy and some seriously chic flavors! Turkey Hill All Natural Gelato is made with fresh simple ingredients like milk, cream, sugar and vanilla and, from what I hear, they are the first major ice cream brand to offer an all natural gelato.  Gelato has less air than most ice cream so it has a richer denser texture and I knew my friends and family would love it. I picked up a few flavors for everyone to try including the classic, Purely Vanilla, as well as Sea Salted Caramel and Mint Chocolate Chip. I also was torn between the Peach Mango, Coffee Chip, Chocolate Peanut Butter, Chocolate Chocolate Chip and Hazelnut flavors but thought the three I picked should keep everyone sated and I'd whip up some homemade toppings to go with.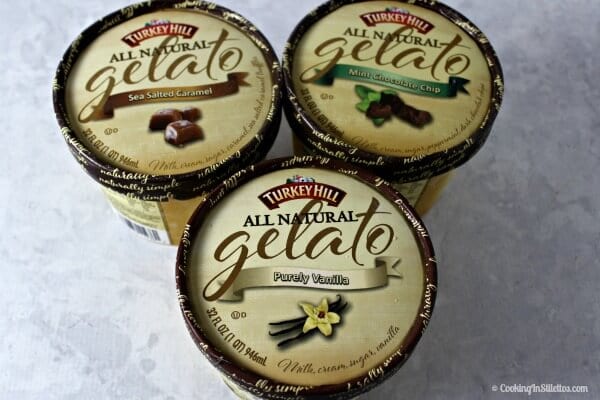 While assembling an easy Gelato Sundae Bar, in the back of my mind, I kept remembering the dilemma of #TeamChocolate or #TeamVanilla. Sure, I could whip up a rich and fudgy chocolate topping but what about the vanilla faction that would want something to compliment that rich vanilla flavor. Spying some gorgeous sapphire tinged blueberries at the market, I knew that my easy Blueberry Sauce would pair perfectly with the rich and creamy Purely Vanilla flavor. This sauce is great to top your gelato, for yogurt, cake or if you sneak a spoonful now and then out of the fridge, I promise I won't tell.
For those on #TeamChocolate, I figured I would make a Mexican Chocolate Sauce that had a hint of spice and would be perfect for either the Sea Salted Caramel or the Mint Chocolate Chip flavors. A quick melt in a double boiler with a bit of espresso, vanilla and cream at the end and this sauce will be one of those that you will keep in the fridge for whenever you have a sundae craving or want to make a Mexican Chocolate mocha.
To complete the Easy Gelato Sundae Bar, I whipped up some sweetened heavy cream with a bit of Mexican vanilla and also had fresh ripe pitted dark cherries and some chocolate "jimmies" to make everyone happy.
When you are looking for the perfect sweet treat for your summer evenings, look no further. Pick up your favorite flavor of Turkey Hill All Natural Gelato and whip up one of these toppings to go with – everyone will sing your praises!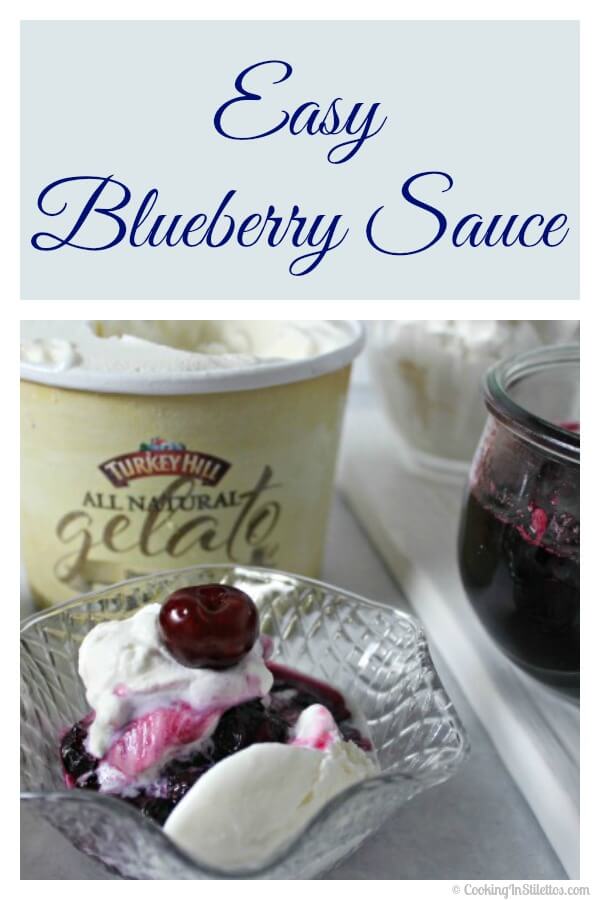 First – let's make the Easy Blueberry Sauce
Gather your ingredients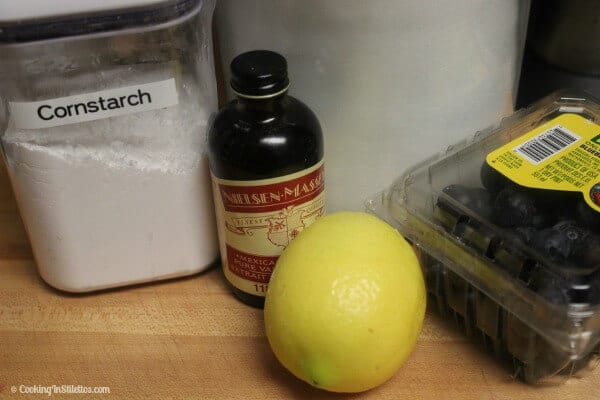 Blueberries and Lemon  – a classic combo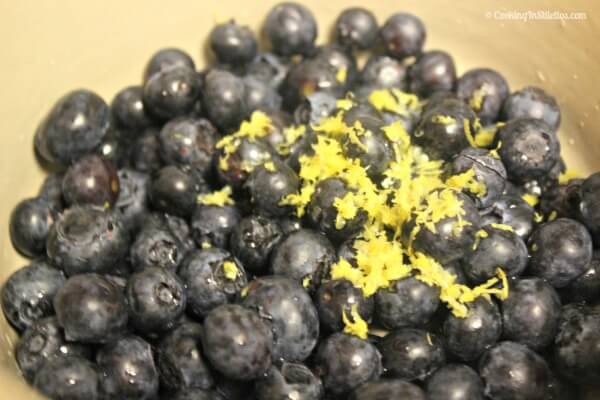 Look at that rolling bubble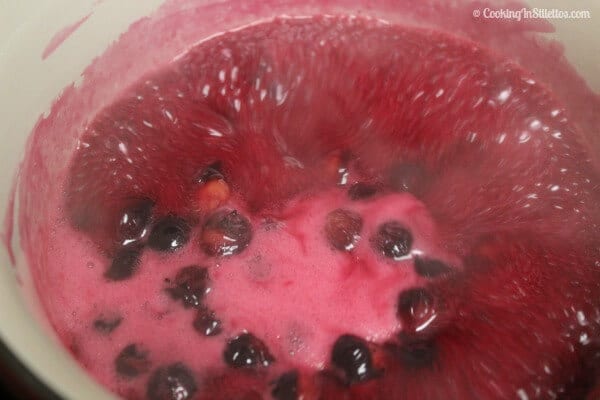 Let cool for a bit to thicken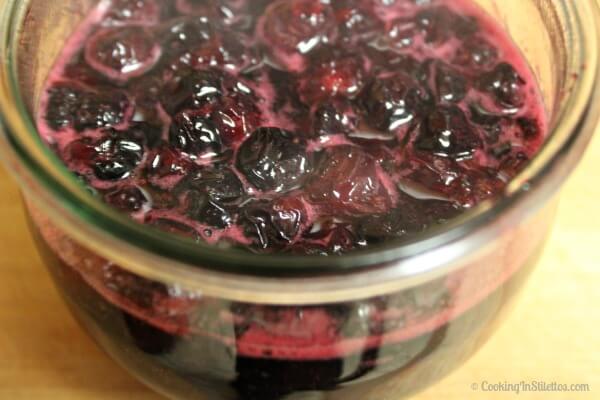 Now – doesn't a dish of this look fantastic for a hot summer's day?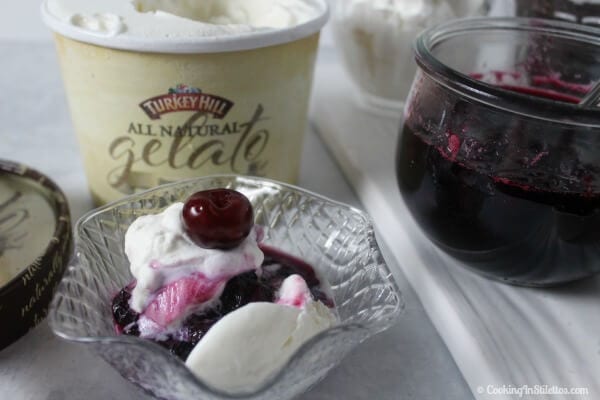 Ingredients
1 pint of fresh blueberries, washed
Zest and juice of 1/2 a lemon
1/3 cup of sugar.
1 tablespoon of cornstarch
1/4 cup of water
1/2 teaspoon of vanilla extract
Pinch of kosher salt
Turkey Hill Purely Vanilla All Natural Gelato for serving
3 disks of Mexican Chocolate, chopped (about 9 oz)
1 tablespoon of unrefined coconut oil
1/2 teaspoon of ground cinnamon
1/8 teaspoon of cayenne pepper (optional)
1/2 teaspoon of instant espresso powder
1/3 cup of water
1/2 teaspoon of Mexican Vanilla extract
1/4 cup of heavy cream
Turkey Hill All Natural Gelato for serving
Directions
In a heavy bottomed saucepan, tumble in the blueberries along with the lemon zest, lemon juice, sugar, cornstarch, water, vanilla extract and salt.
Stir to combine and bring to a rolling bubble over medium heat, stirring constantly so that the skins of the berries burst and the liquid thickens and turns a gorgeous amethyst hue.
Take off the heat and let it thicken some more and pour into a glass jar.
This sauce should keep in the fridge for about 2 weeks or so (if it lasts that long)
Enjoy!
Over medium heat, bring some water in a heavy saucepan to a simmer. Using a double boiler or a metal bowl set on top of the pan where the bottom does not touch the water, add the chopped Mexican chocolate and the coconut oil, followed by the ground cinnamon and cayenne pepper (if using). Stir everything together until the chocolate starts to melt as well as the coconut oil.
It's going to look really granular – mostly because Mexican Chocolate also contains ground almonds, cinnamon and a bit of granulated sugar, so when everything is melted and a bit grainy looking, slowly whisk in a bit of the water, a little at a time.
Eventually the sauce will come together and will be smooth, but it takes some patience and whisking.
When the sauce looks shiny and smooth, add the instant espresso powder and stir to combine until it's dissolved.
Take off the heat and whisk in the vanilla extract and the heavy cream.
Pour into a jar and it should keep in the fridge about a month or so (if it lasts that long).
Enjoy!
7.6.7
1012
https://cookinginstilettos.com/easy-gelato-sundae-bar-with-blueberry-sauce-and-mexican-chocolate-sauce/
All images and content are © Cooking In Stilettos. Please do not republish without contacting us first. Thank you.
Want to find out more about Turkey Hill All Natural Gelato? Visit them on Facebook and Twitter and to find a store near you, check out their store locator!
Did you enjoy this post?
| | |
| --- | --- |
| Share the love | Get free updates |