This Chocolate Stout Bundt Cake is a showstopper. Rich and decadent chocolate cake is drizzled with even more chocolate – what's not to love?
This post has been sponsored by Beamly.  My opinion and love for the brand is my own. Please note that this post may contain affiliate links to products I adore and trust in my kitchen. Thank you for supporting brands that make Cooking In Stilettos possible.
My friends know two things – when I'm watching "24" or "The Kitchen", the phone is silent. I do not answer calls, texts etc. However – one thing I must confess – I'm following along with the live action online on my iPad or my phone with my fave app, Beamly.
We've talked about Beamly before – when I did this Scandalously Inspired Cocktail – and if you haven't joined – you might want to ASAP – especially before the fall shows come back. Where else can you chat about Suits (if I ever need a lawyer to have my back, I need Harvey on speed-dial), Real Housewives of NJ (soon to return with even more of the crazy), Masterchef (where a local gal is in Chef Ramsey's kitchen and I hope she wins) and Orange is the New Black (who doesn't love that show!).
One thing I love about the peeps on Beamly is the fabulous conversations you have – I mean – ever watch a show and miss something? I do that all the time – there are times I would watch Revenge and thanks to the excellent convos in the Revenge TV Room, I was able to catch the hidden drama while I was too obsessed with figuring out what shoes Victoria was wearing. I've met some amazing people on there, including some of Cooking in Stilettos' readers and I'd love to see you there too!
So – when thinking about what I could share with you, I thought I'd share a recipe that I saw on this past weekend's episode of "The Kitchen" on Food Network. Marcela made this to.die.for Chocolate Stout Bundt Cake and it looked divine – (as you can see from Sunny's face on Marcela's Instagram). It was one of those "I see it – I must make it" recipes and, curled up on my couch with the JuniorSousPug, I totally fell hard for this cake while watching '24' – so much so I focused ON the cake and not on the show – and I got lost. Thankfully the Beamly peeps in the 24 TV Room got me up to speed.
So – morale is the story is if you get lost and miss something on your fave show, Beamly has you covered! Now – I just need to see if there are any leftovers so I can curl up and watch SUITS with another slice of this Chocolate Stout Bundt Cake.
On to the recipe:
Gather your ingredients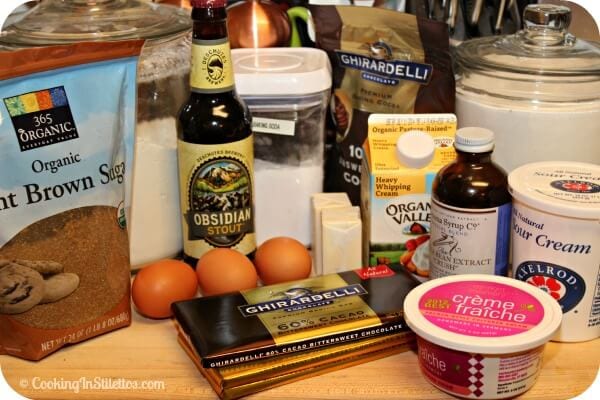 My buddy Scott at the local WholeFoods recommended this brew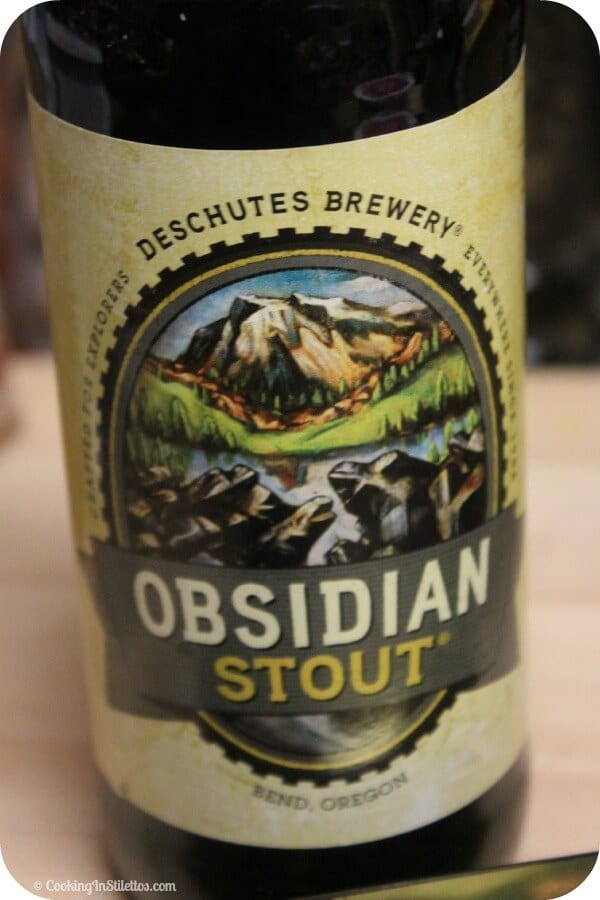 Look at how deep and delicious it looks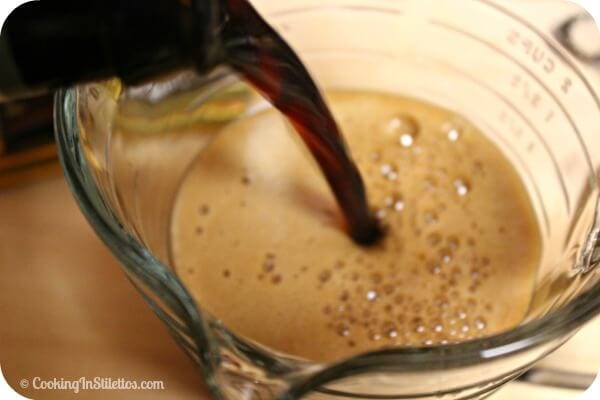 Batter ready for the oven in my favorite bundt pan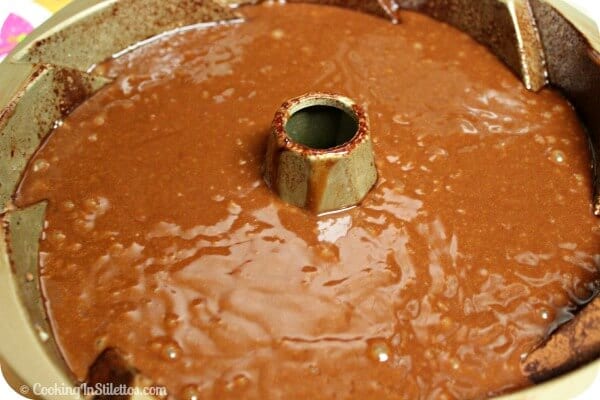 Time to cool while we make the glaze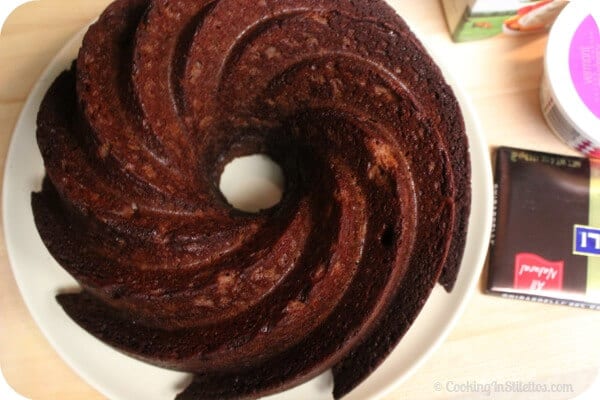 Seriously – look at that glaze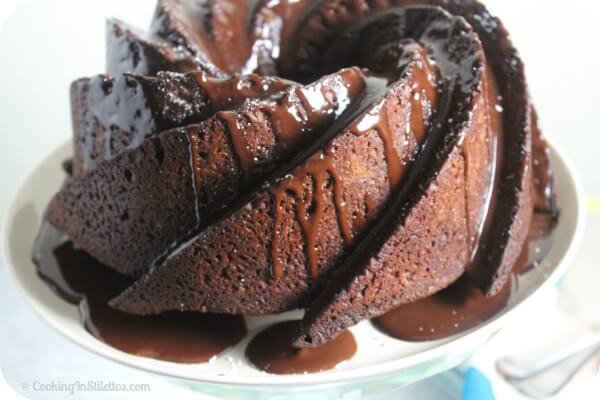 Now – tell me you don't want to curl up with a slice while watching '24'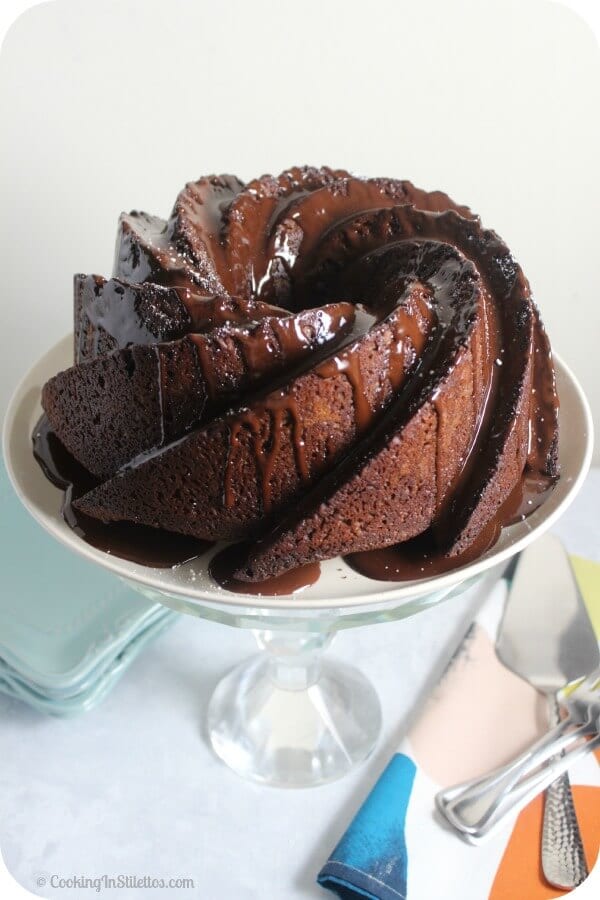 Adapted from Marcela Valladolid
Yields 6-8
Chocolate Stout Bundt Cake
A rich and luscious Chocolate Stout cake smothered with deep and rich bittersweet chocolate.
1 hr, 10 Prep Time
1 hrCook Time
2 hr, 10 Total Time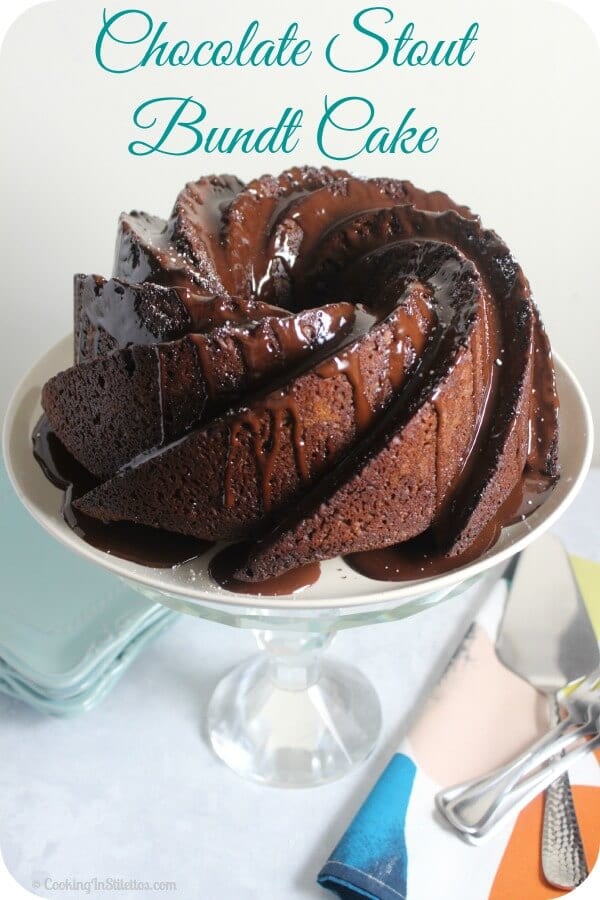 Ingredients
Butter or nonstick baking spray
Unsweetened cocoa powder, for dusting
2½ cups of all-purpose flour, sifted
¾ teaspoon of baking soda
½ teaspoon of salt
1 cup (2 sticks) of unsalted butter
¾ cup of stout beer (I used a Portland stout recommended but you can use Guinness or your fave)
8 ounces of semisweet chocolate, chopped
3 large eggs
1 cup of light brown sugar, firmly packed
1 cup of granulated sugar
½ cup of sour cream
1 teaspoon of vanilla extract
⅓ cup of heavy cream
¼ cup of crème fraiche
4 ounces of bittersweet chocolate, chopped
Powdered sugar, for garnish
Instructions
Preheat your oven to 350 degrees F.
Prepare a large bundt pan (about 12 cups or so) with either the butter or nonstick baking spray. You want to thoroughly grease it so NOTHING sticks – trust me on this. Dust it with cocoa powder, tapping out the excess. Set aside.
In a large bowl, sift together the flour, baking soda and salt. Set aside.
In a small nonstick saucepan, add the butter and beer. Over medium heat, heat the contents until the butter melts. Stir to combine and remove from the heat.
Off the heat, add 8 ounces of the semisweet chocolate, stir and make sure the chocolate is completely melted and the mixture is smooth. Let cool for a moment while you prepare the butter and sugar.
In the bowl of an electric mixture, beat the eggs, granulated sugar and brown sugar until the mixture turns light and fluffy. Use a slow to medium high speed and you will see the color change. When that color changes, add the sour cream and vanilla extract.
When the sour cream and vanilla extract are fully incorporated in the egg and sugar mixture, turn the mixer to a lower speed and drizzle in the chocolate stout mixture, making sure that the chocolate isn't too hot to cook the eggs.
On low speed, add the flour mixture until it is just about combined – do NOT overmix.
Pour the chocolate batter into the prepared bundt pan – resist the urge to lick the spatula – just wait.
Place the bundt pan in the middle of the oven and bake for about 50 minutes, until a cake tester comes out clean.
Remove from the oven and cool the cake IN the pan for about 30 minutes before unmolding onto the serving plate.
To make the glaze, in a small saucepan, heat together the heavy cream and crème fraiche until it comes to a bowl.
Remove from the heat and whisk in the bittersweet chocolate until the chocolate is glossy and totally smooth.
Drizzle the chocolate glaze over the bundt cake and dust with powdered sugar.
Enjoy!
7.8.1.2
239
https://cookinginstilettos.com/chocolate-stout-bundt-cake/
So – next time you are curled up and watching your fave shows – why don't you join me over at Beamly. What – you aren't following me yet – what are you waiting for. I promise, I'll make this cake – you just bring the conversation!
A quick update on all things Beamly