Last minute soiree – host a Wine and Easy Cheese Fondue party. This Easy Cheese Fondue comes together in minutes. Just serve with some crisp veggies and toasty bread and you have the makings of a rockin' party!

This is a Sponsored post written by me on behalf of Cambria Estate Winery for SocialSpark. All opinions are 100% mine. This post may also contain affiliate links to products I adore and trust in my kitchen. Thank you for supporting Cooking in Stilettos.
Have you ever gotten that call – you know the one where you have guests that are going to drop by but you have no idea WHAT to serve?  Talk about impromptu party panic, right?
One of my favorite things to do is keep some wine on hand, just in case.  I follow the rule that if I'm going to drink it, it's also perfect to cook with.  Other things I always have in the fridge – both Fontina and Gruyere cheese, pancetta, garlic and thyme.  What to make – why not make an easy cheese fondue to pair with your favorite white or red wine.
Cheese and wine is the ultimate pairing and this easy cheese fondue recipe is perfect.  A bit of pancetta crisped up and wine simmered with garlic and thyme.  Add shredded Fontina and Gruyere to the mix and you have the ultimate cheese fondue.  Added bonus – you know those mini crock pots/dippers that many have shoved in the back of your cabinets – pull them out and you can use that to keep the fondue warm while you dip and sip.  No need for a fancy fondue pot – though, if you do have a fondue pot that isn't getting enough love, feel free to whip this out, pour a glass of wine and enjoy!
Recently, I found out about Cambria Estate Winery® and their divine white and reds.  They are a family owned winery in Santa Barbara wine country.  They are an estate winery which means that they make wine from their own vineyards.  I had no idea of such a distinction until I started reading up on them.  They even have daily tastings where you can go and visit the vineyard and taste Cambria's hand-crafted wines like Julia's Vineyard Pinot Noir and Katherine's Vineyard Chardonnay.  With a strict eye for detail and a commitment to providing the best, Cambria Estate Winery® is a winery after my own heart.
On to the recipe:
Gather your ingredients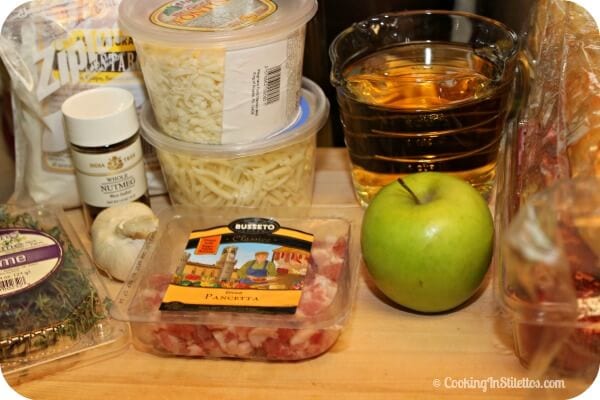 Pancetta makes everything better, right?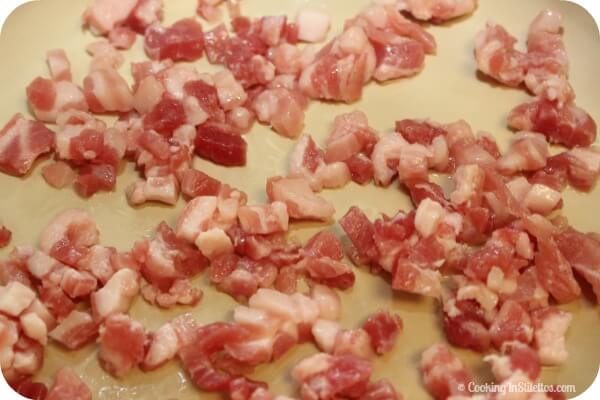 Simmer the wine with a bit of garlic and thyme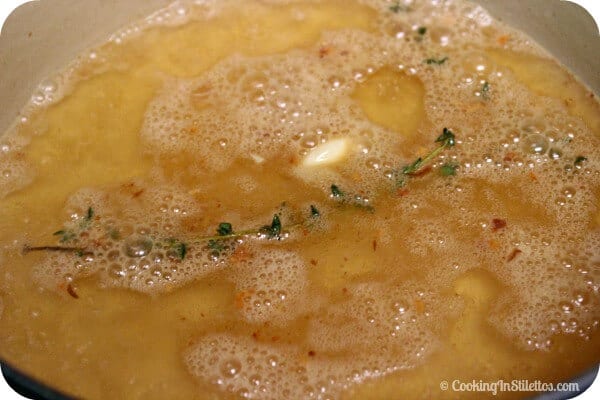 Look at that melty cheese!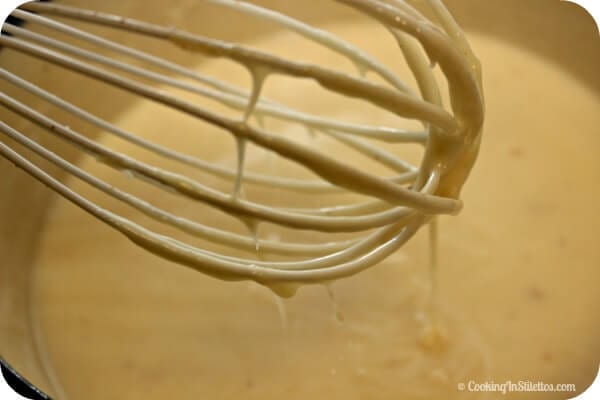 Time to "taste test"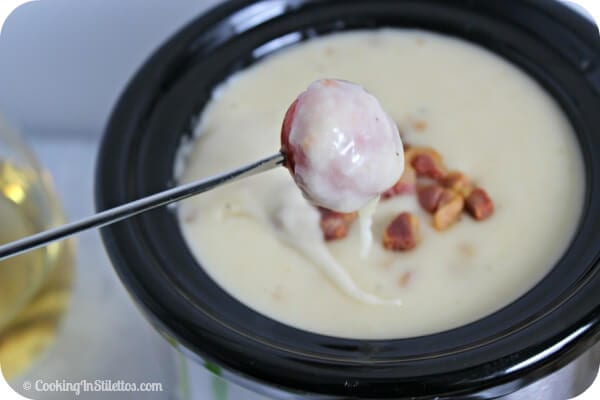 Grab a glass of wine and enjoy!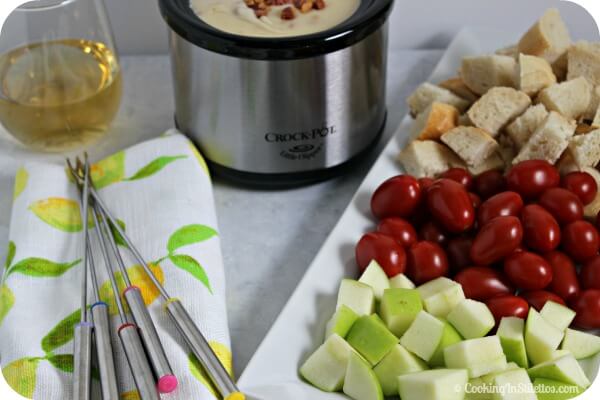 Print
Easy Cheese Fondue
This easy cheese fondue is perfect for a last minute get together. Serve with some crisp veggies, toasty bread and, of course, wine and you have the makings of one heck of a soiree!
Author:
Prep Time:

20 minutes

Cook Time:

25 minutes

Total Time:

45 minutes

Yield:

6 - 8

Category:

Appetizer
Ingredients
5 ounces of pancetta
2 cups of your favorite white wine (I used pinot grigio in this one)
1 garlic clove
3 sprigs of fresh thyme
1 1/2 cups of grated Fontina cheese
1 cup of grated Gruyere cheese
5 – 6 teaspoons of cornstarch
1/8 teaspoon of freshly grated nutmeg
Salt and pepper to taste
Crudités for serving (like grape tomatoes, toasted baguette, baby carrots, crunchy granny smith apples, etc).
Instructions
In a heavy bottomed pot, sauté the pancetta over medium high heat until brown (about 5 – 7 minutes).
Remove the pancetta to a paper towel lined plate and drain most of the fat.
Add the garlic clove to the remaining pancetta fat and sauté for a minute or so.
Deglaze the pan with the wine, taking care to scrape up any brown bits.
Add the thyme sprigs and bring to a boil. When the wine is bubbling, reduce the heat to medium low and prepare the cheese.
In a bowl, toss the grated Fontina and Gruyere cheese with the cornstarch.
Add the cheese half a cup at a time, taking care to whisk until it is almost melted until you add another.
Add the freshly grated nutmeg and a bit of freshly cracked black pepper and stir.
Let the cheese come to a bubble and, when it does, remove the thyme sprigs and the garlic.
Keep a tablespoon or two of pancetta for garnish and add the rest to the bubbling cheese.
When everything is melted, thick and nicely incorporated, remove the cheese to a small crock-pot and keep that on low or to a fondue pot.
Enjoy with your favorite crudités for serving – whether it's grape tomatoes, carrots, celery, granny smith apples or a classic baguette.
Visit the Cambria blog for terrific recipes, DIY tips and news from the Cambria Estate Winery Vineyards and take a peek at Cambria's unique wines.
Note:  The legal drinking age is 21 years old, as always please drink responsibly.
My favorite finds for this recipe:
Did you enjoy this post?
| | |
| --- | --- |
| Share the love | Get free updates |