I am always looking for a new way to roast a chicken and recently one recipe caught my eye – a Lemon and Milk Braised Chicken. I'm a huge fan of roasting chicken with citrus – there's nothing like a few cloves of garlic and some lemons stuffed in the cavity to give a chicken some amazing flavor.  I couldn't stop thinking about this recipe for days and knew I had to give it a whirl when I got back home.
This recipe is a keeper!  I added a bit of thyme to add to the lemony flavor and served it with some roasted brussels sprouts and potatoes. This chicken is so good, you might want to make two if you are planning to have leftovers for the week. If you don't have a dutch oven and want to use a roasting pan, make sure to cover it with foil before you put it in the oven.
What is your favorite way to roast a chicken?
Gather your ingredients
Salt and pepper the chicken liberally ~ Julia Child did stress that we have to season the chicken!
Lemon and Garlic – what a great combo!
Browned and Lovely
Tried and True: Lemon and Milk Braised Chicken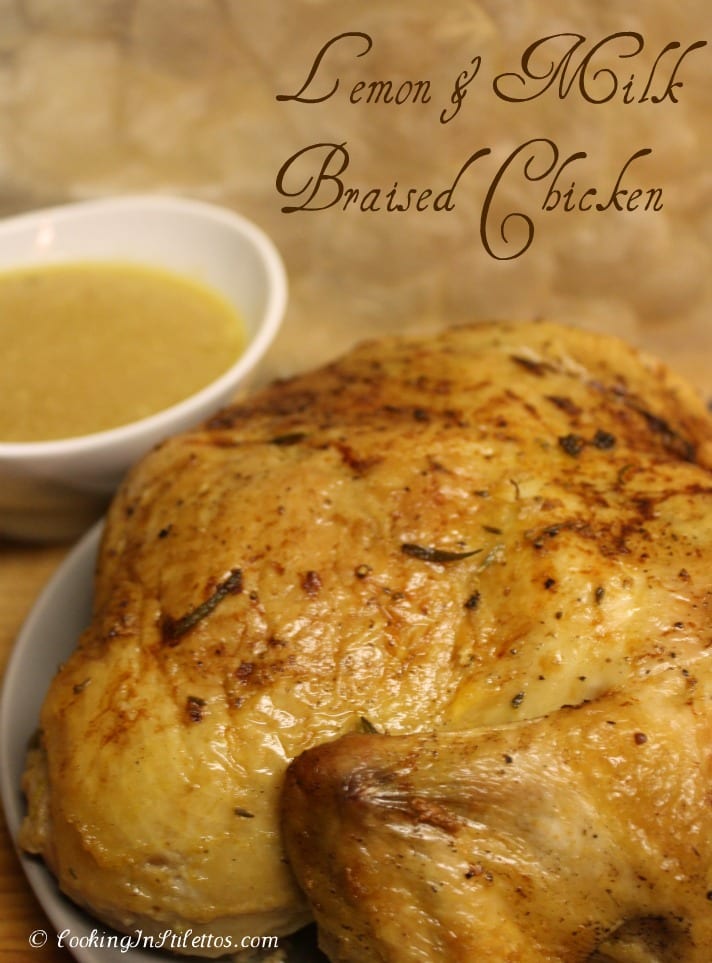 Ingredients
A 4 pound chicken, chicken giblets and neck removed
Kosher salt
Freshly ground black pepper
2 tablespoons unsalted butter
2 cups milk
Zest of 2 lemons
10 cloves garlic, peeled and lightly smashed
1 cinnamon stick
6 to 8 sage leaves
2 sprigs rosemary
2 sprigs thyme
Instructions
Preheat oven to 375 degrees Fahrenheit
Pat chicken dry with paper towels.
Season the chicken with salt and pepper, including the cavity.
Over high heat, add butter to a large Dutch oven or a deep sauté pan.
When the butter foams and turns slightly nutty brown, add the chicken.
Brown the chicken on both sides, about 10 minutes.
When chicken is golden brown, using tongs, turn it breast side down and pour in milk. Bring to a simmer, then turn off heat.
Add the garlic cloves, lemon zest, cinnamon, sage, rosemary and thyme.
Cover the pot and place in the oven. Roast for about 45 minutes.
After 45 minutes, uncover the pot and roast for another 30 to 45 minutes.
Remove from the pot and let rest for about 10 minutes.
Strain the sauce and set aside.
Carve or shred the chicken and serve with some of the lemon milk sauce drizzled over the meat.
Enjoy!
7.8.1.2
395
https://cookinginstilettos.com/lemon-and-milk-braised-chicken/